Lessons of a Queens Hurricane Chaser
Chasing Hurricane Sandy in Queens
October 30, 2012 / Queens NY / Queens Weather / Queens Buzz. It was 5 pm Monday evening as I set out on my bicycle to truly experience the tropical winds of Hurricane Sandy. I chose the evening hours because it was after the high winds would have arrived, shaking loose (hopefully) most of what was to be shaken loose, so I would not be hit in the head by any debris.
The early evening was also just a few hours ahead of the 'tidal surge' we had been warned about, which was supposed to peak in the East River at about 8 pm. And since it would still be light out, I could get some photos of my journey into the tropical storm as it hit Queens.
In the photo to your right you can see the siding of an LIC building, shaken loose by the strong tropical winds of Hurricane Sandy. There was quite a bit of debris on the sidewalk below.
Click here to read more about The Lessons of a Queens Hurricane Chaser - photos of Hurricane Sandy in Queens.
---
Lessons of a Queens Hurricane Chaser
Chasing Hurricane Sandy in Queens
October 30, 2012 / Queens NY / Queens Weather / Queens Buzz. As I left the safety of my apartment in Sunnyside things seemed eerily calm. There wasn't a soul on the street as I made my way up to Queens Blvd. The winds were blowing and there were leaves and a few small branches lying on the ground, but nothing more than one would expect from a good summer storm.
On Queens Blvd there were very few pedestrians – and no cyclists other than myself. There were a few motorists, but nothing like what one would expect to see during Monday rush hour traffic.
I rode down Queens Blvd with my destination being the East River and the 'tidal surge'. As I headed west along Queens Blvd, I noticed the winds getting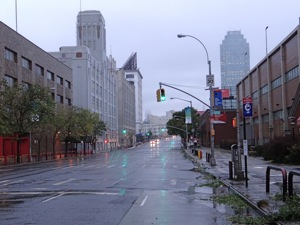 stronger the closer I got to the East River. As the streets were nearly empty, I could hear things I might not hear during a normal rush hour, like the banging of a steel plate against cement underneath the subway tracks.
I passed through one intersection in the 30's, when a gust of wind nearly upended me from my bike. I took it as a warning, to slow down and move more cautiously through the intersections where wind tunnels had developed. As I neared LaGuardia Community College I heard the rat-a-tat-tat of something banging in the wind. In the photo to your right is Queens Blvd looking east toward Citibank on the right, and LaGuardia
Community College on the left.
I cycled up over the bridge that traverses the Sunnyside railyards and down past Citibank along 44th Drive. At Vernon Blvd I took a couple of photos of the empty street, and then made my way down Vernon, turning west toward the East River on 47th Avenue. The wildly swinging power lines reminded me to be cautious.
The winds were gusting heavily, and it was at this point that I had to dismount my bike to keep my footing. A sprinkle of rain had begun sometime during my voyage, but I began to notice it now, as the wind threw the drizzle at my face like little needles.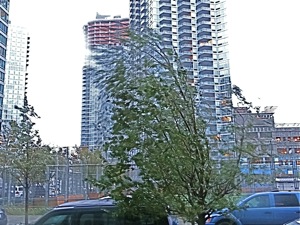 I shot a photo of Gantry Park and the East River at the point where the police had erected a chain - forbidding anyone to pass beyond that point [see photo above]. A huge gust of wind swept from behind me and tore my eyeglasses from my face. My bike was swept out from under me and I had to hang onto it as the wind pulled it down the walkway leading to the park. I watched as my glasses disappeared into the park …
Center Blvd runs parallel to the East River, and as I made my way back across the street along 47th Avenue I found the speed and frequency of the gusts of high winds daunting. The wind began howling through the skyscraper channels, mocking me.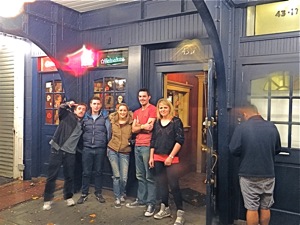 With some remorse I took the loss of my glasses as a signal that it was time to return home. Yes, I had been beaten, but thankfully not injured. The winds were gusting strongly and at times I had to lean into the wind just to make my way back toward Sunnyside. Since I had reached the East River - or as far as the authorities would allow me to go - I consoled myself that I had reached my goal.
Since only a year ago Hurricane Irene has swept through Queens, almost everything had been fastened down. Hence there was scant evidence of the force of the powerful tropical winds. About the best I could do was get a few shots of some young trees bent by the strong winds [see photo above right].
Along the way I stopped at the Emergency Evacuation Center in the 30's, that I had visited 14 months ago during Hurricane Irene. I had hoped to snap a few more photos, but they wouldn't allow it without first receiving permission from the NYC press liaison. Since I hadn't brought my cell phone along, I decided to continue my journey home without them.
Up along Queens Blvd in Sunnyside I passed the Gaslight Bar. There was a small group of people standing outside, enjoying the fresh air and the unusualness of the urban silence. I asked them if they'd pose for a photo which they did [see photo above]. I decided to return home, where I took off my drenched gear and put on some dry clothing.
---
---
Lessons Learned From Hurricane Sandy
Storm Risks Vary by NYC Boro, More Prevention Needed On Power & Flooding & Recognition That This Could Be 'The New Normal'
Epilogue. After I settled in I began surfing the internet to see how the rest of New York City was faring. The situation with the flooding and power outages at the southern end of Manhattan and the blazing fire in the Rockaways was far different from anything I experienced here in northwestern Queens.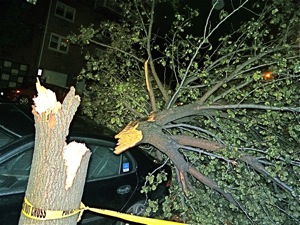 It was if we were living in two different cities, and perhaps, in some ways, we do. I came away with this impression last year too, following my coverage of Hurricane Irene in Queens, when it seemed NYC government officials overreacted to the storm based on what I saw occur in northwestern Queens. I am beginning to believe that most of Queens County, northern Manhattan and the Bronx have very different risk profiles vis a vis storms, than lower Manhattan, Brooklyn & the Rockaways. The photo to your left is of a fallen tree knocked down by the high winds of Sandy in Sunnyside.
Lessons. What can we learn from Hurricane Sandy? At the risk of stating the obvious, the first lesson is that segments of our power distribution system seem too vulnerable. We consistently experience power outages for millions of people in the Northeast after the last few major storms. Some exceptions are understandable, like downed power lines, hit by trees or flying debris. And one must acknowledge that distributing power to tens of millions through all terrains and all weather is a very challenging endeavor.
The second is that we need to have a system / process for protecting our subway, train and vehicle tunnels from flooding. We experienced some tunnel flooding from Hurricane Irene only fourteen months ago, but not on the scale seen Monday.
Given these lessons are obvious, it begs the question why haven't they been addressed? My guess is that it has something to do with priorities, funding and an evolving recognition that these storms may no longer be decades apart, but rather hitting us with increasing frequency.
Public Announcements. See Front Page for more recent info. Public schools and Queens Libraries are closed through Wednesday. We understand there are power outages in Queens for tens of thousands of people. The MTA has informed us that some buses will begin service Tuesday evening at 5 pm, and some of the MTA system will be functioning by Wednesday. We heard that the #7 line subway tunnel was not impacted as much as those tunnels further south which means it's likely to be one of the first back up.
Thanks. And lastly, thanks to all of the government workers and officials who were on hand to manage and monitor the storm. The sanitation workers, the police, the firemen, the hospital workers, the teachers - many of whom staffed the emergency evacuation centers - and the numerous city, state and federal government officials who have been managing and monitoring events since news of the impending storm first arrived. I expect we will recover soon, and in no small part, due to their efforts.
---
Queens Weather - Hurricane Sandy in Queens
Click here to read our report before Hurricane Irene in August 2011 and click here to view the LIC / Sunnyside Emergency Evacuation Center in a story we did following hurricane Irene in August of 2011.
---
$element(adman,groupad,Catgry Foodwine)$
$element(adman,groupad,Catgry Realestate)$
---
Site Search. 1) For best results, when typing in more than one word, use quotation marks - eg "Astoria Park". 2) Also try either singular or plural words when searching for a specific item such as "gym" or "gyms".
$element(bwcore,insert_search,N)$
Click this link to search for something in our Queens Business Directory containing over 1,000 listings.
Send this story to a friend by filling in the appropriate box below.
$element(adman,groupads,Sectional Ad)$