Flicks In Sunnyside Gardens Park
More Fun Than A Barrel Of Monkeys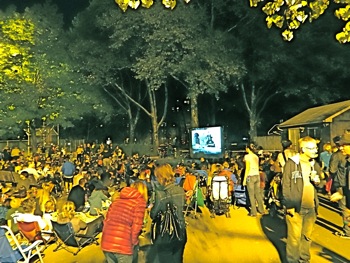 September 30, 2013 / Sunnyside Neighborhood / Film in Queens / Queens Buzz. Saturday night, in the neighborhood of about one hundred kids and about four hundred people in total, descended on Sunnyside Gardens Park for a soiree of food, fun and flicks in the garden.
The event was hosted by Sunnyside Gardens Park and open to the general public. There was make-up, crafts, dance, food and flicks. The event was emcee'd by Ty Sullivan, the local tall, slim and very red mad hatter. Ty seemed to have a knack for getting the kids worked up over great cartoons like Betty Boop and Jack Frost. Like last years presentation of Flicks in the Garden 2012, Tommy Stathes provided the cartoon films.
I arrived a bit after dark and had missed some of the fun, but quickly found a general willingness to share it post facto. Click here to read more about Flicks in the Garden in 2013, including photo slide show.
---
Flicks In Sunnyside Gardens Park
More Fun Than A Barrel Of Monkeys
September 30, 2013 / Sunnyside Neighborhood / Film in Queens / Queens Buzz. Two volunteer members of Sunnyside Gardens Park, Tammy Arnstein and Anne Siedlecki, decided to organize this years Flicks in the Garden. I had an opportunity to speak with them and they told me that likely a hundred or more children had come to the event and likely about 400 people in total.
The two moms seemed quite at home amidst a young, boisterous, very fun-loving crowd.
Tammy and Anne are shown in the photo at left.


Sunnyside Gardens Park Flicks - Home Grown Arts, Dance, Food & Fun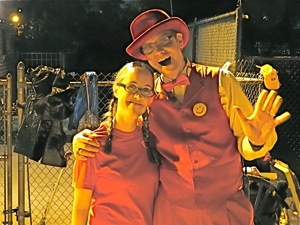 Tammy and Anne had configured the evening so that some of the [literally] mom and pop businesses could show their wares. Kathy Sullivan [married to the man in the red bowler hat] had baked over 80 Betty Boop cookies which were gone almost as quickly as they were set out on display. Someone liked them so much they placed an order that evening. Ty and Kathy founded CAKE of Sunnyside, which stands for Cakes And Kids Events.
Courtney Kaeser of Sunnyside's Unplugkids is an illustrator and artist who teaches arts and crafts classes in Sunnyside. She had set up a table showing how kids can 'unplug' from the wired world to explore some of their ideas and inner and outerselves. Courtney and Ty are shown in the photo below.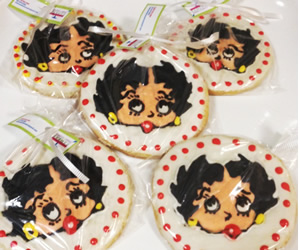 There was a ballet performance given by the students of Sunnyside Ballet Studio, including founder Yaeko Takeno-Williams. This was followed by a lesson for those who were interested in taking up the performance art.
And Kmia Salon of Sunnyside was on hand to show the dancers how to do their hair and make up for ballet practice and performances.
The event was sponsored by the Skillman Project, which is an organization of about ten businesses along Skillman Avenue in Sunnyside / Woodside along Skillman Avenue from about 50th to 45th Streets. I met Justin Costello of Claret Wine Bar and Padraig of the Dog & Duck Restaurant who mentioned that they're hosting an Oktoberfest from October 4th through the 13th. There will be a bar and restaurant crawl on the 12th for which you must register between 3 - 5 pm that day.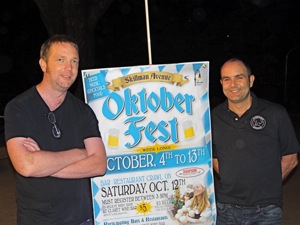 Sunnyside Gardens Park is also hosting an Oktoberfest on October 5th from noon to 5 pm. This is quite a big shindig which you can see by clicking to one of our first [very rough] brief reports about the Sunnyside Gardens Park Oktoberfest which includes a slide show of this event in 2008 as Queens Buzz was just getting started.
City Councilmember Jimmy Van Bramer was there too, having just returned from a Jamaica Bay Ecological Cruise organized by the Littoral Society and featuring filmmaker Dan Hendrick.
Flicks in the Garden Sponsors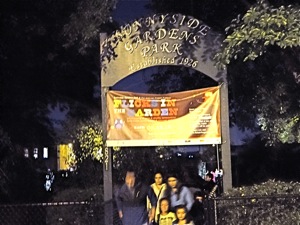 A number of local businesses chipped in with things like raffle prizes and pizza and funding. In addition to the businesses mentioned above, the sponsors include:
Aubergine Cafe, Yogurberry, I Love Paraguay Restaurant, Pink Icing, Tiny You, Sunnyside Pizza, Donato's, Sidetracks, Divinia Threading and Little Friends Nursery School. Materials For The Arts provided some arts and crafts materials.
---
Photos of the Flicks in the Garden at Sunnyside Gardens Park
The following slide show contains photos of the photo album containing Flicks in the Garden at Sunnyside Gardens Park.
$element(ophoto,photo_slideshow,244,660,,5.00,fade)$
---
---
Sunnyside Neighborhood / Woodside Neighborhood Links
$element(adman,groupad,NHoodSSWS)$
Click on these advertisements for promotions, discounts and coupons by retailers and restaurateurs in Woodside, Sunnyside and nearby Queens.
Click this link to go to the:
Sunnyside & Woodside Neighborhood
Sunnyside Business Directory or Woodside Business Directory
Sunnyside & Woodside Real Estate or Events & Things To Do In Sunnyside & Woodside
Restaurants In Sunnyside & Woodside or Sunnyside & Woodside Shops & Shopping
---
$element(adman,groupad,Catgry Foodwine)$
Site Search Tips. 1) For best results, when typing in more than one word, use quotation marks - eg "Astoria Park". 2) Also try either singular or plural words when searching for a specific item such as "gym" or "gyms".
$element(bwcore,insert_search,N)$
Click this link to search for something in our Queens Business Directory. Also check out Taste of Sunnyside.
---
Click the log in link below to create an ID and post an opinion.
Or send this story to a friend by filling in the appropriate box below.
$element(adman,groupads,Sectional2 Ad)$
---