langston hughes african americans in queens david mills
Langston Hughes' Dream Weaver
A One Man Show At The York Performing Arts Center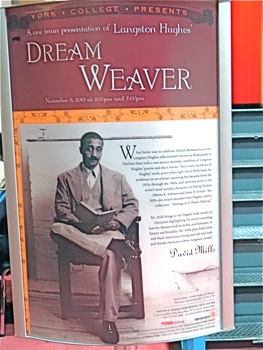 November 12, 2013 / Jamaica Neighborhood / Theater in Queens / Queens Buzz. I had the pleasure of attending David Mills' one man show at the York Performing Arts Center on Saturday. The show was about the life and times of Langston Hughes, likely the most celebrated poets of the Harlem Renaissance.
David Mills has an interest in and connection to Langston Hughes that transcends the bounds of my vocabulary. David had lived in Langston Hughes house in Harlem on 127th Street for three years, touched the typewriter keys that Langston had pounded away on to make a living and to express himself, and has read a plethora of the written material left behind by one of the great African American authors of the early and mid 20th century.
To deliver a successful one-man-show, with only a simple chair as the prop, takes both talent and a gift ...
Click here to read the rest of our report about the performance of Langston Hughes in Queens as delivered by David Mills at the York Performing Arts Center.
---
Langston Hughes' Dream Weaver
David Mills - One Man Show At The York Performing Arts Center
November 12, 2013 / Jamaica Neighborhood / Theater in Queens / Queens Buzz. Continued. It takes talent and a gift to entertain an audience with only words, gestures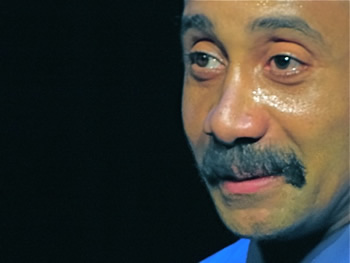 and facial expressions. But that's exactly what Mills did. And the small comfortable theater of the York Performing Arts Center was the chosen venue for this performance.
David compiled a running repertoire - which over the years he has committed to memory - of Langston Hughes' exact words. Mills has taken Hughes' words and literally breathed fresh life into them through his deep voice, his poetic enunciation of the author's prose, and through the theatrical performances of an accomplished actor.
The following are excerpts of the David Mills performance of Langston Hughes Dream Weaver. I've included photos of some of his performance in the slide show below.
David started out with Madam and the Fortune Teller, which is a prosaic piece. One of the phrases goes something like this,
".. your fortune honey lies right in yourself .. you ain't gonna find it on nobody else's shelf".
Langston Hughes' Madam and the Rent Man - Portrayed By David Mills
David did a sort of number of rambling segwei's into various short poems entitled 'Madam and ..". In Madam and the Rent Man, Hughes describes the life of tenants in 1930's Harlem,
"The sink is broke,
The water don't run,
And you ain't done a thing
You promised to've done.
Back window's cracked,
Kitchen floor squeaks,
There's rats in the cellar,
And the attic leaks.
He said, Madam,
It's not up to me.
I'm just the agent,
Don't you see?
I said, Naturally,
You pass the buck.
If it's money you want
You're out of luck.
He said, Madam,
I ain't pleased!
I said, Neither am I.
So we agrees!"
David brings these pieces alive through his changing voices and demeanors and emotions. And Hughes' nearly century old prose comes a rambling off of his tongue like he'd written it himself.
Poet & Writer Langstong Hughes - By David Mills At YPAC
One of the poems is entitled Harlem which was part of a book / montage of works. The poem talks about Dreams Deferred.
"What happens to a dream deferred?
Does it dry up
like a raisin in the sun?
Or fester like a sore—
And then run?
Does it stink like rotten meat?
Or crust and sugar over—
like a syrupy sweet?
Maybe it just sags
like a heavy load.
Or does it explode?
This was written in the early 1950's and seems to have presaged the Harlem Riots which broke out in 1964 when modern racial discrimination was at or near its height.
Neither David Mills nor Langston Hughes dodge controversy. They support the cause of a just and color blind universe, and celebrate their own culture and history.
Death In Harlem by Langston Hughes - York Performing Arts Center Jamaica
David performs another piece entitled Death in Harlem. It's about life on 133rd Street where there's Pickin's, jazz, Texas kids and Arabella is a figure at Dixie's Place. Dixie makes money late at night. He portrays a rough and tumble and very dangerous landscape in Harlem. He talks about ropes, rape and the life late at night in Harlem. And in the late night life in Harlem, one Black woman Arabella shoots Bessie who has a knife. And the man [white or black?] at Bessie's side goes looking for another woman.
David's voice has a golden bass to it and he tells us these stories in a rhythmic monologue, while assuming the postures and acting out the gestures to accompany Hughes words and the characters he depicts.
Thank You Ma'am by Langston Hughes Performed by David Mills YPAC
One of the tales is of a young man who tries to steal an elderly woman's purse. She catches him and takes him home. He's afraid of what she might do to him, because she's big and strong and fast .. but a bit elderly. Her name is Luella Bates Washington Jones.
Luella treats the young man to lunch, as he looked like he hadn't had any. She asks him about his folks, but doesn't press the issue as the young man doesn't seem to want to part with any of that information. And she asks him what he was going to do after he'd stolen her money. He tells her he was going to buy some blue suede shoes. Luella gives him the money for the shoes and tells him to stay out of trouble. They never see each other again.
Langston Hughes Short Stories Brought To Life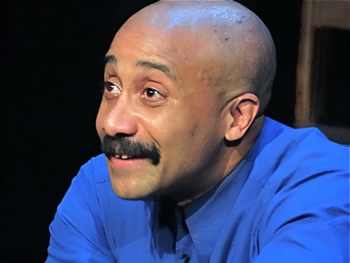 There's another tale of a preacher in East St Louis who's gonna make a name for himself by having himself nailed to the cross and then brought back to life. He describes the small church, the gospel songs and the singing of Negro spirituals as the background for a drama between an ambitious and dishonest preacher and the man who would like to replace him.
The two short stories performed above, were written by Langston Hughes. After the show David told us that Hughes had written 47 short stories from 1919 to 1963. Hughes was born on February 1st, 1902 and he died on May 22nd, 1967.
Langston Hughes & The Roosevelts by David Mills at YPAC
There's a piece about stop believing in Roosevelt and what you're told is true. We, the African American people, are trained to fight and yet we have no money and no place to stay the night. What are we fighting for?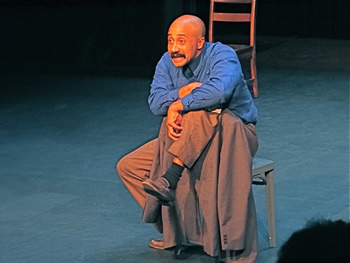 He also talked about race and how some white folks, like Mrs. Roosevelt, are good people. And made the analogy that just as some Black folks are good people, you have to try to distinguish who's who. But the problem is that Blacks don't know no white people because they're not allowed to mix with them. And vice versa.
Poetry In Harlem & Humor To Soften Discussion Of Serious Issues
Harlem Nights is about the beauty of the stars at night. Hughes, through Mills, describes the Lennox street buses, the drum beat of the streets and the music of the urban landscape. You're looking good Sugar Hill. Coffee, cream, cocoa brown, cinnamon toes, brown sugar, blackberries .. the beautiful colors of Sugar Hill.
Hughes did a short piece about setting up a game preserve for Negroes. Here Langston makes light of a serious issue to take some of the sting out of the injustice. He says just as animals need protection, so does the African American.
America Never Was America To Me
Mills elocuted portions of Hughes poem Let America Be America Again. It starts like this,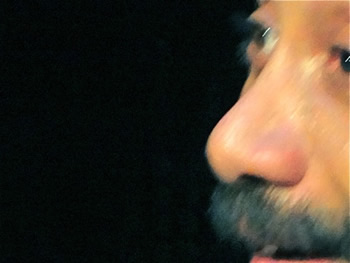 "Let America be America again.
Let it be the dream it used to be.
Let it be the pioneer on the plain
Seeking a home where he himself is free.
America Never Was America To Me
In Let America be America Again, Hughes talks about the working man, who fought in the World Wars and labored on the farms and in the factories. He says America is a dream and that it never was the land of the free to me. It never was America to me. America will one day be .. the land of the free.
Mills ended the performance on a mix of philosophy laced humor. He said, "birthing is hard and dying is mean- so get yourself a little loving in between".
A Brief History Of Langston Hughes Life - Mills After The Show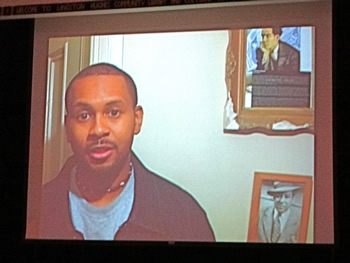 After the performance Mills talked a bit about the life of Langston Hughes. Mills had, as I mentioned in the introduction, spent three years of his life living in the house once occupied and owned by Langston Hughes at 20 East 127th Street in Harlem.
David told us that Langston had issues with his father who was of mixed race and didn't like thinking of himself as an African American. Hughes, on the other hand, fully embraced his genetic lineage and did so in his writings which celebrated the every day life of African Americans in Harlem from the 1920's through to his death in 1967.
David Mills & YPAC - Contemporary Theater In Queens
David celebrates Langston's birthday which is on February 1st – sometimes by going by the house on 127th Street in Harlem to read a bit of Langston's poetry. He told us that Langston made his living by writing for
African American newspapers like the Chicago Defender which was the first African American newspaper in the U.S.. Langston made enough money to buy the house in Harlem in the mid 1940's through his contributions to a work on a [libretto] play which became a big success. This work was done in a collaboration with world famous German playwright Berchtold Brecht.
Langston Hughes Poet, Author and Literary Translator
Another item of interest was that Langston was fluent in Spanish and he was the first person to translate Garcia Lorca into the English language. Garcia Lorca was a famous Spanish author of the 1930's. Langston wrote two autobiographies, 47 short stories, numerous plays and journal articles and, of course, poetry.
Just as I was leaving, a woman came up to Mills and asked him if his life, didn't in some ways, resemble the life of Langston Hughes. Both men were / are writers, both African American men and both embracing the theme of black is beautiful. David's work is more in the theatrical arena, while Langston Hughes' was in the written word. As she asked him this question, I could see the parallels and they seemed to fit nicely.
David dodged the analogy, but those of us standing around him, seemed to have little difficulty recognizing his gift.
Special Thanks - Things To Do In Jamaica NY
We want to thank David Mills who was the producer / director and actor of Langston Hughe's Dream Weaver. We also want to thank York Performing Arts Center and its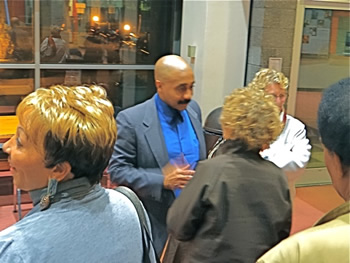 Director Matthew Katz, as well as Kwame Clarke, Production Manager for presentation of this show.
Please note that some of the photos shown in this report and in the slide show were taken at the Langston Hughes Literary Landmark celeration at the Langston Hughes Library and cultural center in Corona [Jackson Heights] on Northern Blvd on February 9th of 2013. These were made accessible to us by our visit there with permission of Andrew P. Jackson who is the Executive Director of the Langston Hughes Community Library & Cultural Center.
Photos of the Dream Weaver at the York Performing Arts Center
Click here to view photos of the David Mills performance of Langston Hughes Dream Weaver held at the York Performing Arts Center in Jamaica Queens NY, or you can view the photos below at your own pace by clicking on the arrows.
$element(ophoto,photo_slideshow,248,660,,5.00,fade)$
---
Jamaica NY Related Info
$element(adman,groupad,NhoodJamaica)$
Click this link for promotions, discounts and coupons in Jamaica and Queens.
Click this link to go to the Jamaica Neighborhood News / Jamaica Restaurants Guide & Map / Jamaica Business Directory / Jamaica Shopping Center and Map.
---
$element(adman,groupad,Catgry Entertain)$
Site Search Tips. 1) For best results, when typing in more than one word, use quotation marks - eg "Astoria Park". 2) Also try either singular or plural words when searching for a specific item such as "gym" or "gyms".
$element(bwcore,insert_search,N)$
Click this link to search for something in our Queens Business Directory.
---
$element(adman,groupads,Sectional2 Ad)$
---
Click the log in link below to create an ID and post an opinion.
Or send this story to a friend by filling in the appropriate box below.
---