Irish Eyes - The Luke Adams Fundraiser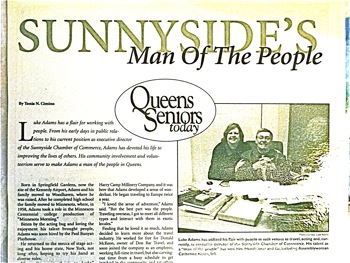 February 7, 2014 / Sunnyside Neighborhood / Queens Buzz. There's a benefit / fundraiser planned for Monday, February 10th at Murphy's Lobster Grill on Skillman Avenue at 49th Street in Sunnyside. The event is in honor of Luke Adams and scheduled to run between 5 and 8 pm. The Sunnyside Artists Organization is sponsoring the event which is open to the general public.
Luke has been an avid Sunnyside community supporter for longer than most of us have been alive. Patricia Dorfman, Luke's friend and also an active member of the community herself, wrote the following piece about Luke's contributions to the community and current situation, to help promote the fundraiser. The photos were shot and added by Queens Buzz.
In the photo at right, NYS Assemblywoman Cathy Nolan with Luke Adams. Click here to read Patricia Dorfman's story about Irish Eyes in Sunnyside, the Luke Adams fundraiser on February 10th at Murphy's Lobster Grill from 5 to 8 pm.
---
Irish Eyes - Fundraiser In Sunnyside
For Luke Adams, Longtime Community Activist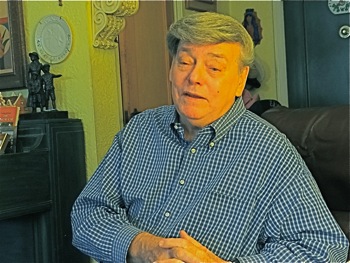 By Patricia Dorfman. February 7, 2014 / Sunnyside Neighborhood / Queens Buzz. "Irish Eyes" is an Irish-themed fundraiser to benefit a local Irish senior, Luke Adams. Adams, who lost his gig with a local business organization last month due to lack of funds. As fate would have it, the very next day Adams was rushed to the hospital for a foot ailment which required IV antibiotics for over a week.
While Medicare covers most of his medical, the fundraiser will help him cover other expenses until he gets back on his feet. Luke says, "I am happy to be back home and I feel better every day." Luke Adams shown at right in a photo taken in the Fall of 2012.
Years ago, Adams used to own the Don Bar Travel agency in Sunnyside. Luke became widely known for his tours all over the world, to distant places including India, Africa, South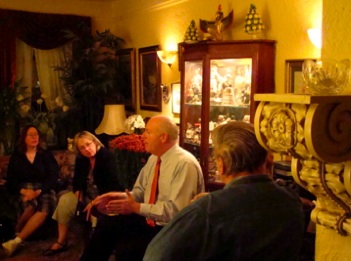 America, China, Egypt, and Ireland. "After the United States, Ireland is my favorite place in the world." said Luke.
Luke collected folk art on his trips and he is selling some of it to raise funds. Sunnyside Artists, a group that Luke has helped from its inception in 2007, is sponsoring the event. The $25 cover / $12 kids includes a buffet dinner, raffles, a door prize, a performance of an Irish dance by neighborhood girls; and a chance to purchase some collectibles from fancy to fun.
In the photo to your right, we see the back of Luke's head [front right] as U.S. Congressman Joseph Crowley talks about government in Luke's home in October of 2010. As you can see in the photo and as Patricia notes below, there isn't any shortage of collectibles in Luke's home.
Luke Adams - Sunnyside Community Activist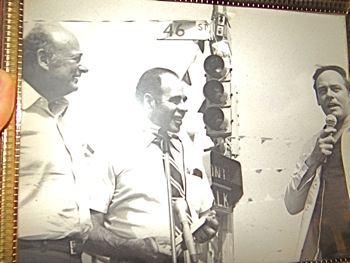 Luke is undoubtedly one of the best known residents of Sunnyside. He has been involved in daily community work for over 40 years. He has been the president of the Sunnyside Woodside Lions Club, president of the Sunnyside Chamber of Commerce, a local history buff and promoter of all things Queens. Luke was also a reporter and photographer for the Woodside Herald for a great many years.
Adams worked on the Gateway Restoration project, which was responsible for the creation of the Sunnyside Arch which has become Sunnyside's iconic symbol. Luke was also the Grand Marshal of the Kiwanis Flag Day parade in 2009, and has received citations from many elected officials over the past 20 years.
In 2011 the Luke Adams Sunnysider of the Year Community Service Award was presented to Luke himself. The award is given once a year without regard to fundraising, politics or affiliation. Since its inception, the award has been given to Reverend Brian P. Dowd, Donald McCallian and Frances Schmidt.
In the photo above right is Luke Adams with the microphone as former Mayor Ed Koch watches from the far left. I believe this was in connection with the Sunnyside Arch project at 46th Street and Queens Blvd.
Folk Art From Around The World - Shop & Buy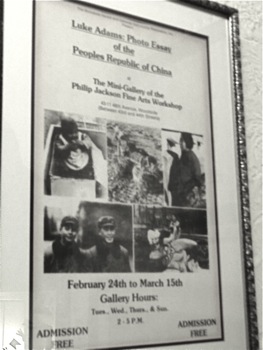 Luke was told to never accept charity, so he would like to sell some items from his extensive collection of treasures to those who might appreciate them. Anyone who has visited Luke's home knows that he could divest himself of three quarters of his possessions and still have too many.
The photo at right shows a Luke Adams photo expostion about the People's Republic of China, based on a Luke Adams trip there.
Some of the items Luke is putting up for sale include:
• Three bronze sculptures by Irish artist Jeanne Rynhart
• Two different sets of large glazed ceramic table sculptures from Europe
• Tiffany crystal paperweight eggs etched with Zodiac symbols,
• Marilyn Monroe figurines
• South American and African carvings
• Unopened Queen Nefertiti and King Tut collectible liquor decanters
• A large original Russian oil painting of a fighter on horseback
• A handmade wooden Russian balalaika

• Belleek china, ceramic and metal ware
• Smaller, fun items
In the photo to your right is a younger Luke Adams, sitting in front of the Taj Mahal in Agra, India.
Donated raffle gifts include:
• 2 Feb. 13 NYC ballet tickets from artSpaceQ
• $50 lunch for two from Sidetracks
• A cheer basket with Tuliamore Dew and six Irish coffee glasses from
Dorothy Raymond Morehead Real Estate
• $90 coupon for Personal Trainer for 40 minutes from licensed Physical
Therapist and Strength & Conditioning expert, Reginald Tiu
• Belleek fine china clock and Donegal fine china candle votive donated by
Erin Fagan-Cabezas, Dragonfly Graphics
• An original oil painting by local artist, which was selected for the Salt
& Fat juried show, "Feast," purchased for $500
• Glenlivet Oval Mirror donated by Lowery Liquors
Irish Eyes - Luke Adams Fundraiser At Murphy's In Sunnyside
The general public is invited to come and meet some of the nicest people in the neighborhood, even if you are not in the market to bid or shop for items. No organization will receive
any of the funds, except a minimal amount which will be used to cover gratuity and raw food materials. All of the remaining proceeds will go to Luke, who plans to attend, and will happily regale you the tales that accompany each purchase.
In the photo at right Lily Gavin of Dazies Restaurant of Sunnyside in Egyptian Nefertiti garb, with Luke Adams dressed as an Egyptian pharoah.
If you can't make the event but want to help, send checks made out to "Luke Adams," and give to Frances Schmidt or send / deliver to:
Sunnyside Artists, Inc. #166, 45-06 Queens Blvd., Sunnyside, 11104.
If you want to help prepare for the event Monday afternoon or evening 2/10, call Manny Gomez, president of Sunnyside Artists, at 718-909-4806.
Report by Patricia Dorfman / Queens Buzz photos
---
Sunnyside Neighborhood / Woodside Neighborhood Links
$element(adman,groupad,NHoodSSWS)$
Click on these advertisements for promotions, discounts and coupons by retailers and restaurateurs in Woodside, Sunnyside and nearby Queens.
Click this link to go to the:
Sunnyside & Woodside Neighborhood
Sunnyside Business Directory or Woodside Business Directory
Sunnyside & Woodside Real Estate or Events & Things To Do In Sunnyside & Woodside
Restaurants In Sunnyside & Woodside or Sunnyside & Woodside Shops & Shopping
---
$element(adman,groupad,Catgry Foodwine)$
Site Search Tips. 1) For best results, when typing in more than one word, use quotation marks - eg "Astoria Park". 2) Also try either singular or plural words when searching for a specific item such as "gym" or "gyms".
$element(bwcore,insert_search,N)$
Click this link to search for something in our Queens Business Directory. Also check out Taste of Sunnyside.
---
Click the log in link below to create an ID and post an opinion.
Or send this story to a friend by filling in the appropriate box below.
$element(adman,groupads,Sectional2 Ad)$
---