Guiding LIC Neighborhood Evolution?
LIC Summit Conference Takes A Holistic View Of Community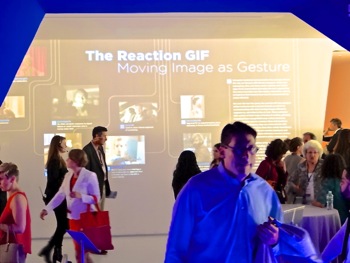 June 17, 2014 / Long Island City Neighborhood / Queens Business / Queens Buzz. I attended the first annual LIC Summit which was held at the Museum of the Moving Image and organized by the LIC Partnership. The conference ran all day, with lectures and panel discussions about all things Long Island City.
The first half of the day included discussions about the film industry and the LIC commercial and industrial real estate market. And the second half of the day included panels on residential real estate, but also on the possibilities of evolving a technology sector in LIC and an end-of-day session dedicated to the ongoing evolution of arts and culture in the neighborhood.
I attended the afternoon sessions to listen to the panel discussions about developing a technology sector in Long Island City, and a panel discussion on how to continue nurturing arts & culture in the LIC neighborhood, as many rents and real estate prices have risen to Manhattan-comparable levels.
Click here to read our report on the LIC Summit & photos.
---
Guiding LIC Neighborhood Evolution?
LIC Summit Conference Takes A Holistic View Of Community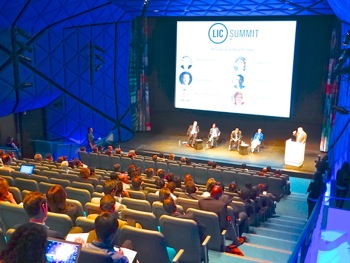 Continued. June 17, 2014 / Long Island City Neighborhood / Queens Business / Queens Buzz.
My first stop was the LIC residential real estate panel discussion, where they were talking about helping / enablingseniors in LIC to stay in their homes, and about the affordable housing shortage that exists in the city as a whole [at the end of the Bloomberg Administration there were a record 50,000 people living in NYC homeless shelters, including 20,000 school-age children]. To be sure, LIC real estate and affordable housing are interesting topics, but since I had covered them on other occasions – and the technology panel discussion was going on simultaneously – I opted for the technology panel. It's worth noting that we covered some aspects of both LIC real estate and technology development in Queens while covering the LIC Real Estate Breakfast earlier this year.
How To Create A Queens Technology Sector
When I arrived the panel was discussing what's needed to nurture a tech sector in LIC. Essentially the discussion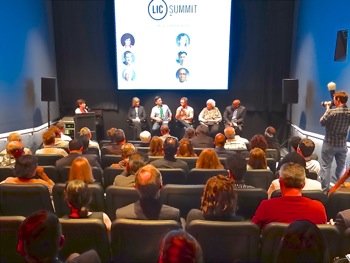 revolved around financing, transportation and having a critical mass of support and related services. One of the panelists, Joseph Tazewell, NYC Regional Director of the Empire State Development Corporation [a government non-profit originally designed to finance urban housing - circa 1968], said that NYS has $45 million in a collective resource pool it can make available via loans and investments to help develop the area / the tech sector. Tazewll said that Goldman Sachs put up about $10 million of it. A while back we did a story about other Queens small business financing organizations, which you can click the link to read about.
More East River Ferry Service For LIC & Queens
Cathy S. Dove, Vice President of Cornell Technion Campus advocated for increased ferry service between Roosevelt Island and LIC, stating that it was a necessity and an important requirement for which her organization is strongly supportive. We also heard this statement made by Jenny Dixon, Director of the Noguchi Museum in the cultural panel later in the day, as the Noguchi Museum & Socrates Sculpture Park, are located at the northern end of LIC, and not easy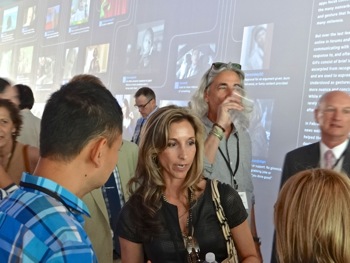 to get to via public transit. A culture bus was sponsored for the summer, which makes round trips from the Noguchi Museum & Socrates Sculpture Park to PS1 MoMA and the Museum of the Moving Image, but they believe that much more is needed.
LIC Summit Networking: Museum Of The Moving Image
At the break everyone came out to meet and greet other people from the community in attendance at the LIC Summit. I met a Time Warner Cable executive, an independent consultant from Brooklyn, and saw and in many cases spoke with representatives of Queens Council on the Arts, the Queens Film Festival, the Noguchi Museum, the Sunnyside Shines Business Improvement District, Modern Spaces, Brause Realty, Silver Cup Studios, Kaufman Astoria Studios, and a number of city government officials.
Film Industry In Queens - At MOMI
I queried one of the attendees about the film industry panel discussion in the morning. She said they had talked about how well the film industry is doing in Queens at the two studios. But the thing she found most interesting was an accounting, by a representative of one of the shows produced here, of their expenditures in the neighborhood. Between $1 and $2 million had been spent by this one show within the past year on hardware and lumber [biggest allocations by far], but also on dry cleaning and taxis.
How To Maintain A Vibrant Artistic Community Amid Rapidly Rising Rents?
The last panel discussion was dedicated to nurturing culture & the arts in the LIC neighborhood. Tom Finkelpearl, Commissioner NYC Department of Cultural Affairs, moderated the discussion. Tom mentioned that he had received better compensation than the NYC Mayor when he [Tom] was president of the Queens Museum [see Queens Library controversy for related story], and yet the Mayor manages an organization [NYC municipal government] of over 325,000 people and a budget of over $73 billion.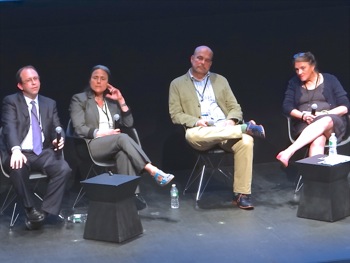 Jenny Dixon, of the Noguchi Museum talked about how the museum needed the aid of the city with regard to better infrastructure / transportation into the northern LIC neighborhood, for which long walks to the subway, biking and less than frequent bus service is currently available. As mentioned above, given the Noguchi Museum's proximity to the East River, they were advocating adding northern LIC ferry service as a viable option.
Carl Goodman, Executive Director of the Museum of the Moving Image talked about the organization as a cultural anchor in the neighborhood.
Anecdotal History Of LIC Artists & Residents
Sheila Lewandowski, Co-Founder of the Chocolate Factory, talked about how she and her husband Brian Rogers started the Chocolate Factory in LIC ten years ago in tandem with the Taste of LIC. The founding of the Chocolate Factory was in line with then Borough President Helen Marshall's notion that you shouldn't have to cross the river to see good theater. And the Taste of LIC was designed as a big, neighborhood networking event that showcased local restaurant cuisines. It grew from 200 attendees to 1,400 over the years. Sheila thought that the affordable housing shortage is a critical issue for the LIC neighborhood, as artists have begun exiting LIC because they can't keep up with the rising rents. We did a story on an art exhibit, Whitewash, which was about the 5 Pointz artists, which seemed to artistically capture the yin or yang of the LIC Neighborhood in transition – click here to read story.
Orestes Gonzales, Founder of OGDesigns LLC, talked about moving to LIC in 1991 when people thought that Long Island City was out on Long Island [I reckon technically Queens is on Long Island, but we all knew what he meant]. He said that what was exciting about moving to LIC back then, was that there were many other artists who had also moved out here and plenty of studio space was available at a low cost. At the time artists living in the East Village began migrating out to LIC [and Williamsburg / Brooklyn] because the higher rents were driving them out of those neighborhoods.
LIC: A Victim Of Its Own Success - Tom Finkelpearl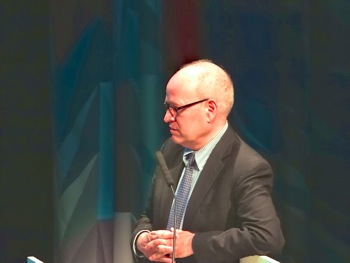 Tom Finkelpearl, NYC's Cultural Affairs Commissioner, noted that LIC was becoming a victim of its own success. The arts community, in tandem with an evolving restaurant culture, have made the neighborhood so desirable that one of his employees who lives in Manhattan said she 'couldn't afford to move to LIC'. This is not the first time I've heard LIC rents / prices compared to those of Manhattan.
Tom remembered back to when he had moved to LIC in 1981. At the time he was matriculating at Hunter College and driving a flower truck to pay his rent, which was relatively inexpensive. The neighborhood was considered unsafe and when he moved here there were prostitutes working a segment of Jackson Avenue. He noted that MoMA PS1, which was founded in 1971 and became affiliated with NYC's Museum of Modern Art in 2000, was one of the first cultural anchors in the neighborhood.
Today, Tom noted, the financial challenge for NYC artists is daunting. The artists arrive burdened with a hundred thousand dollars or more in debt, have to pay thousand(s) of dollars per month in rent and are challenged to find ways to make ends meet. It was challenging – he recalls – when he was a young[er] man, but nothing like it is today.
Artists Impact On Community & Real Estate Development / Prices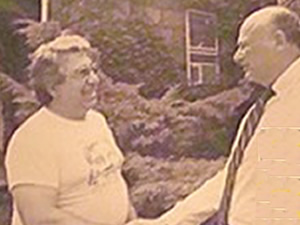 Carl Goodman of MOMI noted that artists are used to develop areas. And when they exit, the neighborhood loses its vitality. Jenny Dixon of Noguchi chimed in that former NYC Mayor Ed Koch was quoted as saying something along these lines: "Attract artists to the South Bronx to revitalize the neighborhood. They're one of the cheapest and most effective [real estate] development tools we have."
Goodman noted that institutions like the Museum of the Moving Image attract a lot of government and corporate financing, so that these larger, more well established cultural institutions in LIC / western Queens will remain even if the artists depart. That said, Goodman went on to say how the Museum of the Moving Image gets approached and tries to accommodate smaller, local organizations and he gave an example of a recent film festival.
LIC Issue: Housing That's Affordable To Artists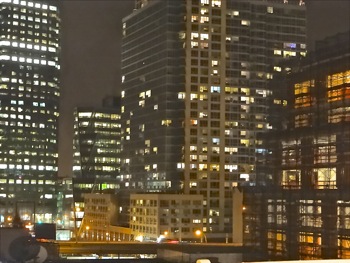 Sheila Lewandowski of the Chocolate Factory began discussing what needs to be done to keep the artists here. They need affordable workspace and living space. Affordable housing is a very important component of a community artist retention / attraction program. Long Island City, in particular northern LIC, may still have the opportunity to pilot initiatives to evolve the neighborhood in such a way that it retains its artistic and cultural vibrancy as the investment dollars move in.
One suggestion was to change the process for affordable housing so that artists, teachers, firemen and the like are eligible for it. Someone began a line of inquiry about whether artists, whose income is comparable to the poor, see themselves as part of that group. Many artists are well educated and have an opportunity to move elsewhere / do something else, while the really poor do not have those same opportunities.
Policy Suggestions To NYC Cultural Affairs Commissioner
Tom asked if the panelists had policy ideas. Someone ventured that an artist unit allocation be made in public housing projects like Ravenswood, QueensBridge and Astoria House. This would make housing affordable to some of them and possibly enhance the quality of life for the other residents.
Create Culture & Arts Committees On Community Boards
Sheila Lewandowski of the Chocolate Factory is a member of the LIC neighborhood Community Board. She suggested that Community Boards establish Culture & Arts sub committees, in a fashion similar to other sub committees like Safety and Housing so that artists participate in guiding community / neighborhood development.
Is Biking Now A Viable Means Of Transportation?
Tom mentioned that bicycles are an emerging as an acceptable method of transportation in those communities with bike lanes. Jen and Sheila talked about making work spaces available to artists at existing cultural facilities and somehow helping them with affordable housing. It was noted that $23 million was added to the Department of Education budget for the additional arts education in the public school system.
Can The Community Find A Method To Marry Art With Tech?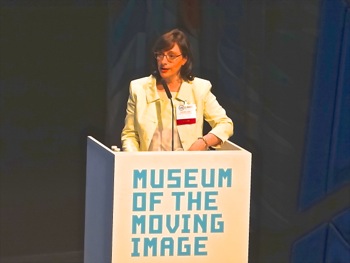 Finkelpearl and Goodman started talking about how technology companies / jobs might help provide artists with additional sources of income. Someone noted that the biggest contributors to artists incomes are their families. And that their best sources of employment are frequently older, more established artists.
Ultimately the LIC Partnership President, Elizabeth Lusskin, closed the conversation as time had run out. Liz closed saying, "We need to get creative and lever successes in one area of the community into others."
The world's and LIC neighborhood's issues had not yet been solved. But there was a cocktail party following the end of the program - and while I didn't stay myself – I've often found that with a few drinks, most of the world's problems go away.
LIC Summit: Working Toward Holistic Neighborhood Development
In summary, I found the conference a mix of interesting discussions by local players / participants about how to try to manage the success and great changes sweeping the LIC neighborhood. It seemed the intent was to try to preserve some of the vibrancy and personality that currently make LIC so attractive now, so that this will not be lost in the neighborhood's ongoing evolution.
It's worth noting for comparison that Soho NYC, once full of warehouses of artists and unusual bars & clubs - is now populated with the priciest national chain stores [which can be found in any big city in the country] and high priced restaurants [many of which serve mediocre food – see Yelp reviews].
You don't hear much about Soho anymore because the character and artistic vibrancy of the community were driven out as the money moved in. If not for the history and preservation of the beautiful facades of the older buildings, Soho would have already become an upper class commodity community, easily found in other parts of the state, the nation and the world. To some this is great progress, while to others it is not. Based on what I heard at the LIC Summit it looks like LIC is aspiring to achieve more than that. But, as with all things, only time will tell.
Many thanks to the LIC Partnership for organizing the event and for the Museum of the Moving Image for hosting it. Also thanks to the many LIC Summit event sponsors, for which I included a slide of them in the photo slide show.
The LIC Summit Photos & Slide Show
Click here to view the LIC Summit photos.
$element(ophoto,photo_slideshow,265,660,,5.00,fade)$
---
Astoria / LIC Related Info
$element(adman,groupad,NhoodLIC)$
Click these links for promotions by advertisers in Queens.
Click this link to go to the Astoria Neighborhood.
Click this link for the LIC / Long Island City Neighborhood.
---
$element(adman,groupad,NhoodAstoria)$
Site Search Tips. 1) For best results, when typing in more than one word, use quotation marks - eg "Astoria Park". 2) Also try either singular or plural words when searching for a specific item such as "gym" or "gyms".
$element(bwcore,insert_search,N)$
Click this link to search for something in our Queens Business Directory.
---
$element(adman,groupads,Sectional Ad)$
---
Click the log in link below to create an ID and post an opinion.
Or send this story to a friend by filling in the appropriate box below.
---