Liberian President Visits York College
Women's Month: Ellen Johnson Sirleaf Is First Female President Of African Nation & 2011 Nobel Peace Prize Winner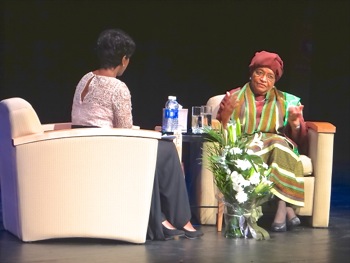 March 16, 2015 / Jamaica NY / Ethnic Culture / Queens Buzz. I had an opportunity to attend a public interview of President Ellen Johnson Sirleaf, the first female president of an African nation. President Johnson Sirleaf won the 2011 Nobel Peace Prize with two other African women for their non-violent work to provide safety to women on the African continent, and for their efforts to include women as full participants in the peace building process.
Author. President Johnson Sirleaf recently published a book entitled, This Child Will Be Great, which carries the message that you can grow up to be whatever you want to be, if you're willing to work at it. And I suppose Ellen Johnson Sirleaf's life serves as a case in point.
Parentage & Education. President Sirleaf grew up the daughter of mixed race, as her father was from a Pakistani / Indian tribe that settled in western Africa, and her mother was a mix of German and African blood. She was born in 1938 in Monrovia, the capital of Liberia, and married at the age of 17 in 1956. She attended college and in 1961, several years after her marriage, she moved to the U.S. with her husband where she attended the Madison Business College in Madison, Wisconsin. She also studied economics in Boulder, Colorado and earned a Master of Public Administration degree from the JFK School of Government at Harvard in 1971.
Click here to read the rest of our story about a Nobel Prize Winner's visit to Queens.
---
Liberian President Visits York College
Women's Month: Ellen Johnson Sirleaf Is First Female President Of African Nation & 2011 Nobel Peace Prize Winner
March 16, 2015 / Jamaica NY / Ethnic Culture / Queens Buzz.
Public Career. Over the next two decades Ellen Johnson Sirleaf first worked in Liberian government [1970's] and then worked for a couple of global banks [1980's]. In the mid 1980's she entered Liberian politics running for a Senate seat and eventually supporting opposition leader Charles Taylor. A civil war broke out. Ellen Johnson Sirleaf later criticized Taylor's treatment of the leaders from the other side.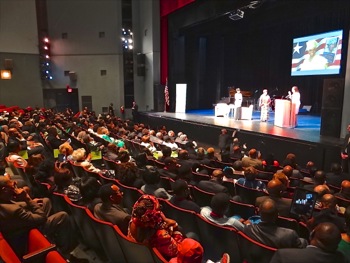 In the 1990's Johnson Sirlead worked as a Director for a United Nations regional development program. She ran for Liberian President in 1997 and lost. She ran again in 2005 and won. She said she would stay in office only one term, but ran for re-election and won a second term in 2011. At one point in her political career she was arrested and sentenced to ten years, but only served one month because of international calls for her release.
During her years in office she has tried to clean up the nation's balance sheet by reducing Liberia's national debt. It appears she's been successful on that front. She also made an effort to clean up corruption in government in Liberia. According to the Corruption Perceptions Index she has made progress in this regard, but the work here is far from done as Liberia ranks in the middle worldwide - but around the top quintile in sub Saharan Africa. She won the Nobel Peace Prize in 2011, only weeks before the Liberian national election, which the opposition claimed was international meddling, so the opposition boycotted the run-off election and thus they lost and President Johnson Sirleaf won.
Ebola Virus Reportedly Under Control In Liberia & Africa. While the intent of the York College visit was to showcase President Ellen Johnson Sirleaf's book, This Child Will Be Great, and her success as the first female president of an African nation [for Women's History Month]; the discussion also included an update on Liberia's recent healthcare crisis: the deadly ebola virus outbreak. President Ellen Johnson Sirleaf indicated that Liberia is now ebola-free and has the ebola virus under control. A New York Times article dated March 5, 2015 stated that the last known ebola patient in Liberia was released from the hospital.
The U.S. Center for Disease Control [CDC] stated that Liberia's ebola virus fatalities tallied about 3,600 dead since the outbreak in late 2013 / early 2014. The WHO stated that neighboring Sierra Leone and Guinea are expected to clean up their remaining ebola virus cases in Spring of 2015. The ebola virus is transferred via bodily fluids and is first detected via flu-like symptoms. There are less than a dozen known ebola patients in the U.S., one of which has died.
Ebola Virus Recent History. Ebola virus broke out in several western African nations, including Liberia, in December 2013 / January 2014. The outbreak reached potentially epidemic proportions in the fall of 2014 as the death toll climbed past 2,000 in Liberia alone. Since then the U.S. military and the World Health Organization [WHO] responded aggressively and, as mentioned above, the last known ebola patient in Liberia was released from the hospital in March 2015. As of January 28, 2015 the World Health Organization reported that there were 8,810 deaths attributed to the ebola virus, and that 22,092 people had been diagnosed with it. The ebola virus has been around since the 1970's, and has had intermittent outbreaks, leading experts to believe that the virus is not completely gone.
In concluding, President Johnson Sirleaf told us that Nelson Mandela and Martin Luther King were the inspirations for her work. After the presentation, a number of local organizations gave awards to the Liberian President in recognition of her work. This was followed by a book signing. Hundreds of people attended the event.
Liberia Brief History. The Republic of Liberia was founded in 1847 by freed African Americans who had returned to Africa and settled in what is now Liberia in the preceding decades. They were helped by the American Colonization Society which had strong support from U.S. President James Monroe, after whom the capital was named [Monrovia]. For 130 years the republic was governed by the Americo-Liberians. During the late 1970's until the end of the century there was a significant amount of unrest and political instability, which resulted in two successive civil wars which caused hundreds of thousands of casualties and ended in 2003. Ellen Johnson Sirleaf is the first president to serve the nation since the unrest.
Liberia has a population of over 4 million people and English is the official language, although there are 15 indigenous African dialects. Over 80% of the population lives below the international poverty line and a bit less than half of the remaining Upper Guinea rain forest is located in the nation.
Information Sources. The information provided above came out of a public conversation between President Ellen Johnson Sirleaf and Cheryl Wills of NY1 on the stage of the York College Milton G. Bassin Performing Arts Center. Much of the historical information provided above was either gathered from or corroborated by Wikipedia, National Public Radio, the Washington Post, the New York Times, Encyclopedia Britannica, the U.S. Center for Disease Control, the World Health Organization [WHO] and the Nobel Prize website.
Previously another Nobel Prize Winner visited York College. Liberian President Johnson Sirleaf is the second Nobel laureate to visit York College in Jamaica Queens. Muhammad Yunus, Nobel Prize winner in 2006, visited York College in 2008. Yunus received the award for his work to help improverished people start businesses by providing micro loans in Bangladesh and subsequently to other nations. Yunus also authored the book Creating A World Without Poverty.
---
---
Jamaica NY Related Info
$element(adman,groupad,NhoodJamaica)$
Click this link for promotions, discounts and coupons in Jamaica and Queens.
Click this link to go to the Jamaica Neighborhood News / Jamaica Restaurants Guide & Map / Jamaica Business Directory / Jamaica Shopping Center and Map.
---
$element(adman,groupad,Catgry Entertain)$
Site Search Tips. 1) For best results, when typing in more than one word, use quotation marks - eg "Astoria Park". 2) Also try either singular or plural words when searching for a specific item such as "gym" or "gyms".
$element(bwcore,insert_search,N)$
Click this link to search for something in our Queens Business Directory.
---
$element(adman,groupads,Sectional2 Ad)$
---
Click the log in link below to create an ID and post an opinion.
Or send this story to a friend by filling in the appropriate box below.
---