5th Annual Queens Fashion Show
Jamaica Just My Style Hits the Runway Saturday 6/18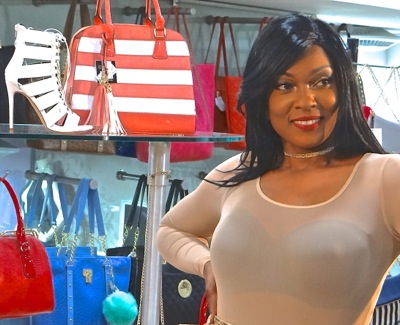 June 13, 2016 / Jamaica Neighborhood / Queens Fashion & Style / Queens Buzz.
The 5th Annual Jamaica Just My Style Fashion Show arrives Saturday at the Jamaica Performing Arts Center. Mrs. Queens, Nadine Grisby, will be headlining the event, which showcases local Jamaica and Queens designers, models and retailers.
I had an opportunity to get a small preview of some of the glitz and glamour in early May when the Jamaica Center BID [Business Improvement District] held a photo shoot at Pretty Women and Hotpoint Fashions, two leading women's clothing stores located along Jamaica Avenue near 165th Street.
It was a cool Spring day as I made my way to the photo shoot. The first photos were to be taken in the upstairs of Pretty Women, which is located in a large, spacious early 20th century store located along Jamaica Avenue just west of 165th Street.
Fashion Photo Shoot on the Ave - Mrs. Queens at Pretty Women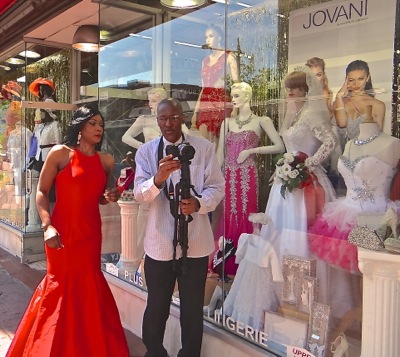 I walked up the steel framed staircase, appreciating the vintage beauty of the old department store. As I walked out onto the second story floor, the nearly century old wooden floorboards announced my presence. The flooboards provided an ever-so-soft reassuring cushion, like an old fashioned gymnasium allowing me to glide along toward the center of the store where Mrs. Queens, Nadine Grisby, was being photographed by Teddy Wilson. Jamaica Center Director of Business Services and Operations, Valerie Stevens, was also there facilitating the entire photographic event.
I joined in the festivities, photographing Nadine, as she danced and showered us with her theatrical persona. Pretty Women had arranged to have a few formals photographed for the shoot. In between the posing, while Mrs. Queens was changing outfits, I took a few photos of the store, which I've included in the video below.
Before departing I was introduced to Bert Salih, who has been operating the Pretty Women clothing store for 22 years on Jamaica Avenue. Pretty Women moved into this building only two years ago and has filled it with women's formals and evening wear for weddings, formals, proms and Quinsera, in sizes ranging from 2 to 24 and in names brands including Jovani, Colours, Serendipity and Mary's Bridal of Texas. He went on to tell me that this was the first time he had decided to participate in the Jamaica Just My Style Fashion Show, but that he was very excited to do so.
Click here to read the rest of the story about the Jamaica Just My Style Fashion Show in Queens, including links to prior years coverage, a video of some of the photo shoot, an interesting tale about Mrs. Queens and a link to free tickets to the show on Saturday.
---
5th Annual Queens Fashion Show
Jamaica Just My Style Hits the Runway Saturday 6/18
June 13, 2016 / Jamaica Neighborhood / Queens Fashion & Style / Queens Buzz. Continued.
The Compelling Story of Mrs. Queens Nadine Grisby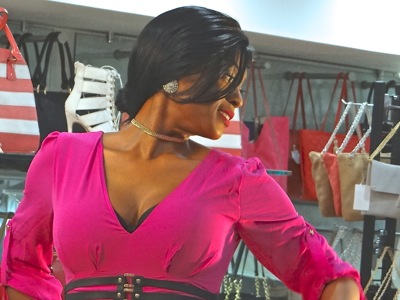 Hotpoint Fashions was next. The owner of this store chose one outfit that classifies as boy-ling clubwear, with a provocative top and alluring lace; followed by an eye-catching outfit I would classify as captivating vacation couture.

I had been chatting in between photos with Mrs. Queens, Nadine Grisby, only to learn that she had a rather incredible story to tell. Nadine told me that less than two years ago, in 2014, she weighed in at 230 lbs. In the past eighteen months she dropped 70 lbs. so that she could compete in the Mrs. Queens and [hopefully] follow on pageants.
Was Mrs. Queens really the mother of three children? As the saying goes, only her hairdresser [and husband of seven years] know for sure. Nadine is also the author of a new book that was scheduled to be completed shortly entitled Lost 7 Lbs in 7 Days.
Retailers on Jamaica Avenue - Hotpoint Fashions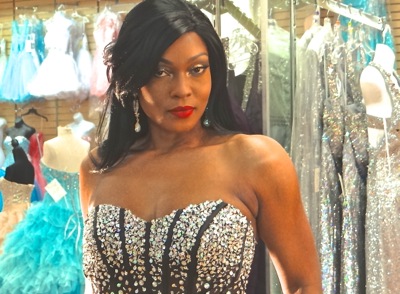 Hotpoint Fashions has been in business since 1978. The store is owned by the Shrems, and managed by a father and son team. They sell accessories, lingerie, shoes, cosmetics, costume jewelry, shoes and clubwear. Eddie Shrem told me that this is Hotpoint Fashions' second year in the show.
The time passed quickly and it wasn't long before I had to depart. I shot a few photos of Hotpoint Fashions as I made my way out, which are also included in the video.
Jamaica Just My Style Fashion Show & Hors d'oeuvres
The Jamaica Just My Style Fashion Show begins at 6 pm Saturday June 18th at the Jamaica Performing Arts Center (JPAC) at 153-10 Jamaica Avenue.
Here's a link to a story done about a prior year of the Jamaica Just My Style Fashion Show.
Click the Refresh Button if Video Does Not Appear
---
---
Jamaica NY Related Info
$element(adman,groupad,NhoodJamaica)$
Click this link for promotions, discounts and coupons in Jamaica and Queens.
Click this link to go to the Jamaica Neighborhood News / Jamaica Restaurants Guide & Map / Jamaica Business Directory / Jamaica Shopping Center and Map.
---
$element(adman,groupad,Catgry Entertain)$
Site Search Tips. 1) For best results, when typing in more than one word, use quotation marks - eg "Astoria Park". 2) Also try either singular or plural words when searching for a specific item such as "gym" or "gyms".
$element(bwcore,insert_search,N)$
Click this link to search for something in our Queens Business Directory.
---
$element(adman,groupads,Sectional2 Ad)$
---
Click the log in link below to create an ID and post an opinion.
Or send this story to a friend by filling in the appropriate box below.
---