Business & Real Estate In
Astoria
---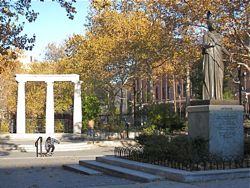 Astoria NY is located in the northwest section of Queens. Astoria is commutable via the N, W, G, V and R subway lines. Astoria's population is about 165,000 and is comprised of Italians, Greeks, Middle Easterners and Latin Americans. Astoria covers about 5 square miles.
The Astoria community offers a wide selection of authentic ethnic cuisines in restaurants with ambiences that would satisfy a wide range of tastes. Astoria also has a robust artistic community, as well as fun and interesting shopping districts that line Steinway, Broadway, Ditmars, 31st Streets and Northern Blvd ... and many places in between.
---
Astoria Cove Real Estate Development
East River Waterfront Transformation Moves North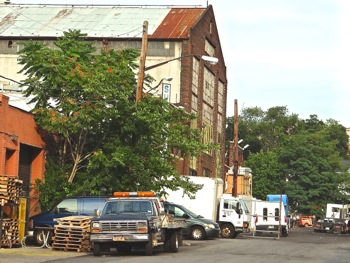 August 18, 2014 / Queens & Astoria Real Estate / Astoria Neighborhood / Queens Buzz. Unbeknownst to at least a few of the folks who live in the far northwest corner of Astoria and Queens, big plans for changes have been taking shape over the past couple of years.
The Hallets Point development passed Community Board One in May of 2013 and the Astoria Cove development is making its way through the governmental gauntlet of real estate development approvals.
The plan calls for a large new complex along the East River which will occupy the location where the building in the photo now stands, along with several other blocks of territory which will become its footprint. The building shown above is about a block east of Build It Green.
Community Board One and the Queens Borough President had issues with the development, primarily calling for a buildout of public infrastructure to support the development as well as for the inclusion of a higher number of affordable housing units. The development will be built completely on privately purchased land, which is in contrast to the Hallets Point development which was done using NYCHA [NYC Housing Authority] property.
We'll have more about this at a later date. By Michael Wood.
---
Steinway Mansion SOLD
Steinway Mansion LLC Purchases Mansion For $2.65 Million
May 5, 2014 / Astoria Real Estate / Steinway Mansion / Queens Buzz. On Friday May 3rd, 2014, the Steinway Mansion was sold for $2.65 million. The mansion went on the market in August of 2010 and was handled by a number of brokers - including Southebys International Realty, Halvatzis Realty Astoria and Prudential Douglas Elliman - before being turned over to Amorelli Realty of Astoria, which closed the deal.
At present, we understand that the land parcel remains intact, which last we heard was between one and two acres. This acreage is down from the 700 acres that Benjamin Pike, the original owner, purchased in the mid 1800's [circa 1858]; and the 70 acres owned in tandem with the mansion by the Steinways [circa 1870]. The most recent owners, the Halberians, held about a two acre lot in tandem with the mansion, which includes the grounds with which those who have visited the mansion in modern times are familiar.
The Steinway Mansion is currently zoned as residential and we were told that - as of this date - that nothing was underway to change that. Rumors have been circulating for months that the mansion would be turned into a restaurant, but we could not find anyone close to the owners who could confirm that.
Bob Singleton of the Greater Astoria Historical Society and Friends of the Steinway Mansion said that those two organizations continue to have an interest in helping preserve the Steinway Mansion an historic jewel for Astoria, Queens and NYC.
As we understand it, the Steinway Mansion is landmarked at federal, state and city levels, which means the outside of the structure may not be alterred nor may it be torn down. We were informed that Steinway Mansion LLC is a locally owned company, but the names of the owners have not yet been made public.
The realtors who closed the deal include Lauren Cornea, Christina Halvatzis and Paul Halvatzis - all of Amorelli Realty.
---
---
Click to view the Astoria neighborhood
---
Steinway Mansion Under Contract
Steinway Mansion Under Contract To Private Buyer
Historic Mansion Was Built By Early NYC Technologist & Later Bought By Renaissance Man
Last Chance For Queens Officials To Act On Their Speeches About Historic Preservation, Nurturing Culture & Tourism
March 12, 2014 / Astoria Neighborhood / Real Estate In Queens / News & Opinion. Queens Buzz. Well, the saga is almost over. NYC and Queens government officials are about to let slip into private hands, the greatest historical relic of the 1800's in Queens. And what could have been - and could still be - one of the greatest historic sites / historic tourist attractions of Queens. The Steinway Mansion is under contract to be purchased by a private buyer.
It's not that Queens and NYC government officials haven't had a chance to save it. The historic mansion, which was landmarked for its historic signficance decades ago [landmarking prevents changes to outside of the structure], came on the market in August of 2010. The asking prices has been between $2 and $4 million, which given that far smaller homes with no significance are already selling for over $1 million in the Astoria neighborhood, it seemed like a reasonable asking price.
Click here to read the rest of our report about the Steinway Mansion Under Contract. The story includes photos and links to other stories we've done over the years about the Steinway Mansion and it's inhabitants and their endeavors. The story also includes the business case for taking the Steinway Mansion public and transforming it into a museum / cultural destination for all of Queens, NYC & the world.
---
Hotels In Queens
Hotels In Queens
Hotels In Queens Neighborhood of Dutch Kills in LIC
March 21, 2011 / Long Island City LIC / Long Island City Real Estate / Queens Buzz. Over the past year I've watched the rapid growth of eleven hotels in the Dutch Kills neighborhood of Long Island City. They're located within an eight block area, near the N / Q subway lines in LIC.
Construction on many of these Long Island City hotels appears to have been completed. Although there are at least a couple of them which appear to have quite a bit more work to do. Six of the new Dutch Kills Long Island City Hotels are already in operation.
Click here to read the rest of our report about new hotels in Queens - in the Dutch Kills neighborhood of LIC.
---
East Side Access Project - Queens
East Side Access Project Moving Along
How Will This Project Affect Queens Real Estate?
Queens Real Estate / October 4, 2010 / Queens Buzz. Progress on the East Side Access Tunnel project has been visible in Queens since early Spring 2010. The MTA has been busy drilling a new tunnel under the East River from LIC / Astoria, using the Sunnyside Railway Yard as its staging grounds. The photo to your left shows the view of the new tunnel being built underneath the East River from an Astoria / LIC perspective. The tunnel connects into Manhattan around 63rd Street.
Meanwhile in the Sunnyside railway yards, many of the buildings that once dotted the landscape have been demolished. Thankfully this doesn't include an old train station which has been around for many years [see photos in rest of story / slide show]. They've also cleared away a number of old warehouse and garage like structures along 43rd Street between Northern Blvd and 39th Avenue.
Click here to get an update on the East Side Access Project impact on Queens real estate.
---
---
Steinway Mansion - Astoria Real Estate
Steinway Mansion - Astoria Real Estate
Lincoln Era Mansion & Queens History To Be Sold
Astoria / August 20, 2010 / Queens Buzz. On Wednesday afternoon I set to work on this story after returning from a fascinating four hour visit with Michael Halberian, owner and whose family occupied, the Steinway Mansion for the past 82 years. The mansion is located in Astoria, just north of 19th Avenue on 41st Street [map link provided at end of story].
I felt like I'd stepped through a time warp, back into the late 19th and early 20th centuries. The visit connected me to one of the legendary centerpieces of Queens history - the Steinway family and the mansion they occupied during their golden years ... but the mansion's history neither starts nor ends there.
Michael regaled me with anecdotal tales supported by the many books off his shelves, or by pointing to numerous remnants of the past, kept in pristine shape in this beautiful old Astoria mansion on the hill overlooking the East River.
Click here to read more about the Steinway Mansion For Sale In Astoria Queens.
---
Home Improvement & Construction In Queens
---
Banks & Loans In Astoria & Queens
---
Retail & Shopping In Astoria
---
Wholesale & Manufacturing In Queens
---
Restaurants In Astoria
---
---
Government & Employment In Queens
---
Transportation In Astoria & Queens
---
---
Astoria / LIC Neighborhood Links
Click on these advertisements for promotions, discounts and coupons by retailers and restaurateurs in Astoria and nearby LIC.
Click this link to go to the:
Astoria Neighborhood or Astoria Business Directory
Astoria Real Estate or Events & Things To Do In Astoria
Restaurants In Astoria or Astoria Shops & Shopping
---
Site Search Tips. 1) For best results, when typing in more than one word, use quotation marks - eg "Astoria Park". 2) Also try either singular or plural words when searching for a specific item such as "gym" or "gyms".
Click this link to search for something in our Queens Business Directory.
---
Click the log in link below to create an ID and post an opinion.
Or send this story to a friend by filling in the appropriate box below.
---