Queens District Attorney Candidates 2019
First Impressions at the Queens DA Forum
Lugo Arrives Late, Katz Leaves Early, Nieves Rambles, Lasak is Most Experienced in the Current Way of Doing Things, Lancman is an Articulate Politician Who was Knowledgeable but not Experienced, and Caban seemed Articulate, with Relevant Experience & a Vision for the Future
April 29, 2019 / Jackson Heights Neighborhood / Queens Neighborhoods / Queens Politics & Government / News Analysis & Opinion / Queens Buzz NYC.
I attended a forum for the candidates running for the Queens District Attorney's Office at the Jackson Heights Jewish Center in Queens this evening.
Six candidates came to the Meet the Candidates forum for the Queens District Attorney at the Jackson Heights Jewish Center on Monday night. The center was filled with folks interested in learning more about the candidates seeking to replace outgoing Queens District Attorney Richard Brown, who has occupied the office for nearly 30 years [1991].
To many the Queens District Attorney's Office is in dire need of reform. Others cite the generally low crime rates in Queens in the outgoing District Attorney's defense.
Two Local Politicians & a Private Practice Attorney Vie for the Job
Two politicians, Queens Borough President Melinda Katz and NYC Councilmember Rory Lancman, are running for the office, presenting themselves as reform candidates, who don't have any experience as criminal prosecutors or defenders - but who have borough-wide name recognition, political connections and wealthy donor contributors - who claimed that the first two of these three characterizations, will enable them to reform the system. Unlike the other three candidates present at the forum [Lugo came late and hence we have no response from her], these two politicians said they do accept contributions from Political Action Committees or Real Estate Developers. And both of these candidates, in additon to their government experience have also - for a time - been practicing civil [not criminal] court attorneys.
Another candidate, Betty Lugo, has criminal justice experience that seems to have started and ended in the 1980's. Ever since she has been a partner in a Latina law firm, and according to her website, she seems to be a well connected attorney who participates in a multitude of organizations.
The Candidates Who Have the Education, Experience & Careers Working in the Criminal Justice System
I found one of the candidates, Jose Nieves, to be a sleepy speaker, seeming to take us in the audience on a circuitous journey before making his point - if a relevant point was ever made at all. But I visited his website and he has what looks to be a solid resume, with relevant education and experience including eleven years experience working in the Brooklyn DA's Office [ending in 2011]. Since then, Nieves has done several two to three year gigs with the FAA, the City Department of Corrections and the NYS Attorney General. But on the night I saw him, that knowledge and experience didn't seem to come through.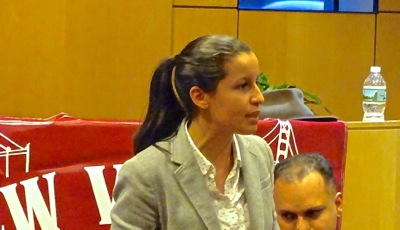 The two candidates that most impressed me were former Judge Gregory Lasak, who has 35 years experience working in various capacities in the criminal justice system. He seems very well qualified.
And last but not least, Tiffany Caban. Tiffany Caban introduced herself as a gay attorney, with seven years experience as a Legal Aid attorney and Public Defender who has tried over 1,000 cases. She says she wants to reform the justice system by using the Queens District Attorney office to address and correct the behavior of small time offenders, so she can shift resources to go after the real criminals in society who oftentimes get off free.
Harassment Landlords are a Repeated Topic of Conversation
One group of offenders, harassment landlords, was highlighted several times during the forum. These landlords attempt to harass tenants out of the rent stabilized apartments in their buildings, so the landlords can take possession of the rent stabilization benefit that is rightfully the tenants - not the owners' - and make outsized illegal profits by monetizing the government benefit as their own. It seems to me that harassment landlords are guilty of attempted grand larceny - given that the differential value of a rent stablized apartment vis a vis a similar free market apartment - can easily be worth a quarter to a half million dollars per unit over a ten or twenty year time period.
There are three more Queens District Attorney forums this week, and several more in May - including a debate on May 15th at the Jamaica Performing Arts Center.
---
LaGuardia Airport - Airplane Noise - LGA NYNJPA FAA
LaGuardia Airport - Airplane Noise
Jackson Heights, Corona & Queens Voice Concerns Regarding LGA Airplane Noise
FAA Considering Extension of LaGuardia Airport Hours & Other Changes
October 19, 2015 / Jackson Heights Neighborhood / Queens Issues LaGuardia Airport Noise LGA / Queens Neighborhoods / News Analysis & Opinion / Queens Buzz.
I attended a town hall meeting about the airplane noise coming from LaGuardia Airport at PS 69 in Jackson Heights. The town hall had been organized by NYS Senator Peralta's office and the panel of speakers included local government officials and representatives of the Federal Aviation Administration [FAA] and the New York New Jersey Port Authority [NYNJPA].
Standing Room Only at PS 69
The auditorium was packed and there were people lined up along the walls as well as standing in the back of the auditorium. Airplane noise has emerged as a big issue for Jackson Heights due to a couple of construction projects going on at the airport – both of which will be completed at the end of November.
Cynical Audience Member's Point of View
The timing of the town hall meeting, only six weeks before the construction was to end, led one of the local pundits to cynically suggest that this was merely political theater, rather than an effort to accomplish anything substantive.
There was an earlier town hall meeting organized about two years ago by NYC City Councilmember Dromm, to tackle the problem in its early stages, and while it was happening - not after it was all over - which is what we're close to today.
But that said, these town hall meetings are not just political theater, although inevitably that is some of it, which you will see in the video. And while the immediate problem will subside, we discovered that there a number of efforts either underway or in the planning stages, in which the community has a vested stake in the outcomes.
Not Said In Meeting: Federal Register States That Consideration Is Being Given To Extending LGA's Operational Hours & Slots
In doing follow up research I found a piece on the Federal Register government website that informed me that the FAA is considering changing the operational hours and slots for LaGuardia Airport. This was not discussed at the town hall [click into story for additional detail]. We also found other things that were either scarcely touched upon or not addressed, which we included in this report.
Click here to read the rest of this report about LaGuardia Airport Airplane Noise and the NYNJPA & FAA in Queens. The report includes video presentations, including some audience interaction, and a photo slide show and other information about FAA air traffic changes, airplane noise and what you can do about it.
---
Jackson Heights Beautification Group - JHBG
JHBG Celebrates 25 Years Of Service
Jackson Heights Beautification Group Celebrates 25
September 30, 2013 / Jackson Heights Neighborhood / Queens Issues / Queens Buzz News. I had the pleasure of spending some time at the celebration of the 25th anniversary of the Jackson Heights Beautification Group's existence. During the course of the evening I had the opportunity to talk to a number of members, many of whom had been with the organization for decades. And during the course of these conversations I came away having learned something about their collective accomplishments, and in some senses, the early to modern history of Jackson Heights.
Some of the JHBG's Accomplishments
The Jackson Heights Beautification Group [also known as JHBG] started when a group of residents decided to 'take back the neighborhood' from vandals doing property damage [grafitti], real estate developers knocking down high quality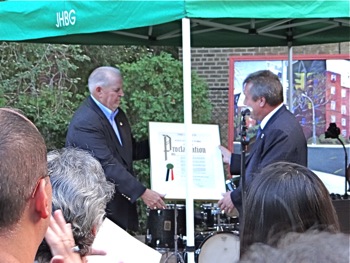 historic buildings, people breaking sanitation laws [doggie doo], and developers trying to obtain zoning variances that would downgrade the neighborhood. But the community organization was not just about participating in the governance process and ensuring that the city laws and ordinances were enforced; they also sought to enhance the quality of neighborhood life.
Hence the Jackson Heights Beautification Group sought funding for summer concerts, helped bring a farmers market to Jackson Heights, worked collaboratively to create more public parkland [78th Playstreet & the Garden School Athletic Field], and most recently helped start an orchestra. They will be the first to tell you that they didn't do these things by themselves, but however modest, they did play an important role.
In the photo above City Councilmember Daniel Dromm gives an award to Jackson Heights Beautification Group President Edwin O'Keefe Westley honoring the neighborhood group's service to the community.
And so you may click here to learn a bit about the formation and history of the Jackson Heights Beautification Group, as well as a bit about the 20th century life in Jackson Heights as told by those who lived it.
---
Queens Chamber of Commerce - Biz Expo 2012
Biz Expo 2012 - Queens Chamber Of Commerce
May 22, 2012 / Flushing & Jackson Heights / Queens Business / Queens Buzz. I attended the Queens Chamber Biz Expo at CitiField on Tuesday. The event runs from 10 am - 3 pm, offering an opportunity for visitors to browse through the tables of between 50 - 75 or so businesses offering services in Queens.
While some of the businesses at Biz Expo 2012 at CitiField were the larger firms with national brands, the majority of the companies in attendance were home grown Queens businesses, covering a range of products and services offered in the borough, including a number of relatively new companies in the food and energy fields. In the photo above is the entrance to the Queens Chamber of Commerce Biz Expo 2012 at Caesar's Club at CitiField in Flushing.
Click here to read the rest of our report including Queens Chamber of Commerce Biz Expo 2012 photos.
---
Stillspotting Queens - Jackson Heights & NYC
Experiential Literature - Stillspotting
An Intimate Journey Into The Jackson Heights Neighborhood
April 15, 2012 / Art in Queens / Jackson Heights / Queens Buzz. I rode my bike through the backstreets of Woodside on a warm spring Sunday of 2012. The sun was glistening, the air was fresh and warm. People were working in their yards, conversing in the streets, and heading to or from somewhere. And I was on my way to the Stillspotting kiosk in Jackson Heights.
A few weeks ago the Guggenheim Museum had contacted me about the Stillspotting program they were to launch in Queens starting April 14th. After a few brief conversations with the publicists, I thought I had a sense of it, but my understanding - like the concept itself - was fluid. I wasn't sure whether or not it would be interesting, but I decided to check it out anyway.
Click here to read more about Stillspotting Queens in Jackson Heights.
---
Jackson Heights 3 AM - 167 Theatre
Jackson Heights 3 AM
Third Of A Trilogy About Jackson Heights
January 18, 2012 / Jackson Heights / Performing Arts in Jackson Heights / Queens Buzz. I just returned from previewing Jackson Heights 3 AM. It's the third of a trilogy put together under the direction of Ari Kreith of Theatre 167 about the Jackson Heights neighborhood. The play is as mixed as the neighborhood, combining comedy, tragedy and romance to portray the late-night life in the multi-ethnic neighborhood of Jackson Heights.
The cast of actors and actresses did a great job of caricaturing a wide swath of late night personas, as they drew us into the post midnight hours along Roosevelt Avenue; journeying into some of the drama and humor that might generally accompany a late night voyage into NYC urbanity in northwestern Queens.
Click here to read our review of Jackson Heights 3 AM by Theatre 167.
---
U.S. Census Data 2010 - Queens
Queens Census 2010
For Jackson Heights, Elmhurst, Flushing & Woodside
October 25, 2011 / Jackson Heights Neighborhood / Real Estate in Jackson Heights / Queens Buzz. I just returned from a fascinating look into the Census data for Jackson Heights, Corona, Elmhurst, Flushing and Woodside.
Fascinating? Yes, fascinating. Fascinating because there have been significant demographic shifts in these neighborhoods over the past decade. And because Steven A. Romalewski, Director of CUNY Mapping Services, gave us a demographic map presentation, the likes of which I'd never seen before. Arturo-Ignacio Sanchez of Community Board Three added quite a bit of qualitative flavor to the presentation, reminding me of some of my best college professors [because he was knowledgeable and enthusiastic]. Danny Dromm, the NYC City Councilmember of Jackson Heights was the sponsor of this presentation.
But I digress. Click here to view our report on the 2010 Queens census [with exclusive emphasis on Jackson Heights / Corona / Elmhurst & adjacent neighborhoods], including slide show with many of Steven Romalewski's slides and a link to an interactive mapping site.
---
Landlords' and Tenants' Rights In Queens
Landlord / Tenant Rights In Queens & NYC
An Introduction Into the Legal Framework Governing Landlords' and Renters' Rights
September 23, 2011 / Elmhurst Neighborhood / Queens Buzz. I attended a seminar on Renters' Rights sponsored by City Councilman Daniel Dromm. The panel was intended to provide tenants and landlords with an awareness of their rights and guidance to the proper city agency in order to obtain resolution of one's grievance(s). One statement I'll make upfront, is that comprehending the statutes and determining who has jurisdiction with respect to a grievance, isn't simple. Hence in the report that follows, we will try to provide some insight into the process, but recommend that you contact the city using the 311 telephone number to initiate any claim or to seek reference in defending against a claim.
Click here to read our report about rights of landlords and renters in Queens. This report to be posted Columbus Day Weekend.
---
iVote Festival - Legal Residents, Citizenship & Voting Rights In Queens
iVote In Jackson Heights
Legal Residency, Citizenship & Voting Rights In Queens
August 20, 2011 / Jackson Heights Neighborhood / Queens Buzz. I attended the iVote Festival in Jackson Heights on Saturday to see what it was all about. The event was sponsored in part by the Humanist Party, which wants to restore "an old practice" of allowing legal residents the right to vote in municipal elections where they work, live and pay taxes. According to sources at this event, there are currently 1.3 million legal residents in New York City who don't have any voting rights in NYC.
We were told that by some estimates, 60% of Jackson Heights residents are legal residents who have no representation in local government. Apparently obtaining U.S. Citizenship is far more difficult that just passing a test. Click here to read more about legal residency, citizenship and voting rights in Queens which were discussed at the iVote Festival in Jackson Heights neighborhood.
---
theatre 167
theatre 167 in jackson heights
You Are Now The Owner Of This Suitcase
March 14, 2011 / Jackson Heights / Dance & Theater / Queens Buzz. I was able to preview the new play, You Are Now The Owner Of This Suitcase, now in progress at 167 theatre in Jackson Heights. It's an original work written by about seven people. The producer came up with the approach to collecting material for the play, and then in collaboration with a dramaturg, worked with the group to shape it.
The story revolves around a young woman from Ecuador who decides to visit her grandmother in Jackson Heights to see if she would like to live here. She meets an American on the plane [see photo] and before they depart, their suitcases get switched. We follow both of them into the magical world of Jackson Heights, watching their encounters with the Indian / Bengali phone salesman, the Chinese or Korean dry cleaner ...
Click here to read our report about You Are Now The Owner Of This Suitcase by theatre 167, including a photo slide show of the play which runs last three weekends in March 2011 at PS 69 in Jackson Heights.
---
---
Jackson Heights / Queens Member Events Calendar
1. Click the icon to your left to view the Queens Events Calendar.
2. To submit an event to the member calendar set up a member ID in the COMMUNITY section of the site along the left side bar. Then click into the Member Calendar link in the same section to post the event. To start posting a member event you must first click the drop down arrow to select the member calendar. Event postings are FREE to community organizations, arts groups and non-profits.
---
Jackson Heights & Elmhurst News Archives
---
Site Search Tips. 1) For best results, when typing in more than one word, use quotation marks - eg "Astoria Park". 2) Also try either singular or plural words when searching for a specific item such as "gym" or "gyms".
Click this link for promotions by advertisers in Queens.
Click this link to search for something in our Queens Business Directory containing over 1,000 listings.
---
Click the log in link below to create an ID and post an opinion. Or send this story to a friend by filling in the appropriate box below.
---