Queens Borough President Candidates - Queens BP Office Election 2020
First Impressions: Queens Borough President Forum
Costa Constantinides, Elizabeth Crowley, Danniel Maio, Anthony Miranda, Donovan Richards & James Quinn
January 19, 2020 / Jamaica Neighborhood NYC / Queens Politics NYC / Queens Buzz NYC.
On Sunday I went down to Jamaica town to watch the candidates for Queens Borough President talk about themselves, their qualifications and their take on the issues facing Queens. The following is an account of what I saw and heard.
The photo at right shows six of the nine Queens Borough President candidates [from left to right] - Costa Constantinides, Elizabeth Crowley, Danniel Maio, Anthony Miranda, Donovan Richards & James Quinn - at a forum in Jamaica on Sunday.
Queens Boro President Candidates Forum in Jamaica
The event was held at the Harvest Room, which is on 160th Street just off Jamaica Avenue and adjacent to the Jamaica Market. The forum was moderated by NYS Senator John Liu and an attorney Soma Syed, and organized by the Community Alliance Group and the American Pakistani Advocacy Group. The moderators, John Liu and Soma Syed, are shown in the photo below.
Queens Borough President Office Election is on March 24th, 2020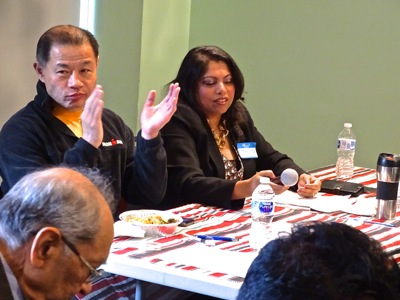 They started the forum about an hour late, as they postponed the start time, while waiting on some of the candidates' arrivals. There are currently nine people running for the Queens Borough President Office, and the election is scheduled for Tuesday, March 24th, 2020. Of the nine candidates, six participated in the forum. Notably absent was one of the leading Progressive candidates, NYC Councilmember Jimmy Van Bramer, as well as two far lesser known candidates, Dao Yin and Everly Brown.
The 2020 Queens Borough President Candidates in Attendance at the Forum
Those participating included: 1) former NYC Councilmember from Ridgewood and former Queens Democratic Party Chairman Joe Crowley's cousin, Elizabeth Crowley, 2) Progressive NYC Councilmember Costa Constantinides of Astoria, 3) Democratic Party Machine favorite NYC Councilmember Donovan Richards of Jamaica, 4) former map maker and the only Republican in the running Danniel Maio, 5) former Assistant District Attorney James Quinn, and 6) former NYPD Sergeant Anthony Miranda.
Queens Borough President Candidates Introductions
I stayed for about 90 minutes, which covered the candidate introductions and six major questions. I didn't stay for the short answer questions, nor for the audience questions, which sometimes can be the best.
---
Queens District Attorney Candidates - Queens DA Office Election
Why do Real Estate Developers Favor Katz for Queens District Attorney?
Tenants Pay Heed: Katz Became a Real Estate Development Lobbyist for Greenberg Traurig After Chairing the Land Use Committee in the NYC Council
This report covers campaign tricks, the phony Queens Library 'corruption scandal', the alleged Curtis Sliwa affair and something about a Katz Fundraiser at restaurant with Alleged Mob ties ...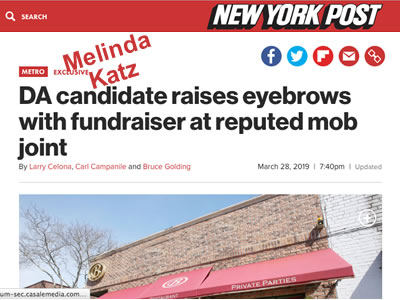 June 17, 2019 / Queens Neighborhoods / Queens Politics NYC / News Analysis & Opinion / Queens Buzz NYC.
We're a week away from Election Day for the Queens District Attorney Office. Melinda Katz, whose candidacy was once believed to be a shoo-in - based on her Borough-wide name recognition and the unmitigated support of the Queens Democratic machine.
Is Melinda Katz Candidacy for District Attorney Faltering?
It now appears that her candidacy may be in jeopardy as the Queens Democratic machine called upon Governor Cuomo to help raise funds to either stop or slow Katz's accelerating slide in the polls. It's worth mentioning that the Cuomo's June 10th fundraiser was not held in Queens – where it should have been – but rather in Manhattan [where the real estate developers are?].
IT'S NOT FUNDING - The Real Estate Cash has been Pouring In
Is Melinda Katz's Candidacy Faltering Because she doesn't have the Qualifications or Because she has shown little interest in Criminal Justice until she Began Running for the Queens DA Office?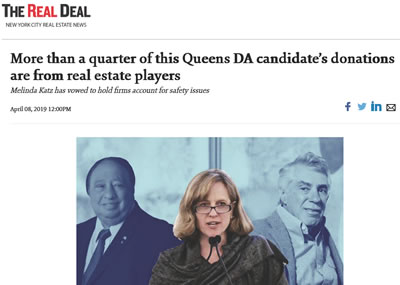 But it's not funding that Katz needs help with. It's her lack of criminal justice education, her complete lack of experience in the criminal justice system, and her lack of interest in criminal justice issues over her entire career until about six months ago.
As a point of contrast it's worth noting that Queens District Attorney candidate and NYC Councilmember Rory Lancman also lacks a criminal justice degree and experience – but at least he served on committees that focused on the topic and dealt with the issues – which Melinda Katz has not. The focus of Katz's early political career was on women's and health issues, and the rest of her public career largely centered on Land Use / real estate development, as she was Chair of the Standing Committee on Land Use during her time as a NYC Councilmember.
Both she and Lancman are in term limited positions which expire at the end of 2021, which in political terms, is just around the corner. The Queens District Attorney Office is not term limited and the last Queens DA, Richard Brown, served in that position nearly three decades [28 years]. Richard Brown recently died, at age 86, at home on May 3, 2019.
Real Estate Development Lawsuits in Queens
In recent years there have been a myriad of lawsuits involving real estate developers in Queens. These center around harassment, contested evictions and around safe work practices for contractors and employees. Unfortunately I don't have time to enumerate them, but you can do a search on this yourself using the search string 'Queens real estate developers lawsuits'.
---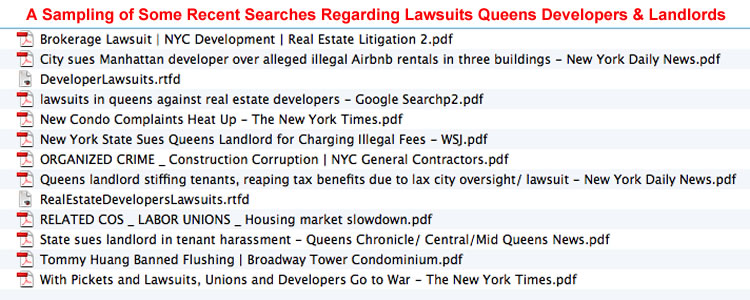 ---
Queens Voters have a Couple of Other Very Qualified Candidates – One Conservative & One Liberal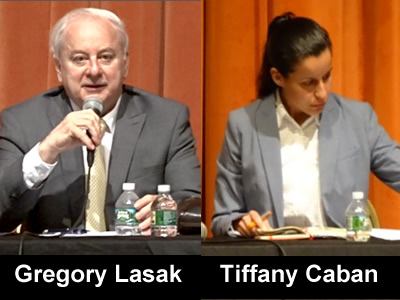 The two leading candidates with criminal justice degrees and experience are former Judge Gregory Lasak and Public Defender Tiffany Caban. Former Judge Gregory Lasak has a career spanning more than three decades working in the criminal justice system, and Tiffany Caban has spent seven years working in the criminal justice system as a Legal Aid Society attorney and Public Defender. The choice here is pretty clear as Judge Lasak is a go-slow advocate of reform, while Tiffany Caban is a passionate advocate of reform. But at least both of these candidates have qualifications that fit the job.
There's an old saying in business that goes something like this, "You can't manage a process you don't understand. And you can't understand a process unless you've done it."
Melinda Katz runs as both the Establishment & Reform Candidate
FLIP FLOPS: Is Katz Really the Candidate of Developers & Landlords?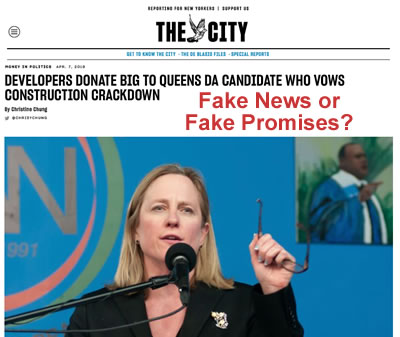 As for Katz's message – it's unclear for what she really stands. At times she claims she's a reformer, but we've seen little in the way of reform initiated by Katz over the past decade - and likely far longer - possibly ending in the late 1990's or early 2000's when she became a City Councilmember on the Land Use committee.
Not that long ago she reportedly backed capital punishment. And up until recently she backed cash bail, reportedly flip flopping on the issue particulars. And while she has said she supports the closing of Rikers Island and replacing it with borough centric jails [so the inmates can maintain their connections to family and community while awaiting trial], she appears to have taken the position of "not in my backyard" as the proposed replacement in Queens would be near Borough Hall where there's already a jail. To help put this in perspective it's worth noting that Bronx Borough President Ruben Diaz Jr. submitted a request that that is where the Bronx replacement facility for Rikers be placed.
Melinda Katz becomes a Real Estate Lobbyist at Greenberg Traurig in 2010

In 2010 Katz took a lobbyist at Greenberg Traurig, working on real estate development deals, which seemed to strengthen her ties to the real estate development community in general, and Boston Properties controlled by billionaire real estate developer and [at the time] the NY Daily News Publisher Mortimer Zuckerman in particular. Essentially she helped clients navigate their way through city and state government bodies [some of which she had previously worked on as a representative of the public] in order to get the real estate development deals deals done.
CLICK for the rest of our report on Melinda Katz - Queens DA candidates - the report covers 'dirty tricks', the phony Queens Library 'corruption scandal', the alleged Curtis Sliwa affair and something about a mob restaurant.
---
The Dutch Origins of Santa Claus in Queens NYC
The Dutch American Influences In The Origins Of Santa Claus
Food Historian Peter G. Rose at the King Manor Museum
December 13, 2015 / Jamaica Neighborhood / Food in Queens / Queens Buzz.
I had the opportunity to attend a lecture at the King Manor Museum in Jamaica by Food Historian Peter G. Rose. The topic she had chosen to discuss, the origins of Santa Claus, was well timed between the St. Nicholas Name Day on December 6th and the Christmas Holiday on December 25th.
What I learned in the lecture was of the Dutch and American influences on the origins of Santa Claus. In spite of knowing Santa all of my life, I found Peter G. Rose's lecture to shed new light on an old subject. But that said, I reckon to anyone who knows Santa Claus, ought to know that that jolly old man is full of surprises.
It was a near balmy Sunday afternoon as I stepped off Jamaica Avenue and walked up the grand roadway that leads to the front door of Rufus King Manor. The museum was open, but I had to knock on the big wide wooden door to be let in. Just inside and off to the left there was a small roomful of people who had signed up for the lecture as well as a table filled with books, wooden cookie boards and some cookie samples.
Click here to read the rest of our report on the Dutch origins of Santa Claus in New York presented by Food Historian Peter G. Rose at the King Manor Museum in Jamaica NY.
---
Jamaica JAMS Music Festival - Cultural Collaborative
Jamaica JAMS Festival
Queens, The Home Of Jazz, Hits Another High Note
August 16, 2015 / Jamaica Neighborhood / Music Scene in Queens / Queens Buzz.
Two weekends ago I headed down to Jamaica town, to partake in the Jamaica JAMS festival of music, which begins the eve before the big festival day. It was a near perfect summer evening as I ascended from the underground tunnels of the MTA's E train, and up onto the bustling streets of Jamaica, Queens.
I headed west along Jamaica Avenue before turning north at 153rd Street which runs along the eastern side of Rufus King Park. There were plenty of people out and about. I saw parents watching their kids at the playground as they all enjoyed the lazy midsummer evening, there were energetic teenage boys playing spirited half-court games of basketball, and an entire field filled with soccer moms, dads and kids passing, rollling and kicking the ball around. But in the northwest corner of the park, something else was a happenin'.
I crossed the field and came up behind the Jamaica JAMS [Jamaica Arts & Music Summer] audience that had gathered on the lawn and on the chairs facing the JAMS festival stage. Emcee and saxophonist Craig Crawford was conversing with the winner of a dance contest that had just ended [see photo above].
Click here to read more about the Jamaica JAMS musical festival in Rufus King Park, including a short, less-than-two-minute music video with saxaphonist Craig Crawford, followed by vocalist Toni-Ann-Semple.
---
Langston Hughes - Queens
Langston Hughes' Dream Weaver
A One Man Show At The York Performing Arts Center
November 12, 2013 / Jamaica Neighborhood / Theater in Queens / Queens Buzz. I had the pleasure of attending David Mills' one man show at the York Performing Arts Center on Saturday. The show was about the life and times of Langston Hughes, likely the most celebrated poets of the Harlem Renaissance.
David Mills has an interest in and connection to Langston Hughes that transcends the bounds of my vocabulary. David had lived in Langston Hughes house in Harlem on 127th Street for three years, touched the typewriter keys that Langston had pounded away on to make a living and to express himself, and has read a plethora of the written material left behind by one of the great African American authors of the early and mid 20th century.
To deliver a successful one-man-show, with only a simple chair as the prop, takes both talent and a gift ...
Click here to read the rest of our report about the performance of Langston Hughes in Queens as delivered by David Mills at the York Performing Arts Center.
---
York College
York College - Jamaica Queens
Emerging Powerhouse In Central Queens
March / Jamaica Neighborhood / Queens Buzz. I had occasion to visit York College to learn more about one of the four CUNY [City University Of New York] colleges in Queens.
The four CUNY colleges in Queens are geographically dispersed throughout the borough, including locations in Long Island City [LaGuardia Community College], Flushing [Queens College], Jamaica [York College] and Bayside [Queens Borough Community College].
York College and Queens College are four year Baccalaureate degree awarding colleges, which also offer several Masters degrees; while LaGuardia and Queens Borough Community Colleges are two year Associates degree awarding colleges. CUNY also has a Law School which will be re-located from Flushing to Long Island City [LIC] in the fall of 2011.
Click here to read our full report, including numerous photos, about York College and the York Performing Arts Center.
---
King Manor
King Manor Brings Dead Back To Life
Spirits Of Dutch & Colonial Queens Reawakened
October / Jamaica Neighborhood / Queens History / Queens Buzz. It's easy to forget Queens colonial past some 200 - 400 years ago, as so much has happened since then. But October is the time to reawaken long lost spirits and I'm happy to report I witnessed just such a reawakening at King Manor in King Park in the Jamaica neighborhood of Queens this past weekend.
New York Open House and the Historic House Trust got together this year and held their annual weekend extravaganza this past weekend, with food as the historic theme. So King Manor put together a program celebrating Dutch cuisine and its influence on American fare, and in the process gave us a tour and an education about one of the signers of the U.S. Constitution and a strong, outspoken advocate against slavery.
Click here to read our report about King Manor and Rufus King in Jamaica Queens.
---
Afrikan Poetry Theatre - Jamaica NY
Afrikan Poetry Theater
Cultural Center In Jamaica Queens
January / Jamaica Queens / Queens Buzz. I had the opportunity to visit the Afrikan Poetry Theater in Jamaica. I had long been curious to visit the theater, having heard so much about its community cultural programs which include jazz, poetry readings, lectures, discussions and authentic African cuisine.
John Watusi [left] is the Executive Director of the theater and the following story is an introduction to the theater as told by John who is one of its founders.
The theater started in the seventies, in the aftermath of the social unrest, as African Americans sought to re-establish themselves as members of the American community of immigrants. Part of that movement included delving into their ethnic past in an effort to better understand cultural heritage. The mission of the theater is to educate and entertain the Jamaica and Queens community about African Americans' roots. Click here to read more about the Afrikan Poetry Society in Jamaica NY
---
Dutch Cuisine & Recipes
Dutch Cuisine Past & Present
King Manor Presents Delicious Dutch Foods & Recipes
October / Jamaica Neighborhood / Food & Wine / Queens Buzz. In tandem with the NY Open House and the Historic House Festival weekend, King Manor selected an historic food theme that would have pleased New Amsterdam Mayor Peter Stuyvesant.
There were two sections to this historic presentation. The first was a reenactment of colonial Dutch cooking by Diane G. Fish, who is a living historian with a specialty in Civil War reenactments. To the delight of all there, including myself, she's also an avid foodie who's well acquainted with Dutch cuisine. And the second section was a lecture and presentation by a renowned historian and food writer, Peter G. Rose. Peter took us back to the Dutch kitchens in the Netherlands of the 1700's and traced the migration of Dutch foods into the colonial world.
Many of the things she would discuss, we had the opportunity to sample prior to the lecture … click here to read the rest of our report on Dutch cuisine & recipes in Queens New York.
---
---
Jamaica Shopping Center & Map
Jamaica Shopping Center & Map
Shops & Shopping In Jamaica NY
December 2017 / Jamaica Neighborhood / Jamaica Shops & Shopping / Queens Buzz.
This page contains home page links, contact info, maps for stores and shops located in Jamaica, Queens.
This page contains information about shops in and around Jamaica Queens.
---
---
Things To Do - Jamaica Attractions Archive
---
Site Search Tips. 1) For best results, when typing in more than one word, use quotation marks - eg "Astoria Park". 2) Also try either singular or plural words when searching for a specific item such as "gym" or "gyms".
Click this link to search for something in our Queens Business Directory containing over 1,000 listings.
---
Click the log in link below to create an ID and post an opinion. Or send this story to a friend by filling in the appropriate box below.
---