---
Sculpture Center Clay Club Party in LIC Queens
The Clay Club: SculptureCenter Returns to its Roots
Clay Club Program Celebrates SculptureCenter Origins
August 22, 2017 / Long Island City Neighborhood / Arts in Queens / Queens Buzz NYC.
Last Saturday I attended the Clay Club program hosted by the SculptureCenter. Five years ago, in 2012, the SculptureCenter began hosting a block party. The outdoor party made use of its unique location on Purves Street in LIC, which was across from an open unused lot and located in a quiet dead end street. Hence the block party was able to fill the vacant space with guests who spilled out onto the dormant, decayed urban landscape, in a celebration of Long Island City's past and imminent future.
Fast-forward to today, and Purves Street is now occupied by several shiny new high rises towering over it, bringing hundreds of new residents to the once quiet street. Thus in the Winter / Spring of 2017, the Sculpture Center staff - lead by Executive Director & Chief Curator Mary Ceruti – began the discussion of the upcoming block party with an open ended conversation about approaching it from a new angle. Mary and her artistic staff eventually arrived and settled upon an idea – throw a Clay Club event.
Click here to read the rest of our story about the origins of the SculptureCenter & the Clay Club event in LIC.
---
LIC Boathouse Calls For Help On Queens Water Quality
LIC Boathouse Calls For Help on Water Quality
LIC Kayakers Call For DEP Water Quality Investigation on the East River
September 17, 2012 / Long Island City / Sports in Queens & Queens Issues / Queens Buzz. I stopped by Hallets Cove to visit the LIC Boathouse kayakers to see how the season had gone.
I spoke with Victoria Olson, the LIC Boathouse Chairperson, and Ted Gruber, Chairman Emeritus about the LIC Boathouse East River kayaking season. As you can see in the photo, they were plenty busy having averaged about 200 people each summer weekend, over about a four to five hour afternoon period, during which they host free kayaking along the East River waterfront off Hallets Cove in LIC / Astoria in Queens.
As it turns out, the LIC Boathouse has identified a possible water quality issue, which it believes needs public awareness and support, in order for the Department of Environmental Protection [DEP] to take the appropriate action required to investigate and remedy what appears to be either an ongoing and possibly growing pollution problem.
Click here to read more about free kayaking along the East River in Queens and the ongoing / emerging sewage / bacteria / water quality problem along the East River in Queens. By Michael Wood.
---
Bernie Sanders in LIC Queens NYC
On the Campaign Trail & 'Feeling the Bern'
Sanders Introduces Democratic Socialism to the American People
Updated April 19, 2016 from 4/15/16 / Queens Neighborhoods / Queens Politics / News Analysis & Opinion / Queens Buzz.
If nothing else, this has been an interesting presidential election cycle. It's not 'reality TV', its televised reality.
Making America Great ... again?
The Republicans attracted most of the attention early on, thanks mostly to Donald J. Trump's shock jock presidential candidacy. A candidacy that turned presidential debates about public policy into name calling, discussions of poll numbers & penis size, and relentless barrages of vituperative insults.
The Donald has, in his campaign, essentially told us to forgeddabout the ballooning government deficit, a dated and at times crumbling infrastructure, fixing our public education system, helping the shrinking middle class and addressing global climate change.
The Donald has distracted us from an intelligent discussion about these 'loser' subjects, and told us that he's going to rip 12 million people [the equivalent of about 5% of the nation's population] away from their families by deporting them, punishing women for getting abortions, and erecting a wall along the border with Mexico which he tells us the Mexicans are going to pay for.
Does Trump really think this is how to 'make America great ... again'?
Trump Candidacy Increases Ratings Which Translates to Profits
Trump may not make America great again, but he's been good for corporate-owned, network television ratings. The Hollywood Reporter quotes CBS Chairman, Leslie Moonves telling a Morgan Stanley conference in San Francisco on February 29th, 2016 that,
"The money's rolling in and this is fun ... this going to be a very good year for us. Sorry. It's a terrible thing to say. But, bring it on, Donald. Keep going."
While Sanders Delivers Substance & Expands Public Debate
So while Donald Trump has been filling the pockets of corporate-owned mass media, Bernie Sanders - the man with the real story - has largely been ignored. Ignored by the mass media, but embraced by the social media and a signficant and growing segment of the American populace. In fact Sanders, during the past week of campaigning in New York, attracted crowds of tens of thousands, while the other candidates on both sides of the ticket did not.
Click here to see photos of the Bernie Sanders rally in LIC Queens, as well as a story about the contest between Sanders and Clinton.
---
NYC Cyclists Rights - Bicycle Laws NYC & NYS - NYC Bike Laws
Cyclists Rights In NYC / Queens
Knowing Your Rights & Responsibilities As An NYC Cyclist
Updated Spring 2015 / Long Island City Neighborhood / NYC Cylists Rights In Queens / Queens Buzz. By Philip Papas. The introduction to the Cyclists' Rights Forum was given by Christina Vassallo, Executive Director, Flux Factory. She told us that the event came about after she and a friend were stopped for cycling violations, which they thought were not illegal, or had erroneously been applied as violation points to their motor vehicle driver's license. As a result she saw the need for a forum to clarify laws, rights and proper procedures for cyclists to follow.
Click here to read our full report about NYC Bike Laws / Cyclists' Rights Forum in Queens at the Flux Factory in LIC.
---
Roosevelt Island - Four Freedoms Park
July 4th At Four Freedoms Park Roosevelt Island
Macy's Expands NYC Fireworks Celebration Along East River
July 6, 2015 / Queens Neighborhoods / Queens Holidays / Queens Buzz.
It was a near perfect evening as I made my way toward the East River to watch the Macy's 4th of July fireworks display. The first Macy's fireworks display was in 1976 for the second bi-centennial celebration.
The photo at right shows the Queens audience along the East River and northern tip of Gantry Park in Long Island City on Saturday night July 4th, just after the fireworks ended.
Last year Mayor de Blasio urged Macy's to return the fireworks display to the East River, as it had been moved to the Hudson in 2008 in celebration of the 400th anniversary of Henry Hudson's discovery of the river named after him. Macy's continued to host it there until 2014.
There were six barges along the Hudson in 2008, which was reduced to three barges surrounding the Brooklyn Bridge in 2014. This year they added two barges which were positioned further north along the East River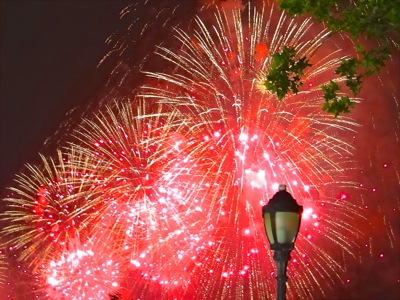 making it possible to enjoy the display from many parts of western Queens along the East River.
We had identified many of the best places to watch the July 4th fireworks in Queens in an earlier posting, but given the changes, it was difficult to determine how far north along the East River one could go and still enjoy a good fireworks show.
So with that in mind I made my way toward the Queensboro Bridge as I was pretty certain it would be closed, but it would have been the perfect place from which to photograph the fireworks. As expected there were two police officers standing at the Queens entrance to the bridge and they informed me that it would not be open until 10.30 pm, or about a half hour after the fireworks display.
The photo at right shows the July 4th fireworks display from Four Freedoms Park on Roosevelt Island.
Click here for the rest of our story about the 4th of July fireworks display as seen from Four Freedoms Park on Roosevelt Island.
---
Epitath To An Era: Whitewash In LIC
Epitaph To An Era: Whitewash In LIC
Long Island City Loses A Bit Of Its Heart & Soul
Jeffrey Leder Art Gallery Showcases Demise Of 5 Pointz Through Artwork Of Its Circle Of Graffiti Artists
April 5, 2014 / Art In Queens / Long Island City LIC Neighborhood / Queens Buzz. Saturday evening I made my way into Long Island City to attend the opening night of the Whitewash art exhibit at the Jeffrey Leder Gallery. Whitewash is an exhibit of the art works of a collection of the 5 Pointz graffiti artists. These artists recently lost their artistic and spiritual home – the 5 Pointz building in LIC - and the exhibit opening was part funerary rites and celebration of a new beginning. The photo to your right shows one of the paintings on exhibit at the Whitewash art exhibit at the Jeffrey Leder Gallery in LIC.
As I got off the #7 train, I decided to swing by the building to witness its whitewashed walls. I took a couple of photos of them, recalling prior visits to the outdoor art gallery, where every five to ten feet, in vivid living color, one could witness the creation of a local graffiti artist. The outdoor gallery exhibits would change, piece by piece, week by week, month by month and year by year. There always seemed to be a few artists working the walls. The 5 Pointz building is southeast of the Court Square subway stop, and for drivers it's just across from PS1 MoMA on Jackson Avenue between Crane & Davis Streets.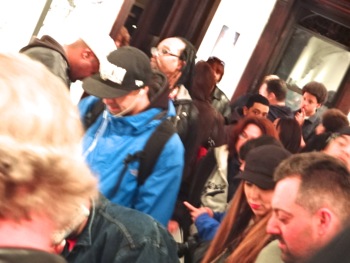 As I shot photos of the walls and loading dock area, I could still see in my mind, the outdoor parties of the past. I recalled the art exhibits that had been thrown over the years, with music emanating from somewhere. Intellectually we all know it was within the building owner's rights to whitewash his own building. And it isn't hard for anyone to understand why the building owner would want to reap a huge profit by razing the building and erecting a new structure from which the cash will flow. I reckoned we were lucky to have had the years we had, to enjoy the beauty and the beat of the graffiti on the street, seen from the windows of the subway train as it snaked its way through LIC.
So with these thoughts, I headed onto 45th Road, to the Jeffrey Leder art gallery to witness and participate in the Whitewash art exhibit opening night reception. Click here to read our report about Whitewash art exhibit / 5 Pointz in LIC.
---
Hanukkah in Queens
Hanukkah Celebration in LIC
Menorah Lighting Symbolizes Continued Good Acts
December 10, 2012 / Long Island City LIC / Queens Buzz. On Sunday I attended the Chabad LIC Menorah Lighting in Gantry Park. The event was preceded by donut making and latkes; and a trumpeter, Anna Garcia, played a few pieces which were celebrated by the gathering.
Rabbi Zev Wineberg had organized the event, which he told me had started as a celebration of an historic victory thousands of years ago. Every Friday Orthodox Jews light candles in the privacy of their homes, but on Hanukkah, they light them in a public space.
The first night proclaims the miracle of the historic event, when after the victory, an small amount of oil lasted eight days. It also symbolizes one act of doing good, when the light [good] sends the darkness [bad] away. The second night symbolizes a second act of goodness, when light returns and sends darkness away, because the darkness always returns. The multiple acts of goodness, no matter how small, help banish evil.
And so the lighting of the Menorah will continue through next Saturday evening. The next public lighting by Chabad LIC will take place tonight along Vernon Blvd. Happy Hanukkah.
---
Dance Entropy - Dance Celebration in LIC Queens
Dancing In The Ether
Dance Entropy Explores The Continuum of Time & Space
February 21, 2013 / Dance in Queens / LIC Neighborhood / Queens Buzz. I received a rare treat on Wednesday morning when I went to preview the dance performances planned for this weekend at Green Space in LIC. The weekend celebration includes five dance pieces, three of which are being premiered and two of which have been performed and perfected.
I was one of only a handful of people in the audience, as the dancers did one last rehearsal before their opening performance Thursday evening February 21, 2013. The photo above was taken at the dress rehearsal performance of Skimming the Surface by Dance Entropy at Green Space in LIC.
Click here for a short description of each performance and a slide show of Skimming the Surface by Dance Entropy at Green Space in LIC, as well as a bit longer exploration into one of the new pieces. The report also includes a couple of interviews with the dancers.
---
Theatre 167 in Queens - Pirira
Pirira
A Moving Performance Of Four People's Lives
November 5, 2013 / Long Island City LIC Neighborhood / Theater in Queens / Queens Buzz. I had an opportunity to experience the play Pirira just before it opened on October 10th. The original script production is being performed at the Chain Theater in LIC through this weekend, ending November 10th.
It's rare when a play draws tears to the ducts, providing a sort of cathartic release - very much in response to a command performance, as well as from the emotional grist buried beneath the surface in our own lives. Actress Flor De Liz Perez is shown in the photo above right performing in the dress rehearsal of Pirira.
The play is staged in two locations, halfway around the world. One of the locations is in a flower shop in New York, while the other is in the backroom of an American charitable organization in Malawi in Africa. The actors are ... click here for a full review of the play Pirira produced by 167 Theatre.
---
Doctors in Queens Astoria LIC & Sunnyside
Finding Dr. Right - Doctors in Queens
Doctors and Healthcare in LIC, Astoria, Sunnyside, Woodside & Queens
February / Long Island City / Queens Buzz. I attended a community lecture put on by Mount Sinai Queens entitled Finding Doctor Right. It was hosted at the Avalon Riverview, which is located down on 2-01 50th Avenue near the East River in LIC.
When I arrived, I took note of the audience demographics which had a female / male skew of about two to one; and the ages ranged from starting a family to planning retirement. Our speaker was Dr. Nierman, VP of Medical Affairs and Chief Medical Officer, and one of the people responsible for hiring doctors at Mount Sinai Queens.
Click here to read our report and view photos about finding Dr. Right – doctors and healthcare in LIC and Queens.
---
---
LIC / Queens Member Events Calendar
1. Click the icon to your left to view the Queens Events Calendar.
2. To submit an event to the member calendar set up a member ID in the COMMUNITY section of the site along the left side bar. Then click into the Member Calendar link in the same section to post the event. To start posting a member event you must first click the drop down arrow to select the member calendar. Event postings are FREE to community organizations, arts groups and non-profits.
---
Long Island City LIC News Archives
---
Site Search Tips. 1) For best results, when typing in more than one word, use quotation marks - eg "Astoria Park". 2) Also try either singular or plural words when searching for a specific item such as "gym" or "gyms".
Click this link for promotions by advertisers in Queens.
Click this link to search for something in our Queens Business Directory containing over 1,000 listings. Click here to view the home page of one of the leading chiropractors in Long Island City.
---
Click the log in link below to create an ID and post an opinion. Or send this story to a friend by filling in the appropriate box below.
---