A Taste Of The World 2010 & Photos
Queens Leading Culinary Event Feeds Hundreds
May 18, 2010 / Flushing / Queens Buzz. Queens leading culinary event happened last night at Caesar's Club in CitiField in Flushing in spite of a very dark wet drizzly evening. Hundreds of people came from around the borough to sample the food and beverages provided by some 30 or more vendors.
We found a wide variety of cuisines to sample, and in the process learned a bit more about the culinary history of the borough. Two businesses received awards for serving the community for 80 and 50 years. These businesses continue to this day and were successfully handed from one generation down to the next. Click here to read our full report about A Taste Of The World 2010 & Photos in Queens.
---
A Taste Of The World 2010 & Photos
8th Annual Queens Food Festival

May 18, 2010 / Flushing / Queens Buzz. I went to the Taste Of The World tonight to taste the culinary delights of some 30 or so Queens restaurants. While it's the 8th annual occurrence of the event, it was my second year of participating in this occasion. The event is a fund raiser for the Queens Economic Development Corporation and tickets to the event cost $100.
A Taste Of The World - At Caesar's Club CitiField
I took the elevator up to the 5th floor of CitiField, which is the VIP section of the stadium, perhaps better known as Caesar's Club. Like last year, the restaurateurs had arranged their serving tables along the outer wall, with their backs to the parking lot and Arthur Ashe Stadium in the background.
I began making my way through the crowd, taking photos of many of the restaurateurs' offerings and taking notes along the way, occasionally chatting with a fellow foodies about the delicious offerings set before us. I caught a number of people grazing while working; who like myself were there to gather information with which to inform public about this event.
First Two Culinary Stops - Seafood Restaurant Of Jamaica & Latin Fusion Restaurant From Kew Gardens
My first stop was O Lavrador Restaurant and Bar of the Jamaica neighborhood in Queens, which had a large platter of seafood delicacies beautifully arranged to entice the eyes and the glands. Next to them there was the Cocina Latina Bar & Grill of the Kew Gardens neighborhood in Queens. Cocina is a Latin fusion restaurant and tonite they were offering a mix of shrimp, avocado, tomato sauce and more. Already it seemed there would be many more delicious food samplings than I would likely be able to taste.
Warming Up & Diving In - Argentinian / Seafood / Mixed American / Asian Restaurants
Along the windows, I stopped by an Argentinian restaurant called Floresta which is located in the Sunnyside neighborhood of Queens. Floresta was offering steak and sausage which is a well known specialty of Argentina. My visit to Floresta's was followed by a visit to Russo's On The Bay which has several locations, but which originated in the Howard Beach neighborhood of Queens. Russo's had several platters including an interesting salad and several entrees. At the next table I met the representatives of Mulan which is a modern Asian restaurant located in Flushing near both of the Flushing Malls. One could easily have grazed for a much longer time at any one of these tables, but duty called and I pushed on.
London Lennies - Rego Park & Dazies - Sunnyside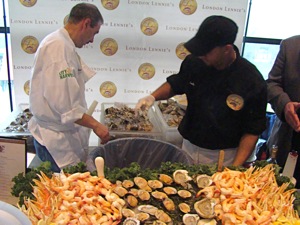 I was now somewhere in the middle of sampling the delights of some 30 plus vendors, as I had skipped over some of the vendors. London Lennies of Rego Park was hosting a generous spread of large fresh shrimp, complete with a selection of sauces and fresh oysters, so I sampled a few of these before moving on. Dazies of Sunnyside was presenting at the next table and I sampled their tiramisu [which by the way won the 2010 A Taste Of The World dessert award - see photo below] and Dazie's penne pasta alla salmon was a nicely put together pasta with sun dried tomatoes and asparagus.
Magna Italian Ristorante Flushing / De Mole Modern Mexican In Woodside / La Fusta Argentinian Steakhouse Elmhurst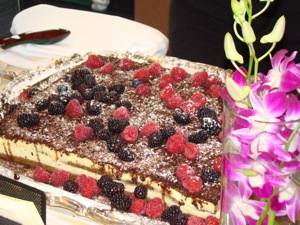 I discovered that there's an Italian restaurant in Flushing, called Magna. Magna, an Italian ristorante, served a chicken platter along with a pasta with meat sauce. De Mole Modern Mexican restaurant of Sunnyside served a couple of very enticing appetizers: one was made with a meat sauce and another with vegetables - both of which were beautifully crafted. Unfortunately I missed sampling them, but since they are in a location that I frequently pass by, this miss will soon be remedied. La Fusta Argentinian Steakhouse of Elmhurst served a couple slices of steak and sausage, both of which I consumed and savored with delight.
El Dorado - Roasted Coffee Beans In Maspeth / Bramby Bay Of LIC / Gabbana Modern Dominican Cuisine In Corona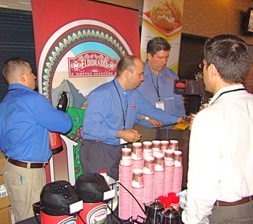 I found that Queens is also home to a successful coffee roasting company named El Dorado which is located in Maspeth. El Dorado imports fresh coffee beans from around the world, and then sorts, roasts and packs them out to all five boroughs and 42 states. I sampled the brew and found it to be a fine cup of coffee. I also found a restaurant in LIC which borders Sunnyside and Woodside called Bantry Bay. It's a 'Publick House' which serves a nice mix of Irish and American pub food. I also met a restaurateur whose modern Dominican cuisine restaurant will soon open in Corona. The restaurant's name is Gabbana and they were serving appetizers.
Lastly, but not least ... Leo's Latticini Of Corona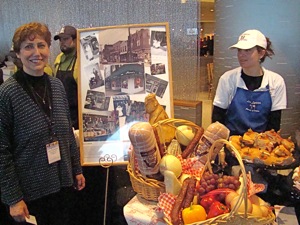 One of the great treats of the evening was meeting the three sisters who run Leo's Latticini which is also nicknamed Mama's. These sisters run a deli which started 80 years ago as a ricotta and mozzarella cheese making business by their father. As time passed, their mother started making sandwiches with the cheese. It wasn't long before the deli sandwiches outpaced the cheese business and a legend was born. I had the opportunity to sample their signature sandwich which they call Mama's. It's a mix of mozzarella and salami, with mushrooms and pepperoni, in a fresh roll. It was soft and flavorful and disappeared very quickly.
A Taste Of The World Awards & Photos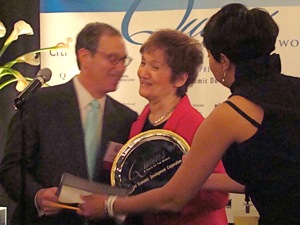 The sisters from Leo's Latticini of Corona and the owners of London Lennie of Rego Park both won special [Icon] awards for 80 and 50 years of service in the Queens community, respectively. Sunnyside restaurants appeared to dominate the awards as Dazies of Sunnyside won the dessert award with their tiramisu, while De Mole of Sunnyside won the appetizer award for their sea scallop ceviche veracruz, and Floresta of Sunnyside won the entree award for their skirt steak salad.
Below is a slide show which contains photos taken at the event including a couple of Helen Marshall, Queens Borough president, Seth Bornstein QEDC Executive Director [far left in photo to right], Michelle Stoddart Director of Queens Tourism [far right in photo to right] as well as the judges who determined which restaurateurs would receive the awards. Bon Appetit.
$element(ophoto,photo_slideshow,73,550,,5.00,fade)$
---
Flushing Neighborhood Queens - Related Links
Click this link to go to the Flushing & Corona Neighborhood News / Flushing & Corona Restaurants / Flushing & Corona Shopping Center & Map.
---
Queens Food, Wine & Restaurants Related Info
$element(adman,groupad,Promo Buttons)$
Click this link for promotional offers by merchants in Queens.
Click this link to go to Astoria / Long Island City LIC / Jackson Heights & Elmhurst / Sunnyside & Woodside / Flushing / Jamaica.
$element(adman,groupad,Food&Wine)$
Site Search Tips. 1) For best results, when typing in more than one word, use quotation marks - eg "Astoria Park". 2) Also try either singular or plural words when searching for a specific item such as "gym" or "gyms".
$element(bwcore,insert_search,N)$
Click this link to search for something in our Queens Business Directory.
---
$element(adman,groupads,Sectional Ad)$
---
Click the log in link below to create an ID and post an opinion.
Or send this story to a friend by filling in the appropriate box below.
---