King Manor Museum - Jamaica NY

Rufus King's Home Is Museum In Jamaica Queeens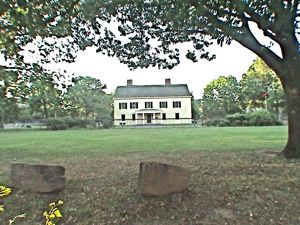 Jamaica neighborhood in Queens NY. On a beautiful autumn day I visited Kings Manor in an effort to report on the Kings Manor Childrens Halloween Party. Afternoon Of Ghouls was an afternoon of costumes, stories and crafts hosted by the museum. Unfortunately I had arrived late in the day, and too late to photograph any of the little goblins that had visited the museum earlier that day.
King Manor Museum In Kings Park Jamaica NY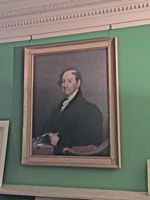 King Manor is situated in Kings Park along Jamaica Avenue in the Jamaica section of Queens NY [see photo above]. The museum occupies the former home of Rufus King who was one of the signers of the U.S. Constitution. Rufus was also one of the first U.S. Senators, a lawyer and an outspoken opponent to slavery. I find it interesting to note that the Jamaica section of Queens is dominated by an African American ethnicity. I've often wondered if King's Manor, as symbolic of Rufus's firm stance in opposition to slavery and the proper application of Constitutional rights vis a vis African Americans, has anything to do with the current demographic composition neighborhood. But I digress.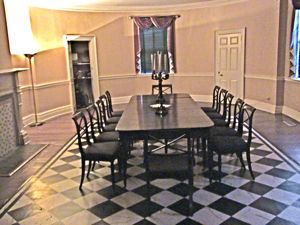 King Manor Museum - Historic Site In Queens
The house is a large well-preserved building, deserving of its name as a manor. Surrounded by Kings park which was also named after Rufus King, the house, hundreds of years after its creation, is still firmly founded and solid as a rock. The rooms have high ceilings, a large welcoming dining room, a warm parlour room, a small office / library in the rear, and a well-preserved kitchen. The offices are housed on the second floor of the building which I did not have the opportunity to visit / photograph.
John Quincy Adams had said of Rufus King, "There's not a man in the union of purer integrity than Rufus King." This is borne out by the fact that while Rufus was a Federalist and friend of Adams and Alexander Hamilton, he was kept on as the minister to the Court of St James by Thomas Jefferson who was a Democratic-Republican; until King asked to be relieved of his duties. It's worth noting that King's son was elected a governor of New York state back in the 1800's.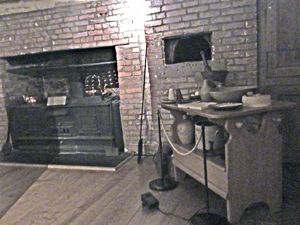 Queens Attractions - King Manor Museum
The museum hosts and sponsors a number of community related events which it posts on its website, some of which we intend to feature going forward. Among them are childrens related events such as the Afternoon of Ghouls mentioned above, as well as wine tastings in the museum, which makes for a simply wonderful evening mixed with good wine [Rufus kept a full wine cellar], interesting people in a setting of the home of one of the signers of the Constitution. Try to top that!
The house was held by the King family until 1900, at which time it was transformed into a museum which it continues to be to this day. The house is owned by the city of New York and is part of the Heritage New York Underground Railroad Trail.
Kings Manor is an easy half hour E line subway ride from anywhere in Manhattan or Queens. One can also get there by taking the LIRR to the Jamaica station which is only blocks away. Click this link for a map of the location of Kings Manor or click this link to go to the Kings Manor website.
King Manor In Jamaica Queens NY - Related Links
Click here for a map showing the location of the Afrikan Poetry Theatre In Jamaica Queens NY. Click this link to obtain the contact info and website url (if available) for the Afrikan Poetry Theatre in Jamaica Queens NY.
Click this link to go to the Jamaica Neighborhood News / Jamaica Neighborhood Guide and Map / Jamaica Restaurants Guide & Map / Jamaica Shops Guide & Map / Queens & Jamaica Events / Jamaica Business Directory / Jamaica Shop Announcements.
RETURN LINK TO Queens Buzz Front Page.