Bacon Brothers At Queens Theatre In The Park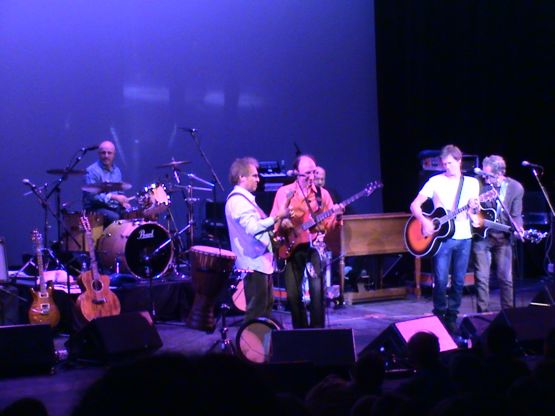 Flushing NY / October 4, 2008. I attended the Bacon Bros concert with some familiarity with the Bacon Bros work as individuals, but not with the band itself. Kevin Bacon was probably my favorite actor in the movie 'Diner', and although it wasn't a favorite movie, it was a memorable one; as was the character Kevin played in it. I was not familiar with Kevin's brother Michael, who won an Emmy Award for scoring the music in PBS's documentary 'The Kennedys'. But a long time ago I had been given the video set of that documentary and I enjoyed it, including the musical score which was Michael's work.
Bacon Brothers Band - Acccomplished Musicians

So, that's the backdrop: both of these brothers are accomplished in the performance arts. One as a gifted, albeit unusual actor, and the other as a gifted musician. There are six musicians in the band. Each one of them is talented in their own right. All of them plays more than one instrument and did so during the performance. Some of the guitar playing was fantastic. The drummer, to steal a phrase, didn't miss a beat. The singing, which was largely done by the Bacon Bros, was also very good.
Rock, Country & Folk Music At Queens Theatre In The Park
But the tunes they played were eclectically put together, and frequently transitioned from rock into country or folk or vice versa. This mix of genres in one piece kind of didn't work for me, but I was clearly in the minority as during more than one song, the audience started clapping loudly to the beat, like they were at a hootenanny. So the crowd loved it.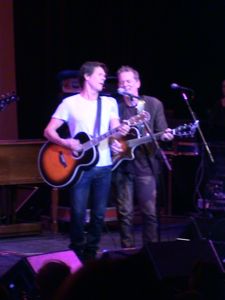 They played for about an hour and a half. Kevin was dressed in a white T-shirt while Michael was dressed in a brown sport coat. They kind of used their clashing choices of clothing for banter, and that Kevin is Michael's 'younger brother', and hence Kevin is Michael Bacon's brother, not the other way around.
They used to play in a band together when they were younger. And ironically enough it was a friend of theirs who suggested they get together and form a band. He also suggested they name it the Bacon Brothers. The other members of the band include Tel Minona from Queens, NY [yeah], Ira Seigel on the bass guitar and Frank Valeri on the drums – both from Mont Clair, NJ, and Paul Garzone on the 12 string guitar. Paul has been playing with the Bros for fourteen years.
White Knuckles CD - Recent Release

Michael and Kevin each wrote and sang some of the tunes. Kevin played the harmonica and several types of drums and the guitar. The compositions were eclectic. The unique topics they chose for their songs, kind of reminded me of Kevin's quirky characters in the movies. 'Too Old For Playboy' was one such example, and 'Tell Me What I Have To Do To Make You Mine' seemed to hark back to the juke box of the fifties, 'Children' was done by Kevin commenting on this years events and a plea to shield the kids from the messes brought upon us by mismanagement of the government. Their new album 'White Knuckles' has just been released this fall [2008].
Queens Theatre In The Park & The Unisphere
It's definitely worth mentioning that Queens Theatre In The Park has largely been completed and looks great. It's a special cultural destination to go to escape from the hum drum of life. The new dinner theater will be completed before the year ends.
As I walked past the Unisphere with a starry sky above me on my way back to the #7 subway line I marveled at the beauty of this public treasure. But I kept my senses about me as I had read that the crime rate in the park is fairly high relative to the rest of Queens. So if you decide to walk, be careful. QTP runs a shuttle bus to the subway line, which is far safer.
Queens Theatre In The Park / Flushing Queens NY - Related Links
Click here for a map showing the location of Queens Theatre In The Park in Flushing Queens NY.
Click these links for promotions by advertisers in Queens.
Click this link to go to the Flushing Neighborhood , Flushing Restaurants & Flushing shops & shopping.
Flushing / Corona Related Info
$element(adman,groupad,Catgry Rest)$
Click here to go to the Art Exhibits, Galleries & Museums section of this site.
Click these links for promotions by advertisers in Queens.
Click this link to go to the Flushing Neighborhood.
---
$element(adman,groupad,Catgry Wedding)$
Site Search Tips. 1) For best results, when typing in more than one word, use quotation marks - eg "Astoria Park". 2) Also try either singular or plural words when searching for a specific item such as "gym" or "gyms".
$element(bwcore,insert_search,N)$
Click this link to search for something in our Queens Business Directory.
---
$element(adman,groupads,Sectional Ad)$
---
Click the log in link below to create an ID and post an opinion.
Or send this story to a friend by filling in the appropriate box below.
---
RETURN LINK TO Queens Buzz Front Page.