Taste of LIC 2018 Feeds the Hungry
Culinary Tasting Event at Kaufman Astoria Studios Lot A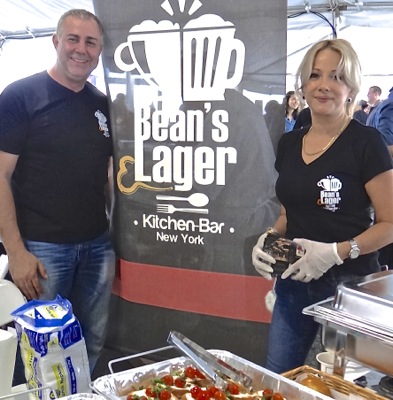 June 5, 2018 / Long Island City Neighborhood / Astoria Neighborhood / Long Island City Restaurants / Queens Restaurants / Queens Buzz NYC.
The afternoon before the 2018 Taste of LIC it had rained. I paused from my work, contemplating whether the rain would affect attendance at the Taste of LIC which was to begin at 5.30 pm. But by late afternoon, as I began getting ready, it was a beautiful Spring evening full of sunshine and clouds and a slightly warm breeze. Perfect, I thought, … for the Taste of LIC tonight.
Taste of LIC at Kaufman Astoria Studios Lot
I arrived at the Kaufman Astoria Studios Lot, situated in a very changed neighborhood, compared to just ten years ago. After picking up my wristband I made my way under the big top tent sheltering the event. There were in the neighborhood of fifty restaurants and beverage companies participating in the event tonight. I knew I couldn't sample them all, but I would try to photograph as many as I could. See the slide show at the end of the story to view some of the photos I took.
The first item I sampled was a burger named Priscilla. She was a tall, shapely burger filled with Thai peanut sauce, triple smoked bacon, pepper, cheddar cheese, sea salt and served in a pretzel brioche bun. Yes, she wasn't your every day burger … and I could tell that from the first bite. The juicy, finely ground beef fought hard to compete for the attention of my taste buds, winning only some of the time.
---
Taste of LIC 2018
Kaufman Astoria Studios Lot A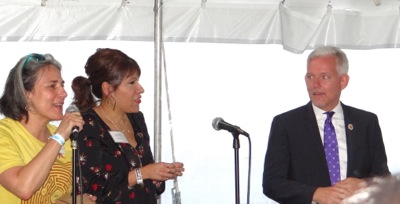 June 5, 2018 / Long Island City Neighborhood / Astoria Neighborhood / Long Island City Restaurants / Queens Restaurants / Queens Buzz NYC. Continued.
At right is Chocolate Factory Theater co-founder Sheila Lewandowski [left], Irma of Jet Blue [center] and NYC Councilmember Jimmy Van Bramer [right] on the stage at the Taste of LIC. They were calling out the local restaurateur and beverage vendor raffle winners of the Jet Blue sponsored prizes. The raffle is a means by which the Chocolate Factory Theater thanks the participating local vendors.
The Baroness Bar & Kitchen in LIC
The burger was made and is served at The Baroness Bar & Kitchenat 41-26 Crescent Street in Long Island City. She'll be waiting along with a selection of craft beers. The Baroness Bar has been in business for five years I was told and is located very near Queens Plaza.
The guys at the grill were pretty entertaining too, but given I had arrived late and was just starting I didn't get their names unless they are Pat La Frieda and William Gauger whose names I found on the business card I picked up. You'll find them in the photo slide show below.
The Butcher Bar & Restaurant in Long Island City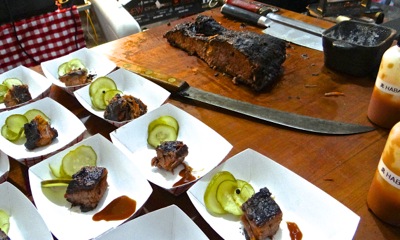 The Butcher Bar was serving next to The Baroness Bar & Kitchen. The Butcher Bar is located at 37-10 30th Avenue in Astoria and they have been in business for about eight years. They've become so popular that they had to open a second location down on the Lower East Side at 146 Orchard Street, so if you're in need of a fix while in Manhattan, they're only a subway ride and short walk away.
The Butcher Bar was serving an item they call Meat Candy, which is a deckle of brisquet that is slow smoked for about 15 to 16 hours [see photo at right].
I took a bite into it and it was as moist as it was soft and juicy and flavorful. They had a couple of dips on the side, one sweet and one hot. Apparently they make both at the restaurant and tonight both seemed to work together. Kathy Cascro was guiding me on this taste excursion, and told me they also brine their own pickles, so I ate them as well and they had a pleasant neutrality to them, as well as a crispy vegetable texture. Kathy's partner in co-founding is Matthew Katakis and both are shown in the photo on the slide show.
LaGuardia Performing Arts Center Folks in the Audience for a Change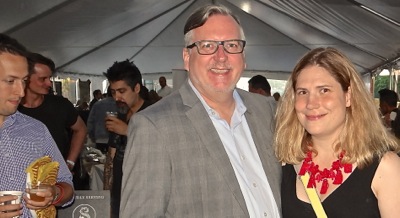 I bumped into Steven Hitt, Executive Director of the LaGuardia Performing Arts Center [in photo at right]. LaGuardia Community College had just graduated its latest class and Steven was in the process of throttling down from that energetic level of communal engagement ... but seeming to take it all in stride. I shot a photo of him with xyz which you can see in the photo album.
Tacuba Mexican Restaurant in Astoria / LIC
I decided to make my way into the next tent section, where I went from American Beef to Central Mexico in the course of a few seconds. Tacuba Mexican Restaurant is located at 35-10 36th Street in Astoria where they've been for the past two and a half years. They were serving Ceviche, which I decided to sample and found it among some of the best I've sampled.
At the heart of the ceviche were baby shrimps, covered in chopped red onions, cucumber, tomato, and jalapeno and covered in lime and juzu juice. The juzu juice is Japanese and it seemed to soften the striking rawness and tartness one normally encounters in ceviche. I ate it all and even drank a bit of the juice.
Their other location is in Hell's Kitchen at 802 9th Avenue in Manhattan.
Blend Restaurant / Cafe has Long Been an LIC Go To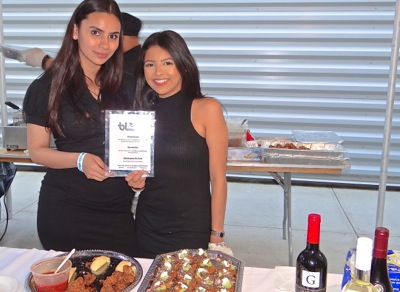 Blend was next on the list and they had an avid fan hawking their wares. I've sampled Blend cuisine other times and have always found it to be memorable – but not quite as memorable as today. Blend is located at 45-40 Center Blvd in Long Island City overlooking the East River.
Today Blend was serving Arepas. They were sweet corncakes – with beef. See photos for details. It was a flavorful beef in an oh-so-slightly crunchy, slightly sweet, corn cake.
The hostesses of Blend are shown at right serving some very delicious arepas.
Chocolate Factory Founders Take the Stage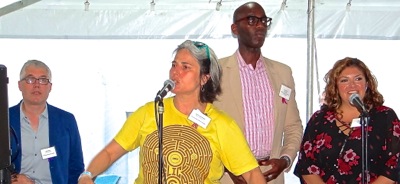 The Chocolate Factory Founders, Sheila Lewandowski and Brian Rogers took the stage to make a few announcements.
In the photo you can see Brian Rogers [from left to right], Shelia Lewandowski, and two new Chocolate Factory Theater Board Members - Alton Murray of Con Edison and Mary Torres of Modern Spaces on stage at Taste of LIC. Independent Producer Vallejo Gantner, who is also a new Board Member, is not shown, as he was delayed in transit.
The Chocolate Factory has been hosting the Taste of LIC for the past ten years. This is the second year at this location, which enables the restaurateurs to cook outside.
Sandwiched Between the Revolution & Counter Revolution at the Culinary Theater
As the Chocolate Factory is a theater company, it was no surprise that another theater company had snuck in and set up a table where acting and the provision of food were done in tandem. The Counter Revolutionary Sandwich is a funky theater group that recently started on their journey to the … revolution?
To get your sandwich you had to work your way through their interactive line workshop. In it you were asked whether you wanted the Ulrike Mein Kampf to simplify your life or the Fidel Chi Banh Me Work with beef, bread and German engineering. I sampled one of the sandwiches without taking their test and it was rather good –especially considering they were [allegedly] made by a group of funky actors.
Anyhow, they don't yet have a street location, but they do have a website at CulinaryTheater.org. One of the guys essentially told me they are winging it and not exactly sure where this is going, which could mean it's the next big thing.
The actors turned chefs from CulinaryTheater.org are shown at right.
Georges of Astoria was Once the Astor Room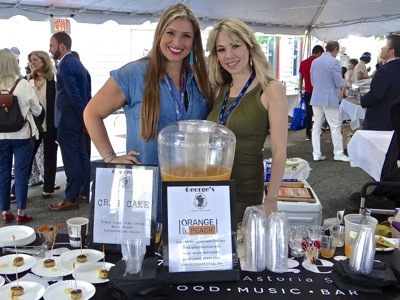 Next stop was George's of Astoria. Georges used to be the Astoria Room underneath Kaufman Astoria Studios, not even a stones throw away. They were serving some delicious crab cakes with horseradish that were tender, softand moist … and the crab meat just fell apart and slowly releasing its fresh seaworthy flavor in my mouth. Georges is located at 35-11 35th Avenue in Astoria. A great before or after stop when visiting the Museum of the Moving Image or nearby theaters.
Georges, previously known as the Astor Room, changed its name earlier this year. I could have eaten them all night, because one doesn't come by a really well made crab cake very often.
Georges crab cakes and hostesses are shown at right.
The Creek & the Cave Restaurant & Improv in LIC
The Creek and the Cave was serving drinks and burgers. Since I had sampled their wares previously, and was running out of time, I decided to shove on. But use the search on this site to find descriptions of the fine cuisine and entertainment offered at the Creek and the Cave, which has been operating in Long Island City for over a decade. The Creek & the Cave is a bar and improv theater venue that's held up well during all of the transition in Long Island City. The Creek & the Cave has developed a mixed community of new and old neighbors from the hood as well as artists, actors and comedians. The Creek & the Cave is located at 10-93 Jackson Avenue.
The Market Pantry Eatery in Long Island City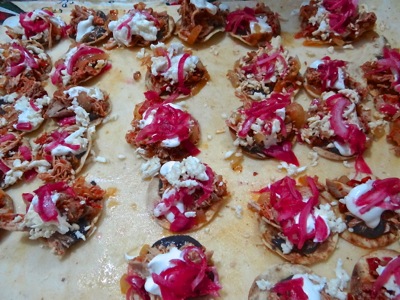 The Market Pantry Eatery was my next stop. The Market Pantry is located at 24-20 Jackson Avenue in LIC, near Citibank. They were serving a chicken sandwich on a pretzel bun with turmeric, aioli and tomato [see slide show]. It looked smaller than it was, kind of a meal in itself, and the chicken was very skillfully cooked as it was moist and flavorful.
One Mean Tostada @ Gordo's Cantina - Queens Plaza
Gordo's Cantina was serving the Tostada de Tinga. This is a chicken thigh with chipotle sauce, marinade onion, toasted – not fried – and served with a pickle and onion on top. The owner has spent the last seven years working his way up from a pop up vendor to the store he now operates at 24-11 Bridge Plaza North near Queens Plaza – which translated is Queens Blvd at 24th Street.
Gordo's Tostada de Tinga is shown at right.
The Bento Box is an Up & Comer Japanese Restaurant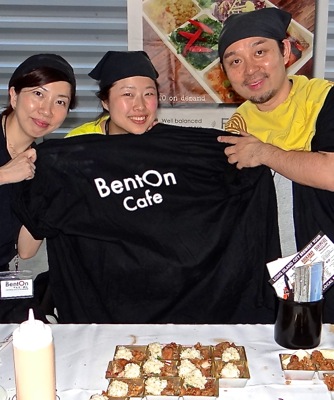 My last stop was the Bento Box. As you can imagine, they were serving Japanese cuisine. I tasted the Japanese fried chicken marinated in potato starch and flavored with soy sauce, ginger and garlic.
I got to talking with Toru Furukawa, the proprietor, who told me his father and now his brother operate a Bento Box restaurant in Japan. He operates two restaurants in Manhattan – one in Midtown and another Downtown – and has offices and a facility in Long Island City where he prepares some of Delta Airlines food.
The Bento Box folks are shown at right.
Neighborhood Cuisine, Arts, Film & Theater People
On my way out I ran into Handan Ozbilgen who was with some friends and associates. Handan is an Independent Theater Director/Producer and the Associate Artistic Director of LaGuardia Performing Arts Center. She and Steven who I'd met earlier, had just come from the commencement ceremony for graduating students at LaGuardia Community College. Handan is shown in the photo slide show below.
Taste of LIC 2018 - Many Thanks to the Organizers and Sponsors
It was a beautiful evening, filled with tantalizing food, and a congenial crowd. And I have another list of neighborhood restaurants that I look forward to experiencing more of in the future. Bon Appetit.
Many thanks for Sheila Lewandowski and Brian Rogers of the Chocolate Factory Theater, for organizing the event. As well as Kaufman Astoria Studios, the location, as well as all the participating LIC restaurants mentioned above and others including many of the new brewery bars in LIC who contributed to the event, as well as the Chocolate Factory Theater sponsors including Jet Blue, Kaufman, Con Edison, Rockrose, Modern Spaces, TFC, Aecom, M&T Bank, Plaxall, NYC Ferry, 114th Precinct, Greater New York Lecet, NYC Compost Project, Royal Waste Services and Shine Electronics.
---
LIC Neighborhood Related Info
$element(adman,groupad,NhoodLIC)$
Click here to go to the LIC real estate section of this site.
Click these links for promotions by advertisers in Queens.
Click this link to go to the LIC Neighborhood.
---
$element(adman,groupad,Catgry Realestate)$
Site Search Tips. 1) For best results, when typing in more than one word, use quotation marks - eg "Astoria Park". 2) Also try either singular or plural words when searching for a specific item such as "gym" or "gyms".
$element(bwcore,insert_search,N)$
Click this link to search for something in our Queens Business Directory.
---
$element(adman,groupads,Sectional Ad)$
---
Click the log in link below to create an ID and post an opinion.
Or send this story to a friend by filling in the appropriate box below.
---