PS1 In LIC Opens Fall Exhibits
Long Island City Event / Neighborhood: October 19th 2008. Four new exhibits came to the museum today: 1) Leandro Erlich, 2) Gino De Dominicis, 3) Neo Hoo Doo and 4) Yael Bartana.
Leandro Erlich Art Installation
Leandro Erlich's installation is easily the most enjoyable. He has installed a modest swimming pool inside the museum, traversing two floors. When you walk up the wooden deck surrounding the pool, you feel like you are approaching a modest beautiful swimming pool. But then you notice something in the water and lo and behold … it's a human!
Should you dive in to save them? I think not. You'd be well advised to follow the steps behind you down to the lower level, where you can enter the pool yourself and look up at all the other would-be-lifeguards.
The installation is a fun, mind-bending piece which explores dimension and space. Everyone, including the kids, perhaps especially the kids [and the child within] will enjoy this installation.
Gino De Dominicis Art Exhibit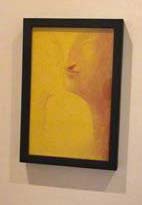 The second exhibit is done by Gino De Dominicis, mysterious Italian artist. The late Gino De Dominicis left many paintings which cover a wide range of subjects and provide an interesting array of perspectives. This artist lived largely in seclusion and made incredible efforts to remain secluded from the mainstream media.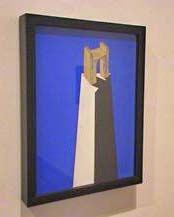 While viewing his work, there's a certain calmness that emanates from the art. He frequently centers each piece around one or two colors, mostly red, blue, black, white or khaki brown. Within the color boundaries he works the shades to provide soothing transitions … with no graduated boundaries. Is he saying something about the connectedness of things?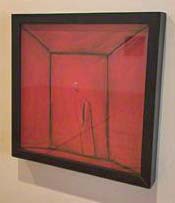 The subjects he chooses vary, but in essence they mostly appear to be some sort of an abstraction. Many are abstractions of the human face, and a few are abstractions of unique shapes and lines. All very appealing, calming, calming … zzzz.
And I mean that last descriptive statement in a pleasant sort of way, given all the mental and visual crap that we let get piped into our homes every day via the airwaves. Art by Dominicis would be welcome in any home, for its abstract visual appeal and also for its serenity.
Neo Hoo Doo Contemporary Art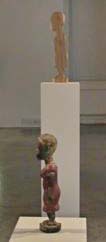 Ah, yes, PS1 is a contemporary art museum. And the Neo Hoo Doo exhibit takes you back to the land of the confusing – aka contemporary art.
To me contemporary art is a place in space and time where man tries to make sense of himself or herself in an over-populated, super-noisy, lightning-quick, impersonal world. Contemporary art is the art that makes you think. It frustrates you as you wonder, "What the hell does any of this mean?" Why am I here looking at this stuff? Oh, yeah, to shoot photos for Queens Buzz.
No, really. So as I walk into the rooms dedicated to Neo Hoo Doo, I encounter two half men, one higher and bigger than the other. They stand like guards to the altar of the third human figurine, which looks to me like a smiling Aunt Jemima in a box. Figure that one out.
Then there's this interesting matrix, of what looks like drift wood or scrap wood that coils along like a snake. Nearby there's a human crow figure made of dark green, black and grey feathers. And on the other side of the room a small pedestal where at sometime during the day someone comes into read some poetry which is a part of the exhibit.
There are very dull pictures of an adolescent girl naked. A string of fluorescent lights tied together on the floor. A cooler with Bud beer in it. A picture frame encasing 3 D flowers. A table filled with the bottles and apparatus of a chemist. A cabinet filled with tchotchkes [bric a brack]. Get the true meaning yet?
There's more, much more. And one could hypothesize in a myriad of directions. All kind of interesting and thought provoking.
Yael Bartana Video Exhibit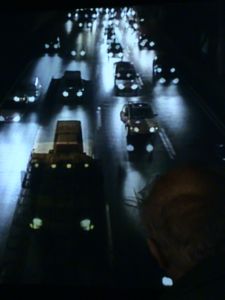 And lastly there's a video exhibit by Yael Bartana which shows a series of videos about life in Israel. Essentially they are about perception of self vis a vis the state as embodied by a series of clips. It's pretty heavy stuff like all things associated with the middle east these days.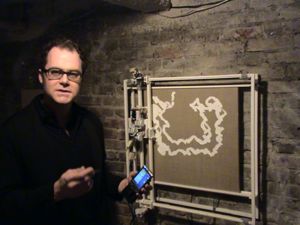 Boiler Room Exhibit

Down in the boiler room next to the pool exhibit there were a number of small exhibits featuring guest artists. I had the opportunity to meet one of them, a New Zealander [Simon Ingram] who put together a 'Random Walk' painting.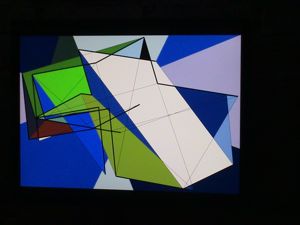 Random Walk is a statistical term for a series of sequential random events which are related and hence move in a certain direction. This artist programmed a small painting robot which paints randomly. He used white as the color to relate his work back to someone else who had once exhibited in the same boiler room.
Another painting I found myself attracted to for its color and clarity is shown here. For more stories on exhibits or events at PS1 use the search box at the top of the screen and scroll down to the Articles section. Scroll down to find links to additional articles on PS1.
PS1 Art Museum Long Island City NY - Related Links
Click this link to read / view a story about the Warm Up Parties sponsored by PS1 in Long Island City, or to read about the history of the PS1 Modern Art Museum in Long Island City. Click this link to view a map of the PS1 Art Museum in Long Island City. Click on this link to obtain info, including the url and link to the PS1 Art Museum, which was the sponsor of this event. Click this link to go to the Long Island City Neighborhood News / Long Island City Neighborhood Guide and Map / Long Island City Restaurants Guide & Map / Long Island City Shops Guide & Map / Queens & Long Island City Events / Long Island City Business Directory / Long Island City Shop Announcements.