Folk Music In Jackson Heights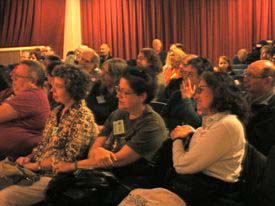 Jackson Heights / November 15, 2008. The Folk Music Society of New York hosted its annual Eisteddfod Festival event last weekend. The name comes from Wales and connotes the gathering of musicians and poets. The festival was hosted at the Renaissance Charter School. The festival began on Friday night at 7.30 pm and went through Sunday, ending at 5.30 pm. A free family concert was provided on Saturday from 12.30 to 1.30 pm. Admission was $25 for a single performance, $50 for access to a full day including the seminars and $85 for admission for the entire three day event.
This all weekend event is open to everyone, but particularly for those with an interest in music, folk culture and folk history. The Eisteddfod Festival provides a great opportunity to meet a number of talented and versatile musicians, become acquainted with some of the older and in some cases more unique musical instruments; as well as to become acquainted with some of the history and lore of folk music from Europe and pan America.
---
Folk Music Festival Event In Jackson Heights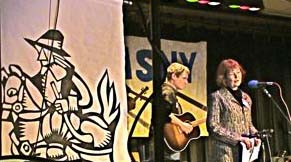 Jackson Heights / November 14, 2008. I visited the Renaissance Charter School in Jackson Heights this past Friday night to attend the Eisteddfod Folk Music Festival. I really wasn't sure what to expect, but I found myself very pleasantly surprised.
The Eisteddfod Festival takes its name from Welsh and it essentially means musicians and poets [or bards]. Having attended one night of the event, I'd say the name fits. I listened to three musicians play over the course of about two hours, and each of them played more than one instrument. While 'folk' frequently has a country or non-professional sort of connotation, that really couldn't be said of the people who I saw perform on Friday.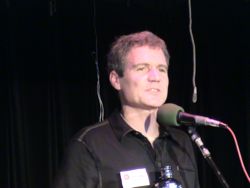 The first musician, David Ruch, played the guitar and then the Jaw Harp. The jaw harp is a metal instrument that fits in your mouth and through which you breath and on which you strum. It has a dwang kind of sound. He sang songs of the Adirondacks and of olden times back when lumbering up in the Adirondacks was a big trade [1870's]. Some of the tunes had rhymes with obvious endings which the audience chimed in on. He also played the mandolin. One of the songs he sang had a line in it about "off to Wisconsin to seek my fortune". As a footnote, my great grandfather was a Wisconsin lumberman about a century ago and he reportedly did make a small fortune which nobody seems to know where it went.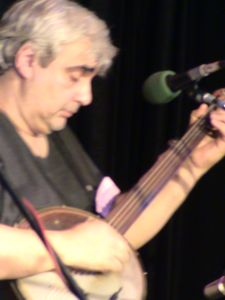 Pat Conte was next. He sang some of the old Negro blues songs. He has a deep voice and sings the words in such a manner that if you closed your eyes, you'd think it was the author singing the song. I understand that he is a great collector of folk music from not just here, but all over the world, and so it would make sense that over time he would be able to sing some of what he listens to in the same manner as it had been sung so long ago. It's worth noting at this point that this Saturday he's giving a seminar in which he shares some of his findings with the audience.
Pat also plays a number of instruments including the fiddle [what's the difference between a fiddle and a violin? It's how you play it.], the banjo [and a very old one at that], a 'little guitar' and a 'big guitar'. He played some Scottish folk song when playing the little guitar.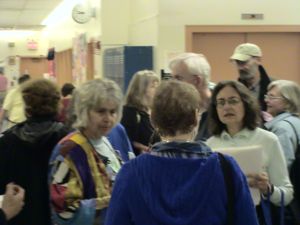 What struck me about this festival is the mix of music, history and 'low' culture that it brings to life. By low culture I mean the culture of the people or the culture of … the folks! Many of the songs they sang had stories of the past, of the times and of personal hardships or relationships.
At the intermission I shot a couple of photos of some of the people responsible for putting this event together [Eileen Pentel,
Rosalie Friend and Heather Wood (no relation)], as well as those who were just there to enjoy the event. The served food and drinks, but no alcohol which I surmise is because the event is hosted in the Renaissance Charter School, and gift items were sold to raise money. Some of the proceeds go to the Folk Music Society Of New York aka FMSNY the non-profit organization that sponsors this event.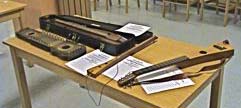 I also saw a few folk instruments which were donated to the society, the photos of which will be posted in an update to this story [many photos to follow]. Heather is a vocalist who sings ballads from the British Isles. She noted that the ballads changed as they made their way to America as they dropped references to royalty as well as to the supernatural. This weekend there will also be a group called Italian Discanto and another from Mexico with Aztec, as well as Queens County roots.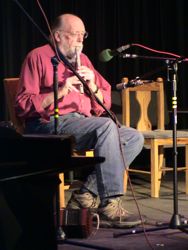 After the intermission I listened to George Ward who hails from White Hall in upstate New York. He played some tunes he'd composed himself [as did Pat Conte] as well as some original folk music. He started with what seemed an Irish tune on the flute, which was followed by an American tale on the jaw harp, and several more about canals, and love in the country, and black flies in the Adirondacks.
So in the last song, George Ward encouraged the audience to sing the refrain to his song which goes something like this: "They're crawling on my eyeballs. They're buzzing in my ears. They're flying up my nose and swimming in my tears.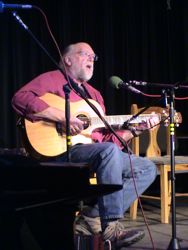 I'm sticking with the lesson, I learned so long ago. I'm sittin' in the smoke until the black flies go."
Just by reading the lines, you can kind of pick up the rhythm, and so it wasn't long before I found myself singing along ... They're crawling on my eyeballs. They're buzzing in my ears. They're flying up my nose and swimming in my tears. I'm sticking with the lesson, I learned so long ago. I'm sittin' in the smoke until the black flies go.
I think you can see that this was great fun in a very 'folksy' sort of way. I left with a big smile on my face, singing about those durn'd Adirondack black flies : )
Eisteddfod Folk Music Festival Jackson Heights NY - Related Links
Click this link to obtain a map of the location of the Renaissance Charter School which is where the event occured. Click this link to obtain the contact info and website url for the Eisteddfod Festival NY. Click this link to go to the Jackson Heights & Elmhurst Neighborhood News / Jackson Heights & Elmhurst Neighborhood Guide and Map / Jackson Heights & Elmhurst Restaurants Guide & Map / Jackson Heights & Elmhurst Shops Guide & Map / Queens, Jackson Heights & Elmhurst Events / Jackson Heights Business Directory / Elmhurst Business Directory / Jackson Heights & Elmhurst Shop Announcements.