JCAL Art Event: Metro Poles: Art In Action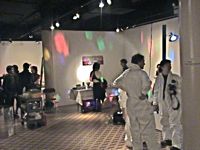 Jamaica / November 13, 2008. JCAL hosted the opening of 'Metro Poles, Art In Action' which started at 6 pm. This exhibit features the works of 60 artists from three boroughs, although only twenty-five of them appear at JCAL. The exhibit runs for 13 weeks through January 17th. The exhibit is an interesting approach to art and artists striving to express themselves in the metropolitan area in the 21st century. Scroll down to read / view the first installment report on the art exhibit Metro Poles, Art In Action at JCAL in the Jamaica neighborhood of Queens.
---
Metro Poles, Art In Action Exhibit At JCAL In Jamaica
Jamaica / November 13, 2008. I went to the opening of the art exhibit entitled 'Metro Poles, Art In Action' down at JCAL in the Jamaica neighborhood of Queens. This exhibit will run for thirteen weeks through January 17, 2009. I had the opportunity to speak to Heng-Gil Han, Curator of Visual Arts at JCAL [he is pictured on the far right in the photo to the left] about the program and this is what I learned.
'Metro Poles, Art In Action' [hereafter referred to as Metro Poles] is in a sense, a sort of performance art. The 'Art In Action' part of the title refers to the fact that this exhibit will be in a continual state of development until the last week of its run. There are twenty-five artists participating in the JCAL portion of the program and about five of them will work on the exhibit each week.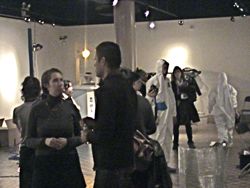 The artists will make their efforts during the week that they 'have the floor' and essentially have free access to work in the exhibit area during its public access hours [stated below]. During the open exhibit hours visitors are also welcome to come to see the exhibit and the artists in action too.
This arrangement provides the visitor with a look into an interesting art exhibit, as well as a sort of art-creating performance. By providing visitors with an opportunity to meet the artists to ask them questions about their work, and by providing the artists with the opportunity to see how their work is being perceived – all in real time - there's the added dimension of this exhibit as a sort of social mosaic building as well. What will come of this?
I asked Heng-Gil what he hoped to achieve by this exhibit. He had several answers to the question, all of which help put the whole exhibit in perspective. Perhaps his most important goal is to provide artists with a sense of reality. By seeing viewers' reactions to their art, the artists should be able to develop a deeper appreciation of their audience, as well as the impact their art has upon them.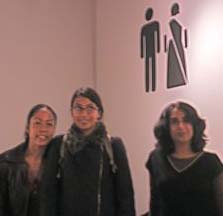 Another slice of reality will come each week, as the artists who have access to the gallery, also have the power or right to change anything else in the gallery. Therefore it's possible and even likely that other artists are going to make changes to their peers' work. On the one hand this may hurt or offend the artist whose work is being changed, but on the other hand it may deepen their understanding how their art affects others and may provide insight as to where to take their work going forward.
Heng-Gil would also like to see a deepening of the relationships of the artists with one another. They all met in October as a group where they were introduced, but they are literally from all over the metropolitan area, including Manhattan and Brookyn, as well as Queens.
Since it's a collaboration Heng believes that the artists should be able to learn from one another and help one another. An example of this evolving sense of community is that one of the artists began collecting email addresses so that they could communicate with each other. Another example of 'art in action' is that on the opening night one artist sold baked goods and made a tidy profit. This fund raising ingenuity is instructive to the other artists, as that kind of resourcefulness can be taken with them, as they try to launch their art careers – which they now can help fund with bake sales!
Heng-Gil said he made one request of the participating artists with respect to changing another artist's work and that is that it should be done "respectfully". Now I don't mean to be a gadfly here, but is expecting others to make changes 'respectfully' reality based? The answer to this question is perhaps one of the many interesting results that will emerge from this project.
The gallery is open to the public from 10 am through 6 pm Monday through Saturday. As mentioned above, the artists are free to come in and work on their projects at random, so meeting them will be hit or miss. Admission is free, but as JCAL is a non-profit and the level of government funding is always uncertain, donations are always welcome. Click here for a map of the location of JCAL at 161-04 Jamaica Avenue and click here for the JCAL website.