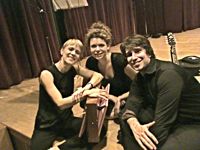 Air & Space Trio Live Jazz Concert
At 7 pm the 'Art And Space Trio' performed a modern jazz concert which was timed in conjunction with an art exhibit opening. RSVPs were required by emailing info@jcal.org, but admission was free. We listened to the trio and have posted a full review which includes excerpts from a conversation we had with the Trio after the performance. Scroll down to read / view the full review of the Air & Space Trio jazz concert at JCAL in Jamaica Queens NYC. Click this link for a map to JCAL at 161-04 Jamaica Avenue in the Jamaica section of Queens NY NYC. Their telephone number is 718.658.7400. Click here for more info on the JCAL website.
---
Performance Given At Jamaica Center For Arts And Learning
Jamaica / November 13, 2008. I ventured down to the Jamaica Center For Arts And Learning [aka JCAL] in the Jamaica neighborhood of Queens to attend a jazz concert Thursday evening. The newly formed 'Air and Space Trio' was selected and sponsored by the Carnegie Hall Neighborhood Concert Series to perform for the JCAL audience in a free concert.
The 'Air and Space Trio' is comprised of Jo Lawry, a female vocalist from Australia [she's been living in the U.S. for some six years]; James Shipp the vibe man / percussionist is from Baltimore [living in NYC for ten years], and fresh from Canada by way of LA is Stephanie Richards the trumpeter. Each of these musicians arranged or composed a couple of new pieces explicitly for this event, and coincidentally this was also the Trio's first public appearance as a group. I had the opportunity to converse with them after the performance, some of which will be shared with you throughout this story.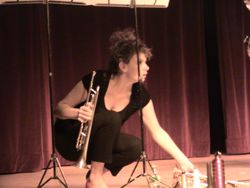 They played ten pieces in all. One of the things that struck me shortly after I settled into my auditorium seat; was the originality the group brought to their new arrangements as well as to their performance.
The Trio's work draws both classic and cultural roots. The classic refers not just to traditional classical, like Debussy, but also from classic jazz such as Henri Mancini's 'Moon River' and classic musicals such as a tune from 'My Fair Lady' [I Could Have Danced All Night]. The cultural influences came from Brazilian sambas, Irish ballads and Indian sounds.
The third piece titled 'Along The Water' was composed by Jo Lawry. While it draws on influences from Debussy's 'Reflets Dans L'eau', this unusual composition used a variety of original 'instruments' to make water-like sounds. The swirling, wind-swept motion of water splashes, water drops, rain, gushing and sprinkling and spraying all conveyed … through Stephanie's trumpet, James' vibraphone [and other percussion instruments including the tambourine, small drum, cow bell, balloons and more] and Jo's clear feminine voice that she oftentimes uses more like a musical instrument than as vocals per se.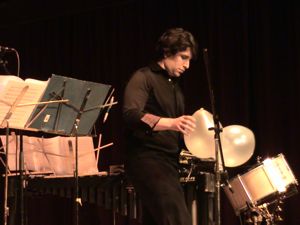 'Big Nick' was a piece that was arranged by James Shipp. It was a nice jazzy conversation where the music was tossed effortlessly from Stephanie's trumpet to James' vibraphone to Jo's voice in a fun, energetic score. It was like watching a lively conversation verbalized through jazz. Back and forth, each listening to and responding to the other. It was well scored and nicely executed and held together naturally as in the original work upon which it was based [by John Coltrane].
$element(flashss,slideshow,20,Nasc)$
'Moon River' was arranged by Stephanie Richards, and if I'm reading my notes right, this is where Jo really used her voice as if it were an instrument. She would use sounds that best fit the moment, in a free-form vocal melody comprised of many lovely universal sounds.
Some of Jo's vocals reminded me a bit of Minnie Riperton. Minnie Riperton wrote and sang 'Lovin' You' [Is Easy Cause You're Beautiful] in which she sings things like la, la, la, la, ooo, ooo, ooo … and then aaiii, aaiii, aaiii, aaaiiii. Minnie also made beautiful feminine vocal music without complicating it with words. And Jo, in this concert, did some of the same, although hers had a more modern dissociated melody than Minnie's.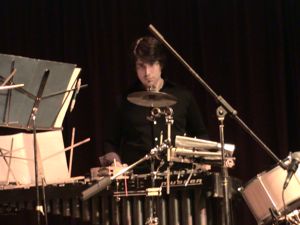 James' vibraphone [similar to the xylophone, but having metal bars and rotating disks to provide a vibrato sound] and other percussion instruments added a very soothing dimension to much of the music. The soft musical bell-sounding vibrations resonated through the small concert hall, giving a warmth to many pieces in the performance.
And Stephanie's trumpet playing, with all of her mutes including the sultry cup mute, pulled us gently up and slid us gently down. That is until we found ourselves at the end of a wonderful performance by the 'Air & Space Trio'.
Another great concert hosted at the Jamaica Center For Arts & Learning. Click here to see a map of the location of JCAL at 161-04 Jamaica Avenue in the Jamaica neighborhood of Queens NYC. And click here to go to JCAL's website.