Sunnyside Chamber Christmas Tree Lights Up Street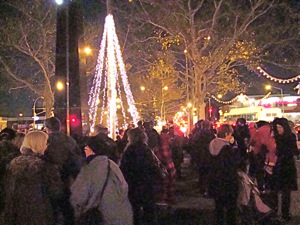 Sunnyside / December 1, 2009. The Sunnyside Chamber Of Commerce lit up Queens Blvd with its annual tree lighting ceremony. The event featured two trees, one metallic which stands in the center of Joe Sabba Park while the other tree was positioned at the other end of the park and which I believe is owned by the Sunnyside Chamber Of Commerce.
A new priest gave a few remarks [Father Brian Dowd accompanied by Father Jerome], Luke Adams emcee'ed the event, hot chocolate was served, Christmas carols were on the docket and the Sunnyside Drum Corps were to give a performance.
Santa was also expected to appear. Given the weather [no snow] I had wondered how Santa was going to make it. But as we all know, never doubt the big bearded man in the red and white suit. As usual he didn't disappoint, although for the life of me, I still can't figure out how he made it happen. Click here to view photos of Sunnyside Tree Lighting Ceremony 2009 - photos.
---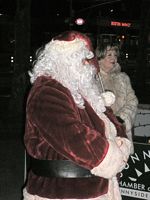 Xmas Tree Lighting Event In Sunnyside
Queens NY / November 30, 2008. Monday night there was a Tree Lighting celebration in Sunnyside that began at 6 pm It was held at the island park at 50th Street and Queens Blvd underneath the new holiday lights traversing Queens Blvd. The event included a visit by Santa and hot chocolate, compliments of the Sunnyside Chamber of Commerce. Scroll down to read / view the full story about the Christmas Tree Lighting Event in the Sunnyside neighborhood of Queens NY.
---
Christmas Tree Lighting Event - In Sunnyside
Sunnyside NY / December 1, 2008. I covered an old fashioned Christmas Tree Lighting ceremony in Sunnyside on Monday night. But of course, not without a few adjustments required to accommodate the times and place we live in. The event was sponsored by the Sunnyside Chamber of Commerce and held in Joe Sabba Park, which is an island in the middle of Queens Blvd between 49th and 50th streets at the Sunnyside / Woodside line [story continues below photo].
The event was attended by a small crowd of some fifty or so people, complete with some of the local notables including city council representative Eric Goia and NY State Assembly representatives Catherine Nolan and Margaret Markey. Chamber of Commerce president John Vogt, and consultant Luke Adams, did some of the officiating at the event. And we also had a world famous guest in attendance as well ... Santa Claus!
Opening remarks were given by Monsignor Denis Herron who reminded us that Christmas isn't just about gifts. This was followed by the actual tree lighting which was christened by the president of LaGuardia Community College, Dr. Gail Mellow. She asked the children present at the ceremony to raise their hands and wish for the lights to be turned on. The children followed her instructions and magically, the lights turned on! Ah yes, the wonders of Christmas. See photos to the right and below.
Recognition needs to be given to John and Luke of the Sunnyside Chamber of Commerce for organizing the event. And it is to their credit that Santa had also made a herculean effort to attend. In spite of the dearth of snow on the ground and the spike in demand for Christmas gifts he's received due to the slowing economy, he made time in his very busy schedule to join us at the Sunnyside Tree Lighting ceremony. For anyone who may be out of a job, he made a point of telling me in our conversation, that his north pole factories were running at full tilt and his elf foremen are actively recruiting new elves [must have special elf-like qualifications].
The tree was environmentally-friendly ala 21st century. Simply put, this means that it was made of metal, not wood. The good news is that no trees ... deceased for this tree lighting event.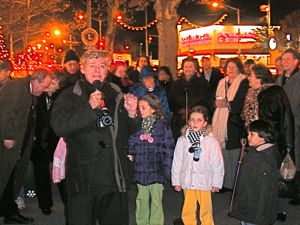 And for a moment, in the midst of the crowd, I found myself drifting off from where I was, to a simpler time in my life when I lived in a small town in northern Wisconsin (population 994 for the longest time). Back then, in that small town, we still had a tangible sense of connectedness and community. Having left there so many years ago, this was a feeling which I had long forgotten. But for a brief moment, at this community tree lighting, I had a feeling that I was attending a small town gathering, complete with cookies and hot chocolate. As the flyer said, 'small town in the big city'. This event stayed true to its billing.
Christmas Tree Lighting Sunnyside NY - Related Links
Click here for a map showing the location of Joe Sabba Park at 50th Street and Queens Blvd, which is where the event occured.
Click this link to go to the Sunnyside Neighborhood News / Sunnyside Restaurants Guide & Map / Sunnyside Shopping Center & Map.
Site Search Tips. To find restaurants, shopping or other things to do in any of the neighborhoods, use the search function: 1) For best results, when typing in more than one word, use quotation marks - eg "Astoria Park". 2) Also try either singular or plural words when searching for a specific item such as "gym" or "gyms".
$element(bwcore,insert_search,N)$
Click this link to search for something in our Queens Business Directory.
---
Click the log in link below to create an ID and post an opinion. Or send this story to a friend by filling in the appropriate box below.
---