Happy Thanksgiving From Queens Buzz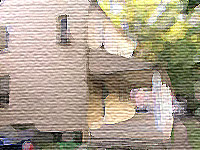 Sunnyside NY / November 27, 2008. The management and employees of Queens Buzz would like to wish you and yours a very Happy Thanksgiving. In spite of all of the recent troubles we've seen in the financial markets, and waging two wars in the Middle East, growing unemployment rolls and so on and so forth. But that said, we as Americans still have much for which to be thankful. And today, first declared a holiday by George Washington in 1789, is a time to think about what we have, instead of thinking about that which currently ails us.
We have a new president-elect who seems to be putting a team in place that contains many of the best and brightest minds in the country. He has already started reaching across the aisle, knowing full well that both Republicans and Democrats alike, have a lot at stake in steering this country back on course. So today, let's be thankful for what we have - like the roofs over our heads, food on our tables and our family and friends. This is a nation of 300 million people and we are among some of the luckiest people on the planet of some 6 billion human beings. We need only look at the news from around the world to realize that there are a lot of people out there who are doing far, far worse. So on this day, be good to yourself, be good to those you encounter and your day will be blessed.
---