Italian Restaurants In Long Island City
Manducatis Italian Restaurant In LIC
Long Island City Neighborhood / LIC Restaurants / Restaurants In Queens / Queens Buzz. This is a review of Manducatis Italian restaurant in the LIC / Long Island City neighborhood of Queens NY. The Italian restaurant has a wide selection of authentic Italian appetizers, main entrees and desserts. It has spacious dining rooms with a warm atmosphere.
Click here to read a restaurant review of Manducatis Restaurant in Long Island City LIC.
---
Italian Restaurants In Long Island City
Manducatis - A Welcome Back To The Old World
Long Island City Neighborhood / LIC Restaurants / Restaurants In Queens / Queens Buzz.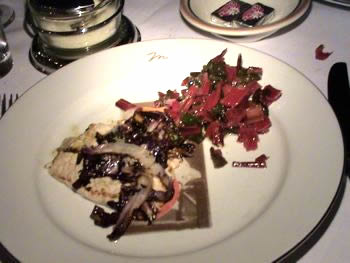 A group of us met Friday evening for dinner. As we walked into the restaurant, the warm, homey, old world atmosphere quickly washed away the day's cares. There was real wood burning in the fireplace and the lighting was soothing. Vincenzo Manducatis, the proprietor was our gracious host.
Manducatis Restaurant - History
The restaurant has been serving the Long Island City area for nearly thirty years. It's a family restaurant, with Vincenzo the father hosting and overseeing things, while his wife Ida is an accomplished chef who has won a number of honors for her culinary skills. She manages the kitchen.
We also met their son Anthony who helps manage the business end of things. Unfortunately we didn't have the pleasure of meeting his sister who also contributes to the family restaurant's success.
Restaurants In LIC - Ambiance & Atmosphere
There's an old world feel to the place, that in this day and age is difficult to find. The immaculate stone floors, the clean white table cloths and the professional service all make one feel like they've stepped out of the rat race and into a calmer, slower time. The menu provided an enticing array of Italian pastas, veal and seafood delights.
We agreed to eat home style, which means that we would share all of the appetizers as well as the entrees.
Long Island City Restaurant Appetizers
Seafood Medley And Bean Pasta In LIC
The first dish was the seafood medley which included juicy shrimp, tender calamari and clams that had been cooked and then cooled immediately after, so that they were cool on the outside and still warm on the inside. In a word, they were puuurrrfect.
It was believed that the bean pasta was hand made pasta [unconfirmed]. The beans had been seasoned with a bit of red pepper which provided a pleasant little zing to the dish.
Italian Restaurants In LIC - Main Course - Veal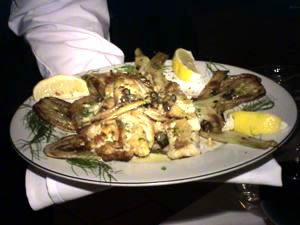 The veal entree was served with fennel, and we had ordered a side of escarole. The veal was tender, juicy and mostly left to stand on its own, which it did very well. The anise taste of the fennel was almost sweet and melted as it entered my mouth. And the escarole was served as an additional vegetable.
You can see from the picture to your left how good it looked, and it had been cooked to provide a texture and taste to match.
Long Island City Restaurants - Chianti
The house Chianti we drank was full bodied and mellow, with a clear taste. The serving portions were enough, but not too much, which quite honestly is the best way to describe most of what we experienced all evening. Manducatis seems to find the right balance between interesting and completely natural, so that your taste buds can experience the all of the natural elements of the meal, cooked and served to near perfection.
Manducatis Restaurant In LIC - Tiramisu Dessert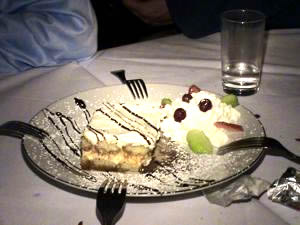 The evening was topped off with tiramisu. The creamy texture and its sweet taste, were the end of a perfect meal. One of the reviewers summed it up as follows: "The genuine Italian menu coupled with exceptional service, made for an outstanding celebration of distinctive food and friendship."
Manducatis Restaurant In LIC Queens
Manducatis is located near the G and 7 subway stops and the Hunters Point LIRR train station, and it is just off the Van Dam exit of the LIE. Hence, access to this amazing restaurant is made easy for Queens and Long Island residents, as well as for Manhattanites. One reviewer recommends trying the meal family style, so that everyone can sample more mouth watering selections from the menu, since the challenge to decide which single item to choose.
Manducatis Italian Restaurant In Long Island City LIC Links
Click this link to view a map of Manducatis Restaurant in Long Island City. Click this link to obtain the contact info and website url for the Manducatis Italian Restaurant in Long Island City Queens.
---
LIC Neighborhood - Long Island City Links
$element(adman,groupad,NHoodLIC)$
Click on these advertisements for promotions, discounts and coupons by retailers and restaurateurs in Long Island City LIC and nearby Queens.
Click this link to go to the:
Long Island City Neighborhood or LIC Business Directory
Long Island City Real Estate or Events & Things To Do In LIC
Restaurants In Long Island City or LIC Shops & Shopping
---
$element(adman,groupad,Catgry Rest)$
Site Search Tips. 1) For best results, when typing in more than one word, use quotation marks - eg "Astoria Park". 2) Also try either singular or plural words when searching for a specific item such as "gym" or "gyms".
$element(bwcore,insert_search,N)$
Click this link to search for something in our Queens Business Directory.
---
Click the log in link below to create an ID and post an opinion.
Or send this story to a friend by filling in the appropriate box below.
$element(adman,groupad,Sectional2 Ad)$
---