Legislative Revue At Queens Theatre In The Park - Flushing
Flushing / Queens NY / November 17, 2007. Queens Theatre In The Park opened its 8th bi-annual Legislative Revue. This unique performance features many borough officials who star in a comical musical benefit to raise funds to make the theater more accessible to the citizens of the borough. Much to my surprise there was some theatrical talent in the group. But then, upon reflection it made sense to me, as when campaigning for office and giving speeches it does help to have a sort of theatrical flair. In the photo to your left Council member Peter Vallone plays a fifties version of guitar.
Queens Legislative Revue Photos
The photo below shows a number of officials doing a Simpsons spoof. We had posted a a gallery of photos of this event, but due to technical difficulties we lost them. But the 2009 show isn't far off so you'll have plenty of opportunity to see the new cast of officials in their new starring roles.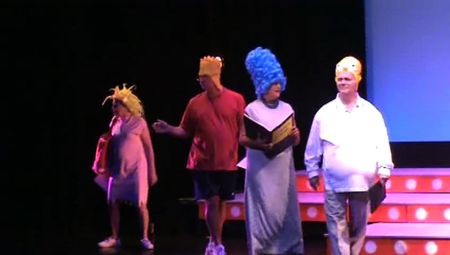 Queens Theatre In The Park - Related Links
Click this link to go to the Flushing & Corona Neighborhood News / Flushing & Corona Restaurants Guide & Map / Flushing & Corona Shopping Center & Map.
Or use the search function to find other stories about events at Queens Theatre In The Park.
$element(bwcore,insert_search,N)$