Restaurants In Astoria
Cafe Bar Locale Italian Restaurant / Now Gastroteca Astoria
Astoria Neighborhood / Astoria Restaurants / Queens Restaurants / Queens Buzz.
Sometime around or after 2014 this restaurant was renamed Gastroteca Astoria and run by new management.
This is a review of Café Bar Locale, a Mediterranean style Italian restaurant located in the Astoria neighborhood of Queens NY. Cafe Bar Locale is a casual dining restaurant and offers street side tables during the warmer weather.
Cafe Bar Locale is located near the Museum Of The Moving Image, the Frank Sinatra School Of The Arts and Kaufman Astoria Studios. The restaurant is accessible by foot from Sunnyside and Astoria, and by public transit along the N line as it is just a block south of Broadway St and between Steinway and 31st Street.
We visited the restaurant one comfortable evening and here is what we found. Click here to read a full review of Cafe Bar Locale - Italian Restaurants in Astoria.
---
Italian Restaurants In Astoria
Cafe Bar Locale Mediterranean Restaurant / Now Gastroteca Astoria
Astoria Neighborhood / Astoria Restaurants / Queens Restaurants / Queens Buzz.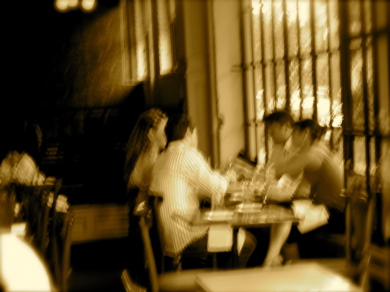 Cafe Bar Locale was established in 2005. It is located on a relatively quiet, tree-lined street corner in Astoria and has outdoor space in front of the restaurant, which on a nice day is really hard to beat for dining ambiance. As luck would have it, the Sunday we went to dine there, was just such a night.
Cafe Bar Locale Service
We were greeted by the outgoing and friendly hostess who was able to find a table near the doors which opened out onto the street. The waiter was superb. He was attentive, without being annoying, and knew the menu as if he wrote it.
Chianti Wine - Cafe Bar Locale Italian Restaurant In Astoria
We started with a couple of glasses of their Chianti wine. The bouquet wafted up to our noses like the smell of lush roses, the tanins were beyond compare and there was a hint of ... hey, just kidding, I'm no sommelier [wine expert], but I can tell you it tasted good and I had no trouble finishing the second glass before dinner was over. Since I was on a date with my close friend KC, I held off consuming a third, even though I wasn't driving that night.
Appetizers In Astoria - Goat Cheese Salad And Salmon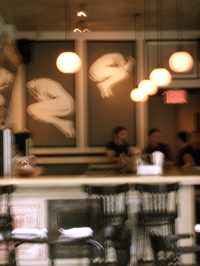 I started with the Insalata Di Casa [house salad] which contained walnuts and goat cheese, which hit the spot. KC had the Carpaccio Di Salmone. I had a taste of the thinly sliced salmon, which was not overdone and apparently was to her liking as she left little for the kitchen crew to clear.
Cafe Bar Locale Restaurant - Astoria & Queens Clientele
The crowd at Locale was ... well, as you would imagine ... local. Some older, some younger and some like us were somewhere in between. Everyone was dressed casually. A few tables looked like first time or early stage dates, while other tables looked like friends out for a leisurely dinner. The feeling was definitely comfortable.
Italian Restaurants in Astoria - Main Courses Of Lobster Ravioli And Casarecce Alla Vodka Pasta
Dinner arrived right on time. KC had Lobster Ravioli and I had the Casarecce Alla Vodka. Yes, both pastas. Both came out piping hot and al dente, which these days is a rarity and much to my liking. The sauce wasn't spicy, but flavorful. KC seemed to like my entree more than hers.
Naturally the menu contains many other entrees besides pasta, such as several chicken dishes as well as daily fish and meat specials. But this particular night, KC and I both seemed to be feeling warm and fuzzy, and not looking for new taste experiences. That said, it's worth noting that Locale keeps it interesting by changing the menu from time to time.
Dessert - Chocolate Souffle At Cafe Bar Locale
To top off the evening we shared the Chocolate Souffle, which disappeared shortly after it hit the table. And after paying the check we lingered a short while, before leaving for our journey home.
Mediterranean Restaurants In Astoria
Click this link to view a map of the Cafe Bar Locale Restaurant in Astoria. Click this link to obtain the contact info and website url for the Cafe Bar Locale in Astoria Queens.
---
Astoria Neighborhood Links
$element(adman,groupad,Catgry Rest)$
Click on these advertisements for promotions, discounts and coupons by retailers and restaurateurs in Astoria and nearby Queens.
Click this link to go to the:
Astoria Neighborhood or Astoria Business Directory
Astoria Real Estate or Events & Things To Do In Astoria
Restaurants In Astoria or Astoria Shops & Shopping
---
$element(adman,groupad,NHoodAstoria)$
Site Search Tips. 1) For best results, when typing in more than one word, use quotation marks - eg "Astoria Park". 2) Also try either singular or plural words when searching for a specific item such as "gym" or "gyms".
$element(bwcore,insert_search,N)$
Click this link to search for something in our Queens Business Directory.
---
Click the log in link below to create an ID and post an opinion.
Or send this story to a friend by filling in the appropriate box below.
---
$element(adman,groupad,Sectional2 Ad)$
---