Queens Food Fusion
Nutrition & Sumptuous Cuisine in Queens
March 6, 2013 / Food in Queens / Astoria / Queens Buzz. I attended a nutritious cooking class on February 27th featuring Rocco Sacramone, head Chef and Founder, of Trattoria L'incontro of Astoria; working in tandem with Effie Nerantzis, a Registered Dietician, from Mount Sinai Queens. The event was hosted by the United Community Civic Association at the Central Sushi Bar and Lounge in Astoria. And the program was sponsored by Mount Sinai Queens as part of their community health education outreach efforts, some of which we've covered in the past [see Queens healthcare section]. This particular program was intended to demonstrate how to prepare great tasting foods that are healthy and admission was free.
I knew going into this event that it had been fully booked. So I wasn't surprised as I entered a banquet room, which was fully seated. Rocco and Effie were conversing off stage; while Shelly Felder, Sr Director of Marketing & Communications at Mount Sinai Queens, conversed with Rose Marie Poveromo, President of the United Community Civic Association. The show was about to begin.
Click here for our report, including recipes and slide show with photos of Chef Rocco Sacramone of Trattoria L'incontro preparing heart healthy foods.
---
Queens Food Fusion
Nutrition & Sumptuous Cuisine in Queens
March 6, 2013 / Food in Queens / Astoria / Queens Buzz. Continued. Shelly opened the event thanking each of the people and organizations mentioned above, for collaborating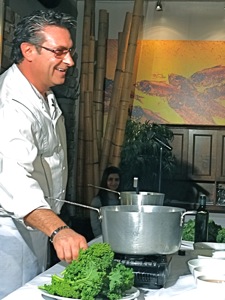 in the creation of this event. And with little ado, she turned the microphone - and the show - over to Rocco.
Rocco seemed very much at home in front a long cooking table while addressing the large crowd. Almost every night Rocco essentially hosts, entertains and serves large crowds of people who come from far and wide to dine on the home cooked fare made at his Italian restaurant, Trattoria L'incontro, in Astoria.
Rocco began by describing what was involved in preparing the soup below. As he talked about preparing the soup, as per the directions below, he would flavor his comments with a few pointers on the finer art of cooking. For example he doesn't use the kale stems because they take longer to cook. And per the nutritionist's advice, he also didn't include porchetta [a savoury Italian pork roast], which would add great flavor, but also would add a lot of salt and fat to the recipe - both of which are not heart healthy. Instead he added a bit of truffle oil to add flavor.


Rocco Sacramone Rocks The House With A Kale Soup
The first dish we were to watch prepared was the Kale Soup.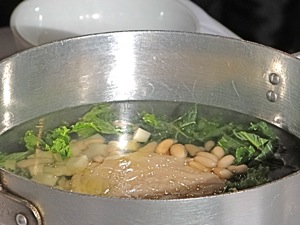 The ingredients include: 4 oz of white onion, chopped, 2 oz of celery & 2 oz of carrots, chopped, 1 cup of potatoes peeled and diced [equal to two large Idaho potatoes], 1 bunch of kale - stems removed and chopped, 4 quarts of water [16 cups + 4 oz], two 10 oz cans of white kidney beans drained, 2 tbsp of olive oil.
The Bouquet garni, which is prepared by wrapping in a cheese cloth, includes: 3 sprigs of thyme, 2 bay leaves, 3 sprigs of rosemary and 3 star anise.
The cooking directions include: 1) Preparing the bouquet garni and setting aside. 2) Add 2 tbsp of olive oil in a large stock pot, add onions and saute for several minutes. Then add celerary and carrots and cook until soft. Add the kale, 4 quarts of water and the bouquet. Bring it to a boil and then cook for 20 - 25 minutes. 3) Puree one can of kidney beans in a blender with 4 oz of water. Add the pureed beans to the pot after it has been boiling for 20 minutes. Add the potatoes. At this time you may add a second can of whole beans to the pot. 4) Cook until the potatoes are tender. 5) Remove bouquet just before soup is finished. Serves 4.
Nutritionist, Effie Nerantz, adds a Dash of Nutrition Education
As Rocco worked some of the items on the table during the cooking demonstration, Effie Nerantz, the Mount Sinai Queens Nutritionist, peppered the conversation with comments about substituting healthy for non-healthy choices. For example, she advised not using butters or animal fats by substituting with vegetable oils such as olive or canola oil. She advised against frying in favor of baking. And said that periodically consuming a soup with something like bacon or porchetta in it is ok, so long as it's not frequent. The goal, she told us was to reduce sodium [salt] and fat consumption, while ensuring there was an adequate amount of protein.
Rocco remarked that Kale was chosen for the soup, because it's one of the most nutrient rich vegetables you can consume. Another thing they did to the recipe was to eliminate the use of chicken stock from the recipe [fat and sodium] in favor of a pinch of salt.
Tasting the Nutritious Fare of the Dynamic Duo - In Astoria
We were served the soup following the cooking demonstration. I shot photos of a happy audience consuming a bowl of soup, as the Central Sushi Bar and Lounge waiting staff did an incredible job of ensuring everyone was served hot soup almost simultaneously - including those of us in the press corner.
The soup was simply delicious. It had a light clean taste to it, as the flavors from the bouquet floated into my mouth. The grainy texture of the pureed beans added a richness to the broth as the onions and the kale provided a savoury fare amongst the soft potatoes. The potatoes disintegrated upon contact and the white onions and seasonings left me with a craving for more .. more .. more. I couldn't taste the carrots but they added a bit of color to the look of the soup.
Salmon, Roasted Peppers & Tomatoes - Trattoria L'incontro Style
Our next demonstration was to be the main course - Salmon with Roasted Peppers and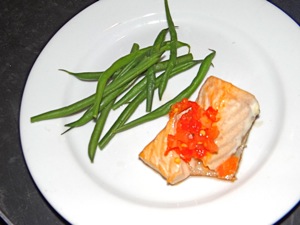 Tomatoes. The ingredients included: 4 salmon fillets [about 6 oz per person uncooked], 2 roasted peppers, 1 small potato, 1 head of garlic, 3 tbsp of olive oil.
The directions were as follows: 1) Roast the head of garlic. Cut the ends to expose the cloves. Drizzle with a drop of olive oil. Wrap in foil and roast at 375 F for about 30 minutes. Let cool, then squeeze the garlic out of each clove. Puree the roasted garlic with 1 tbsp of olive oil. 2) Place the salmon fillets on a baking sheet, skin side up. Drizzle with 2 tbsp of olive oil and cook at 450 F for 20 minutes or until cooked through and tender. 3) Combine the diced tomatoes and roasted peppers. Place 1/4 tomator and pepper mixture on top of salmon and then 1/4 garlic puree on top of the tomato and pepper mixture. Serves 4.
Good Food in Queens - Wild vs Cultivated Fish - In Queens
While Rocco was telling us how to prepare the salmon, he took an detour by request of someone in the audience who wanted to know how you can tell that you have actually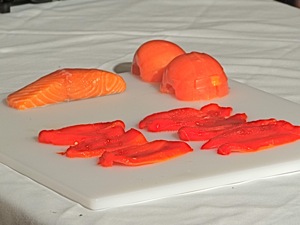 purchased wild salmon. He told us that the vendor is supposed to keep the fish head and that the fish will have a yellow tag in its mouth.
Rocco told us that about 90% of all fish consumed today has been cultivated [farm raised]. He noted that in and of itself cultivated fish isn't bad, but that it depends on who is doing the cultivating. He said there is variability in the sanitation standards maintained by the cultivators, that it made a difference what kind of feed was provided to the fish while raising them, and that some, many or most of the cultivators also used growth hormones to shorten the time to raising the fish. He also noted that many of the European fish cultivators actually do the cultivating in the sea.
Rocco also shared with us some of the intricacies of buying fish wholesale versus retail. While he gets fish at a lower cost because he buys in volume, he also has to cut the fish open, remove the insides and clean it up. He noted that he generally bakes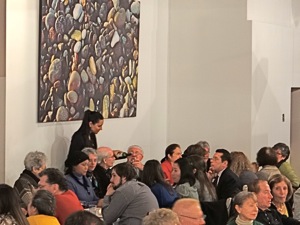 the fish with a little drizzle of olive oil on it as the fish can dry out. And he sometimes adds a bit to it as it comes out for the same reason. One has to cook fish carefully because its a delicate nature.
The crowd continued discussing fresh fish. And Alaskan salmon, is apparently one of Rocco's favorites. He said the frozen fish is ok, because today they have fish freezing down to a science. Modern Alaskan trawlers pick up the salmon and freeze it immediately on board the ship. It is then transferred to a Fed Ex truck and shipped out the same day worldwide. So it arrives frozen within a day or two, ready to eat.
Great Food in Queens - Olive Oils, Canola Oils & Cooking Oils
Someone in the audience asked him how he selects the olive oil with which to cook. He said jokingly ...
or not .. that it had to be Italian. He went on to say he remembered his parents making olive oil from fresh olives, by pressing it. So to this day, he measures an olive oil against his parent's brew. First and foremost you must be able to taste the olives.
Rocco also took questions about what oils to use and when. Canola oil is better for frying because it has a higher temperature at which it breaks down. By contrast olive oil is a fresh oil and a lower temperature at which it breaks down, so it's generally not good for frying. There was a brief exchange about soy, but I missed it.
Italian Pastas in Astoria - A High Energy Food & Italian Tradition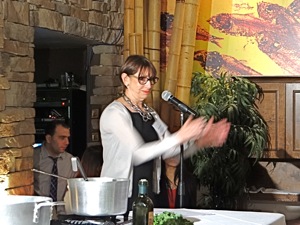 Rocco also talked about Italian cuisine. How pasta was typically consumed at lunchtime because it was a high carb meal, meaning it would give you energy earlier in the day when you needed it. He remarked that the Italians where he lived didn't eat pasta at night as often. Someone remarked that Italians seemed to have hot pasta available throughout most of the day, including in the evening. The bottom line Rocco said, was that healthy eating was about things like portion control and managing the intake of certain ingredients like fat and salt.
At this point Effie returned to the stage to tell us about how the U.S. government had changed from using the food pyramid, to using a plate to help people visualize how to manage the various components of their diet. Go to Choosemyplate.gov for further details.
At last the salmon was served. It was slightly moist on the outside and slightly dry on the inside. The salmon was tender and flaky and the tomato and pepper topping added a sweet complementary flavor to it. Aaahh, I thought to myself as I finished the dish. The audience had also settled into a low, comfortable murmur having enjoyed the flavors and the fruits of the labors by Rocco and the Central Sushi Bar & Lounge kitchen staff. So ends my tale of Queens Food Fusion - where truly nutritious meals look good and taste great.
Acknowledgements & Thanks For The Heart Healthy Eating Event
Special thanks to the folks and organizations referenced above including Mount Sinai Queens, the United Community Civic Association, the Central Sushi Bar and Lounge and Trattoria L'incontro for putting on this event. Click here for the business listing to Mount Sinai Queens Hospital for additional info about them and their outreach programs.
Buona Salute [good health] and Arriverderci [good bye].
Photos of Rocco Sacramone of Trattori L'incontro In Action
You can view photos of the Mount Sinai / United Community Civic Association Eat Heartily event at the Central Bar & Sushi Lounge in Astoria featuring Chef Rocco Sacramone of Trattoria L'incontro.
$element(ophoto,photo_slideshow,232,660,,5.00,fade)$
---
$element(adman,groupad,NHoodAstoria)$
Astoria Neighborhood Links
Click on these advertisements for promotions, discounts and coupons by retailers and restaurateurs in Astoria and nearby Queens.
Click this link to go to the:
Astoria Neighborhood or Astoria Business Directory
Astoria Real Estate or Events & Things To Do In Astoria
Restaurants In Astoria or Astoria Shops & Shopping
---
$element(adman,groupad,Catgry Foodwine)$
Site Search Tips. 1) For best results, when typing in more than one word, use quotation marks - eg "Astoria Park". 2) Also try either singular or plural words when searching for a specific item such as "gym" or "gyms".
$element(bwcore,insert_search,N)$
Click this link to search for something in our Queens Business Directory.
---
$element(adman,groupad,Sectional2 Ad)$
Click the log in link below to create an ID and post an opinion.
Or send this story to a friend by filling in the appropriate box below.
---