Restaurants In Long Island City
The Crabhouse Seafood Restaurant In LIC
Updated February 2018 / Long Island City Neighborhood / LIC Restaurants / Restaurants In Queens / Queens Buzz.
This is a review of the former Waterfront Crab House restaurant in the Long Island City neighborhood of Queens NY. The Waterfront Crab House was an historic building that housed a seafood restaurant. The original Waterfront Crabhouse first opened in the historic building back in the 1970's [reportedly in 1977].
This review below was done prior to the closing which took place in February of 2015, a month after the death of Tony Mazzarella, the prior [Waterfront] Crabhouse owner. The LIC Crabhouse then changed ownership, remodeling was done, and the restaurant was re-opened in August of 2016 as the Crabhouse Restaurant with much more modern decor and menu - and it was still a seafood restaurant.
In January of 2018 the restaurant was renamed The Loft LIC and continues to be operated by the same owners as the Crabhouse Restaurant, Joseph Lucil and Skinny Lee of SHI and Skinny's Cantina - both popular Long Island City restaurants. The restaurant cuisine is reportedly surf and turf [seafood and steak] with a Latin influence.
It appears that in Spring of 2018 The Loft LIC closed.
Click here to read our report and view photos of the Waterfront Crabhouse in Long Island City LIC.
---
Waterfront Crabhouse LIC
The Crabhouse is now The Loft LIC Restaurant
Updated February 2018 / Long Island City Neighborhood / LIC Restaurants / Restaurants In Queens / Queens Buzz.
The rest of this report is of the now defunct Waterfront Crabhouse Restaurant in LIC. In August 2016 two Long Island City restaurateurs took control of the restaurant and it is now called The Loft LIC.
Waterfront Crab House Restaurant - LIC History
The Waterfront Crabhouse is a place with a lot of history. I won't recount it here because you can read about it on their website, but it's a large kitschy place with a lot of activity and a lot of different rooms, and along with a tolerant waiting staff it is pretty family friendly.
Family Friendly Restaurants In LIC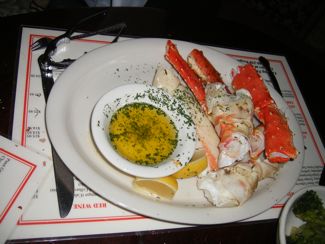 We arrived on a Friday nite. The restaurant was busy, but not overcrowded. Because of the restaurant's advantageous size and location, it is frequently booked for holiday and other large function events. During our brief interaction with the hostess, my niece and nephew spied a large vat of shelled peanuts. We all quickly dug in and loaded up with small dishes of peanuts. Within minutes we were seated and the service was excellent throughout the night.
Appetizers - Fried Calamari, Clams & Oysters
We started the evening with appetizers of fried calamari, clams and oysters. The calamari serving was generous, and the clams and oysters were good, although a few of them had a chewy texture. The sauces used on all of these appetizers, primarily consisted of butter which was well suited to satisfying the kids palate.
Main Entrees - Black Angus Steak, King Crabs Legs & Maryland Crab Cakes
My nephew's main entree turned out to be the peanuts, as he ate so many of them that by the time the main entree arrived, he didn't have any room for it. I have seen this happen before. He also crashed midway through the meal, and found the cushioned booth provided a very comfortable bed. My niece, on the other hand, seemed to relish the extra attention that her younger brother's exhaustion provided.
For the main entrees we had a black angus steak, king crabs legs and Maryland crabcakes. The person who ordered the steak was very pleased with it because the restaurant actually cooked it as well done as he had asked. Apparently in Manhattan, he cannot get a restaurant to serve the steak the way he likes it.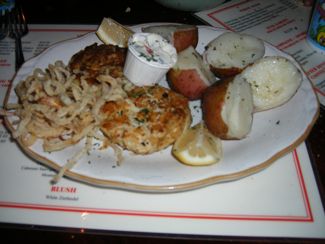 Those of us who ordered crab related fare found that our dishes were also cooked in that same well-done manner. Both the King Crab Legs and the Crab Cakes came in the same generous portions.
Dessert - Hot Fudge Cake In LIC
After we finished our entrees, we topped off the evening with hot fudge cake and coffee. All in all, the Waterfront Crabhouse is a great place to go with the family or a large group. It's fun, the service is excellent, the food is served in generous portions and well suited to please childrens' palates. The large airy restaurant allows room to relax and the waiting staff knows how to treat kids.
Waterfront Crabhouse LIC Long Island City - Related Links
Click this link to view a map of the Waterfront Crabhouse Restaurant in Long Island City. Click this link to obtain the contact info and website url for the Waterfront Crabhouse in Long Island City Queens.
---
LIC Neighborhood - Long Island City Links
$element(adman,groupad,NHoodLIC)$
Click on these advertisements for promotions, discounts and coupons by retailers and restaurateurs in Long Island City LIC and nearby Queens.
Click this link to go to the:
Long Island City Neighborhood or LIC Business Directory
Long Island City Real Estate or Events & Things To Do In LIC
Restaurants In Long Island City or LIC Shops & Shopping
---
$element(adman,groupad,Catgry Rest)$
Site Search Tips. 1) For best results, when typing in more than one word, use quotation marks - eg "Astoria Park". 2) Also try either singular or plural words when searching for a specific item such as "gym" or "gyms".
$element(bwcore,insert_search,N)$
Click this link to search for something in our Queens Business Directory.
---
Click the log in link below to create an ID and post an opinion.
Or send this story to a friend by filling in the appropriate box below.
$element(adman,groupad,Sectional2 Ad)$
---