Jakk Restaurant Near Jamaica
African Cuisine In Queens Village Near Jamaica NY
Queens Village near Jamaica / Queens Buzz. Restaurant Closed, but one of the main principals has just started a new restaurant - Stay tuned. I visited Jakk Restaurant to sample some authentic African American cuisine. I had looked around the borough in the interest of getting the real thing, and eventually found Jakk Restaurant in Queens Village near Jamaica. The bottom line on Jakk is that it is recommended, particularly for those looking for authentic African cuisine, and also for those looking for a delicious and liesurely meal at a great price.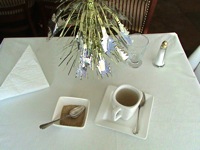 I was greeted by Adjou Kouame, one of the owners and a former school teacher, who advised me to try of mix of the cuisine Jakk had to offer. She explained that authentic African cuisine is based upon cultural tastes that differ markedly from those that are typically American. Being on unfamiliar territory and unsure of myself, I agreed to accept her guidance.

Adjou started by serving ginger tea with brown sugar. It had a nice soft incense-like smell, and smooth spicy flavor. Aaahh, this is what I was looking for – something familiar and yet completely different. Like a good teacher, Adjou had calmed me down and I became her culinary pupil.
Jakk Restaurant - Owners And Chef
Adjou's partner is Georges Kouassi and Marlon Hamilton is the Chef. Marlon had worked for the Marriott Hotel organization for fifteen years, most recently coming from one of their Seattle, Washington locations, where he was one of the hotel chefs. They opened the restaurant in December of 2007. The professionalism of the restaurant shows, not only in the food taste and quality, but also in the aesthetics of their presentation.
Jakk Restaurant Origin - Ivory Coast In Africa
Both Adjou and Georges come from Abidjan, the seaport capital of the Ivory Coast. The Ivory Coast is located in Africa south of Morocco along the Atlantic coast. It was once a center for the American slave trade. In the 19th and 20th centuries the French colonized the area and the French left an influence on the Ivorian palate.
Adjou's parents once owned a restaurant in Abijan, which is where her desire to run one arose. She wanted to provide all natural food and share her Ivorian / African cultural and culinary heritage with her customers. She and Georges found that their vision needed to be modified to suit the tastes and schedules of the neighborhood as many early customers were interested in getting something familiar to eat ... quickly. Hence over the course of the past year they've made adjustments to better accommodate the neighborhood, by modifying their menu to include Caribbean-American cuisine, while still offering African dishes and to speed up their turnaround time.
Jakk Restaurant Appetizers - Coconut Shrimp And Chicken
The first dish I was served was a beautifully adorned coconut chicken and shrimp plate [see photo above]. As Americans we're used to breaded shrimp and chicken so this dish provided another easy transition into something a little different. Marlon had cooked both the shrimp and the chicken so that they retained their savory juices and flavors. It was also cooked in sesame oil, so it was not only juicier, but also somewhat lighter than the breaded dishes to which I'm accustomed. It had such a delicious taste that I sparingly used the mustard sauce that came with it. And it was served in a bed of cabbage, tomato, carrot, cucumber and papaya, which not only added to the presentation, but also cleaned my palate.
Tostones – Sauteed Plantains In Garlic & Onions
The next dish served was the Tostones. These were sautéed plantains with garlic and onions. The plantains had a soft breaded covering and the plantains were still moist and spongy inside. The onions and garlic provided a flavorful complement, which I enjoyed immensely. I should have ordered some of these to go.
African / Caribbean Cuisine In Queens - Smoked Mackerel
The smoked mackerel was beautifully presented on a bed of spinach, mushroom and okra, along with white and brown African fried rice, and garnished with carrots and parsley. The mackerel was flaky and moist with a smoky flavor, while the spinach and okra were spicy hot. I believe there may have been some saffron and tumeric mixed into the vegetables and it's only fair to say that I was asked beforehand how hot I wanted it, so be advised that hot means hot. The rice was served to offset the spicy hot okra and beans, and the African fried rice had a soft sweet molasses taste to it. The dish had some real Caribbean kick to it.

Three Bean Soup - Not Far From Belmont Race Track
The three bean soup was made with white, red and black beans, as well as carrots, celery and onions. The beans had a soft consistency and a gentle sweet taste. The heaviness of the beans was complemented by the fresh clear taste of the carrots and celery, making for a delicious hearty vegetable stew. MMMmmmm.
Jakk Restaurant began with a nutrition and soup emphasis, and while the restaurant has modified its offerings to suit the tastes of the neighborhood, it retains its focus of providing a scrumptious, well-balanced meal with a proper mix of nutrition.
Oxtail Served Near Jamaica Queens
The oxtail with white butter beans was next. The oxtail was moist and fell apart in my mouth and had a slightly sweet taste to it from the reduction sauce. The white beans complemented the dish with its mashed potato texture and fine buttery taste. The mixture had a resemblance to a finely cooked oxtail soup, albeit without the soup. If you're looking to try oxtail, this would be one of my top choices for it.
Monkfish Served In Queens Village
Next up – the monkfish, which came on a bed of fruit, similar to the one described with the Coconut Shrimp and Chicken dish. This was not my favorite dish.
African Restaurant Food - Plantains And Foufou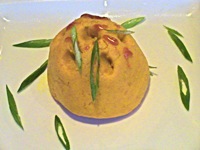 The Fou fou dish is an all-African dish, which is popular in Western and Central Africa. It's made of cornstarch and plantains and pounded into this dense heavy paste. It has a rather dull, slightly bitter taste [not sure if this is an apt description] and it was at this juncture that Adjou kiddingly asked me if I'd really wanted an authentic African meal. I had to confess that I was glad I had listened and accepted her guidance. In smaller doses the foufou would be an interesting and hearty side dish. This is an authentic African staple which is widely used and served in the portion I was served [see photo] it could have kept me full for an entire day.
Jakk Restaurant - Good Caribbean & African Food & Ambiance
I arrived unannounced in between the lunch and dinner as they were busy preparing for the Inaugural Celebratory Dinner that evening, hence the service was a bit slow. I believe part of the cadence of the afternoon was that I was sampling dishes as they made them for the feast that evening. Jakk appears to be very customer oriented, so my guess is that if you tell them you're in a hurry, they seem very likely to accommodate you.
Their lunch menu includes faster American foods, such as French fries, hamburgers, eggplant-tofu burgers, and chicken and beef wraps. Single items may cost as low as $3 and full course sit down lunches may cost up to $7.50. These are prices that can't be beat.
The ambiance is actually quite relaxing when the large television was not on [they had it on some of the time for the Inauguration]. They play African music in the background, which has joyous rhythms, vocals in unfamiliar languages, bongos, Caribbean guitar and jazzy trumpet playing. And the restaurant is very clean. It is so clean it still has that 'new' feeling to it.
Lastly, a word about the beverages I enjoyed. The tea mentioned above was my introduction into another world of liquid tastes. This was followed by two pleasantly strange and exotic drinks: ginger beer and sorrel. The ginger beer was not beer as we know it as it contains no alcohol, but rather as sweet cold densely flavored drink with made with real ginger. The one I preferred was the sorrel, which was lightly sweetened and had a clear fruity taste. Both are very interesting and well worth a try.
Jakk Restaurant Hours, Credit Cards and Location Near Belmont
They are open Tuesday through Thursday from 8 am to 10 pm, Friday and Saturday from 8 am to 11 pm, Sunday from 8 am to 8 pm and closed Mondays. Alcohol is not served, but you may ask them for permission to bring your own. Major credit cards are accepted. The restaurant is located at 215-09 Jamaica Avenue in Queens Village. It can be reached via the Grand Central Parkway at the Francis Lewis exit. Take Jamaica Avenue east. Or via the Cross Island Expressway at the Hempsted Exit. It's worth noting that it is in the Belmont Race Track vicinity. Click here for a map showing the location of Jakk Restaurant near the Belmont Race Track and Jamaica in Middle Village Queens NY.