---
$element(bwcore,article_picker,1195,Y,N,page_title_home,N)$
Jessica Ramos Opens Campaign Office
IDC Member Jose Peralta Faces Serious Challenge This Year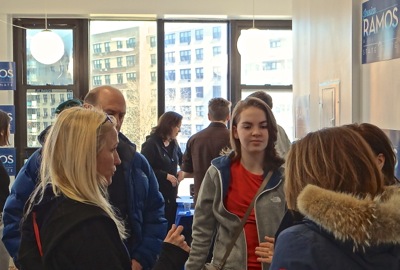 March 19, 2018 / Jackson Heights Neighborhood / Queens Politics / Queens Neighborhoods / Queens Buzz NYC.
It was a cool Sunday morning as I made my way over to the campaign office opening of Jessica Ramos in Jackson Heights. I parked my bike outside their 72nd and Broadway headquarters and began my march up to the fourth floor.
At the fourth floor landing the door opened into a very bright, sunlit room that seemed to reflect the mood of the people in it. Jessica Ramos, a former Ethnic Media & Outreach staff member of the de Blasio Administration, was staking out a position in what appears to be a serious challenge to NY Senator Jose Peralta.
IDC - Republicans Running as Democrats?
I was greeted warmly by the folks inside, who appeared to be a combination of Jessica Ramos's family, friends, neighbors and interested supporters. All of them, appeared to be interested in sending NYS Senator Jose Peralta home from Albany, as they opined how Peralta had betrayed not just them – but all Democrats – by becoming an Independent Democratic Caucus member. In January 2017 NYS Senator Jose Peralta joined the Independent Democratic Caucus [aka IDC] which has aligned itself with the Republicans in Albany, thereby giving the Republicans control of the NYS Senate.
In the photo at right, some of the folks who attended the campaign office opening of Jessica Ramos who is challenging Jose Peralta for the NYS Senate seat representing Jackson Heights, East Elmhurst, Elmhurst and Corona.
More to come later today or this week.
---
$element(adman,groupad,Sectional Ad)$
Queens Chamber Hosts Tax Seminar
Accountants From Mazars Provide Overview of Tax Changes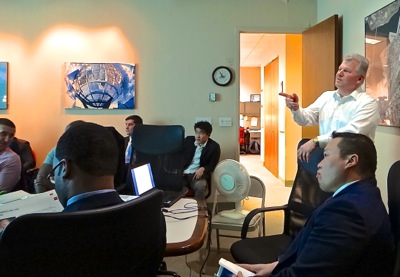 March 5, 2018 / Jackson Heights / Queens Neighborhoods / Queens Business / Queens Buzz NYC.
Last Thursday I headed over to the Bulova Corporate Center to attends a free tax seminar hosted by the Queens Chamber of Commerce. The seminar content was targeted toward small and medium sized businesses and their owners, in an effort to help folks navigate and plan their way through the new tax law changes.
The presenters included Mazars Partner James Wienclaw; and Senior Managers Donald Crotty and Michael Pappas. Mazars is an organisation specializing in audit, accountancy, tax, legal and advisory services. All three men are Certified Public Accountants [CPA's] and the presentation took about two hours, including questions.
Tax Reform Plan of 2017 Includes Many Changes
Per an audience member request, we started with the Individual Tax Provisions. Generally the tax reform plan, entitled the Tax Cuts & Jobs Act, kept the seven tax rate brackets, but generally lowered the tax rates for all brackets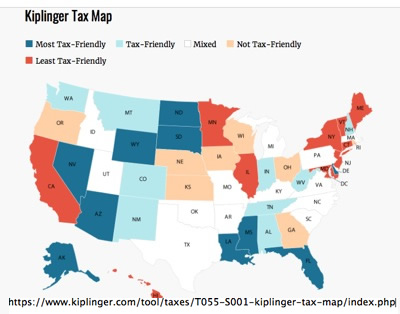 except the lowest bracket – which includes singles earning up to $9525. The plan did not extract the 3.8% tax which funds the Affordable Care Act [aka Obamacare].
To partially offset the tax rate reductions, many itemized deductions were scaled back. Perhaps one of the most significant changes in deductions was that they set a limit for deductions for state and local taxes at $10,000.
Based on research I had done around the time of the Tax Reform plan enactment, this part of the tax plan will most negatively impact taxpayers in Democratic states like New York and California - both of which already contribute more to the federal coffers than they receive.
Click this link to view the OpEd report we posted just prior to the passage of the Trump Tax Plan to see an Atlantic Monthly chart showing what every state receives back on each dollar sent to Washington, D.C. [scroll down, it's near the end of the story].
As you can see in the Kiplinger map at right, as a general rule the Republican states are the net recipients of federal government funding, while the Democratic states are the net contributors into the federal coffers. There's some irony there, as it's generally the Republicans who complain the most about welfare.
We'll post the rest of our report on this presentation later this week, and it's worth viewing as there were a number of major tax law changes.
---
$element(bwcore,article_picker,1181,Y,N,page_title_home,N)$
---
$element(adman,groupad,Catgry Bikes)$
$element(adman,groupad,Catgry Furnitur)$
---
Music Party - John Lennon Educational Tour Block Party
John Lennon & Musicians' Creativity is Celebrated in Jackson Heights
October 10, 2017 / Jackson Heights Neighborhood / Queens Buzz NYC.
Jackson Heights John Lennon Educational Tour Bus Block Party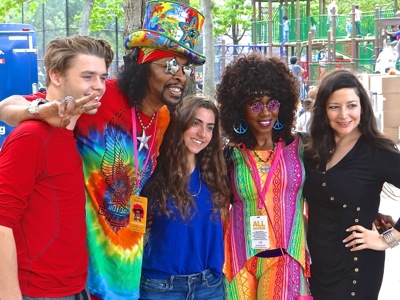 I headed up to Jackson Heights to see what the John Lennon Educational Tour Block Party was all about. The party was scheduled from 12 noon to 5 pm along 78th Playstreet off 34th Avenue in Jackson Heights. Live music, free food and giveaways were part of the appeal, and a good crowd had turned out.
There was a large bus equipped with a portable production studio where visitors were being taught how to create music for a demo tape. As I understand it, the intent of the John Lennon Bus Block Parties is to show kids and adults how they can make music for those who might be interested in making a career in music as well as for those interested in making music for their recreational pleasure.
There was a large stage at the end of the street, where music was playing and where later in the afternoon Bootsy Collins would perform. I briefly met Bootsy and his wife and took a few photos. They were dressed like they'd just stepped out of the Yellow Submarine and were headed down Abbey Road.
I found a perch atop one of the large stones in Playstreet and shot a video to the tunes coming from the soundsystem. I will try to post it in the near future. The music is good and the crowd was interesting, which is what the video was about. I bumped into Michael Mallon from City Councilmember Danny Dromm's office and we talked about the event. He told me that this was the second year it was hosted at 78th Playstreet in Jackson Heights, but that the John Lennon Educational Tour Bus had been hosting block parties for about two decades.
There was some literature and interactive workshops available in the booths where I could see kids and their parents enjoying the possibility of becoming media mavens. On my way out I sampled a couple of small donuts from the Doughnuttery, which has outlets in Manhattan, but not Queens ... least not yet.
All in all it looked like an enjoyable way to spend the afternoon. Bootsie was to play around 3 pm, while the workshops and bus would stay open until about 5 pm.
---
$element(bwcore,article_picker,1185,Y,N,page_title_home,N)$
$element(adman,groupads,Sectional Ad)$
---
The Solar Eclipse of 2017 in NYC
The Solar Eclipse: A Shared American Communal Experience
August 21, 2017 / Queens Neighborhoods / Manhattan Neighborhoods / Gotham Buzz NYC.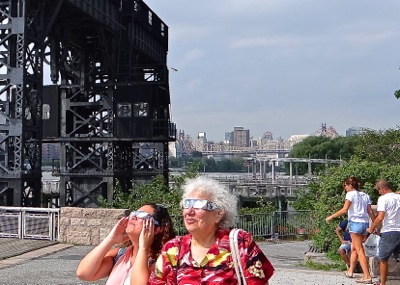 I set about to experience the solar eclipse of 2017, departing for Manhattan at about 1.30 – a bit after the eclipse was to begin. As I made my way to the subway, I met a woman who was heading to Hunters Point South Park to do the same. She offered me the use of her eclipse glasses, which I examined but it was far to early to really use.
The eclipse glasses were opaque and I couldn't see through them. Apparently they only work when you're looking at the sun. The glasses this woman had were sponsored by Cisco Systems through a science camp in Rochester, NY. Consumers were advised to be careful about which eclipse glasses to use, as apparently some would not filter out the harmful, eye-damaging rays of the sun. One eclipse audience member told me that the glasses were being sold online – ten for $100. I'll have more about the protective glasses a bit later as I used the glasses to take what I would call 'meaningful' photos.
There were many reports published about how one can damage their eyes by looking directly at the sun. The Washington Post noted that the damage can begin in as little as one and a half minutes, and that looking at the sun in a sequence of little peaks at a time, may not prevent you from doing real damage. It's worth noting that one can also damage their camera by pointing it directly at the sun for a long period of time. The New York Times noted that the longest the full eclipse will last, is less than three minutes, and that in many places in America it will last less than a minute.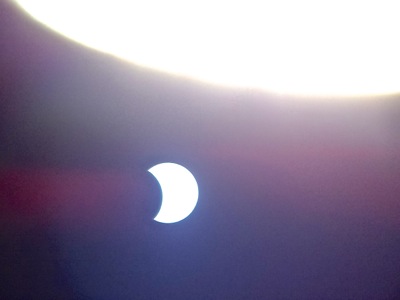 Historically, it's worth noting that the moon eclipsing the sun happens every 18 months, but most eclipses happen over the oceans which cover about two thirds of the planet earth surface. According to the New York Times, the last time America experienced a full solar eclipse was in 1918, a full 99 years ago, so few if any who are old enough to experience the eclipse this time, are likely to see it again.
The eclipse began along the west coast in Oregon at about 1.15 pm, the peak was at about 2.45 pm and the final was at about 4 pm. I'll note a few of my times as we run through the rest of this report.
Anyhow, I arrived at Lexington and 77th Street about 2 pm, about 45 minutes before the peak of the eclipse. A few folks were standing in the street looking up, so I shot a photo of the sun at that time, but it didn't look like much at the blinding rays of light blocked any real photo clarity.
Rest of story with plenty more photos coming later Tuesday 8/22.
---
$element(bwcore,article_picker,793,Y,N,page_title_home,N)$
Update: LaGuardia Airport Development Project
First Phase Moving Along with Second & Third Phases About to Begin
April 24, 2017 / Astoria Neighborhood / Queens Real Estate / Queens Buzz NYC.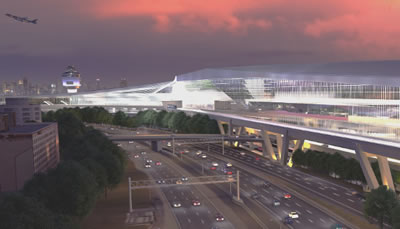 I attended a Community Board One meeting at the Astoria World Manor on Wednesday, April 19th. People representing the LaGuardia Airport development project were scheduled to provide the community with an update regarding several of the multi-billion dollar renovation projects associated with LaGuardia Airport, that are either currently in the works or nearing the end of the planning process.
The presentation was split into three parts: 1) LaGuardia Airport development project construction updates, 2) traffic mitigation efforts and 3) community outreach including job opportunities related to the projects.
Click here to read our report on the LaGuardia Airport development project & expansion, related job opportunities, its possible impact on travel times to the airport and the public hearing details on May 3rd, 2017 in Flushing. We have also included a small bit of history about the airport and the fight over the property and development in Flushing Meadows Corona Park. The graphic at right was created as part of the LaGuardia Airport development project.
---
$element(bwcore,article_picker,1161,Y,N,page_title_home,N)$

Corona & Jackson Heights - Events, Attractions, Restaurants, Schools, Parades, Shopping & Real Estate
Click to quick scroll down to:
Jackson Heights News Briefs
Jackson Heights Schools
---

Click the drop down menu to submit events [ID required] into the Member Calendar. Free for arts groups / non-profits and community orgs, except fundraising events.
Click here to obtain a Free Queens Buzz Membership.
$element(calendar,calendar_select)$
$element(calendar,large_calendar,1)$
$element(calendar,calendar_select)$
$element(calendar,agenda,1,30)$
---
$element(adman,groupad,Sectional2 Ad)$
---

---
$element(bwcore,section_full,19,1,N,9999,N)$
---

---
$element(bwcore,article_picker,487,Y,N,page_title_home,N)$
---
---
$element(adman,groupad,Catgry Homeimprov)$
$element(adman,groupad,Catgry Rest)$
---
$element(bwcore,section_full,50,2,N,9999,N)$
Late Night Dining in Jackson Heights
BQE Billiards Serves Eclectic Mix of American, Greek & Latin Favorites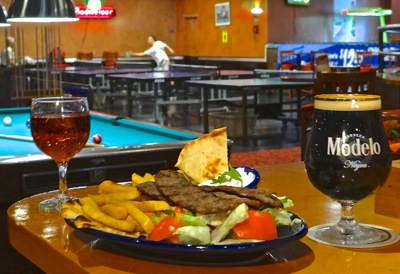 October 18, 2016 / Jackson Heights Neighborhood / Jackson Heights Restaurants / Queens Buzz.
I headed over to BQE Billiards and Bar for a photo shoot last week. They were working on developing a new website and I was helping them create the food photos. The side benefit of this excursion was that I was also able to partake in the feast that followed, where we all sat around and enjoyed sampling much of the food that was photographed. In the photo at right is the gyro plate sitting atop a counter space located within the pool area and overlooking the ping pong and arcade sections of BQE Billiards and Bar in Jackson Heights.
This story is going to include a review of some of the food I sampled, as well as delving into the history of one of Jackson Heights intrepid small businesses. BQE Billiards and Bar was founded 25 years ago by four partners, two of whom remain involved in the business today. So get comfy as we begin by traveling back in time, to the not-so-ancient Greece of the 1960's.
One of the founding partners, Nick, told me that as a boy he used to keep a watch in a Grecian winemaker's vineyard. As he grew older he was given the responsibility for tending a flock of sheep on the hills of Greece. Around the time he became a legal adult, Nick talked to his father about leaving the small town he grew up in, to seek out places and opportunities where he might be able to make a better go of things. His father, while reluctant to see his son depart, understood the calling of the young man, and sent him on his way.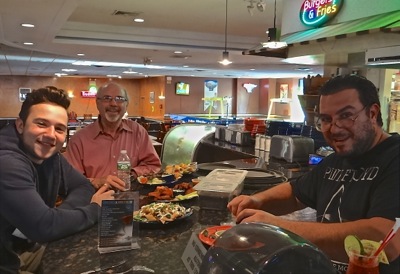 Nick sought work aboard a ship, the SS Andreas Panou. The ship ran into technical difficulties in the Greek port of Piraeus, so Nick and his crewmates were sent ashore to get a bite to eat, since the mess hall had no electricity. The foreman wanted the young lads to return before they had been able to get some food and they refused. The foreman and the Captain subsequently discharged Nick and his friend in October 1965.
Nick recalled how he sought and secured passage working aboard another ship. Less than six months later, in March of 1966, while on a transition in Vancouver, Canada; he noticed a newspaper written in Greek. Since he had not read anything in Greek for weeks, he bought the paper where he learned that the SS Andreas Panou had crashed off the coast of Spain.
In the photo at right, from left to right, are Andreas, Nick and Theo of BQE Billiards and Bar in Jackson Heights.
Click here to read the rest of our story about the history and the late night restaurant dining at BQE Blliards and Bar in Jackson Heights.
---
---
$element(adman,groupad,Catgry Queens)$
$element(adman,groupad,Catgry Finance)$
---

---
$element(bwcore,section_full,54,2,N,9999,N)$
---
$element(adman,groupad,Catgry Realestate)$
$element(adman,groupad,Catgry Finance)$
---
---
Chhaya Hits A Home Run
4th Annual Home Buyer Fair in Jackson Heights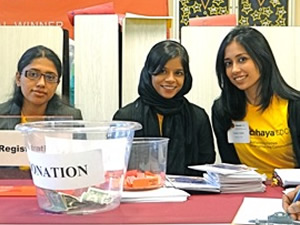 January 28, 2013 / Jackson Heights / Queens Business / Queens Buzz. The more I get to know about Queens, and the more familiar I become with the many immigrant communities to which Queens is called home, the more impressed I become with the intelligence of the American system and the immigrants who fuel the American dream.
One of the American dreams is to own your own home. To that effect Chhaya [pronounced chi - ya], a non-profit organization in Jackson Heights, helped facilitate that effort at its fourth annual Home Buyer Fair on Saturday. Attendance of the Home Buyer Fair was at an all time high of several hundred, up from about 30 attendees at the first one, just four years ago.
The Home Buyer Fair featured a number of brand name lenders in the morning, and a whole host of non-profit / community minded organizations in the afternoon. The fair was open to everyone [we posted it in our Queens Events calendar in the business section], and provided attendees with a whole host of avenues for purchasing a home. Click here later today to read the rest of our report about the Chhaya Home Buyer Fair.
---
$element(bwcore,section_full,80,1,N,9999,N)$
$element(bwcore,article_picker,700,Y,N,page_title_home,N)$
---

Hispanic, Colombian, LGBT, Ecuadorian, Bolivian Parades in Jackson Heights & Corona
$element(bwcore,article_picker,1172,Y,N,page_title_home,N)$

Private and Public Education in Jackson Heights
$element(bwcore,article_picker,1177,Y,N,page_title_home,N)$
Jackson Heights En Espanol
$element(bwcore,article_picker,920,Y,N,page_title_home,N)$
---
HISTORY / VIVA LA COMIDA / TBD
---
Corona History Comes Alive
Queens Authors Revive Over a Century of Vanishing History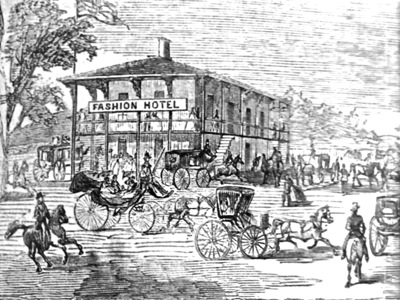 May 16, 2016 / Corona Neighborhood / Queens Historical Society in Bayside / Queens Buzz.
I spent an evening at the Bayside Historical Society at Fort Totten listening to two Queens historians recount the glorious past of what is now known as the Corona neighborhood. Historians Jason Antos and Constantine Theodosiou teamed up to research what they called Corona: The Early Years, which recounts the history of Corona prior to the first Worlds Fair in 1939.
The photo to your right is a print of The Fashion Hotel, which was adjacent to the Corona Race Track, on a race day.
The history was far more interesting than I had expected, as I had preconceptions that the history of Corona had been told in prior works about Jackson Heights and Flushing. But the two intrepid historians, whose ethnic affiliation dates back to Thucydides - one of the first great historians of the western world - unearthed a treasure trove of historical lore which brought the neighborhood back to life, as an entity in its own right.
Among their findings was the tale of Tiffanys, Typhoid Mary, homestead mansions, early country and suburban living, and what I came to think of as the forerunners of the Belmont and Aqueduct Race Tracks. There is also a section about an early modern Corona real estate development, which had a character and quality very different from what was going on in neighboring Jackson Heights.
The two authors will be presenting their book at the Queens Historical Society this coming Sunday, May 22nd from 2.30 to 4.30 pm where they will also be signing books. Books may also be purchased online from Arcadia Publishing at www.arcadiapublishing.com.
---
American Poolplayers Association Tourney
APA Leagues Gear Up For Spring & Summer Championships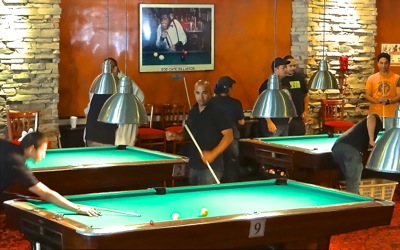 February 11, 2016 / Jackson Heights Neighborhood / Restaurants in Jackson Heights / Queens Buzz.
Last Fall I attended one of the Brooklyn Queens Bronx APA League Tournaments at BQE Billiards & Bar in Jackson Heights. It was an all day event wherein 270 pool players competed as teams, vying for top spot placements in the league, in order to move on to compete for the APA Championship in Las Vegas.
I was surprised by the friendly comraderie of the competitors. I thought they would regard each other more adversarially than they did. In conversing with a number of them I began to get the sense that, at the neighborhood league level, poolplayer leagues are more a community than a competition. Players are generally quite familiar with one another and each other's playing level, in the same manner as other intramural and league sports where the competition is real, but so is the comraderie.
We'll have more at a later date, including a video of league play and interviews.
---
$element(adman,groupad,Sectional Ad)$
$element(bwcore,article_picker,1122,Y,N,page_title_home,N)$
---
$element(adman,groupad,NhoodJHTS)$
$element(adman,groupad,Catgry Realestate)$
---
$element(bwcore,article_picker,1114,Y,N,page_title_home,N)$
Albany Legislative Session 2015
Final Bills: Public School Funding & Rent Stabilization Law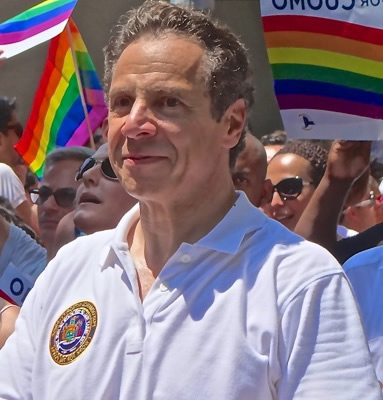 June 15, 2015 / Queens Neighborhoods / Queens Politics / Queens Buzz.
There are two important bills expected to be finalized by the New York State Legislature this week: 1) one having to do with taxation and funding for the public schools and 2) the second having to do with NYC rent stabilization law.
I've been paying some modest measure of attention to both of these bills, and the following is a brief snapshot of a critical talking point in each bill.
Use Public Money To Fund Private Education?
From what I can gather, perhaps the most contentious item in the public education funding bill is the provision for sizeable tax deductions for those who choose to send their children to private, not public schools.
As I understand it, these tax deductions would be included as part of the funding for the public schools budget and therefore will reduce what's left for the NYS / NYC public school systems.
It's worth noting that private school tuition in NYC can cost in the range of about $5,000 to $30,000 per year per student. And that there are about 900 private schools in NYC alone, so depending on how these proposed deductions are ultimately structured, the funds reallocated from the public schools to private individuals would be in the tens to hundreds of millions of dollars and possibly more.
You might want to contact Governor Cuomo's office at 1.518.474.8390 to let him know you support or oppose the measure, since we understand that he's been the major force pushing for this public school funding change. You can also send him an email via the Governor's contact form.
Albany & Expiring Rent Stabilization Laws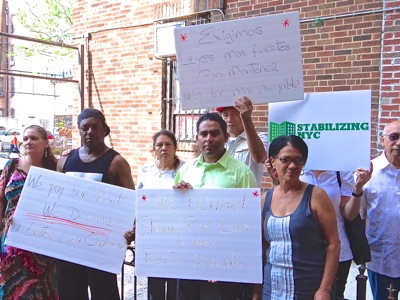 The Rent Stabilization Laws are due to expire tonight, June 15, 2015.
There was talk earlier this year that there would be a push to expand or strengthen the Rent Stabilization Laws given the rapid growth in homelessness in New York City. The NYC homeless population is currently estimated at over 60,000 or nearly 1% of the entire NYC population. About 70% of New York City residents are renters, of which about two million of less than eight and a half million residents, live in rent stabilized apartments.
Over the past decade or so, the Rent Stabilization Laws have been curtailed in the favor of the free market and landlords. The curtailment of rent price control legislation is believed to have spurred additional real estate development investment, as the profits of most new buildings are no longer affected by rent stabilization laws.
Much of the rapid growth in homelessness over the past decade is believed to be the result of tenants losing their rent stabilized apartments, as new owners of buildings have found ways to circumvent the laws. A recent NYU Furman Center Study has shown the loss of over 330,000 unsubsidized affordable apartments since 2002, due in part to the rent stabilization legislative changes referenced above.
NYS legislative insiders told me that tenants rights supporters were hoping to make legislative gains this year, but that the NYS Assemblypeople and NYS Senators opposing the changes, were going to allow the rent stabilization laws to expire as a negotiating tactic.
Vicki Been, Commissioner of NYC Department of Housing Preservation and Development, informed us that the current rent stabilization laws remain in effect through the term of existing leases and leases up for renewal that are already in the hands of the tenants. She also said that tenants should call 311 with any questions or problems.
Cuomo & NYS Officials - Quinnipiac Poll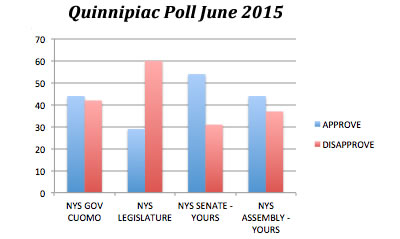 On June 3, 2015 Quinnipiac released a poll showing voters are feeling negatively about the NYS Legislature as a whole, while continuing to favor their local representatives. In the poll Governor Cuomo has only a 2% margin of those favoring him.
Governor Cuomo had a 44% approval rating versus 42% disapproval rating, as voters are not satisfied with his handling of the corruption scandals that have plagued Albany this year. In February 2015 Assembly Speaker Sheldon Silver [Democrat Manhattan] was indicted on federal corruption charges. And in May 2015 NYS Senate Leader Dean Skelos [Republican Long Island] was indicted by a federal Grand Jury.
Less than a year ago, NYS gubernatorial candidate Zephyr Teachout, a law professor at Fordham University surprised polls by garnering nearly 2 votes for every 3 won by the governor in the NYS Democratic primary. Ms. Teachout did not have much in the way of significant private backing or union support, but won nearly 40% of the vote waging an online campaign.
According to the Quinnipiac poll, voters by a margin of 52% - 32% said that with respect to Albany's corruption problem:
"... the Governor is part of the problem, not part of the solution."
As for the NYS Assemblymembers and NYS Senators the Quinnipiac Poll reported the following:
"Voters disapprove 60 - 26 percent of the job the State Legislature is doing, but approve 44 - 37 percent of their own Assembly member and approve 54 - 31 percent of their own state senator."
"At the same time, 45 percent of voters say their state senator should be thrown out in a general house-cleaning, while 40 percent say their senator deserves reelection."
"Voters are divided 41 - 41 percent on whether their Assembly member should be reelected or thrown out."
As you can see, the sentiments collected in the Quinnipiac poll seem a bit contradictory, as the answers received depend on how the questions are stated. Nonetheless, this looks to be an interesting legislative week as things wind down in Albany, and as the 2016 election cycle begins to ramp up.
---
$element(adman,groupad,NhoodJHTS)$
$element(adman,groupad,Catgry Realestate)$
---
Viva La Comida
Jackson Heights Celebrates Queens Food & Culture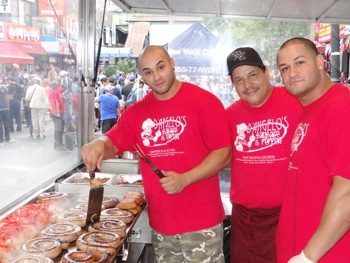 September 22, 2014 / Jackson Heights Neighborhood / Jackson Heights Restaurants / Queens Buzz. Saturday afternoon I headed over to Dunningham Triangle at 82nd Street & Baxter in Jackson Heights. The third annual Viva La Comida Festival had begun earlier in the day and I decided to check it out.
They had blocked off 82nd Street between Roosevelt Avenue and Baxter and had converted the short one block adjacent to Dunningham Triangle into a performance area - complete with elevated stage.
Along 82nd Street there was a musical / dance performance going on with a distinctly Latin flavor, reflecting the indigenous roots of many of Jackson Heights and neighboring Corona residents. My first stop was the D'Angelo food truck for a spicy Italian handmade sausage with sauteed peppers and onions on a fresh semolina bread. It tasted even better than it sounds. We'll have more about D'Angelo's later in the story, including a couple more photos of the sandwich I devoured.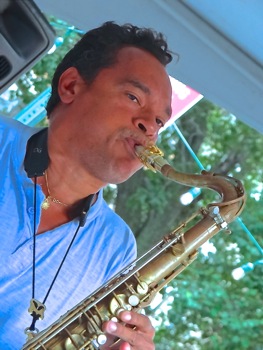 I headed over to the main stage to see what was going on. By late afternoon the Jay Rodriguez Trio had taken the stage and began playing some really good Latin flavored jazz tunes. They played their instruments like jazz magicians, deftly transitioning the melodious rhythm from one musician to another in a string of rhythmic solos that had the audience jamming to the beat.
I started photographing them doing their thing and came up with a separate photo slide show which will show them gettin' down. I visited the Jay Rodriguez website and the music on the site, is a bit more artsy and esoteric than what they played for us at Viva La Comida.
Special thanks goes to outgoing 82nd Street Partnership Executive Director Seth Taylor, as well as iwantmorefood curator Jeff Orlick. We'll have more about both of them and their past and future endeavors in the full report later this day / week.
Buena Salud.
---
$element(adman,groupad,Sectional Ad)$
---
Making Vision Zero Happen
Corona Residents Respond To Call To Action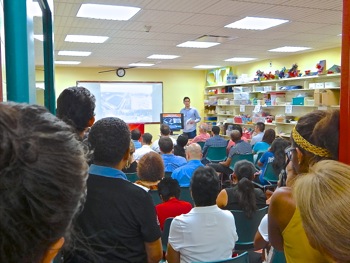 July 27, 2014 / Jackson Heights & Corona Neighborhood / Queens Issues / Queens Buzz. I attended a Vision Zero Workshop at the Corona Library on July 16th. The event was sponsored by Transporation Alterantives in conjunction with a host of other organizations and some local government officials, all of whom I will name at the end of this story when I complete it.
As you can see from the photo, there was no shortage of interest in the effort, as Jackson Heights and Corona are one of the 'Ground Zero' places where pedestrians are being killed or injured by motorists.
The effort had a number of components to it including education, law enforcement and untangling a road, biking and pedestrian system that was put together piecemeal instead of as a holistic approach to human movement ... like dance.
We'll post more about this at a later date including photo slide show.
---
Affordable Healthcare Deadline Tonight
Enrollment Trending Toward 7 Million Target
New York State Of Health Surpasses 1.1 Million Applicants & 782K Enrollees
March 31, 2014 / Jackson Heights / Queens Healthcare / Queens Buzz. Get ready for an endless spin game about the enrollment numbers of the Affordable Healthcare Act aka Obamacare.
It appears the Administration is on target to achieve the first target they had set, prior to running into innumerable problems in October 2013 with the federal healthcare insurance website - healthcare.gov - when enrollments first began. Following the opening website debacle, the Administration lowered the enrollment targets from seven million to six million. They hit the six million number last week and the application and enrollment activity has spiked during the final week to submit an application.
There are 36 states participating in the rollout of the national health insurance plan and 14 states which have opted out of the plan. New York state is one of the 36 participants and as of Sunday night, New York State had received over 1.1 million applications and nearly 800,000 people had enrolled. These numbers are up significantly versus three weeks ago, when applications were at about 900,000 and enrollment at about 500,000. As of early March, we were informed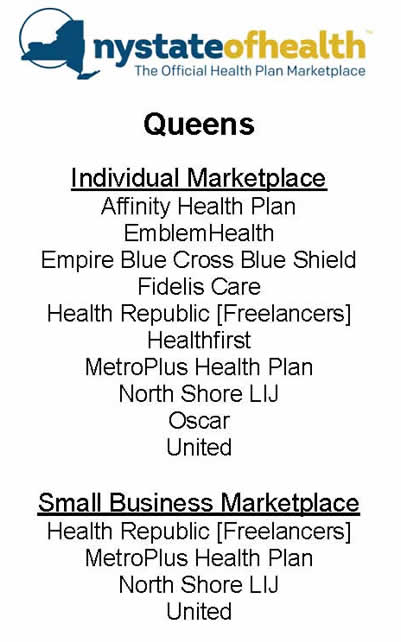 that about 70% of the enrollees were people who had not previously had health insurance. Hence by that metric the plan appears to be achieving its goal in New York State.
According to national reports, it also appears that the late applicants are skewing younger, which was another important metric for the Administration. The composition of young and older ages is needed to enable insurance company participants / healthcare plan providers make the financials work.
Opponents of the Affordable Care Act [ACA], essentially the entire Republican Party, say that the enrollment numbers are inflated, as the enrollment numbers don't take into account enrollees making their first payments. And many Democratic proponents of the Affordable Healthcare Act have run from it because of the early website problems.
We've attended a number of sessions on it and the regular folks attending these sessions have made statements saying that they are no longer locked into jobs they don't like because of health insurance, that the Affordable Care Act has significantly lowered their healthcare costs and that they are relieved to finally be covered by health insurance.
Applications must be submitted no later than 11.59 pm Monday night, March 31st. We understand that applicants will have another 7 days to provide documentation for application submissions that fail to meet the application criteria.
---
$element(bwcore,article_picker,1019,Y,N,page_title_home,N)$
Jackson Heights History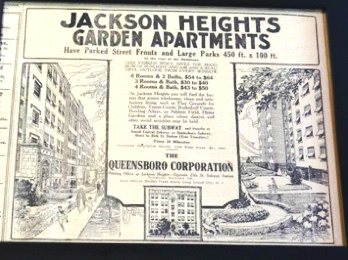 June 10, 2013 / Jackson Heights Neighborhood / Jackson Heights History / Queens Buzz. I dropped in on the Jackson Heights Beautification Group's annual historic house lecture, exhibit and tour program this past weekend. The event has been hosted by the group for about two decades and serves to inform the public about the history and architecture of the Jackson Heights neighborhood.
The lecture spans about a century, beginning with the Queens Boro Corporation's acquisition of huge plots of farmland [estimated 350 acres for about $3.8 million] that preceded the development of the neighborhood. The lecture is given by author, historian and realtor, Daniel Karatzas and the exhibit is owned by the Jackson Heights Beautification Group, a community non-profit organization. The exhibit contains old marketing brochures, newspapers, post cards and photos of the Jackson Heights neighborhood. At a later date, we'll post more about the historic weekend lecture and exhibit.
---
Health Fair: The How To's Of Maintaining The Human Machine
June 4, 2013 / Jackson Heights Neighborhood / Queens Healthcare / Queens Buzz. I attended a Health Fair in Jackson Heights on Saturday at the Lexington School for the Deaf. It was held outside in the playground, which was a large grassy field not far from the Bulova Building.
Inside the yard there were booth set up where you could have your lungs tested for things like asthma, have your heart rate and blood pressure measured, get a bone density reading to see if you're at risk of osteoporosis, have your glucose and cholesterol measured, and get a body mass index reading - all for free. For those folks who are managing their health without the benefit of insurance, it's a good one stop shop to get some sort of reading on a number of your vitals.
There were other, less health focused booths there too. For example a couple of booths provided coffee, bagels and fruit - like the Port Authority of NY / NJ and the NYC Department of Corrections. And some were set up to entertain the kids with balloons, dancing to music, yoga and the like. The event is hosted annually by Mt Sinai Queens and the United Civic Community Association. We'll post more later.
---
$element(bwcore,article_picker,988,Y,N,page_title_home,N)$
---
$element(adman,groupad,NHoodJHTS)$
Site Search Tips. 1) For best results, when typing in more than one word, use quotation marks - eg "Astoria Park". 2) Also try either singular or plural words when searching for a specific item such as "gym" or "gyms".
$element(bwcore,insert_search,N)$
Click this link for promotions by advertisers in Queens.
Click this link to search for something in the Jackson Heights Business Directory containing over 1,000 listings. Click here to view Charms & Glitters a fashion joyeria en Jackson Heights.
---
$element(adman,groupads,Sectional2 Ad)$
---
Click the log in link below to create an ID and post an opinion. Or send this story to a friend by filling in the appropriate box below.
---