The Ultimate Look
Female Friendly Ladies Wear
Jackson Heights / Queens Buzz. Ronnie has been running The Ultimate Look Ladies Wear store in Jackson Heights since 1975. She met her husband, who is a textile engineer, in the early seventies while she was studying advertising at FIT in Manhattan. They courted and married and set up house together in Jackson Heights. Ironically, it seems the idea for the store was her husband's.
The store is located on 37th Avenue near 79th Street which gets a fair amount of street traffic. Most of the ladies who frequent her store pass by there, and stop in to browse and eventually they become customers.
Ronnie has been in the same store for over thirty years and has seen the neighborhood change throughout that time. In the seventies, when she first opened, she was selling to a lot of Irish and German women who dressed conservatively and preferred more muted colors. In the eighties there was a Latino influx and her clientele's tastes changed to more colorful clothing. In the early nineties there was an Indian influx into the neighborhood, but alas the Indian women seemed to prefer to wear their own native clothing. Over the years Ronnie has learned Spanish, which she enjoys using and speaks every day.
Ronnie essentially does it all. She buys the inventory, sets the pricing, manages her employees who she credits with being very helpful and instrumental in making the business work and sells and maintains relations with her loyal clientele. She leaves the bookkeeping to her husband, who she credits for doing much more.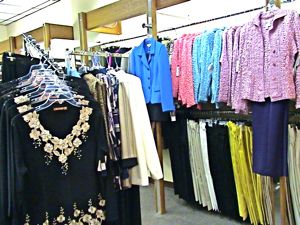 The Ultimate Look sells coats, dresses and casual wear to its all-female clientele. The store doesn't favor any specific designers or brands, although Ronnie did mention that she liked Liz Claiborne and kept some inventory in the store. When I asked her about the Spring styles, she said that these days pretty much anything goes, but that bright colors seemed to be in vogue.
The store is open on Mondays through Saturdays from 11 am to 8 pm and on Sunday from 12 noon to 7 pm.