---
$element(bwcore,article_picker,1180,Y,N,page_title_home,N)$
$element(adman,groupad,Sectional Ad)$
$element(bwcore,article_picker,1162,Y,N,page_title_home,N)$
The Old Kociuszko Bridge Comes Down
First Segment of the New Kociuszko Bridge Opened in April 2017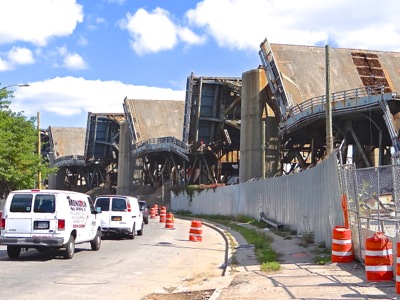 October 4, 2017 / Sunnyside Neighborhood & LIC Neighborhood / Queens Business / Queens Buzz NYC.
On Sunday, October 1, 2017 at 8 am, large segments of the old Kociuszko Bridge were dropped via explosives onto a sand bed which was laid to dampen the vibrational impact of the fall. Demolition crews had been working for months preparing for this event, by removing a lot of pavement and cement from the segments prior to the explosion. The old bridge was estimated to weigh approximately 232 million tons [verify] of cement and steel. The steel will be recycled.
Earlier this year, the main segment of the bridge that traverses Newtown Creek - and connects Brooklyn and Queens - was lowered onto barges in Newtown Creek on July 26th. In April of this year the first phase of the new bridge was officially opened for business, designed to accommodate the 180,000 daily crossings. The cost to NYS taxpayers was reported to be about $554 million.
Currently construction crews are working, pretty quickly, to remove the remains of the old Kociuszko Bridge to make way for the beginning of the second phase of the project, which entails the development of a second parallel stretch of roadway, of nearly equal width of the first, which will complete the NYS infrastructure project replacing the old Kociuszko Bridge. The second phase is expected to be completed in 2020. The second phase of the project was estimated to cost NYS taxpayers $335 million.
The first Kociuszko Bridge was opened in 1939 as the Meeker Avenue Bridge and renamed a year later by Mayor Fiorello LaGuardia to the Kociuszko Bridge. This renaming of the bridge after General Kociuszko, the American Revolutionary War hero, had a purpose, which we will see as we delve into the Brooklyn Queens history of the Kociuszko Bridge.
The story also includes a photo slide show of the old and new Kociusko Bridge over the past year.
---
A Short Report & Photos of the Solar Eclipse of 2017 in NYC
The Solar Eclipse was an American Communal Shared Experience
August 21, 2017 / Queens Neighborhoods / Manhattan Neighborhoods / Gotham Buzz NYC.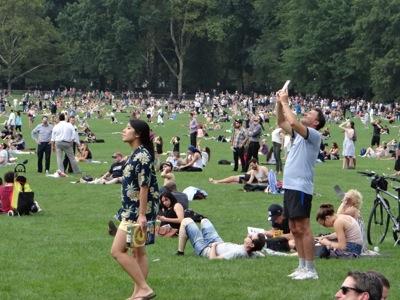 I set about to experience the solar eclipse of 2017, departing for Manhattan at about 1.30 pm which was about the time the eclipse was to begin. As I made my way to the subway, I met a woman who was heading to Hunters Point South Park to do the same. She offered me the use of her eclipse glasses, which I examined but it was far too early to really use to any great effect.
Solar Eclipse Glasses were Opaque
The eclipse glasses were opaque and I couldn't see through them looking down the street. Apparently they only work when you're looking at the sun. The glasses this woman had were sponsored by Cisco Systems through a science camp in Rochester, NY. Consumers were advised to be careful about which eclipse glasses to use, as apparently some would not filter out the harmful, eye-damaging rays of the sun. One eclipse audience member told me that the glasses were being sold online – ten for $100. I'll have more about the protective glasses a bit later as I used the glasses to take what I would call 'meaningful' photos.
There were many reports published about how one can damage their eyes by looking directly at the sun. The Washington Post noted that the damage can begin in as little as one and a half minutes, and that looking at the sun in a sequence of little peaks at a time, may not prevent you from doing real damage. It's worth noting that one can also damage their camera by pointing it directly at the sun for a long period of time. The New York Times noted that the longest the full eclipse will last, is less than three minutes, and that in many places in America it will last less than a minute.
Solar Eclipses Happen Regularly, but Not Where We can See Them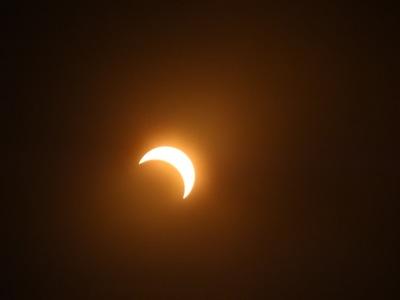 Historically, it's worth noting that the moon eclipsing the sun happens every 18 months, but most eclipses happen over the oceans which cover about two thirds of the planet earth surface. According to the New York Times, the last time America experienced a full solar eclipse was in 1918, a full 99 years ago, so few if any who are old enough to experience the eclipse this time, are likely to see it again.
The eclipse began along the west coast in Oregon at about 1.15 pm, the peak was at about 2.45 pm and the final was at about 4 pm. I'll note a few of my times as we run through the rest of this report.
Solar Eclipse NYC 2017 on the Upper East Side
Anyhow, I arrived at Lexington and 77th Street about 2 pm, about 45 minutes before the peak of the eclipse. A few folks were standing in the street looking up, so I shot a photo of the sun at that time, but it didn't look like much at the blinding rays of light blocked any real photo clarity.
I started journeying westward to Central Park which was my destination. Sheep Meadow to be exact, as I expected there to be a large crowd there – even though it was a Monday afternoon. After all, today was eclipse afternoon in NYC, a once-in-a-century / lifetime event. I wasn't disappointed.
Solar Eclipse NYC Photos 2017 in Central Park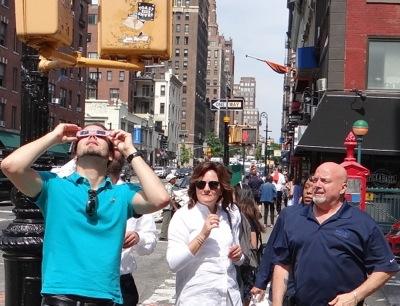 Actually most of Central Park was kind of teeming with life. My first stop was the Conservatory Water just south of the Alice in Wonderland statue along the east side of Central Park. People were milling about, sailing boats and looking upward. Not much seemed to be happening here, so I moved west to the Central Park Boathouse and Bethesda Fountain. I knew I was getting warmer as the fountain area and terrace were pretty packed. Again, folks were looking skyward so I shot a few photos without any filter and got shots that only marginally indicated the eclipse.
Down here on earth, if you weren't looking for it, you wouldn't have known there was an eclipse. And the clouds weren't helping clarify the issue either.
Click here to read the rest of our report on the Solar Eclipse 2017 in NYC with photos of eclipse in Central Park Manhattan & a park in Queens.
---
$element(bwcore,article_picker,1168-795,Y,N,page_title_home,N)$
LIC Real Estate Boom Appears to be Slowing
A Near Doubling of New Units Coming on the Market this Year, so there Appears to be a Pause, as Investors see how Quickly the Market Adjusts to the new Inventory & new Interest Rates
March 28, 2017 / LIC Neighborhood / Queens Real Estate in LIC / Queens Buzz.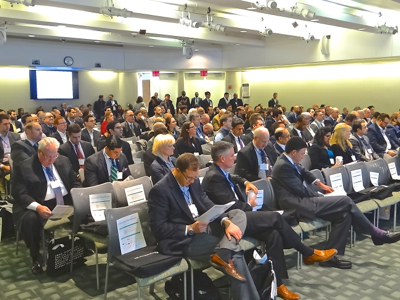 I attended the LIC Partnership Real Estate Breakfast just over a week ago. For the first time in a long while, I could actually find a seat. There had been a snowstorm the day before, so that may have contributed to my luck in finding a seat, but the event also did not appear to sell out as quickly as in prior years either.
This is not to say that LIC development is over ... and likely not by a long shot. But for the moment, the urgency seems to be abating as we all watch to see how things play out; while another 22,000 modern, fairly upscale apartment units come on the market.
According to the LIC Partnership, in the past decade nearly 12,000 new units have been created in LIC. Of those, less than 3,000 were sold to owners. In 2017 nearly 9,000 new units are coming into the market.
The principles of economics state that when supply goes up, if demand doesn't go up by an equal amount, then it is likely that prices will go down. So it's likely that a near doubling of new apartment supply in LIC this coming year could dampen rental prices for a while, and possibly sale prices too.
Interest rates are also rising. And again according to the principles of economics, when interest rates rise, generally the prices of high dollar value purchases decline, because interest rate increases add to the cost of the monthly payments associated with large purchases like real estate.
More regarding the discussion held at the LIC Partnership Real Estate Breakfast - which as always was very informative - at a later date.
---
Sorry: A Work of Art ... a Masterpiece?
Modern, Multi-media Melange Explores Emotions of Misunderstanding
January 23, 2017 / Long Island City Neighborhood / Performing Arts in Queens / Queens Buzz.
I attended a performance of Sorry, a multi-media dance, poetry and theatrical work that came about from a two year residency at the LaGuardia Performing Arts Center in Long Island City. I went in expecting to see a modern dance performance, but experienced so, sooo much more.
I was instructed to arrive a bit early as there's free form dancing that begins about thirty minutes prior to the performance opening. When I arrived, I couldn't distinguish between the audience members and the cast, as some of the people in the crowd were quite good dancers.
The performance was held on the stage of the Main Theatre, which the LaGuardia Performing Arts Center has quite skillfully transformed into a modern dance / theatrical space - which is quite separate, but a subset of the original, traditional, Grecian auditorium style of the Main Theater itself.
After a while the performance began with an Islamic, American immigrant poetically recanting a mournful separation he was in the midst of experiencing with his girlfriend. One of the walls lit up with a life-size passing #7 subway train, as the orator took us with him on a current-day journey through the boroughs of New York City as witnesses to the angst in his life.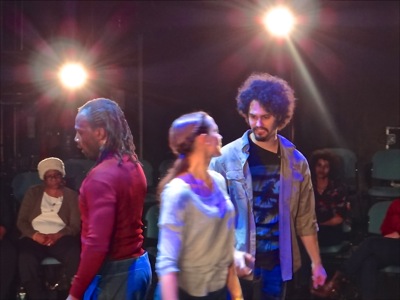 It was a bit like the movies, although so much more real, as we sat huddled in the ambient darkness of the theater, with life size video murals sweeping by, accompanied equally large still life photos and a three performer live cast. The music and choreographed dances allegorically captured the powerful troubled feelings of the characters portrayed.
The work explores the near universal, difficulty of human relationships in a modern, mixed, urban environment. Relationships complicated by gender roles, ethnicity and cultural learning - that are being sorted out simultaneously by all of us whether knowingly or not, as we travel through space and time in what may intermittently seem our lengthy, but short lives.
Later this week I'll continue this, including the addition of video and photos, but you only have a few days left to see it [Wednesday, Thursday & Friday at 8 pm] - and seating is limited [www.lpac.nyc - $20].
---
$element(bwcore,article_picker,1160-1163,Y,N,page_title_home,N)$
$element(adman,groupad,Sectional Ad)$
---

Long Island City News & Info
---
Click to quick scroll down to:
---
---
$element(bwcore,article_picker,486,Y,N,page_title_home,N)$
---

Click the drop down menu to submit events [ID required] into the Member Calendar. Free for arts groups / non-profits and community orgs, except fundraising events.
Click here to obtain a Free Queens Buzz Membership.
$element(calendar,calendar_select)$
$element(calendar,large_calendar,1)$
$element(calendar,calendar_select)$
$element(calendar,agenda,1,30)$
---
---
$element(adman,groupad,Catgry Finance)$
$element(adman,groupad,Catgry Bikes)$
---

---
$element(bwcore,article_picker,149,Y,N,page_title_home,N)$
---
---
$element(adman,groupad,Catgry Rest)$
$element(adman,groupad,Catgry Foodwine)$
---
---
$element(bwcore,section_full,52,2,N,9999,N)$
---
$element(adman,groupad,Sectional2 Ad)$
---

$element(bwcore,section_full,57,2,N,9999,N)$
---
$element(adman,groupad,Catgry Realestate)$
$element(adman,groupad,Catgry Homeimprov)$
---

---
$element(bwcore,section_full,79,2,N,9999,N)$
---
$element(bwcore,article_picker,1146,Y,N,page_title_home,N)$
Financing & Incentives For Business in Queens
LIC Partnership Hosts Panel of NYS & NYC Commercial & Industrial Incentive Experts
February 15, 2016 / Long Island City Neighborhood / Queens Banks Financing & Mortgages / Queens Business / Queens Buzz.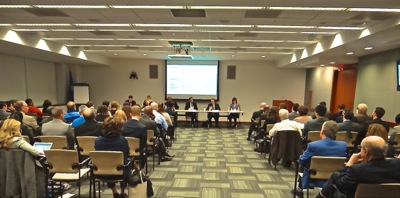 I attended a breakfast panel of New York State [NYS] and New York City [NYC] government incentives and financing experts. The panel included: Bryan Doxford, NY Business Development Corporation [NYBDC], Donald Giampietro, NYC Department of Small Business Services [NYC SBS], Jeffrey Lee, NYC Economic Development Corporation [NYCEDC], Jean Tanler, Business Outreach Center and Joseph Tazwell, of Empire State Development. The panel was moderated by Elizabeth Lusskin, President of the LIC Partnership, which hosted the event.
The purpose of the breakfast panel was to raise awareness of the municipal and state incentive programs and financing options available to the Long Island City business community. The programs are directed toward owners, managers and operators of local businesses with the intent of creating or enhancing jobs creation in the Long Island City neighborhood. Many of the programs are also available in other geographies in New York City and New York State.
Each panelist began by providing us with a summary of the incentives and financing with which their agencies or organizations can generally assist. This was followed by a brief Question & Answer session, and then a networking period.
You can search for the entities named above and contact them for further details about what programs they offer that might help you finance / save money while developing your business.
---
Paint Building Development Plans
Paint Building Real Estate Development Plans Unveiled in LIC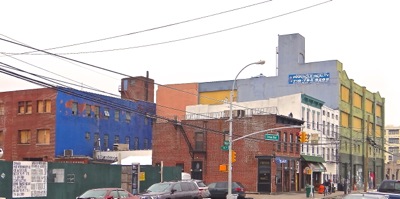 January 20, 2016 / Long Island City Neighborhood LIC / Queens Real Estate / Queens Buzz. I attended a special meeting by Community Board Two this evening along the waterfront in Long Island City. The meeting was arranged to give the community in LIC an opportunity to review the proposal being put forth by the owners of the Paint Building on Vernon Blvd. They're proposing the development of a large residential complex, a part of which will rise 28 stories high.
The plans included a very innovative East River waterfront access along with a wide pedestrian walk way from Vernon Blvd to the East River. The promenade wiill be privately owned and operated, but made available to the public during the hours that the nearby parks are open. Other parts of the presentation touched upon the environmental clean up required for the site, which like other parts of Long Island City and neighboring Greenpoint, were once the site of very large oil storage containers that one now finds in New Jersey.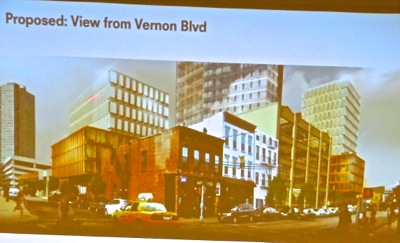 The community raised a number of concerns including questions about the impact on the transportation infrastructure and the addition of school seats, both of which haven't kept pace with Long Island City's rapid real estate development in recent years. And there were concerns that the 'affordable housing units' would turn out to be unaffordable to current residents, as has turned out to be the case with the affordable housing developments made during the Bloomberg years.
After the presentation there was a Question and Answer session as well as a period during which the public could make short statements. In some ways the last statement was the most interesting because it was accommodated by a visual. Kenny Greenberg, a local businessman and artesan showed his own beautiful rendition of the Paragon Paint Building which we obtained a copy of from him which is shown below right.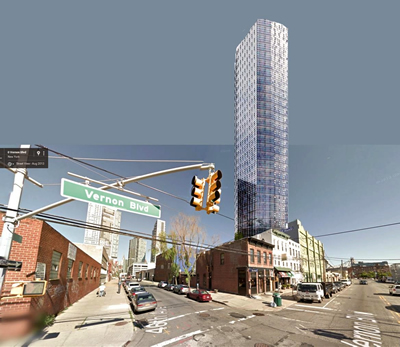 Kenny sent it to us with the caveat that it's not precisely drawn to scale, and that it doesn't include the 13 story tower that was proposed in tandem with the 28 story tower that is shown in the slide to your right. The point of Kenny's visual statement is that it's a huge change to the look and feel of Vernon Blvd and will dwarf all other current structures in the neighborhood. We also heard from residents that the addition of over 300 new apartments in that area will significantly impact parking space and traffic, given that the current proposal only calls for 24 parking spaces.
It was an interesting meeting, with plenty of pros and cons surrounding the proposal, of which we publish a bit more before the meeting.
The Paragon Paint Building proposal will be voted upon at the next Community Board Two meeting on Thursday, February 4th at 7 pm, at the Sunnyside Community Services building on 39th Street just off Queens Blvd. Stay tuned.
---
$element(adman,groupad,Sectional Ad)$
$element(bwcore,article_picker,1135-1127,Y,N,page_title_home,N)$
---
NYC Marathon: A Brief History
A Closer Look At The NYC Marathon Course & Runners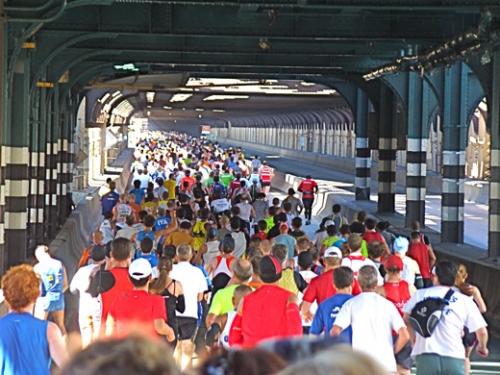 November 2, 2015 / LIC Neighborhood & Queens Neighborhoods / Queens Sports / Queens Buzz. Every year about 50,000 runners converge on New York City on the first weekend of November to run in the New York Marathon. The race begins at 8.30 am with the wheelchair division, is followed at 8.52 am by the athletes with disabilities and handcyclers. And then from 8.55 am until 11 am a horde of 50,000 runners passes the starting line on their 26 mile journey ending in Central Park.
The course has changed since the first NYC Marathon and now runs through all five boroughs, starting in Staten Island, coming up through western Brookyn, cutting through Long Island City between the Pulaski and Queensboro Bridges and then looping up along the Upper East Side before circling back around just north of the Harlem River in the Bronx and heading back south into Manhattan and terminating in Central Park.
The race lasts about eleven hours, as the official end time is 7.30 pm, but the reality is that it's mostly over by about 5 pm. The NYC Marathon began in 1970 and the first one was held entirely in Central Park by having the runners circle around the park on various roadways multiple times. And, of course, it was a much smaller group of runners.
NYC Marathon Runner Demographics by the NYT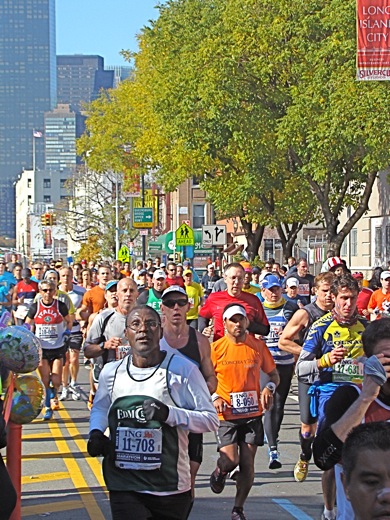 The NYT published a report about the NYC Marathon demographics. In it they noted that about three quarters of the runners make it over the finish line, and that about 40% of the runners are now women, which is up significantly from none in the first NYC Marathon in 1970.
This year only 48% of the runners are Americans, while another 4.5% come from Canada and Mexico, France and Italy represent 14% of the runners [split about evenly], and Britain, Germany and the Netherlands are another 15% (contributing in descending order], other parts of Europe, Latin America, Japan & China, Austrailia and South Africa.
Age-wise the largest group is between 30 and 40, the 2nd largest between 40 and 50, and a good measure from the 20 to 30 and the 50 to 60 demographics. Apparently many reaching their 40th and 50th birthdays like to 'prove that they still have it'. You can find the full report on www.nytimes.com, including some fun graphs.
NYC Marathon Winners Past & Present

The last time an American won the Marathon was in 2009 [Meb Keflezighi - a 2004 Olympic silver medalist born in Eritrea], and the last American winner born in the United States was Bill Rodgers in 1979. This year Meb was the first place finisher among all Americans and he broke the record for Masters Runners.
This year the winner for men was Stanley Biwott of Kenya who ran the NYC Marathon in 2:10:34, the winner for women was Mary Keitany, also from Kenya, who ran the course in 2:24:25, making this her second win in as many years. In the Wheelchair division, Ernst Van Dyk of South Africa beat Josh George of USA by one second coming in at 1:30:54. In the women's wheelchair division, Tatyana McFadden a Russian-born American, broke the NYC Marathon course record by seven minutes. It's been quite a year for her as she also won the marathon in Boston, Chicago and London this year.
Men's & Women's Marathon Times

As you can see by the times above, the best marathoners generally make the trip in a bit more than two hours, which means they ran at a pretty good clip of almost 13 miles per hour for over two hours. And it's worth mentioning that the gap between male and female NYC Marathon runners has been closing and at present is about 15 minutes.
Organizers & Sponsors of the NYC Marathon
New York Road Runners or NYRR is the organizer of the NYC Marathon and this year Tata Consultancy Services or TCS is the premier sponsor. TCS is an Indian software and IT services company based in Mumbai [formerly Bombay].
---
$element(adman,groupad,Catgry Realestate)$
$element(adman,groupad,NhoodLIC)$
---
$element(bwcore,article_picker,1124-1118,Y,N,page_title_home,N)$
Guess Who's Coming To LIC?
Macy's Inks 15 Year Deal For 145k Sq Ft Office Space
Some Corporate Staff Moving From Brooklyn Site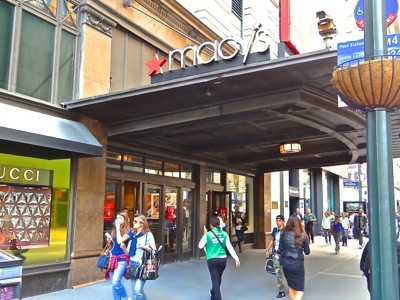 August 12, 2015 / LIC Long Island City Neighborhood / LIC Long Island City Real Estate / Queens Buzz.
Bis Now just reported that Macy's has inked a 15 year deal for 145,000 square feet at the Factory on 47th Avenue between 30th Place and 30th Street in Long Island City. This location is on the eastern side of the Sunnyside Yards, only a block away from LaGuardia Community College on Thomson Street.
According to their report, Macy's will move corporate staff currently working at a long held Brooklyn, location to the site in Long Island City in Queens.
Of course, Macy's is no stranger to Queens. They also operate three stores in Queens - at Rego Park, Flushing Main Street and in Douglaston.
Bis Now reported that the asking rent for the space was $42 per square foot, which they said compared quite favorably to Manhattan prices. Bis Now is hosting a event called the Future of Long Island City on August 18th at the Waters Edge on 44th Drive beginning at 7.30 am and as of this writing there are 8 tickets left. Admission is $89.
The photo above is of Macy's flagship store in Manhattan.
---
$element(bwcore,article_picker,1109,Y,N,page_title_home,N)$
---
$element(adman,groupad,Catgry Realestate)$
$element(adman,groupad,NhoodLIC)$
---
The Taste of LIC
Rains Fails To Dampen Turnout and Spirits
June 2, 2015 / LIC Long Island City Neighborhood / Queens Restaurants / Queens Buzz.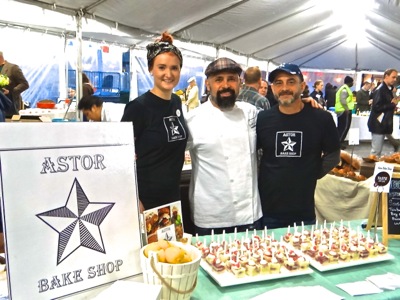 The weather cooled down this week, dropping into the 50's accompanied by rain. The streets were wet and it was cloudy above as I made my way through the intermittent drizzle down to the East River waterfront to attend the 10th annual Taste of LIC.
As I approached the East River, I could see the grand white tents in the distance, filled with people, light and the distant murmurs of conversations. I had planned to arrive a bit later at the event, after things had calmed down, so the restaurateurs and chefs at the event would have a bit of time to talk.
Inside the tents the mood was pretty buoyant as I found folks drinking and dining buffet-style, sampling the offerings of a mix of about sixty different restaurants, food producers and beverage makers. Conversations were flowing too about the food, the feast and the other fun things to do in the Long Island City neighborhood.
The Chocolate Factory Theatre is the organizer of the Taste of LIC. The theatre was co-founded by Sheila Lewandowski, the Executive Director; and Brian Rogers, the Artistic Director. They showcase the works of up-and-coming writers, producers, directors and actors / actresses as well as the development of in-house works.
---
The Dorsky Gallery
New Ways of Seeing: Beyond Culture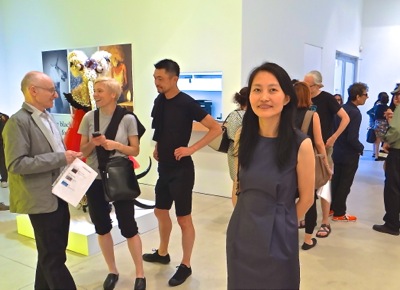 May 11, 2015 / LIC Neighborhood / Art Exhibits in Queens / Queens Buzz.
I met Cui Fei at the Queens Museum in 2008 at an art show entitled Reasons Clue [use the search box above to find it]. Cui is an artist who was born in Shandong province in mainland China, and she moved here nearly two decades ago. Shandong province is located along the East China Sea and, for those who drink beer, it's worth noting that Shandong is home to Tsingtao beer. Cui is one of twenty artists who have work on exhibit at the Dorsky Gallery Curatorial Programs in Long Island City.
And so it was, with Cui Fei's invitation in hand, that I headed to the Dorsky Gallery on a hot sunny afternoon in May. As I arrived at the gallery there were folks milling about outside, discussing the artwork inside. The show was the brain child of two NYC metro curators, Jan Castro and Eileen Jeng. Eileen said the two curators had met at an art event in Brooklyn within the past couple years, and that they hit it off right from the start. There was an immediate connection and the two had agreed to find some way to collaborate on a project.
Inside the gallery things were buzzing. Some measure of the art world was there, engaged in creative conversation. It was nice to see Cui again, and in only a few minutes we were able to pick up a conversation we'd vacated many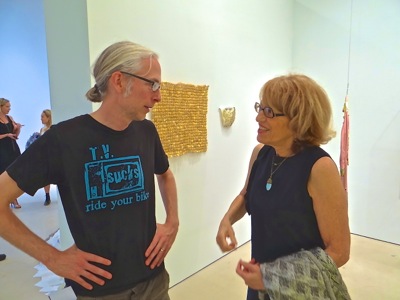 years ago. In Reasons Clue Cui had found and presented a number of grape vines that had grown into interesting shapes that in some manner resembled the characters of the Chinese alphabet. At the time she was working on a theme entitled Manuscript of Nature. She had told me that the grapevines she had selected carried messages from nature. It was Mother's Day, and as I began writing this piece, I began to think about Mother Nature and how tired she must be fending off those who don't respect her. Cui Fei's work was intended to help us listen.
Cui went on to say that she is now working on a theme is entitled Tracing The Origins. She told me that the Chinese characters were once representations of things in nature. Pictograms. Cui went on to say that the symbols which once looked like what they represented, became detached from what they first represented, and over time they became abstracted to carry meanings which were completely different than what they first represented. Today one cannot determine the origins of the Chinese characters.
As Cui was telling me this I thought about how the same process had happened in western art beginning in the late 19th and early 20th centuries. The French impressionists began to abstract what they saw, and by capturing and depicting light in a certain way, they conveyed a feeling that left an impression. Claude Monet, one of the first and finest impressionist painters, was followed by Dutch painter Van Gogh who continued in the impressionist tradition, but took the art a step further by infusing his works with thick vivid paint that conveyed great emotion. A few decades later Spanish artist Pablo Picasso painted his most celebrated work, Guernica, which continued the abstraction by providing what one might compare to an abstract pictogram of the Nazi bombing of the Basque town of Guernica in modern day Spain. And following World War II, all hell broke loose in America, where the abstraction became complete. American artists such as Pollock, de Kooning, Rothko and a personal favorite of mine which still hangs at MoMA, Vir Heroicus Sublimas, was painted by Barnett Newman.
I bent down to take a closer look at Cui Fei's sand paintings on the floor ...
We'll continue reporting on the Dorsky in the future, including a bit of background on the Dorsky Gallery Curatorial Programs in LIC.
---
$element(bwcore,article_picker,1103,Y,N,page_title_home,N)$
---
$element(adman,groupad,Sectional Ad)$
---
$element(bwcore,article_picker,1091,Y,N,page_title_home,N)$
---
$element(adman,groupad,Catgry Queens)$
$element(adman,groupad,Catgry Bikes)$
---
Choreo_Politics @ PS1 MoMA
Highly Intellectual Discussion About 21st Century Life, as Seen by Contemporary Activists & Early Modern Philosophers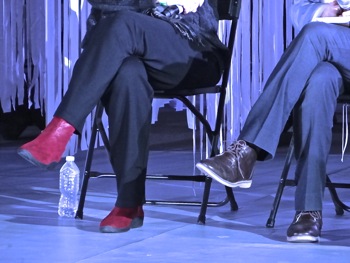 January 25, 2015 / LIC Neighborhood / Art in Queens / Queens Buzz. I attended the Choreo_Politics discussions on Sunday in the dome of the courtyard of PS1 MoMA in LIC. The event was hosted by Cristina Caprioli and included four panelists, including Peggy Phelan, Avital Ronell and Adham Hafez.
For the segment of the afternoon that I was in attendance, Peggy was the primary speaker. She appeared well read as she made numerous references to several of the late 19th and early 20th century German and French philosophers, including Nietzche, Kant and Bataille.
It was a deep philosophical discussion which included comments from the audience about finding meaning or trying to understand the life and times in which we now live. In one segment of the conversation Peggy talked about female gender roles and how being a woman affects one's persona. Some of the rhetoric included questions such as do women invite male aggression as a part of being a woman? Where is the boundary for a welcome advance versus an unwelcome push? Do women trip themselves up or are they suppressed by the male dominated environment? These aren't her exact words, but a facsimile of them, as I was distracted having just lost my notebook.
After a brief search for the lost notebook, I returned. Peggy was talking about communication. How gestures can undermine what we say. She said that we need to communicate because of our failure to communicate. She went on to talk about falling ... falling ill, falling in love and falling asleep. She was linguistically and philosophically aware, and seemed to have a sense of both the audience and her theatrical surroundings. I was sorry I hadn't arrived earlier.
I'll post a bit more including a photo slide show of this event later in the week.
---
Air Beam: What Are You Breathing?
Adventurous Bike Ride With TA Queens ... On The Road To Find Out
November 10, 2014 / Queens Neighborhoods / Biking Queens / Queens Buzz. I just returned from a bike ride that began at the Central Park Boathouse and ended in Jackson Heights at 34th Street and the BQE Expressway. Celia Castellan, who is the organizer for Transportation Alternatives Queens [aka TA Queens] collaborated with me on this story which is about Queens & Manhattan air quality and also about biking. Celia is shown in the photo to your right, atop the Queensboro Bridge around 6 pm Monday night as we bike commuted from Manhattan to Queens.
It was a beautiful night with clear, dry air and temperatures around 60. Our mission was to test the Air Beam, a new device designed to enable people to measure the air quality, and then map the information to a public website, so that the public can begin to see what's going on with the air they breathe. The Air Beam is a blue, slightly-larger-than-a-cell-phone device, that you wear to measure the air [quality].
We began the ride in Central Park. We were on our way after receiving only a couple minutes of instruction. The device is brand-spanking new and must be sync'ed to an Android cell phone. The inventors work for a non-profit and are trying to raise a bit of money to mass produce it.
I'm going to take you on the rest of the ride, including a sampling of the air quality readings along the way, and provide some photos of the Queensboro Bridge bicycle commute a bit later this week. In the meantime, check out the Air Casting website and if you want to help, there are a few more days left on their Kickstarter campaign.
---
$element(bwcore,article_picker,1079,Y,N,page_title_home,N)$
---
$element(adman,groupad,Catgry Queens)$
$element(adman,groupad,NhoodSSWS)$
---
$element(adman,groupad,Sectional2 Ad)$
---
$element(bwcore,article_picker,1077,Y,N,page_title_home,N)$
They Disco'ed Silently In The Park
Lincoln Center Local Hosts Silent Disco In Hunters Point South Park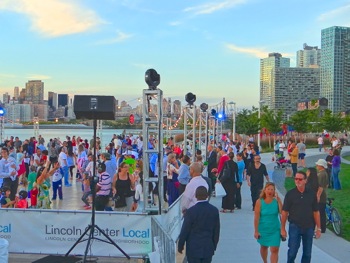 September 15, 2014 / Long Island City Neighborhood / Music In Queens / Queens Buzz. It was a beautiful summer evening as I made my way south along the East River waterfront in Long Island City.
Just ahead, in the borough's shiny new park - Hunters Point South - there was an end-of-summer gala organized by Lincoln Center Local. This was, to be sure, the second last weekend of the summer.
In the neighborhood of one or two hundred people were corralled inside the Lincoln Center Local Silent Disco. They had arrived early enough [sign up started at 5.30 pm] to obtain a set of wireless headphones so that they could listen to the rhythm and beat of a couple of NYC DJ's - Bill Coleman and Bobby Morales.
At 6 pm those who came early were treated to a free dance lesson, and then from 7 pm - 10 pm they danced along the waterfront.
Click here later today for the rest of our story and a slide show of the Silent Disco in Hunters Point South Park in LIC. The event was organized by Lincoln Center Local with the support of Queens Borough President Melinda Katz and City Councilmember Jimmy Van Bramer.
---
New Bridge Over Troubled Water
Kociuszko Bridge Begins Transformation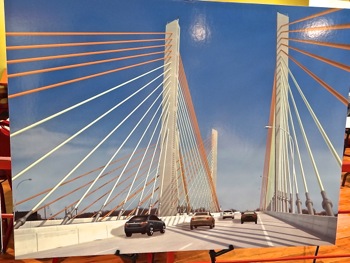 August 11, 2014 / Sunnyside Neighborhood / Queens Business / Queens Buzz. I attended a town hall meeting at the Sunnyside Community Services Center in July where the Department of Transportation presented its plans for the erection of a new bridge over Newtown Creek, replacing the current Kosciuszko Bridge. The Kosciuszko Bridge is the main thoroughfare connecting Queens and Brooklyn.
We were told that this bridge represents the largest infrastructure investment by New York State ever. It's important to note that this statement was made based on total dollars, not the value of the dollars as measured in real terms [meaning a million dollars a century ago was worth far more than $1 million today].
The effort has already begun as the project has been awarded and the companies working on the effort have begun their preparatory work. Actual physical construction of the bridge will likely begin in Spring of 2015. The project will be done in phases. The first phase will be the erection of half of the new bridge alongside the current bridge. Once that is completed, they will tear down the Kociuszko Bridge and move traffic onto the new half bridge. Finally they will erect the second half of the bridge. The new bridge will include bike lanes and will have a far less steep rise than the old Kosciuszko Bridge. A rendering of the new bridge is shown above.
We'll post more, including a photo slide show later this week.
---
$element(adman,groupad,Catgry Green)$
$element(adman,groupad,Catgry Finance)$
---
$element(bwcore,article_picker,1062,Y,N,page_title_home,N)$
Curated Cuisine At The Taste Of LIC
Watery Weather 'Dampens' Attendance But Not Mood
June 3, 2014 / LIC Neighborhood / LIC Restaurants / Queens Buzz. It was a dark and stormy evening as I began preparing to head down to the Long Island City waterfront to cover the 9th Annual Taste of LIC. I could hear the raindrops falling on my airconditioner, making a sporadic tinny pitter patter that told me I should not go.
An angelic voice whispered in my ear, "You're going to miss the Chocolate Factory's signature event". My tummy grumbled, "I'm sick of your cooking" ... thus making it's voice heard and it's vote counted too ... so soon I was on my way, umbrella opened, walking through the rain to the fabulous #7 subway line - the main artery of public transit in Queens.
As I came up the stairway onto Vernon Blvd, I began to feel like I had made the right decision. To be sure, clouds were overhead, but there weren't any raindrops fallin' on my head. E'nuf said.
I sauntered down to the ticketing tent where I picked up my entrance band. I asked the ticketing agents to pose for a photo, which I'll post into the event photo slide show at a later date.
As expected, the inclement weather had impacted attendance and thinned out the crowd relative to prior years - but there was still a good turnout - of likely over a thousand people. The attendance provided more opportunity for relaxed interactions and more space to photograph and converse with the restaurateurs. Some of them remarked the same, telling me that in the past they were so busy serving folks that they scarcely had a moment to talk to any of them. But tonight Mother Nature, as sometimes it is her way, took control of the remainder of the day.
Next Monday we'll take you into the tent of the Taste of LIC, share with you a sampling of some of the fine foods, a bit of the fun & fancy, and introduce you to a few beverage makers and a new chocolatier too. Included with this account will be an accompanying photo slide show of the curated cuisine event. Proceeds go to the Chocolate Factory Theatre in LIC and many thanks to Sheila Lewandowski and Brian Rogers, both of whom organized the event.
Bon Appetit & Bon Jour.
---
---
$element(adman,groupad,Catgry Rest)$
$element(adman,groupad,Catgry Homeimprov)$
---
$element(bwcore,article_picker,1052-1049,Y,N,page_title_home,N)$
ACA Deadline Extended To 12/23
Registration For January 1st 2014 Insurance Coverage Extended To Dec 23rd In Queens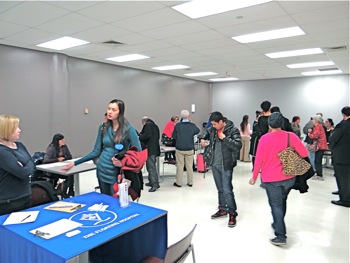 December 17, 2013 / Healthcare in Queens / Queens Buzz. The deadline for registering with the New York State healthcare / insurance exchange for January 1st, 2014 insurnace coverage has been pushed back a week from December 15th to December 23rd. We understand that implementation of the Affordable Care Act [ACA aka Obamacare] continues to be affected by executional problems, but according to experts, the problems are being addressed and the number of issues are abating.
In the photo to your right are Queens residents talking to Affordable Healthcare Act navigators who provide free assistance to people in selecting a healthcare plan. This event was sponsored by the office of City Councilmember Jimmy Van Bramer at LaGuardia Community College in LIC.
There are a few things we've picked up over the past week that are worth mentioning at this point.
First be aware that the providers listed on any given insurer's website is subject to change and sometimes the providers listed have quit the program and sometimes there are providers who are participating in the program who are not listed. This situation also oftentimes occurs with other insurance providers / health maintenance organizations. According to a policy expert from the Robert Wood Foundation, a healthcare focused non-profit, the listing / not listing issue on insurers' sites has increased by about 10% since the implementation of the Affordable Healthcare Act began in Queens on October 1st. The reason for this is that healthcare providers and insurers continue to analyze and evaluate how they are going to manage their networks to accommodate the influx of new patients / clients.
Another thing participants need to pay attention to is that participants need to obtain a card or member number from the insurance company in order to obtain / use the benefits from the listed healthcare providers. As we understand it, a number of people have registered using the NYS exchange and thought they had completed the process prior to obtaining their member number / insurance card. Exchange registrants need to follow up with the insurers to obtain the card. We also understand - but this has not been confirmed - that participants need to make their first payment for the plan they choose, prior to being able to obtain the benefits / use the healthcare system.
Lastly, another item we picked up refers to a clause in the program with respect to people who switch plans. Healthcare Plan Switchers are able to change providers during the year, but those who do so will be subject to higher co-pays. So try to choose a provider you think you will work for the long haul. We'll have more on the implementation of the Affordable Healthcare Act in Queens later this month.
Click here for prior coverage of the Affordable Healthcare Act in Queens [aka Obamacare in Queens].
---
$element(adman,groupad,Catgry Medical)$
$element(adman,groupad,Catgry Foodwine)$
---
Queens Economy On The Mend
Overall Employment Up, Unemployment Down & ... more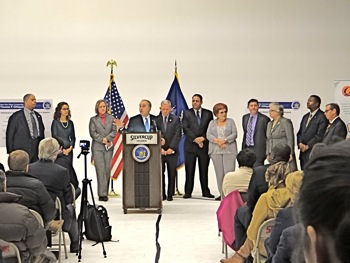 December 16, 2013 / Long Island City LIC / Queens Business / Queens Buzz. On Friday I attended the presentation of an Economic Snapshot of Queens by State Comptroller Thomas DiNapoli at Silver Cup Studios in Long Island City.
There was a large contingent of Queens government officials in attendance of the presentation - ranging in office from Borough President-elect, to City Councilmembers, to State Assemblypersons, to State Senators [see photo].
The news was good of course, as the Queens economy is on the mend. Unemployment is down, in spite of a growing labor force. And total jobs in Queens are estimated to be up 12,000 to about 882,000; while the private sector employment in Queens represents over a half million of that number. The event was sponsored by the Queens Economic Development Corporation.
We'll post more about the changes in the Queens economy later this week / month - including some contrarian points of view we picked up on the street. In the meantime you can click into a report we did about the different categories of Queens employment we did in March 2011, or into an update of Queens unemployment picture which we did in December 2012. And just last week we posted an update on Queens current unemployment statistics versus NYC and prior year. Enjoy.
---
$element(bwcore,article_picker,1033-1021,Y,N,page_title_home,N)$
---
$element(adman,groupad,Catgry Queens)$
$element(adman,groupad,NhoodLIC)$
---

---
$element(bwcore,article_picker,1024-992-895-970,Y,N,page_title_home,N)$
---
---
$element(adman,groupad,Catgry Wedding)$
$element(adman,groupad,Catgry Medical)$
---

---
$element(bwcore,section_full,20,2,N,9999,N)$
Site Search Tips. 1) For best results, when typing in more than one word, use quotation marks - eg "Astoria Park". 2) Also try either singular or plural words when searching for a specific item such as "gym" or "gyms".
$element(bwcore,insert_search,N)$
Click this link for promotions by advertisers in Queens.
Click this link to search for something in the Long Island City LIC Business Directory containing over 1,000 listings. Click here to view the home page of one of the leading chiropractors in Long Island City LIC. Click here to view the home page of one of the leading dentists in Long Island City LIC. Click here to view the home page for one of the leading wedding halls in Long Island City LIC.
---
Click the log in link below to create an ID and post an opinion. Or send this story to a friend by filling in the appropriate box below.
return to top
Queens Neighborhoods NYC, Astoria Neighborhood | Corona Flushing Neighborhood | Forest Hills Neighborhood | Elmhurst Jackson Heights Neighborhood | Jamaica Neighborhood
Long Island City Neighborhood | Woodside Sunnyside Neighborhood | Restaurants Queens | New Years Eve Parties Queens | Valentines Restaurants Queens | St Pats Day Bars Irish Pubs Queens | Mothers Day Restaurants Queens | 4th of July Fireworks Queens | Halloween Parties Queens | Shopping Queens | Queens Real Estate & Realtors | free things to do in queens Manhattan Buzz | Queens Parades NYC, Queens Member Calendar NYC, Queens Business Directory NYC, Queens Maps NYC, Queens Holiday Markets NYC, Queens Farmers Markets NYC, Queens Street Fairs NYC, Queens Holiday Events NYC, Queens Labor Day Things To Do NYC, Queens Things To Do Martin Luther King Day MLK Weekend NYC, Queens Things To Do Labor Day Weekend NYC, Queens Things To Do Memorial Day Weekend NYC, Queens Swimming Pools NYC, Queens St Patricks Day Parades NYC, Queens Summer Movies NYC, Queens Summer Concerts NYC, Queens Summer Theater NYC, Queens Opinions OpEds NYC, Queens Real Estate & Business NYC, Queens Restaurants NYC
Copyright © and Trademark ™ 2007 - 2023 All Rights Reserved
Copyright / Privacy / Terms of Service | Queens Blogs - About News Websites in Queens NYC