Wine Tastings In Jackson Heights & Elmhurst
Continued / Jackson Heights Neighborhood / Food & Wine / Queens Buzz.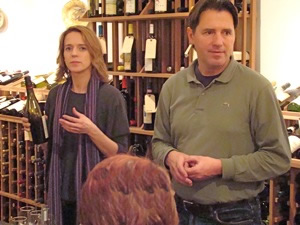 I thought this would be a perfect way for Queens Buzz to start on its journey into wine and wine tastings, and so I accepted the invitation. I arrived as the tasting was winding down. The French wine maker and the wine importer rep kind of reminded me of the Kevin Kline and Meg Ryan couple in the movie French Kiss [it's a fun 1990's romance].
French Wines In Jackson Heights & Elmhurst
Jean makes a trip to the U.S. annually, to stay in touch with his client base as more than half of his wine is sold in the U.S. Marie Couwez works for VOS, a small New York wine distributor which represents the vineyard owned and managed by Jean-Marc Espinasse [hereafter referred to as Jean].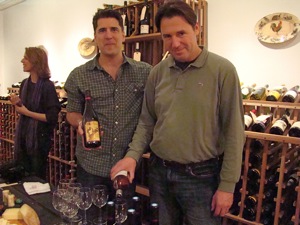 Both Jean and Marie are of French origin and they both appeared passionate about their wine.
Three generations ago Jean's family used to own and manage a French vineyard. About twenty-five years ago his uncle bought some land, and using some old vines his grandfather had cultivated, he re-entered what was once the family business. About five years into the venture Jean started working for his uncle, first by helping him with the books and eventually he became involved in the operations.
Many years later in 2006, Jean bought 20 acres of vineyard and began working it. The vineyard is managed in accordance with biodynamic principles. Biodynamic farming was first started by Rudolph Steiner who was an Austrian philosopher.
Organic Wines - Stores In Jackson Heights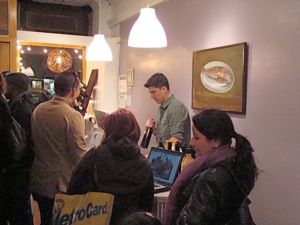 Steiner believed in a holistic universe and the farming principles he advocated involved nurturing the natural cycle of things. Hence he advocated using manure as fertilizer and composting other vegetation such as weeds to restore nutrients to the land. Many refer to him as one of the first all natural / organic farmers.
Jean, the vintner, informed me that the grape vine roots grow everywhere and are affected by the mineral composition of the land. Hence what other vegetation is grown in the vineyard can add or detract from the flavors in the grapes. He allows weeds to grow, and then scratches and composts them so they don't interfere with the grapes, but rather enhance their growth.
French Wine Tasting In Jackson Heights - Cheese & Bread
Meanwhile back at the wine tasting, Ernesto and Marie were entertaining visitors and customers with French wine, French style bread and French cheese. Customers came, chatted, nibbled, sipped and eventually left, sometimes with bottles of wine in tow.
Table Wine - Wine Stores In Jackson Heights
Table Wine opened in 2009. Before they opened, they had to secure a lease for their 37th Avenue store. After they applied for the liquor license there was about a six month evaluation period during which time they began remodeling the store. They did a nice job of enhancing the store's natural 1920's - 1930's beauty, as they added beautiful country wooden floors and cleaning up the old tin-plated ceiling.
During this liquor license evaluation period they also met with wine distributors throughout the metro area, in search of unique wines with targeted price points and flavors they thought their customers would find appealing. Ernesto told us that Table Wine appears to found an market niche as they have a growing roster of new and returning customers.
The flying Frenchman soon had to leave as he had other business to conduct. Before parting, like Scarlett O'Hara's father in Gone With The Wind, he left me with one last important note, "the yeast is very, very important" and with that he bid me adieu. As I stood there watching him fade into the urban landscape, I thought "I must return to Tara".
Table Wine is located at 79-14 37th Avenue / Tel 718.478.9463.
---
Wine Stores In Jackson Heights - Related Links
Click here to go to Lowery Wine & Liquor - Sunnyside.
---
Jackson Heights Neighborhood / Elmhurst Neighborhood Links
$element(adman,groupad,NHoodJHTS)$
Click on these advertisements for promotions, discounts and coupons by retailers and restaurateurs in Woodside, Sunnyside and nearby Queens.
Click this link to go to the:
Jackson Heights Neighborhood or Jackson Heights Business Directory
Jackson Heights Real Estate or Events & Things To Do In Jackson Heights
Restaurants In Jackson Heights or Jackson Heights Shops & Shopping
Jackson Heights & Elmhurst Maps
---
$element(adman,groupad,Catgry Foodwine)$
Site Search Tips. 1) For best results, when typing in more than one word, use quotation marks - eg "Astoria Park". 2) Also try either singular or plural words when searching for a specific item such as "gym" or "gyms".
$element(bwcore,insert_search,N)$
Click this link to search for something in our Queens Business Directory.
---
Click the log in link below to create an ID and post an opinion.
Or send this story to a friend by filling in the appropriate box below.
$element(adman,groupads,Sectional2 Ad)$
---