Furniture Shops - Shopping For Furniture In Astoria Queens
Astoria / Queens Buzz. I was out hunting for a story the other day while making the rounds and decided to do one about the furniture store mecca market on the southern end of Steinway Street near Northern Blvd in Astoria. There are possibly more than twenty stores within a five block stretch that sell all types of furniture, lamps, beds and cabinets, kitchen / dining room sets and sofas, chairs and all sorts of other furniture for the living room.
I browsed through many of them and selected three stores I thought would dimensionalize the furniture offerings in the area. The stores included in this story include Classic Design, Urban Lifestyle and Steinway Mattress.
Classic Design Furniture In Astoria Queens
The first store I visited was Classic Design. The store stays true to its name, as it inventories a unique class of furniture, classic in design, which comes from Europe, the Middle East and the U.S. Heretofore, unbeknownst to me, Egypt has grown to become a leading maker of this type of furniture in the world. The store is run by Mohamed who was born in Egypt, but who has lived here for most of his life and has been selling and servicing furniture in the Astoria and Queens community for nearly fifteen years.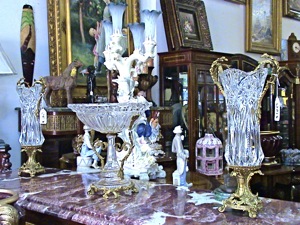 The store contains a lot of 18th and 19th century French and Italian styled furniture. This sort of empire furniture is ornate, with curved and inlaid wood, done by Egyptian craftsmen who machine mill the wood. Many of the dressers and cabinets are made of walnut, which comes from India and Eastern Europe, and once were decorated with ornate faces, but over time the faces have been replaced by ornate designs. Many of these are marble topped. The store also sells chandeliers, the frames of which come from China and the crystal from the Czech Republic and Egypt.
Apartment Furniture Urban Lifestyle - Astoria Queens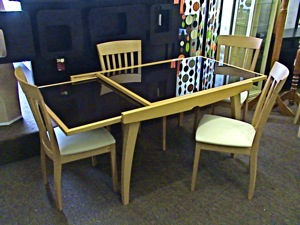 Urban Lifestyle is a furniture store that has evolved over the years. It is owned and managed by Steven and Domenica, who are long time friends and partners. This store is relatively new, per se, but it is the offspring of an earlier store which had once been located only a block away and had served the area for some twenty plus years.
Urban Lifestyle focuses on the evolving demographic of Astoria, which these days includes Manhattan workers who have decided to live on this side of the river in order to enjoy a higher quality of life vis a vis their upper east side cohorts. Hence the focus is on smaller furniture better suited for an apartment than what one might purchase to fill a home. Apartment dwellers tend to be more single and, when coupled, frequently without children. Hence they purchase more stylized fabrics and linear proportions which Urban Lifestyle focuses on by purchasing a few key brands such as Calligaris [Italian styled furniture such as the table shown above], Lisbon [maker of the entertainment center shown below] and Younger [maker of sofas, chairs and ottomans such as the kiwi green shown deep within the photo below].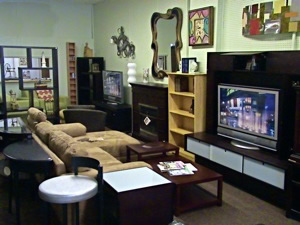 For the kitchen, Urban Lifestyle offers a number of different tables, including counter height tables which make it easier for taller folks to sit down and get up [and conversely make it more difficult for less tall folks visiting], as well as tables of traditional heights, that include folder outs and extensions so one can flexibly host ten people and then shrink the table back to its former size like the Calligaris table shown above. Urban's focus is on quality and style at affordable prices.
Steinway Mattress - Beds, Bedroom Furniture In Astoria Queens
Like Urban Lifestyle, Steinway Mattress is a fairly new store, but run by a family with decades of experience in the business. Steinway opened last year and offers a complete line of beds, dressers and night stands. The store has already achieved a bit of fame, as Comedy Central recently used the store as a location to film a segment for one of their shows.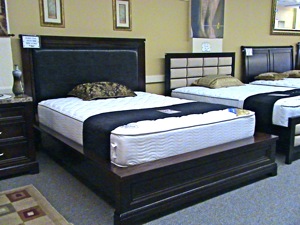 Steinway Mattress offers a variety of beds and bed frames, including some with built in drawers, several with steel frames and a mix of head and base board styles in a variety of colors. Generally their wooden beds are made of birch, maple and oak, and the colors in vogue these days include walnut, cappuccino and expresso, which is pretty close to black. I rather enjoyed the irony of bedroom colors named after coffees. The nice mix of wooden beds is supplemented with a few steel framed beds.
Steinway Mattress offers several complete lines of mattresses – all of which are American made. The reason Steinway focuses on American made mattresses is that there has been some risk in purchasing mattresses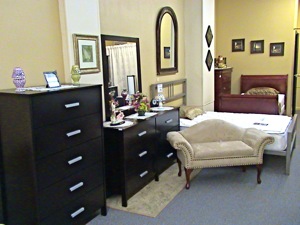 made in other jurisdictions with less stringent standards and enforcement. Hence they sell the Eclipse, Therapedic and King Koil brands.
I asked what people were looking for in a bed. John, one of the family members, informed me, "Comfort and support for their back". Apparently everyone's spine is different, so it's best to try the mattress out before you buy it. In the past decade or so, I was told, the technology has changed quite a bit. Mattresses now include special foams, materials and ticking [mattress covers].
Dining Room Furniture / Living Room Furniture / Bedroom Furniture & Mattresses In Astoria Queens
I asked the shopkeepers how business was going and there seemed to be general agreement that things seem to be improving, albeit at a measured pace. People have begun shopping again and the money has begun flowing again. I saw some great items in inventory as you can see from the photos, but there is much, much more to see as I only touched on a few of the many stores in the area. So when you're near Steinway and Broadway, just head south to Astoria and Queens furniture mecca.
Queens Furniture Stores & Retailers
Click the following links to go the home pages of furniture and bedding stores in Astoria and Queens.
Click here to go directly to Classic Design Furniture Store, or the Urban Lifestyle Furniture, or the Steinway Mattress World, or the Park Home Furnishings home pages on this site.
---
Astoria Related Info
$element(adman,groupad,Promo Buttons)$
Click this link for promotions, discounts and coupons in Astoria and Queens.
Click this link to go to the Astoria Neighborhood, click this link to go to Astoria Restaurants and click this link to go to Astoria Shopping.
$element(adman,groupad,Catgry Furnitur)$
Site Search Tips. 1) For best results, when typing in more than one word, use quotation marks - eg "Astoria Park". 2) Also try either singular or plural words when searching for a specific item such as "gym" or "gyms".
$element(bwcore,insert_search,N)$
Click this link to search for something in our Queens Business Directory containing over 1,000 listings.
Send this story to a friend by filling in the appropriate box below.
---
---
---