The Little Soap Shop
Hand Made Soaps In Astoria Queens
February 7, 2011 / Astoria / Queens Buzz. Continued / Use search function to find story introduction.
Since my first visit to the Little Soap Shop, I returned a couple more times. With each visit I became a bit more interested, querying Vivian about the soap making process, how she got started in - of all things - soap making, and about the quality, texture and properties of the soaps she made. Eventually I asked for a couple more soap samples to take home with me to review for this story. In the photo to your right are examples of some of the all natural hand made soaps sold at the Little Soap Shop.
Greek Origins - Hand Made Soaps In Astoria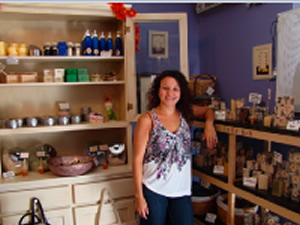 Vivian grew up in Astoria, the daughter of Greek immigrant parents who came from an island in the Aegean. She and her parents would return to Greece to visit family and it is during these visits that Vivian became familiar with many Greek traditions. Traditions she learned from her grand parents, aunts and uncles. Vivian is shown in the Little Soap Shop in the photo to your left.
One of the things her Greek relatives talked about was the not-so-ancient Greek tradition of making soap in the home. Vivian immediately took an active interest in home soap making as she had dry skin and hadn't found any remedy for it.
All Natural Hand Made Soaps - In Astoria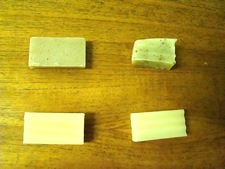 Her interest grew when she happened upon an advertisement for a soap making class on the internet. She signed up for the class even though it was still several months off. And before she took the class, she voraciously read everything she could on the topic of making soap by hand. She took the class a few months later wherein she made her first batch of soap and rest, as they say, is history.
Ever since then she has been making soaps weekly, experimenting with different recipes, mixes and additives. Her friends and family began using the soaps and soon they became happy customers. So in 2007 she decided to make her soap making venture public and opened the store which is now called The Little Soap Shop. In the photo above are the sample cuts of soaps that I used to do the product reviews below. And in the photo below is the facade of the Little Soap Shop.
The Little Soap Shop - Astoria
Today Vivian runs The Little Soap Shop in the Upper Ditmars section of Astoria. The shop contains soaps, candles, body wash and lip balm – all of which Vivian makes herself. She sells other products too, generally made locally, such as jewelry, sea salt and so forth.
Making Soap - The Little Soap Shop
Vivian and I agreed upon a time for me to return to watch the soap making process. She uses soda ash [lye] in the process, as it is key to the chemical process by which she synthesizes water and the other ingredients [mostly natural oils and butter] used to create soap. The entire process takes about two hours per batch, after which the soap must be cured [aged] for about a month.
The Little Soap Shop - All Natural Soap
Vivian uses many ingredients in the process, but the mainstays are all natural. In the bars that I sampled and review below, the main ingredients are: coconut oil, palm oil, sunflower oil, castor oil and shea butter. These ingredients are grown, not manufactured, and are soothing and refreshing on the skin.
Vivian scents the soaps with a pleasant array of natural fragrances such as Egyptian Geraniums, Lemon Grass Sage, Cedarwood, Patchouli and Firewood. It's not difficult to see where Vivian's inspirations for the soap names originated.
Hand Made Soaps - The Process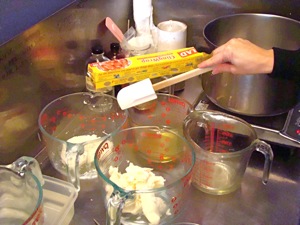 Much to my surprise, soap making is a bit like home cooking. When I arrived Vivian had bowls of coconut and palm oil which given the cold temperatures were still solid, which were alongside bowls of castor oil and olive oil [see photo to right]. The lye comes in flakes and is mixed in water, which Vivian very carefully handles [see lye flakes in photo below].
She melts the solids, which in the summer are already oils, and brings the temperature of all of the ingredients to about 90 degrees. Managing the temperature of the ingredients is one of the most important aspects of the process because if they're not mixed at almost exactly the right moment the synthesizing process won't occur and
the entire batch will be lost.
The lye flakes are poured into cool distilled water and the dissolution of the flakes generates heat and gives off a bit of fumes [I didn't see any smoke or smell any fumes while she was making this batch – but, she explained, it was a smaller than normal batch size]. So I got the sense that Vivian is extra cautious, which fits with her all natural / environmentally sustainable orientation.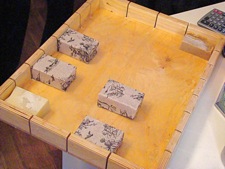 After she pours all the ingredients into one mixing bowl, she stirs it until it becomes something resembling a brownie or cookie batter. White distilled vinegar is included in the process. The next step is the use of an immersion blender, which replaces what used to take four to six hours of stirring in days gone by. The mix becomes a cream.
The next step is to pour it into a mold [see photo to right] which she then covers with a blanket for 24 hours. Once it hardens she then cuts the bars before they're cured for four to six weeks [see photo to left]. All in all a lengthy process, for which, we the public can obtain the benefits of for between $5 and $7 per bar.
Product Reviews - Hand Made Soaps In Queens
As mentioned above I had occasion to try several of Vivian's soaps which is what motivated me to do this story. I tried the following four bars, each of which is among the best sellers at The Little Soap Shop. They are: Lemon-Grass, Egyptian Geranium, Cedarwood Patchouli and Firewood.
Lemon Grass Soap - Astoria Queens
It was the lemon-grass bar, which I first experienced. The small soap sample generated a luxurious creamy lather and a refreshing lemongrass scent. I felt particularly refreshed coming out of the shower that morning. Vivian explained this generates some natural exfoliation.
Firewood - All Natural Soaps
The next one I tried was the green colored and speckled firewood. This had a less lathery feel to it, which Vivian explained may be due to absorption by the leaves of chamomile and nettles which are baked into the composition. It left my skin feeling soft and supple. Vivian recommends this one for people with dry skin.
The next two soaps were similar in nature to the first two reviewed above, with nuances that are explained by different percentages of the same ingredients, and some of the aromatic scents and herbs that Vivian adds, all of which are natural.
Egyptian Geranium - Hand Made
This soap bar is of a light brown color. I found it had similar characteristics to the Firewood bar, with perhaps a bit more lather and a different scent.
Cedarwood Patchouli Soap
This soap bar was light white yellow color and less scented compared with the lemongrass bar, but also had a good lather.
I found the Lemongrass soap to be my favorite, followed by the Egyptian Geranium. But as Vivian explains, each person's skin is unique which is why she provides her customers varioius soaps from which to choose.
The Litte Soap Shop is located in Astoria just off Ditmars at 22-07 36th Street. Their phone number is 718.704.4408 and they are both a maker and seller of all natural hand made soaps right here in Astoria. Enjoy.
---
Astoria Related Info
$element(adman,groupad,Promo Buttons)$
Click this link for promotions, discounts and coupons in Astoria and Queens.
Click this link to go to the Astoria Neighborhood, click this link to go to Astoria Restaurants and click this link to go to Astoria Shopping.
$element(adman,groupad,Catgry Gifts)$
Site Search Tips. 1) For best results, when typing in more than one word, use quotation marks - eg "Astoria Park". 2) Also try either singular or plural words when searching for a specific item such as "gym" or "gyms".
$element(bwcore,insert_search,N)$
Click this link to search for something in our Queens Business Directory containing over 1,000 listings.
Send this story to a friend by filling in the appropriate box below.
---