Kayaking On The East River w/ LIC Boathouse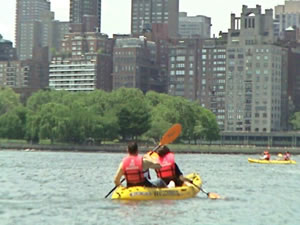 Summers in LIC / Long Island City & Astoria / Queens Sports . We joined the LIC Boathouse on Sunday morning in their weekly summer ritual of providing free kayaking for Queens denizens of all stripes.
We started with them between 11.30 am and noon in Long Island City where a core group of volunteers [new comers welcome] meet to load and haul the kayaks and safety gear up to Hallets Cove just north of Socrates Sculpture Park.
Click here for the rest of the story of kayaking in Queens with the LIC Boathouse on the East River.
---
Kyaking on the East River w/ the LIC Boathouse
LIC Boathouse - Kayaking On The East River - LIC Queens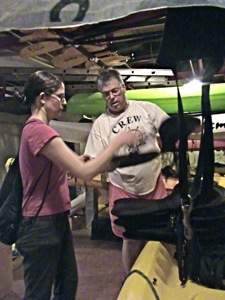 Summers in LIC / Long Island City & Astoria / Queens Sports. I just kicked off my summer with one of the best water experiences I've had in at least a year. I went kayaking with the LIC Boathouse.
LIC Boathouse - Kayaks Stored in LIC
Being one for a bit of adventure, I volunteered to 'help out' [I'm really, really stretching it] with the loading of kayaks on Sunday morning in preparation for kayaking in Hallets Cove along the East River in Queens. Hallets Cove is located at the north end of Socrates Sculpture Park which is next to CostCo in Long Island City. There were five 'other' volunteers [I really need to exclude myself because I spent 99% of my time interviewing folks and taking photos], three of whom represented the LIC core, and two of whom didn't just see it as a job, but as an adventure.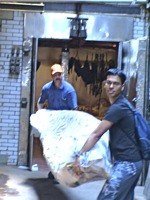 LIC Boathouse Run By Volunteers
Captain Ted Gruber lead the group and was aided by First Mates Paul Mallery, a retired fireman, and Paul Bahn, an LIRR contractor who hails from Sacramento, California. They were assisted by an 'irregular' volunteer, Wynne Parry and a first timer, Shub Kudisya. These intrepid kayakers picked up the kayak trailer, set the hitch, loaded the kayaks, packed the life preservers, paddles and seats and then headed off on a 'road trip' up Cresent Street along the Queens waterfront to the Hallets Cove Beach.
Kayaking Launch Site North Of Socrates Sculpture Park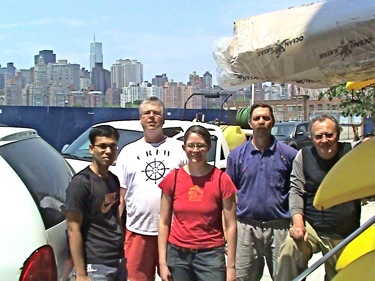 While all of this was going on in Long Island City, Wesley, another volunteer, was busy retrieving and setting up the 'boarding dock'. The boarding dock is a large portable wooden staircase that visitors use to climb up and then climb down to Hallets Cove Beach. On the beach Lynne Serpe, environmentalist and city council candidate, was busy setting up the registration table where kayakers are given instruction sheets / liability waivers to sign before they go out onto the water. And given this was an all volunteer effort, by an eclectic group of salty boaters, it sure appeared to be an amazingly well oiled machine.
Kyaking In Queens With The LIC Boathouse
So I signed in for a spin around the cove. I was interested in experiencing it all and First Mate Mallery volunteered to give me the Holy ... Hallets Cove Tour. Paul took me out onto the water and and we headed north along the shoreline. The LIC Boathouse volunteers offer that option for those who would like a bit of guidance while getting started. He seemed to know the neighborhood well as we crept up along the shore to an artist / sculptor's studio which seems well guarded by about three or four barking dogs.
Kayaking On Hallets Cove - LIC / Astoria
After circling around some legacy dock structures, we headed west out into the bay where many of the other kayakers were paddling around. The LIC Boathouse requests kayakers stay within the cove, so that they may be seen should something go amiss. We encountered waves from passing boats which rocked our kayak, albeit gently, but it was a calm day and we were well inside the cove. During this rocking we took in a bit of water and given the seats are essentially on the kayak floor - the seat of my pants got pretty wet.

On our way back into shore, Paul suggested I provide a few tips for would be kayakers. Since you're out in the sun on the water, the first tip is to bring sun screen. And since you're pretty likely to get a bit wet, it's wise to wear clothes that you won't mind getting wet [my shorts dried within about an hour of getting out]. It's also worth noting that since this is a completely outdoors event [no lockers] it's recommended you don't bring too much in valuables because there's no official place to check any items in. As an aside, I did leave my bag on the shore and it did contain another camera, but it was at my own risk and nothing happened.
Plenty Of Takers For Free Kayaking On The East River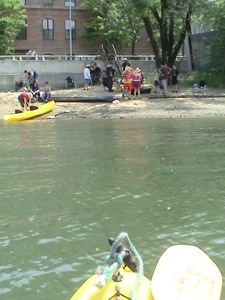 There were about 30 plus kayakers who showed up for the free rides. The crowd included individuals, couples, parents with kids. It's really a kind of a thrill to be able to get out onto the water, amid the city structures just off the urban shore, near a fairly busy river. Nature and the city together just a quick walk, bike / car / train / bus ride away. And it's free, compliments of the fine volunteers who make this happen [LIC Boathouse makes it easy to participate]. The LIC Boathouse offers Hallets Cove kayaking nearly every Sunday during the summer months, but it's dependent upon two important forecasts: 1) the weather - which is obvious and 2) the help of volunteers - which is less obvious and more difficult to forecast. While there's not much you can do about the weather, you can make things possible by volunteering.
LIC Boathouse Volunteers
The LIC Boathouse can accommodate far more than the thirty or so kayakers I saw on Memorial Day Sunday. On this day they launched six kayaks, but more can be launched with the help of additional volunteers. When there is a crowd that exceeds the 12 kayak seats [two per kayak], they ask that kayakers confine their rides to about 15 to 20 minutes, so that everyone gets a chance to go out onto the water. Visitors are welcome to go out more than once, by signing back in for another trip. When fewer people show, they let you go out for longer periods of time.
With respect to safety, anyone who kayaks really should be able to swim reasonably well. They do provide life preservers and they generally have one of the volunteers on the water, but in the end you're responsible for your own safety. That said, the water was warm and it was a hot day, and if I didn't have my camera and I wasn't working, I would have been very tempted to go in for a swim.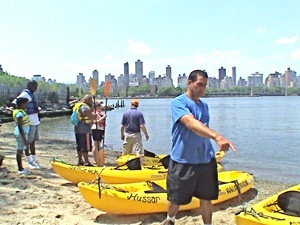 Ahoy! Man overboard!
Thanks To The LIC Boathouse Volunteers For Making Free Kayaking In Queens Possible
Many thanks to the LIC Boathouse volunteers. Featured in the large group photo above are the volunteers who picked up the kayaks and gear [left to right] are Shub Kudisya, Captain Ted Gruber, Wynne Parry, First Mate Paul Mallery, Long Shoreman Paul Bahn. In the fourth photo with the clip board is Lynne Serpe [center], and in the last photo up front is Wesley who moved the ramp into place. Click here to view a map to where the LIC Boathouse launches its kayaks in Queens on Sundays, and click the Sporting Events link in the Queens Events section of this site for details about LIC Boathouse Hallets Cove Kayaking in Long Island City Queens.
---
$element(adman,groupad,NHoodAstoria)$
Astoria Neighborhood Links
Click on these advertisements for promotions, discounts and coupons by retailers and restaurateurs in Astoria and nearby Queens.
Click this link to go to the:
Astoria Neighborhood or Astoria Business Directory
Astoria Real Estate or Events & Things To Do In Astoria
Restaurants In Astoria or Astoria Shops & Shopping
---
$element(adman,groupad,Catgry Queens)$
Site Search Tips. 1) For best results, when typing in more than one word, use quotation marks - eg "Astoria Park". 2) Also try either singular or plural words when searching for a specific item such as "gym" or "gyms".
$element(bwcore,insert_search,N)$
Click this link to search for something in our Queens Business Directory.
---
$element(adman,groupad,Sectional2 Ad)$
Click the log in link below to create an ID and post an opinion.
Or send this story to a friend by filling in the appropriate box below.
---