Flushing Town Hall
Flushing Town Hall Celebrates 150 Years Of Flushing History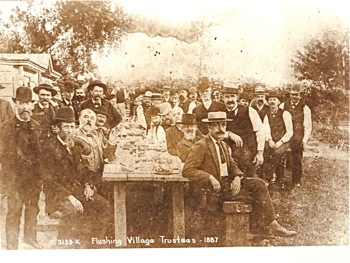 September 10, 2012 / Flushing / Queens History / Queens Buzz. I attended the opening celebration of Flushing Town Hall's 150th Anniversary Celebration. The proceedings included the first exhibit of all of the contents of a time capsule added to the building cornerstone in 1862, a slide presentation of the building history by an archivist, as well as remarks by many of the folks who helped bring about the restoration of the historic site beginning in 1990.
I also had the opportunity to meet some of the speakers and talk to them about their roles in preserving an historic building, while fostering one of NYC's 33 official cultural centers.
Click here to read more about the opening celebration of Flushing Town Hall and its 150th anniversary, including a reconstructed timeline and exclusive photos.
---
Flushing Town Hall
Flushing Town Hall Celebrates 150 Years Of Flushing History
September 10, 2012 / Flushing / Queens History / Queens Buzz. I arrived in time to hear most of the remarks of the archivist, Angelo A. Vigorito. He talked about the time during which the building came into being – first as a legislative act just months before the outbreak of the Civil War – and about the opening of it less than a year after the Civil War veterans would return home. The photo to your left is a slide of Flushing Town Hall presented by archivist Mr. Vigorito.
The History of Flushing Town Hall 1862 - Present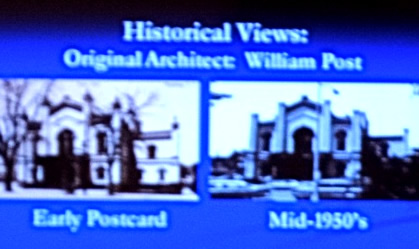 Flushing Town Hall derived its name from its first use, as the town hall. It served this function for nearly 40 years. After Flushing became a part of NYC – it became a court house – a purpose it served for another 60 years. FTH lied vacant for the 15 years after that, was then rented for another 15 years, and finally came under the stewardship of the Flushing Council on Culture & the Arts. Since then, the building has been revived as a vibrant cultural center, while preserving its historic roots. Betsy Enright and Howard Graf are shown standing next to a photo taken after Flushing Town Hall was first built in 1862.
Flushing Council of Culture & the Arts aka FCCA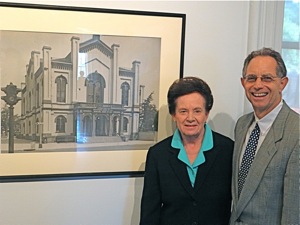 I spoke to three people about the building, each of who played a different role in the preservation of Flushing Town Hall. My interviews included Betsy Enright, Howard Graf and Ellen Kodadek. Betsy Enright is the longest serving employee of the Flushing Council of Culture and the Arts [FCCA]. She informed me that in 1979 Jo-Ann Jones started FCCA [Flushing Council on Culture & the Arts]. Ms. Jones retired in 2003 and is now deceased. Ms. Jones was a classically trained musician and member of the Oratorio Society.
Betsy had come to FCCA in 1985, shortly after FCCA had incorporated in 1983 and moved into an apartment building on 41st Street in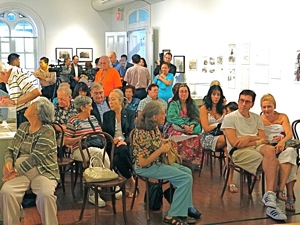 Flushing. Betsy's role has included grant writing, liaising with government officials and publicity. And she told me that FCCA stayed in that location until they were awarded stewardship of Flushing Town Hall in 1990. In the photo to your left are some of the folks who attended the opening of the fall exhibit at Flushing Town Hall.
Howard Graf is both a former and current Board President of FCCA and an architect. Given his role in helping direct the renovation that occurred from 1990 – 1999, he remembers the dates of the completion of the first floor [1995], the completion of the work done to the exterior of the building including roof & windows [1997] and the completion of the theater on the top floor in 1999.
Flushing Town Hall & FCCA Symbiosis
Ellen Kodadek is the current Executive & Artistitc Director of FCCA. She had introduced me to both of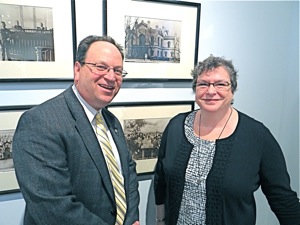 the people above and gave a short speech where she talked about how the Flushing Town Hall & FCCA have developed a symbiotic relationship that encompasses cultural programming and local / American history.
Ellen informed us that in addition to its primary use as a major cultural institution for Flushing, Queens and NYC – the Flushing Town Hall & courtyard are also rented for weddings & engagement parties. Ellen mentioned some of the kinds of activities that have been hosted by FCCA over the past year including Korean and Chinese art / history exhibits, jazz performances, classical music performances, classes of various cultural types, art exhibits & classes and dance performances. She also gave thanks to many of the government offices and officials who have provided support over the years. In the photo to your left stands Queens Deputy Borough President Barry Grodenchik and Ellen Kodadek, Executive & Artistic Director of Flushing Town Hall [also see special mentions below].
Flushing Town Hall & Flushing History - Timeline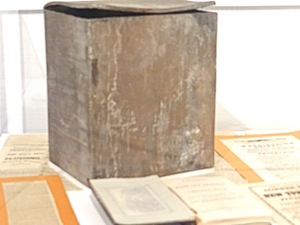 Included in the exhibit, were old photographs of Flushing on loan from the Queens Historical Society [QHS].
In the photo to your left is the time capsule that was buried in 1862 when Flushing Town Hall cornerstone was first laid.
The following is an historical timeline that encompasses Flushing proper since its founding as a municipality [see below].
Flushing Town Hall History
1789: First election in a school house
1837: Village of Flushing is created
1861: Act passed to create Flushing Town Hall
1862: Foundation & cornerstone laid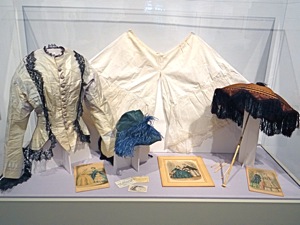 1864: Flushing Town Hall [FTH] opens
1893: Flushing Town Hall East Wing is added
1898: Flushing becomes a part of NYC
1902: Following incorporation into NYC, FTH becomes a court house
1938: Addition to north & east ends of building to provide jail cells
1960: FTH abandoned as court house and lies vacant until 1975
1967: FTH named landmark by Landmark Preservation Commission
1972: National Park Service adds FTH as historic site
1975: Building leased as dinner theatre / fails within year
1975 – 1989: Intermittent leasing by city to tenants
1979: FCCA founded by Jo-Ann Jones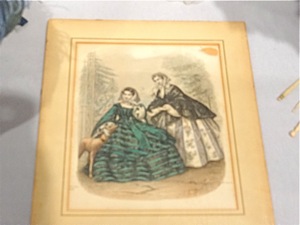 1990: Flushing Council on Culture & the Arts is awarded stewardship of the building
1990 – 1993: FCCA works to prepare the building for occupation
1993: FCCA opens building as cultural center for classical, jazz, opera, fine art, historic exhibitions and ethnic culture
1997: FTH designated official cultural institution of NYC
1999: Complete $8 million restoration project by finishing theatre
2003: FCCA Founder Jo-Ann Jones retires from FCCA
2004: FTH becomes affiliate of Smithsonian Institution
Flushing Town Hall is also one of the stops on the annual Flushing Historic House Tour that occurs every December. In December check our monthly events calendar for the dates and times.
Special Mentions - Flushing Town Hall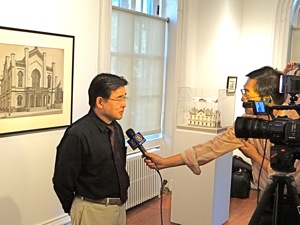 Special mentions were made in Ellen Kodadek's remarks about the efforts of numerous local government offices / officials, all of which / whom contributed to the saving of Flushing Town Hall. This is intended to be a sample of what I heard, not necessarily a complete list. Community Board 7, the Mayor's Office, the Borough Presidents Office, NYC Council of the Arts, NYC City Council, Landmarks Preservation Group and quite possibly others.
---
Flushing / Corona Related Info
$element(adman,groupad,NhoodFlush)$
Click here to go to the Queens NY History section of this site.
Click these links for promotions by advertisers in Queens.
Click this link to go to the Flushing Neighborhood.
---
$element(adman,groupad,Catgry Queens)$
Site Search Tips. 1) For best results, when typing in more than one word, use quotation marks - eg "Astoria Park". 2) Also try either singular or plural words when searching for a specific item such as "gym" or "gyms".
$element(bwcore,insert_search,N)$
Click this link to search for something in our Queens Business Directory.
---
$element(adman,groupads,Sectional Ad)$
---
Click the log in link below to create an ID and post an opinion.
Or send this story to a friend by filling in the appropriate box below.
---