Yoga In Astoria & LIC
The Yoga Room - Hot & Other Yoga Options In Queens
LIC / Long Island City & Astoria January 2, 2010. I started this story in September when I dropped in on the Yoga Room in LIC and met owner / founder Zhana who was busily working to finish her new studio in Astoria. She took a break from a myriad of commitments to introduce me to the facilities at The Yoga Room LIC studio [see photo to right].
Hot Vinyasa Yoga In Astoria
While touring the facilities we talked about Vinyasa and hot yoga, of which I had no personal experience with either. I had taken Sivananda yoga for a period of time in the nineties, as well as both Iyengar and Kundalini yoga in this decade.
Vinyasa yoga differs from the other forms in that the regimen includes a flow through of connected poses in concert with one's breathing. Each of the other forms of yoga tend to treat each pose individually. All of these forms of yoga, including Vinyasa, appear to be derivatives of Hatha yoga which originated with the Indian religion of Hinduism many centuries ago. In the past fifty years, many forms of yoga have become separated from the religion in this country as they have moved into the health and wellness mainstream.
Sivananda, Iyengar & Kundalini Yoga - Queens NY
Sivananda yoga is a non-proprietary form of yoga which is managed through a non-profit, and includes an entire regimen that covers breathing, exercise, relaxation and diet. Iyengar yoga focuses on asanas [exercises] during which the practitioner holds certain poses in a specific body alignment for extended periods of time, frequently using props to aid the precision and length of holding the poses. Kundalini yoga focuses on breathing and cultivating one's prana or life force through a series of poses during which one focuses on their breathing.
The Yoga Room In LIC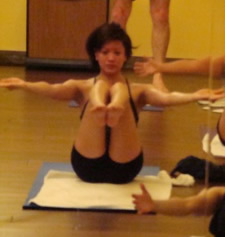 Having toured The Yoga Room in LIC, Zhana invited me to take a hot yoga class which I decided would be at the new studio in Astoria once it was completed. The Astoria studio was set to replace The Yoga Room's original studio which had been there for a number of years. Hence, on December 31st, I arrived to participate in the last yoga class of 2009 in a hot vinyasa class.
Zhana had informed me about what to expect in a hot vinyasa class, since I'd never taken one. She told me to take shorts and a tank T-shirt. She told me that most men take off the T-shirt before or shortly into the class. I would be given towels and a mat, and it was advisable to bring a large [24 – 48 oz] water bottle [you can also buy them there] as the studio is warmed to 95 degrees in hot vinyasa and one will perspire even if they just sit there.
Hot Vinyasa Yoga In Astoria
Sigrid was introduced to me as our instructor and she reiterated what Zhana had said. She also recommended that I try not to leave the room if possible, but rather to slow down or stop moving if I found my breath getting too close or found my heart pounding too hard, but ultimately encouraged me to use my own best judgment.
Showers are available for clients to use after class and there's a sort of communal cooling down room outside the classroom which nearly everyone seemed to use after class ended. Many of the class participants are from the neighborhood and many of them told me that they attend several classes per week [they offer a monthly price].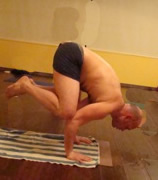 And so I changed into my shorts and into the hot vinyasa class I went. The walls and the floor were warm but not hot, like the side of a building on a warm summer day. I unrolled the yoga mat provided and noticed that many people had put a towel on top of it. I did the same.
Our instructor, Sigrid, was wearing a bathing suit, which I had actually thought to do, given how much we were expected to sweat. The room was like a comfortable sauna and into the yoga we went.
Yoga Poses & Exercises - In Queens
Sigrid, after taking stock of the class experience, began gently talking us through the poses in a continuous flow. We did familiar poses such as sun salutations, fish pose, downward dog, child's pose, bridge and tunnel pose and various side stretches the likes of with which I am familiar but cannot name.
She used a variety of music to help cadence the workout, ranging from country western by Dolly Parton to dance tunes by Michael Jackson as well as yoga style music. She had told us that the New Years Eve music selection had been made taking into account that this was the last class on the last day of the year.
At the end of the class she encouraged everyone to do whichever pose they most liked. To my surprise, many chose to stand on their heads.
Yoga Classes & Participants
After class we congregated in the cooling down room and various students conveyed their own experiences of coming to this type of yoga. All were pretty enthusiastic and one person told me how these classes took them from anger to calmness in an hour and a half.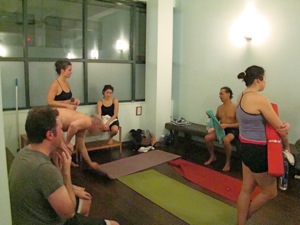 Both Zhana and Sigrid had told me that the hot vinyasa enables one to go deeper and more quickly into a pose and that the heat brings one more into the moment. I noticed that it did notch up the level of attention I paid to my body, because of the extra strain of the heat. And after the class I noted subtle movements in my skeletal structure, which came about from the relaxation of my alignment. As I walked home feeling rather calm and tired, I started thinking about crawling into bed. Unfortunately it was New Years Eve and I had plans to go out for the evening ... oh well, maybe next time.
The Yoga Room in Astoria is located at 38-01 35th Avenue in Astoria and they can be reached at this number 718.274.0255.
---
LIC Neighborhood - Long Island City Links
$element(adman,groupad,NHoodLIC)$
Click on these advertisements for promotions, discounts and coupons by retailers and restaurateurs in Long Island City LIC and nearby Queens.
Click this link to go to the:
Long Island City Neighborhood or LIC Business Directory
Long Island City Real Estate or Events & Things To Do In LIC
Restaurants In Long Island City or LIC Shops & Shopping
---
$element(adman,groupad,Catgry Medical)$
Site Search Tips. 1) For best results, when typing in more than one word, use quotation marks - eg "Astoria Park". 2) Also try either singular or plural words when searching for a specific item such as "gym" or "gyms".
$element(bwcore,insert_search,N)$
Click this link to search for something in our Queens Business Directory.
---
$element(adman,groupad,Sectional2 Ad)$
Click the log in link below to create an ID and post an opinion.
Or send this story to a friend by filling in the appropriate box below.
---