Woodside FDNY Memorial Service
Engine 325 & Ladder 163 Remember Fallen
Updated May 23 / April 17, 2010 / Woodside / Queens Buzz. Today I attended a memorial service dedicated to the men of the Woodside Fire Station who lost their lives in the line of duty. The service was held at St Sebastian's Roman Catholic Church in Woodside.
There were about one hundred people in attendance, most of whom appeared to have some connection with the firemen. The service was given by FDNY chaplin, Father John Delendick in collaboration with Father Gerard Sauer from St Sebastian's. Two firemen did readings prior to the chaplin's sermon. Click here to read the rest of the story about FDNY Memorial Service at St Sebastian's in Woodside.
---
Continued Updated May 23 / April 17, 2010 / Woodside / Queens Buzz. The chaplin gave a short speech about how the plaque honoring these men eventually melds into the background of the fire house. He noted that a memorial service briefly focuses our attention upon the supreme sacrifice made by these firemen. And that this is an opportunity to reflect upon the vocation for which we've all been called as well as to reflect upon what we have in common with these men. The commonalities he noted, were love of family and a dedication to community service.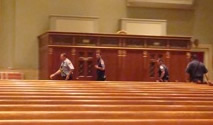 In the middle of the service a call came in. Several men hurriedly, but quietly left the church to answer the call [see them leaving in the photo to your right]. The service continued onto communion. After communion a third fireman rose to read the Fireman's Prayer.
The Fireman's Prayer – FDNY In Queens
When I am called to duty, God, wherever flames may rage;
Give me strength to save a life whatever be its age.
Let me embrace a little child before it is too late;

Or save an older person, the horror of that fate.
Enable me to be alert, and bear the weakest shout;
And quickly and effectively, put the fire out.
I want to fulfill my calling, to give the best in me;
To guard my every neighbor, and protect their property.
And if according to your will, I have to lose my life;
Please bless me with your protecting hand, my children and my wife.
Before the service ended several more men left the church hurriedly [see photo to right]. I assumed it was to support the men who'd previously left to answer the call. I took a few photos following the service and went back to the fire house to learn a bit more about the men to whom the service was dedicated and how they had lost their lives. And in this there's a bit of FDNY and New York history.
Woodside Fire Station Memorial Service - Slide Show
$element(ophoto,photo_slideshow,67,550,,5.00,fade)$
Woodside Firemen Remember – Deceased Firemen
Three of the men lost their lives in the Father's Day Fire of July 17, 2001. The fire occurred at a hardware store in Astoria at 11th Street and Astoria Blvd. Three firemen went in to ventilate, enter and search the burning building. While in the store, an explosion occurred, killing all three of them and injuring many others. The men's names were Ford, Downing & Fahey. One fireman noted that the first letters of the men's names F – D – F corresponded to the first letters
of the infamous name given the fire: Father's Day Fire. Downing came from the Woodside fire house, while Ford and Fahey came from the fire house on Queens Blvd at 69th Street. This fire provided the FDNY with its single biggest loss prior to 911.
Two of the men from the fire house had lost their lives in the World Trade Center tragedy on September 11, 2001. They were Gambino and Larsen. So did the prior FDNY chaplin, Father Michael Judge who was a Jesuit who perished in the towers [Editor's note: he is not from the Woodside fire house].
Three of the men had perished in a huge soap factory fire in Long Island City in October 26, 1962. Russell, Andrews and Marino were killed when a burning wall and ceiling fell upon them.
One fire man, Charles Willis, lost his life trying to save a suicidal person who was going to jump from a roof top. This event occurred on March 18, 1939.
Alan Sweet lost his life to a fatal heart attack he contracted just after successfully extinguishing a blaze on November 14, 1973.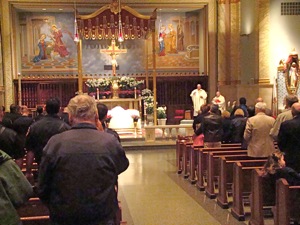 James Norcott died on November 23, 1995. While his plaque didn't include the epitaph statement, "Who made the supreme sacrifice in the discharge of his duties protecting life and property", he is said to have died of cancer which was believed to have been work related.
Lastly, there was James O'Donnell who perished in May 29, 1932. Nobody I spoke to seemed able to recall his story [nearly 80 years ago]. Several weeks after the service FDNY historian, Fredrick B. Melhan, sent me a transcript that showed that O'Donnell responded to a call on 38th Street and 31st Avenue, during which time he inhaled a lot of smoke. After they had put out the blaze, he returned to quarters, where hours later he was found dead.
The service was also dedicated to a Fire Captain, Thomas Breheny and a fire fighter, Kevin Cunningham: both of whom died outside the line of duty.
FDNY In Queens - Fire Fighting In The 21st Century
I pursued the story at the Knights of Columbus in Woodside where many of the firefighters had gone to attend a brunch. While there I conversed with some of the firemen and inquired as to what working in the FDNY is like today.
FDNY Engine & Ladder Designations
They explained to me the difference between the Engine and Ladder designations. The Engine denotes the crew that manages the truck, the water pump, the fire hydrant connection and gets the hose and nozzle to the fire. The ladder crew's job is to VES: Ventilate, Enter and Search. In the Jackson Heights four alarm fire a couple of months ago, one could have watched these Woodside fire fighters preserving and protecting lives and property [the Jackson Heights fire story may be found via the Jackson Heights events link on the left side bar or by using the site search function up top or at end of story].
Fire Fighters Are Certified First Responders
All fire fighters are required to have an CFRD certificate [Certified First Responder / Defibrillator]. The fire department is responsible as a first responder in a whole host of situations: from checking on fumes in someone's house, to auto accidents, to semi-truck or freighter spills, to fallen telephone or power lines; as well as responding to any sort of fire. In all of these situations, there's clearly potential danger and people may have already been severely injured. Hence the firemen try to keep the victim alive until they are transferred to an ambulance, doctor or hospital.
FDNY Facility At Randall's Island NY
I also learned that the fire department has a large facility on Randall's Island where they train new recruits, test the skills of the city's existing fire house staffs, as well as provide ongoing training programs. One of the men in attendance was Fred Melhan who is the FDNY's unofficial and perhaps even their official historian. He has compiled several books documenting the lives lost in the line of duty over the course of the FDNY's history since it began in 1799.
The Randall's Island Facility, affectionately referred to as 'The Rock' continues to upgrade its capability. Today the FDNY facility has high rise simulators to help FDNY personnel approach high rise fires like the one at the World Trade Center. Many other programs and equipment have been upgraded since 2001 through the use of donations received since then.
Today was a day of remembrance, which as the pastor said, was designed to help us remember these firemen and the supreme sacrifice they made. Thank you for spending the time to read this, as by having done so, you too keep alive their memory.
Also many thanks to Captain Jim Hay, Bob Long, Bob O'Neill, Fred Melhan, Lieutenant Reicherter, the FDNY and St Sebastian's for their help in providing me information and access on this story.
---
Woodside Related Sections. Click this link to go to the Woodside Neighborhood News / Woodside Restaurants & Sunnyside Restaurants / Woodside Shopping Center & Map.
Site Search Tips. 1) For best results, when typing in more than one word, use quotation marks - eg "Astoria Park". 2) Also try either singular or plural words when searching for a specific item such as "gym" or "gyms".
$element(bwcore,insert_search,N)$
Click this link to search for something in our Queens Business Directory.
---
Click the log in link below to create an ID and post an opinion.
Or send this story to a friend by filling in the appropriate box below.
---