Gantry Park & Queensbridge Park Memorial Day Weekend
Long Island City Queens NY / May 26, 2008. The temperature hit the 80's this Monday. It was a dry warm windy day. Everyone seemed to be out enjoying the fine weather. People were sunning themselves at Gantry Park on the East River waterfront as you can see to your left. Gantry Park is a two and a half acre park which has a beautiful solid dock that overlooks the United Nations Headquarters along the East River. There's also a playground and open fields. The park was opened in 1998 as part of a Long Island City development effort. Several movies has been shot here, including the ending to one I enjoyed, The Interpreter, starring Sean Penn and Nicole Kidman.
Queensbridge Park Recreational Area In Long Island City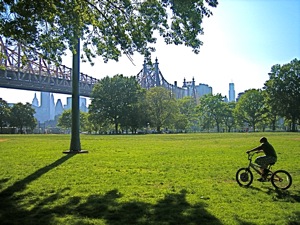 Up at Queensbridge Park, which is a bit further north along Vernon Blvd and the East River, families could be found grilling their dinners as you can see below. The park has a much more expansive field area and much smaller waterfront access area. The waterfront area is not very boater-friendly, so generally you will see people fishing there on a hot summer day. The fields are frequently used for baseball games, including league baseball, as well as pick up soccer games, kadeema and frisbee. The park was opened in 1939 as part of a government housing project, Queensbridge Houses, which has over 3,000 units. It is believed to be the largest federal government housing project still in existence.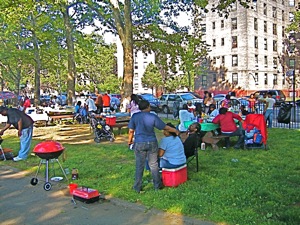 Gantry Park Queensbridge Park Long Island City NY - Related Links
Click this link to view a map of the Queensbridge Park in Long Island City, and a map of Gantry Park in Long Island City. Click this link to go to the Long Island City Neighborhood News / Long Island City Neighborhood Guide and Map / Long Island City Restaurants Guide & Map / Long Island City Shops Guide & Map / Queens & Long Island City Events / Long Island City Business Directory / Long Island City Shop Announcements.