LaGuardia Community College Pioneers New Ground ... Again
Boyce Technologies Hosts LAGCC President's Society Ten Year Anniversary Celebration
October 9, 2023 / NYC Neighborhoods / NYC Things To Do Events / Queens Buzz NYC.
A week ago from last Thursday, I attended a celebration of the President's Society at LaGuardia Community College in Long Island City Queens. The LAGCC President's Society is an innovative program designed to help high potential students reach their full potential. The event was held at Boyce Technologies, which is located nearby and designs and manufactures mass transit security and communications equipment.
The reason it was held at Boyce Technologies, is because they and LaGuardia Community College have developed a symbiotic relationship, whereby the school has become one of Boyce's leading suppliers of human talent [reportedly about 20% of their employees], while Boyce has become a significant employer of LaGuardia Community College graduates.
About 200 of the roughly 600 LaGuardia Community College President's Society members, who enrolled in the program over the past ten years, attended the event. This is a particularly remarkable number, when one considers that a number of the attendees came from other parts of the country just to attend this one evening event, and that LaGuardia is a two year public college, not a four year one.
The photo above was taken at the LaGuardia Community College President's Society tenth anniversary reunion at Boyce Technologies in Long Island City on Thursday, September 28, 2023.
---
LaGuardia Community College 10th Anniversary of the President's Society
Continued.
LaGuardia Community College & Boyce Technologies Symbiotic Relationship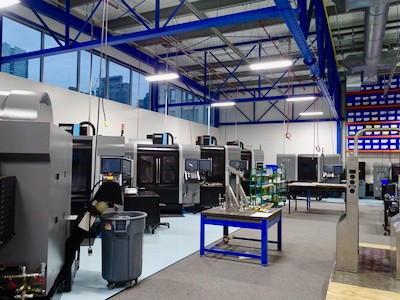 I arrived at Boyce Technologies, which isn't much more than a stone's throw from the parking lot at LaGuardia Community College. I was surprised to find myself entering one of the modern technology companies NYC has been working to cultivate within the city. I looked up Charles Boyce, the Founder & CEO, on LinkedIn where he describes Boyce as a maker of " ... custom manufacturing and designing of components for ... security systems, emergency preparedness equipment and (physics defying) RF systems integration...".
As I walked down the hall toward the back of the Boyce building, I passed a number of small offices on both sides of the hallway. When I arrived near where the center of party was, I found a very clean, expansive, high ceiling room, with a voluminous amount of open space, possibly an assembly / staging /shipping / packaging area. There were offices overlooking the area and segregated spaces on the main floor adjacent to it. Between one side of the hallway offices and the cafeteria, was another large room filled with a number of small unit, computer operated machines [see photo at right].
LaGuardia Community College - A Very Brief History
As mentioned, the gathering was well attended by the LaGuardia President's Society alumni. One of the things I most enjoy about LaGuardia Community Colege is the United Nations-like student body demographics.
I found LaGuardia Community College demographics in Wikipedia from 2011, which were subsequently updated by LaGuardia's Public Relations Department by directing me to the About section of the LaGuardia Community College website. They revealed the following: 23,000 students, of which about half were full-time and half part time, nearly half are Hispanic, from 133 different countries and speaking 62 different languages. About 88% of the student body are ethnic minorities. Perhaps the most impressive, of many, statistics in the About section was the following,
"... LaGuardia ranked fifth among U.S. community colleges in economic mobility – moving low-income students into the middle class and beyond – in studies by Stanford University (2017) and the Brookings Institution (2020)..."
LaGuardia Community College offers over 50 Associates Degrees or Certificates in the following areas of study - Business and Technology, Liberal Arts, Health, Math, Science and the Performing Arts. The photo at right, which shows the most recent graduates of the LAGCC President's Society, also evinces the incredible ethnic diversity of the LaGuardia Community College student body.
A brief history of LaGuardia is worth mentioning too. According to Wikipedia the school was founded in 1967 by the Board of Higher Education of the City of New York, which later evolved into the Board of Trustees of CUNY. LaGuardia Community College opened in 1971 in a refurbished Ford Instrument Company building on Thomson Avenue in Long Island City. This was intended to be a temporary location, as what is now Kaufman Astoria Studios, was intended to be its permanent home. But NYC sold that property during the early 1970's when the city was facing bankruptcy and working its way out of its financial troubles. CUNY itself was only founded seven years before LaGuardia Community College, by Governor Rockefeller, who merged a number of institutions into a whole. It's worth noting that CUNY is an NYC and New York State agency, as each government provides 50% of CUNY funding.
Kenneth Adams, the LaGuardia College President, is shown in the photo above right, addressing members of the LAGCC President's Society at their tenth Anniversary celebration at Boyce Technologies on September 28, 2023.
LaGuardia Community College President's Society
At the reunion, there were ten large placards on easels, each showing a different President's Society Member Class. I photographed most of them, but as it was crowded, I missed one, which was the first year [see photo slide show]. The students were chatting with each other and their mentors, while grazing on hors d'oeuvres made by the Boyce kitchen staff with the help of LAGCC Nutrition and Culinary Management students, who also served the hors d'oeuvres. The hors d'oeuvres were so good, I am considering applying for a job there, just to partake in the meal plan.
Midway into the event the current LaGuardia College President, Kenneth Adams and his predecessor, Dr. Gail O. Mellow got up to address the crowd and welcome the graduates back. Their remarks were followed by folks I would characterize as the 'proud parents and aunts' of the President Society program - Karen Dubinsky, LaGuardia's chief engagement officer, a President's Society Founder and director of the President's Society; Robin Barsky, a President's Society Founder and longtime friend of LaGuardia; and Elyse Newman, former (retired) student engagement director for LaGuardia [see the three of them in the photo below right]. It's worth noting that Dr. Gail O. Mellow is also one of the three President's Society Founders [see photo at right].
After the remarks I mingled a bit with some of the speakers and graduates. Their pride in the President's Society was nearly tangible and with good reason. A whopping 95% of President's Society members graduated with their Associates degrees from LaGuardia Community College, while 88% went onto four year colleges where they have graduated or are in the process of earning their degrees. Many of the graduates went onto four year colleges, including the CUNY senior colleges, as well as some of the top four year schools in the nation, such as Columbia, Cornell, Amherst, Stanford, Wellesley, and Brown.
In the photo below right, you can see a number of returning LaGuardia College President's Society graduates alongside President's Society Director Karen Dubinsky (in green) and LAGCC President Kenneth Adams (in tie) with President's Society alumni (from left to right) Usha Chitbahal, Unique Upreti, Swekchha Luitel, and Eddy Li. This photo was provided by LAGCC Public Relations.
The whole notion of the President's Society, and the support and programs associated with it, is to nurture LAGCC students to reach their full potential. As a member of the LaGuardia College President's Society, students have access to workshops about interviewing, resume writing, and get help with their presentation and social skills. The program also includes networking opportunities, enabling students to meet with professionals from all walks of life. They are also provided with opportunities to develop their leadership skills through events associated with representing the college. And they are provided with opportunities to go on cultural outings to museums, musical events, as well as dance and theater performances in order to broaden their world view and capabilities.
The President's Society also seems to serve as the seeds of an alumni association for the two year college, which might be a first in the city, possibly the state, and maybe even the nation. I inquired around at the celebration, but nobody had a sure answer as to whether this was a first, except that they weren't aware of any other similar programs at other CUNY community colleges. When I returned to the office I took a quick look online and found an April 2021 report on https://www.league.org that encouraged community colleges to take a more active role in engaging with alumni, including via mentoring programs like the LaGuardia College President's Society. It seems LaGuardia is ahead of the curve in this effort.
LaGuardia Community College - Dare To Do More
After I left the Boyce building, and started walking back to Queens Blvd, I passed by the back of the main LaGuardia Community College building. There atop the building was an expansive neon sign, shining brightly in the evening light, emblazoned with the college name [see photo at right].
As I viewed it, I mused over the celebratory evening. I considered for a moment, the college slogan, 'Dare to Do More'.
It seems to me, they take their slogan pretty seriously.
---