LIC Jazz Festival Finds Its Rhythm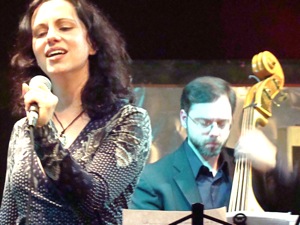 March 28, 2010 / LIC / Queens Buzz. I just returned from the first LIC Jazz Festival. It was a cold, dreary, drizzly day as I arrived at the Secret Theatre's entrance.
Outside the theater, atop the loading dock, there was a smoking barbeque. People were milling around, engaged in casual conversations about music and musicians: Miles Davis, Jimmy Hendrix, Bix. Many were musicians themselves, and there were also artists, actors, actresses, and of course quite a number of people like the rest of us who were there to take in some good music.
This was the first LIC Jazz Festival, and the first jazz festival in Queens in the 21st century. The Long Island City event producers and promoters had signed up talent from around the borough to play througout the entire day. Click here to read more about the LIC Jazz Festival, including numerous photos.
---
LIC Jazz Festival - continued
Jazz Festival & Photo Exhibit - Secret Theatre LIC
March 28, 2010 / LIC / Queens Buzz. Continued As I entered the lobby I noticed a new photography exhibit by photographer / musician Peter MacNamara. The photos were of famous jazz
musicians, mostly playing wind instruments at clubs in the NYC metro area. They were taken on black and white film about twenty or thirty years ago. This was the first time these photos were being shown to the public [and for sale starting at $200 - one is to your left].
I bumped into Gustavo Rodriguez and Richard Mazda the collaborators who produced the show. I could tell they were happy about how the musicians had played and how the crowd of some four hundred people seemed to enjoy the day long festival. People had come and gone througout the day, while every hour another group of musicians performed on the stage of the main theater at the Secret Theatre in LIC in Queens.
Island Hopping – Brazilian Jazz In LIC
I had arrived just in time to see the last few performances. The first gig I heard was by the Hiromi Suda Trio. The trio performs Brazilian influenced jazz, which has a calypsonian rhythm.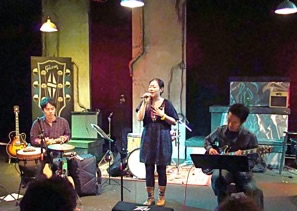 The jazz trio included Hiromi doing the vocals, Hiroya Tsukamoto playing guitar and Keita Ogawa playing percussion and drums. Hiromi's voice was silky, soft and soothing; and with her accompaniment, they sambaed us down to the islands.
I looked around to see a smiling, easy going twenty to forty something crowd, moving with the music. The main theatre was pretty open, so people moved in and out fairly freely and there was a woman serving beverages to thirsty members of the audience. Near the end of the first performance I stepped out for a bit, to mingle with other members of the audience.
Broadway Musicals Come To LIC
The next act was of a different nature. David Shenton and Erin Shields performed a medley of classical Broadway show tunes, that included songs ranging from Gershwin to Barbara Streisand. Erin's voice was a sound to behold. It's rich lustre filled the chamber, making me feel like I was actually watching a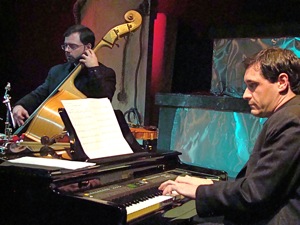 Broadway show. Erin also sang a song that Renee Fleming sings [she's an American soprano opera singer] and she did it in a fashion that filled the house with her operatic voice, hitting the high notes and hitting the low notes with equal aplomb. The sound waves were so clear that it even tingled. Bravo.
David Shenton composed and arranged the music performed by the group, which also included Rudolph Van E on the guitar and Mark Wander playing the bass [the last names are based on what I heard and likely are not spelled correctly]. David's fingers tickled those ivory keys in a manner that I have not witnessed in a long, long while. They danced, dazzled and dallied, rolling up and down the keyboard.
Classical Concert Quality Jazz Musicians In LIC
I was standing outside the concert hall, talking to a few new found friends when I heard some really great jazz emanating from the chamber. While it was late in the day and I had planned to go home, I couldn't leave without hearing the rest of this set by the Claude Diallo Situation.
Claude is a Swiss pianist and composer who recently moved to LIC. He's a world class composer and the two other members of his group are also accomplished musicians in their own rights, having played at top concert halls or with nationally known talent. The first piece they played reminded me of the Pat Metheny Travels album; but as it progressed I could hear an old tune of Cole Porter's [Night and Day] which became more noticeable toward the end of it. This first piece was a composition that Claude had created and arranged himself. It was a nice jazzy mix of piano, bass [by Luques Curtis] and drums [by Massimo Buonanno].
The next piece was a Brazilian jazz composition. I watched as Claude grooved to the music. Constantly tapping his feet, bobbing his head, swirling his hands and arms … his whole frame shaking to the beat as he banged away on that piano, filling our ears with a little jazz magic.
But it didn't end here. He and his group played another piece he'd composed for the international Montreaux Jazz Festival in Switzerland. But alas, even though Claude & company had just wound us up, the festival was beginning to wind down and it would soon be time to leave.
LIC Jazz Festival In Queens - The Home Of Jazz
Based on what I heard from everyone at the festival - audience, musicians and producers alike - the festival was a great success and likely to come 'round again. In the photo to your left are the two producers of this event, Richard Mazda and Gus Rodriguez as they watch and listen to a performance. The LIC Jazz Festival may one day contribute to Queens reclaiming one of its old monikers, which was that "Queens is the home of jazz".
Be sure to check our Queens Events calendar which is a monthly posting of 50 - 100 cultural events in Queens which is updated weekly.
---
LIC Jazz Festival & LIC / Long Island City Queens - Related Links
Click this link to go to the LIC - Long Island City Section / LIC - Long Island City Restaurants / LIC - Long Island City Shopping Center & Map.
Email This To A Friend: Scroll down and fill in the box / form below.
Site Search Tips. 1) For best results, when typing in more than one word, use quotation marks - eg "Astoria Park". 2) Also try either singular or plural words when searching for a specific item such as "gym" or "gyms".
$element(bwcore,insert_search,N)$
Click this link to search for something in our Queens Business Directory containing over 1,000 listings.
---