Illusion Or Reality?
Fun Photography Exhibit At Topaz Arts - Woodside

May 8, 2010 / Woodside / Queens Buzz. I visited Topaz Arts Saturday night to view the new photographic exhibit that opened tonight with a reception. I met the artist, Satomi Shirai, a long lithe Japanese woman who'd arrived on our shores some six years ago. She's currently working on her MFA [Masters of Fine Arts] at Hunter College in Manhattan and her photography is currently being featured by Topaz as a one woman show.
I wandered the gallery, perusing her work. The exhibit includes about ten, large framed photographs; thoughtfully chosen and carefully placed for the show. On my own, I couldn't really figure out what she doing with her work, so I asked her to help me understand by commenting on it.
Click here to view / read the rest of the story about the Home and Home photography exhibit at Topaz Arts in Woodside.
---
Home and Home - Photography by Satomi Shirai
Home and Home Opens At Topaz Arts
Continued We started with a photo where her legs and hands are obviously in the photo, as she's ostensibly eating a Japanese meal, in a sort of messy kitchen / dining area. I asked and she confirmed that she'd done this self-inclusive portrait using a timer. "What's this photo about?" I asked. She explained to me that the Japanese food was an ongoing connection she had with her home culture, even as she made her home in an apartment in Queens, NY. Ah, yes, the title of the exhibit is 'Home and Home', I thought.
Self Inclusive Photos Explore
We moved onto another self-inclusive portrait, where she was dressed in her underwear and a T shirt standing atop the kitchen counter,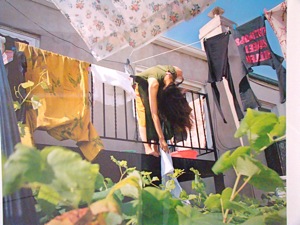 one foot extended out while the other balances her on the countertop, as she reaches for something along a top shelf. Again there was a sort of clutter to the room. "And this one?" I asked. "What's going on here?" She explained, "Here I am cleaning. Doing household chores.". In another photo you could see her laundry hanging from her balcony, and she along with it. It was if her whole being had been hung over a rail to dry – just like a towel. One thing I began to understand about Satomi's work is that she has a fun, playful sense of humor, a bit like an American. And in keeping with her Japanese roots, her sense of humor is a subtle one.
The Geo Spatial Divide & Ethereal Connections
We moved onto a beautiful photograph of cherry blossoms in Central Park this Spring. She had gone out one day to enjoy the Spring weather, like she had done many times while living in Japan. But unlike at home where the park would have been crowded with people, here she found herself alone amidst of all of this natural beauty. Included in the photo was her Japanese lunch.
Illusion And Reality - The Homes Within Our Minds
Along the far wall there were a couple more photos. These appeared to have been taken in a different apartment than the one shown in the first photos. And, in fact, they were. They were taken inside a doll house that Satomi had constructed and then furnished using miniature Japanese items she'd picked up on visits to her home country, as well as online. She explained to me that in Japan there's an interest in all things small, like the bonsai tree. The dollhouse she used for the photo used to be inhabited by an all American couple: Barbie and Ken.
She used the dollhouse and the miniatures to create an incredibly believable messy apartment, stocked with Japanese goods. Her work is definitely playful and I chuckled inside thinking, 'Home inside Home'. Now she was playing with us, the audience, challenging us to decipher illusion from reality in her photographs.
Topaz Arts Evolution
I asked Paz Tanjuaquio, one of the curators [and also Topaz Arts co-founder], how she'd come to discover Satomi. Apparently many years ago they'd met while Paz was on an exchange program in Japan; and the two women had kept in contact with each other ever since. Paz followed Satomi's work and recently the two decided the time was right for Satomi's solo exhibit.
While viewing the photos one observer remarked that he liked "being confused" by the photos, as he noted that in some photos it was difficult to determine whether the photo was a taken of a room in a dollhouse or in a real apartment. A discussion ensued about how movie producers create and film reality-based miniatures as well.
Fun, Photos & The Evolution Of The Arts & Community In Woodside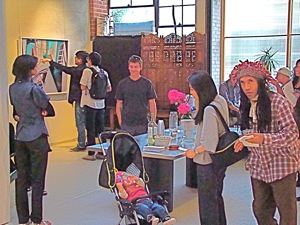 The wine and cheese reception was lively and fun. Paz and Todd Richmond [also co-founder of Topaz Arts], have been slowly building a sense of community here, as more and more people return to Topaz Arts exhibits and performances. Just to give you a sense of the people I met in the hour or so that I was there: a multi-media man, a stained glass artist, a middle eastern belly dancer and another photographer.
The exhibit runs through June 13th and the photos are for sale. Viewing hours are by appointment. The next Topaz Arts event will be a modern dance performance held on Saturday, June 5th. Check the 'Members Calendar' for details [to be posted soon]. You may also use the search engine to find other reports about prior programs at Topaz Arts.
$element(ophoto,photo_slideshow,71,550,,5.00,fade)$
---
Woodside Related Sections. Click this link to go to the Woodside Neighborhood News / Woodside Restaurants & Sunnyside Restaurants / Woodside Shopping Center & Map.
Site Search Tips. 1) For best results, when typing in more than one word, use quotation marks - eg "Astoria Park". 2) Also try either singular or plural words when searching for a specific item such as "gym" or "gyms".
$element(bwcore,insert_search,N)$
Click this link to search for something in our Queens Business Directory.
---
Send this story to a friend by filling in the appropriate box below. Or click the log in link below to create an ID and post an opinion.
---