Performance Art - The Geometry
Melange of Music, Sound, Light & Theater At The Chocolate Factory LIC
March 25, 2010 / LIC / Queens Buzz. Last night at the Chocolate Factory Theater in LIC, I watched the dress rehearsal of Object Collection's production entitled The Geometry. It was a fun and very interesting mind stimulator. A sort of sensory overload, of different actors engaged in their own worlds, but somehow operating as an organic whole.
But the acting was just one layer of the production, as music and sound were woven into the performance fabric. The music a medley of instruments and objects, with an overlay of voices and vocals by the actors and musicians. The costumes and lighting complemented the mental food feast - feting the senses beyond their capacity. And the words were a sort of subconscious philosophical chaos which washed the daily mental garbage right out of my mind.
---
Geometry @ The Chocolate Factory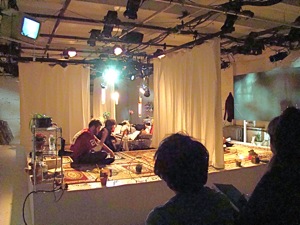 March 28, 2010 / LIC / Queens Buzz. Continued. I arrived late for the last couple of dress rehearsals for The Geometry. The Geometry is an original work being performed at the Chocolate Factory Theater in LIC, which from the onset, I found to be an engaging performance.
I stood in the back of the theater taking it in for a while before sitting down. The stage was separated into four sections, or quadrants, by four white curtains, which the four actors opened, closed and permeated at will.
Avante Garde Theater In LIC
Each actor seemed to dominate one section at a time. But there was plenty of movement between the sections too, as the actors rotated around the stage moving through each section, also moving back and forth between them, and doubling up in one section after vacating another.
In the midst of all of this movement, each performer acted out small vignettes. A woman and a man under a clear plastic tarp, representing some sort of medical condition? A man in a long coat with a hat and a banana, representing a pervert? Another man cutting and caring for his plants. A man eating an apple. A woman sitting, then standing, looking straight at me. Men walking with canes. People lying down. A woman washing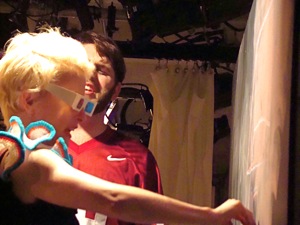 in a tub. A man and woman working at the chalk board. Darkness and light as people rush around the stage.
These solo and duo vignettes, enacted within the stage sections marked out as quadrants were only one multi-dimensional layer of The Geometry. The Geometry had a matrical theme to it. While separated by these quadrants, and manufacturing individual scenes by themselves, these actors were a part of a whole, similar to the asynchronous sounds that sometimes accompanied their movements, which stood alone and were yet part of a larger composition.

Avante Garde Sound In LIC - The Geometry
The accompanying sound track was a mix of strings, winds, vocals and computer generated effects. At times operatic, and at other times like the sounds in a Bartok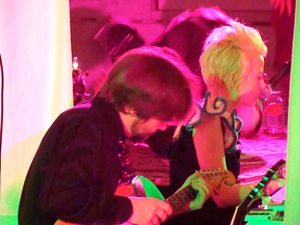 concert, the acoustical accompaniment played a superb role in supporting the theatrical expression of the production's theme. For as disparate the sounds sometimes were, they were also clearly a part of an acoustical whole.
I enjoyed the angelic hymns sung without words, and the strings of the guitar, which complemented the sax and accordion. All the while the actors went from the mundane practices of the day-to-day, to emotional outbursts of anger and crying, defining in a way, the sort of emotional and temporal existence through which we all travel.
Modern Theater In Queens - Chocolate Factory LIC
The lighting effects also added texture to this production. There was a mix of big white lights, soft tiny white lights and various lighting colors including blue, green, red and yellow. The lighting supported the theme by separating the actors with their own uniqueness, but tying them in The Geometry of the whole.
And within The Geometry there was a highly philosophical exposition. Throughout the performance words and phrases were strung together in a sort of subconscious poetry that conjured up all sorts of technical, natural and philosophical concepts and images that stimulated my mental processes.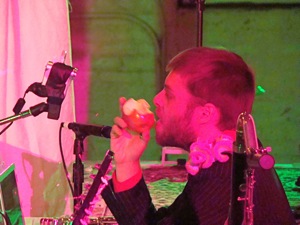 What I found refreshing was that by hearing these words and phrases alone, without having to hear all of the attendant issues and judgments that have attached themselves to these words, the performance acted as a sort of exorcism of some of the modern day mental garbage that seems to accumulate in one's mind.
Poetry In Theater - At The Chocolate Factory
Here's a sampling of some of the lines: "Breakfast table 0.0091 C T collagen rockets immortal consciousness spiders frogs grass foxes honey leopards tigers cruelty bats point fingers at each other hologram of luminescence integrating satan local but not after death flowing electricity form movement silence void nothingness organic fire hallucinations people from within outsource universal energy waves melt around you shadows spirits lord be merciful."
And another exposition went something as follows: "I'm in your bed, I'm in your food, I'm in your ear, I'm in your car, I'm in your boyfriend, I'm in your mind, I'm watching your …"
Although one could intuit the last exposition as something about the universality of energy, I couldn't help but think about it as the mass media / commercialism that permeates us constantly, not even allowing us a few precious moments alone in a cab. I'm sure one could come up with other analogies, likely depending on what other themes are swimming around in one's consciousness or subconscious.
The Geometry - Chocolate Factory LIC Queens
The performance of The Geometry seemed to have many analogies to modern art itself. Like modern art, which set aside the traditionalism of recreating what one could see, and pushed to create artistic expression beyond that. Similarly, The Geometry pushes aside the traditionalism of set themes, roles, stories and musical structures associated with most traditional theatrical productions and creates something quite asynchronous ... something new.
They say that beauty is in the eye of the beholder. And that one thousand different people might interpret a Picasso one thousand different ways. So too with The Geometry, but I found it to be a performance of philosophy in motion.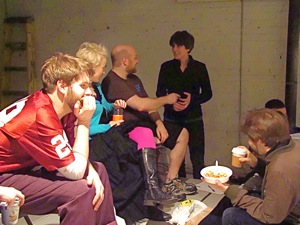 In photo to the right, Jennifer Walshe, composer, is second from left and Kara Feely, Director, is standing center amidst cast. Below left, the stage manager and a key technical staff member monitoring the production.
Also kudos to Brian Rogers and Sheila Lewandowski of the Chocolate Factory Theater of LIC for finding and supporting such innovative work.
---
Chocolate Factory & LIC / Long Island CityQueens - Related Links
Click this link to go to the LIC - Long Island City Section / LIC - Long Island City Restaurants / LIC - Long Island City Shopping Center & Map.
Site Search Tips. 1) For best results, when typing in more than one word, use quotation marks - eg "Astoria Park". 2) Also try either singular or plural words when searching for a specific item such as "gym" or "gyms".
$element(bwcore,insert_search,N)$
Click this link to search for something in our Queens Business Directory containing over 1,000 listings.
Send this story to a friend by filling in the appropriate box below.
---