St Pat's For All Parade Photos
St Pat's Day Parade Growing In Stature
Sunnyside / March 8, 2010. By all accounts the St Pat's Day Parade in Sunnyside and Woodside was a big success. We estimate that on this fine day the audience count was easily in the thousands [two to three thousand is our estimate]. This was significantly up verus last year, quite possibly due to the nice sunny weather which included temperatures in the fifties, although there was a cool breeze.
The St Pat's For All Parade in Sunnyside and Woodside has been in existence for eleven years now. It's interesting to note that the parade legacy only goes back little more than a decade, given that Sunnyside and Woodside were considered the Irish sections of Queens for the better part of the last century.
The parade began out of a controversy in the late nineties. The Manhattan St Pat's Day Parade forbid non-heterosexuals to march in their New York City parade. See the rest of the story below.
---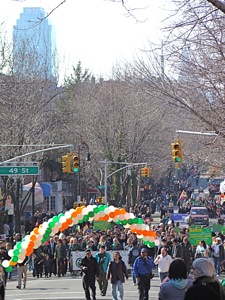 St Pat's For All Parade 2010
Parade Embraces Human Diversity
Sunnyside & Woodside / March 8, 2010. Continued from the Sunnyside Front Page.
It's ironic that the New York City St Pat's parade took a more narrow view of things, while the small, local town of Sunnyside in Queens took a more open approach to the parade. But I suppose, given that Sunnyside is located smack dab in the middle of the great American melting pot [Queens], where all peoples of the world meet, live and work side by side, perhaps it shouldn't be so surprising.
Actually, in many ways, Queens is far more ethnically and economically diverse than Manhattan, and in those respects as well as others, Queens is far more cosmopolitan than Manhattan. The discriminatory practices of the St Pat's Day Parade in Manhattan is only one such example.
St Pat's For All Parade - Originations & History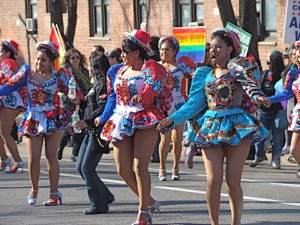 The St Pat's For All Parade takes its cue from the Proclamation Of The Irish Republic on Easter of 1916. Within the Proclamation it stated that its intent was "cherishing all children of the nation equally". As you will note while viewing the photos, included in the parade are Latin and Asian groups.
Here's a slide show of the parade, including some of the pre-event speech making by the City Council Speaker Christine Quinn, Mayor Michael Bloomberg, City Comptroller John Liu, and a couple of the newly elected city council men, Jimmy Van Bramer of Sunnyside and Daniel Dromm of Jackson Heights.
To speed up viewing, simply click on the forward arrow to select the next photo. Or click here to go directly into the St Pat's Day Parade 2010 Sunnyside Woodside photo album.
$element(ophoto,photo_slideshow,64,550,,5.00,fade)$
St Pat's Parade Queens 2010 - More Information
A history of the parade, including other information about the event organizers, how to participate in the parade and how to contribute to the parade may be obtained by clicking this link to the St Pat's For All website. Click here to view a St Pat's Day Parade Route map.
---
Sunnyside Related Sections. Click this link to go to the Sunnyside & Woodside Neighborhood News / Sunnyside Restaurants & Woodside Restaurants / Sunnyside Shopping Center & Map.
Site Search Tips. 1) For best results, when typing in more than one word, use quotation marks - eg "Astoria Park". 2) Also try either singular or plural words when searching for a specific item such as "gym" or "gyms".
$element(bwcore,insert_search,N)$
Click this link to search for something in our Queens Business Directory.
---
Click the log in link below to create an ID and post an opinion.
Or send this story to a friend by filling in the appropriate box below.
---