Photos - 5 Boro Bike Ride In Queens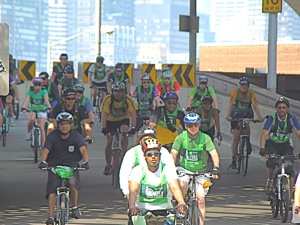 May 2nd, 2010 / LIC & Astoria / Bike Rides in Queens / Queens Buzz. It was a sunny, hot, humid morning as I biked my way over to the Queens Boro Bridge to watch 30,000 Five Boro Bike Riders descend into Queens.
None of them seemed to be having any difficulty, as they made their way up 21st Street to Astoria Park. I followed along and shot some photos and it's worth saying that 21st Street is in need of some repair. It's a rumbling road that one would expect to find in a third world nation, not along the East River waterfront of America's largest city.
Click here for a few particulars, a slide show and 5 boro bike ride photos 2010 in Astoria Park and Queens.
Click here to view our report on the 5 boro bike tour in Queens.
---
Photos Of 5 Boro Bike Riders 2010
Photos & Slide Show Of Five Borough Bike Riders In Queens 2010
Continued May 2, 2010 / Astoria / Queens Buzz. The bikers started arriving early this morning, having left Battery Park in Manhattan between the hours of 7.30 and 9 am. They worked their way north past Times Square where there was a car bomb threat that began at 6.30 pm Saturday evening when an SUV was found with propane tanks, explosives and a detonator.
On their way into Central Park on a glorious morning they biked and on into Harlem, over the Harlem Bridge into the Bronx where they winded their way back and made their way down along the FDR along the East River before crossing the bridge into NYC's largest borough - Queens [over 100 square miles]. That's where I picked them up and started taking photos of the 5 boro bike riders of 2010. I rode with them up to Astoria Park, taking photos of the intrepid bike riders along the way. Everyone seemed to be in a good mood. Some stopped along 21st Street at bodegas to get a drink or snack, while most made there way up to Astoria Park where they had a regular camp set up.
$element(ophoto,photo_slideshow,69,660,,5.00,fade)$
As we came in along and under the RFK Bridge there was a spokesperson with a megaphone instructing cyclists where they could find water, snacks, toilets, medical assistance and bike repairs. Again I shot photos of the cyclists taking a breather, preparing to bike the rest of the ride. All in all it was a very orderly scene given the constant stream of cyclists entering Astoria Park.
Finally I made my way through the circus where I found the exit through which there was a pretty good stream of cyclists making their way out. The slide show below provides photos of the bike riders / cyclists of the five 5 boro bike ride in Queens.
---
---
$element(adman,groupad,Catgry Bikes)$
Astoria / LIC Neighborhood Links
Click on these advertisements for promotions, discounts and coupons by retailers and restaurateurs in Astoria and nearby LIC.
Click this link to go to the:
Astoria Neighborhood or Astoria Business Directory
Astoria Real Estate or Events & Things To Do In Astoria
Restaurants In Astoria or Astoria Shops & Shopping
Click this link to go to the:
Long Island City Neighborhood or LIC Business Directory
Long Island City Real Estate or Events & Things To Do In LIC
Restaurants In Long Island City or LIC Shops & Shopping
---
$element(adman,groupad,Catgry Realestate)$
Site Search Tips. 1) For best results, when typing in more than one word, use quotation marks - eg "Astoria Park". 2) Also try either singular or plural words when searching for a specific item such as "gym" or "gyms".
$element(bwcore,insert_search,N)$
Click this link to search for something in our Queens Business Directory.
---
$element(adman,groupad,Sectional2 Ad)$
Click the log in link below to create an ID and post an opinion.
Or send this story to a friend by filling in the appropriate box below.
---