Shaving the Stache & Making the World a Better Place, One Human at a Time
Benefit for Quality Services for Autism Community [QSAC] at the Redken Saloon Salon in Astoria, featuring Art 4 Healing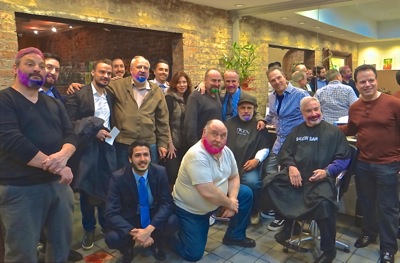 January 10, 2017 / Astoria Neighborhood / Queens Neighborhoods / Queens Buzz.
It was the first weekend night of the New Year, which after the relaxing holidays generally tends to be fairly low key. The streets were quiet on a clear, cold January evening as I made my way up 30th Avenue toward Steinway Street. I didn't really know what to expect at the Shave the Stache benefit at the Redken Saloon Salon, where the event has been hosted for the past five years.
Unlike the silent streets, the Redken Saloon Salon was bustling with life when I arrived. I was warmly greeted by members of the Quality Services for Autism Community [aka QSAC], as I made my way into the salon.
William Balash: Man About Town
One of the first people I met was William Balash. He's a big man, who at the time, was sporting a hearty crop of whiskers, which he told me he'd been growing since October. He introduced me to Patricio Barrientos, External Affairs Coordinator of QSAC, who provided me with a bit of background information about the group, including that it was founded in 1978 by Queens parents of children with autism who were searching for more productive ways to raise autistic children, than were currently available at the time. Today QSAC serves 2,100 people with autism in NYC and on Long Island.
In the photo at right are the men who had their whiskers shaved, alongside those who shaved them. Back row from left to right are: Mike Christoforotos, Spiro Aganastopoulous, Janos Kanta, Nicholas Halvatzis, Jerry Crisafis, Joe Vaccaro, Sofia [hair stylist], Ken Marzocco, and Paul Halvatzis. The two men kneeling are Nicholas Zikos and Bill Balash, while the two men seated are Steve Sirgiovanni and Larry Litwack, with Redken Saloon Salon owner Frank Arcabascio standing between them. Last, but not least, is Jim Halvatzis standing far right.
Art 4 Healing Obtains Art Donations for Benefit Auctions
William and Patricio introduced me to Katrizyna [aka Katrina] Kozena, of Art for Healing NYC. Katrina told me that the group was founded circa 2001 and gets artists to donate works which are auctioned off at fundraising benefits to help those in need. The proceeds from the auctioned art are shared by both non-profits and the artist receives free publicity. Art for Healing doesn't provide art therapy, which oftentimes includes interpretation of artworks after they've been completed; but rather Art 4 Healing uses art as a means of enabling people to emotionally connect with themselves in ways that may not be available in daily life.
Katrina showed me the work being auctioned off this evening, which was a wood painting by a Latin American artist. The artist's name is Angelo Romano who currently lives and works in NYC, but is a Spanish artist immigrant from Latin America. The work was a hand painted wooden totem pole – acrylic on wood. In the photo at right is Katrizyna Kozena of Art4Healing.org.
Click here a bit later today for the rest of the story including more photos and video about Shave the Stache benefit for QSAC in NYC.
---
Shaving the Stache & Making the World a Better Place, One Human at a Time
Benefit for Quality Services for Autism Community [QSAC] at the Redken Saloon Salon in Astoria, featuring Art 4 Healing
January 10, 2017 / Astoria Neighborhood / Queens Neighborhoods / Queens Buzz. Continued.
Quality Services For Autism Community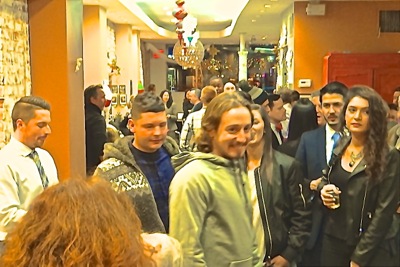 I soon met Joseph Amodeo who is the Sr. Director of Development Strategy for QSAC who told me a bit about some of the fundraising efforts conducted by the organization including a Bowl-a-thon at Jib Lanes in Flushing on March 18th, 2017. Both Patricio and Joseph provided me with additional information about the organization which I supplemented with a bit of online research. The photo at right shows people attending the Shave the Stache benefit at the Redken Saloon Salon in Astoria.
Quality Services for the Autism Community [aka QSAC] has programs designed to help families enable their children to do more for themselves as well as the community. QSAC offers emergency fund assistance for unexpected crises as well as reimbursement options for some of the things not covered by other government / private / social programs. The organization also provides respite services in the home as well as overnight stays away from home, to provide a bit of a break to the caregivers. And QSAC helps families find and coordinate services to help children with autism, as well as providing offsite "home environments that foster independence, community integration, individualization and productivity".
Fashion Forward 2017: Colored Whiskers
There was music playing quietly over the sound system, as a bustle of activity began in the salon. After enjoying some pizza, pasta and kebabs - accompanied by drinks from the bar - the hearty whiskered men started appearing with colored beards and mustaches, wondering out loud whether the dye would come off. Ho, ho, ho – wouldn't that be funny? The photo at right shows several attendees enjoying some of the hospitality offered at the QSAC Shave the Stache benefit in Astoria.
Paul Halvatzis: Autism Event Founder with a Personal Story
I had a chance to talk to Paul Halvatzis, a purple-mustached Astoria realtor, who founded this QSAC fundraising event at the Redken Saloon Salon in 2011. Paul introduced me to his son, Paul Jr., who was diagnosed with autism 23 years ago. At the time specialists told Paul and his wife Eileen that his son wasn't likely to be able to function and that they should consider placing him in an institution.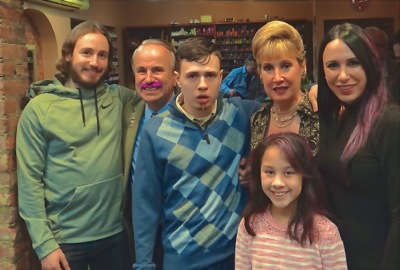 Paul told me that he and Eileen weren't ready to give up on their son so easily and that's when they became involved in Quality Services for Autism Community. When Paul Jr. was three years old they were working on getting him to be able to drink from a cup by himself and to say "mommy " and "daddy". At the time Paul Jr. wasn't able to speak at all.
Through QSAC, they used Applied Behavioral Analysis, to determine what Paul Junior's capability might be. They then devised an Individual Education Plan or IEP to set about helping Paul Jr. attain his full potential.
Today Paul Jr. is living in a QSAC home for higher functioning adults. He's able to dress himself, take care of his own personal hygiene, help with some tasks at the QSAC group home and join his family for events like these. Paul Jr. is functioning at about a 7 year old social level and at a Reading, Writing and Math level of about 10 years of age. Paul Jr. knows how to operate a cell phone and his father told me that he talks to his son several times a day. In the photo at right is the Halvatzis family: [left to right] Nicholas, Paul, Paul Jr., Eileen, Christina and Alexa who is standing in front.
You May Have to Click the Refresh Button on Your Browser to Make the Video & Controls Appear
Shave The Stache from Queens Buzz on Vimeo.
Santa's Helpers Getting Sheared After a Busy Holiday Season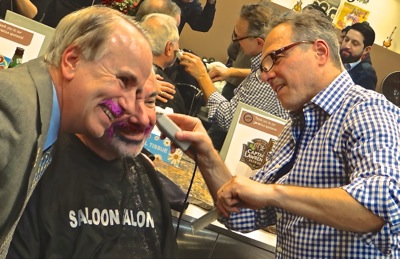 Frank Arcabascio had pulled out the electric clippers as he began preparing to shear these men of their beards. Steve Sirgiovanni – the New York District Governor of the Kiwanis Club – was in attendance too, along with Mike Christoforotos and Jerry Crisafas. Like William Balash, these were all big men sporting hearty growths of whiskers on their faces.
As I stood and watched, they brought to mind Santa and his helpers. Not just because of their big size and bushy beards, but because of their generosity of spirit. It was still less than a couple of weeks after Christmas, and it seemed like Frank Arcabascio was giving Santa and his helpers a clean shave following their busy season, when they didn't have time to shave. Other bearded and stached participants included Larry Litwack, Nick Zikos, Joe Vaccaro, Spiro Anagnostopoulous and Paul's second son Nicholas Halvatzis.
Paul Halvatzis told me he had worn a mustache for 34 years prior to deciding to shave it off six years ago. Paul asked a friend at the Astoria Bank, what the bank would donate to QSAC for him to have his mustache shaved. The bank made a generous offer, so Paul contacted Frank at the Redken Saloon Salon, about hosting a Shave the Stache fundraising event and the QSAC benefit in Astoria was born. In the photo at right Frank Arcabascio shaves Larry Litwack, while Paul Halvatzis poses alongside him for a photo.
Queens Council on Developmental Disabilities
I met Lisa Veglia, Chairwoman of the Queens Council on Developmental Disabilities. She told me that the council has about sixty active participants representing about seventy agencies who meet monthly to share ideas and resources, hear topic speakers discuss issues, and coordinate legislative agendas and actions. In addition to QSAC, other agencies / groups include Heartshare, Young Adult Institute, Queens Center for Progress and AHRC. Someone else from QSAC mentioned that four of the 2,100 people that the organization has been helping this year went on to college.
In the photo at right [upper right corner] Patricio Barrientos [light blue shirt] hands the microphone over to NYC Councilmember Costa Costantinides [dark blue or black sport coat] to say a few words. Costa voiced support for QSAC related issues.
The evening began to wind down with a few remarks by Patricio Barrientos, Steve Sirgiovanni, Paul Halvatzis, and NYC Councilmember Costa Constantinides followed by a musical performance by Michelle Marie and Carmen Nester accompanied by Alexa Halvatzis.
Quality Services for Autism Community Schools & Home in Queens & NYC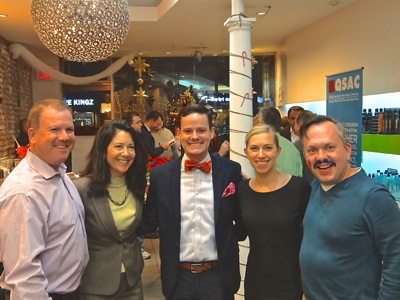 It's worth mentioning that in addition to the group home in Bayside, QSAC is involved in three publicly funded schools targeted to help children with autism. One is a pre-school in Douglaston, another is a day school in Whitestone and there's a second day school that was recently opened in the Bronx near Lehman College. Placement in these schools is based on ability and mandated teacher / student ratios. For further information go to the QSAC website at www.qsac.com. In the photo at right stand some of the people who help ensure QSAC's continued success: [left to right] Cory Polshansky, Lisa Veglia, Joseph Amodeo, Katie Joyner and Will Harrell.
It was a clear, cold January evening as I departed the Redken Saloon Salon, but I left with a warmth in my heart that radically changed the trip home.
Many thanks to all involved, including Paul Halvatzis event organizer, QSAC staff and all the men who had their beards and mustaches shaved most of whom are named above, Art 4 Healing, and Frank Arcabascio of the Redken Saloon Salon. The following is an incomplete list of some of the QSAC Shave the Stache event donors: John Thompson of Mass Mutual Metro New York, Laborers-Employers Cooperation and Education Trust, Big Apple Abstract Corp, Captain Lawrence Brewing, JFA Insurance Brokerage and Associates, Regal Title Insurance NYC, Maple Lanes Bowling, F. DeVito Fuel Corp, Specialty Business Solutions, Flushing Bank and the NYCB Family of Banks.
---
Queens Buzz Voluntary Subscriptions
We do our best to provide independent coverage of news, dining, events, arts & culture.

You can help us provide you with first source, balanced, contextual and independent coverage of Queens by making a purchase for as little as $5 [less than the price of one copy of a print magazine].
Click the button for details on how to keep these posts coming.
---
$element(adman,groupad,NhoodAstoria)$
Astoria Neighborhood Links
Click on these advertisements for promotions, discounts and coupons by retailers and restaurateurs in Astoria and nearby Queens.
Click this link to go to the:
Astoria Neighborhood or Astoria Business Directory
Astoria Real Estate or Events & Things To Do In Astoria
Restaurants In Astoria or Astoria Shops & Shopping
---
LIC Neighborhood - Long Island City Links
$element(adman,groupad,Catgry Foodwine)$
Click on these advertisements for promotions, discounts and coupons by retailers and restaurateurs in Long Island City LIC and nearby Queens. Click here for a related story about the hotels & restaurants in Dutch Kills section of Queens.
Click this link to go to the:
Long Island City Neighborhood or LIC Business Directory
Long Island City Real Estate or Events & Things To Do In LIC
Restaurants In Long Island City or LIC Shops & Shopping
---
$element(adman,groupad,Catgry Queens)$
Site Search Tips. 1) For best results, when typing in more than one word, use quotation marks - eg "Astoria Park". 2) Also try either singular or plural words when searching for a specific item such as "gym" or "gyms".
$element(bwcore,insert_search,N)$
Click this link to search for something in our Queens Business Directory.
---
$element(adman,groupad,Sectional2 Ad)$
---
Click the log in link below to create an ID and post an opinion.
Or send this story to a friend by filling in the appropriate box below.
---