---
Taste of LIC 2019
Taste of LIC Returns Next Week to Astoria / Long Island City
June 4, 2019 / Astoria Neighborhood & LIC Neighborhood / Astoria Restaurants & LIC Restaurants / Queens Buzz NYC.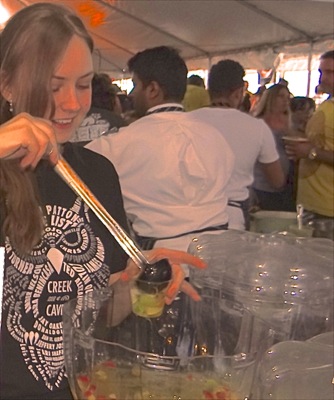 Next week on Wednesday, June 12, 2019 from 5.30 - 8.30 pm the Taste of LIC returns to the Kaufman Astoria Studios Back Lot on 36th Street at 35th Avenue - next to the Museum of the Moving Image. Proceeds from the event go toward the Chocolate Factory Theatre, which is an avante garde theater located in Long Island City.
The Taste of LIC event is one of the biggest culinary taste events in Queens. This year about 50 food and beverage vendors are participating, representing some of the best restaurants and beverage establishments in Astoria and Long Island City.
The Taste of LIC event began 14 years ago. And while attendance can vary because of weather, generally the event has grown in popularity because of the breadth, depth and quality of the participating vendors who oftentimes go out of their way to showcase what makes them special.
The Taste of LIC Founders, Sheila Lewandowski and Brian Rogers, have also added performance art to the event - rounding out the culinary aspects of the evening with an artsy, theatrical dessert. And lastly, but not least, in addition to the food, drinks and entertainment - the Taste of LIC attendees [like you] represent a fun cross section of Queens residents and workers. In recent years I've also met a number of people coming from Brooklyn and Manhattan who have come to join in the festivities.
Admission to the event is $65 / $75 & up and tickets may be purchased at
https://chocolatefactorytheater.org/14th-annual-taste-of-lic/
To see prior reports on the Taste of LIC click the prior link for 2018 and this link for Taste of LIC in 2011.
---
$element(bwcore,article_picker,1188,Y,N,page_title_home,N)$
Taste of LIC & Queens Restaurants
An Established Event Tries out New Venue & Welcomes Newcomers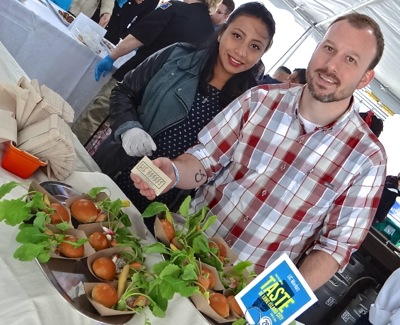 Updated April 2, 2018 / June 6, 2017 / LIC Neighborhood & Astoria Neighborhood / LIC Restaurants / Queens Restaurants / Queens Buzz NYC.
About a week ago, the Chocolate Factory Theater Company announced the 13th annual Taste of LIC would be returning in June. I attended the 12th annual Taste of LIC at the Kaufman Astoria Studios Lot on 35th Avenue at 36th Street in Astoria / LIC. This was the first year the event was held away from its original waterfront venue under the gantries in Gantry State Park along the East River.
Sheila Lewandowski, one of the co-Founders of the Chocolate Factory Theater Company, told me that they made the change because the chefs weren't allowed to cook in Gantry State Park. Now, on the Kaufman Astoria Studios Lot chefs can now do live performances of their cooking.
The Chocolate Factory Theater is an avant-garde dance and theater company that hosts live multi-media dance and theatrical performances in LIC. The non-profit theater company has organized the event since its inception. The proceeds help fund the organization's work. Brian Rogers is the co-Founder of the Chocolate Factory, who we'll meet a bit later in this report.
I arrived about on time for the general admission and made my way in, perusing the entire scene before starting to photograph and sample my way through the tent.
I bumped into Steven Hitt, the Executive Director of the LaGuardia College Performing Arts Center. Steven mentioned that the dance troupe, Rioult, was planning to move into Queens in early 2018, and that they were currently in the process of setting up office space and studios not far from where we stood. Later in the evening he introduced me to Amy Harrison, the Executive Director of Rioult. Steven mentioned that the Joffrey Ballet Company also moved one of its programs to LIC, and is periodically using the LaGuardia College Performing Arts Center as a facility.
It seems while many of the independent artists have left LIC over the past five or so years, many other groups from Manhattan and Brooklyn have been making their way in. The Joffrey and Rioult dance companies have chosen LIC in lieu of Manhattan, due in part to the affordability, convenience and accessibility of the LIC location. I was to learn more of such migratory movements, as the night wore on.
I'll have the rest of this report later this month, including numerous photos of the event.

---
Curated Cuisine At The Taste Of LIC
Watery Weather 'Dampens' Attendance But Not Mood
June 3, 2014 / LIC Neighborhood / LIC Restaurants / Queens Buzz. It was a dark and stormy evening as I began preparing to head down to the Long Island City waterfront to cover the 9th Annual Taste of LIC. I could hear the raindrops falling on my airconditioner, making a sporadic tinny pitter patter that told me I should not go.
An angelic voice whispered in my ear, "You're going to miss the Chocolate Factory's signature event". My tummy grumbled, "I'm sick of your cooking" ... thus making it's voice heard and it's vote counted too ... so soon I was on my way, umbrella opened, walking through the rain to the fabulous #7 subway line - the main artery of public transit in Queens.
As I came up the stairway onto Vernon Blvd, I began to feel like I had made the right decision. To be sure, clouds were overhead, but there weren't any raindrops fallin' on my head. E'nuf said.
I sauntered down to the ticketing tent where I picked up my entrance band. I asked the ticketing agents to pose for a photo, which I'll post into the event photo slide show at a later date.
As expected, the inclement weather had impacted attendance and thinned out the crowd relative to prior years - but there was still a good turnout - of likely over a thousand people. The attendance provided more opportunity for relaxed interactions and more space to photograph and converse with the restaurateurs. Some of them remarked the same, telling me that in the past they were so busy serving folks that they scarcely had a moment to talk to any of them. But tonight Mother Nature, as sometimes it is her way, took control of the remainder of the day.
Next Monday we'll take you into the tent of the Taste of LIC, share with you a sampling of some of the fine foods, a bit of the fun & fancy, and introduce you to a few beverage makers and a new chocolatier too. Included with this account will be an accompanying photo slide show of the curated cuisine event. Proceeds go to the Chocolate Factory Theatre in LIC and many thanks to Sheila Lewandowski and Brian Rogers, both of whom organized the event.
Bon Appetit & Bon Jour.
---
$element(bwcore,article_picker,30-482-65-134-789,Y,N,page_title_home,N)$
$element(adman,groupad,Catgry Queens)$
$element(adman,groupad,Catgry Foodwine)$
---
$element(bwcore,article_picker,1010-72-143-609-867,Y,N,page_title_home,N)$
$element(adman,groupads,Sectional Ad)$
---
$element(adman,groupad,Catgry Foodwine)$
LIC Restaurants Archive
$element(bwcore,section_tiny,52,50,N)$
---
Long Island City LIC Quick Maps
Click on the map icon below to view maps of Long Island City LIC
Attractions
Restaurants
Shops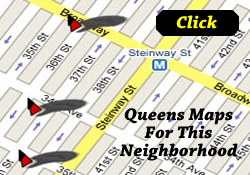 Long Island City Queens Business Directory
Click on the icon below to view business listings of LIC Long Island City Queens.
Use the category or search links to conduct your own search.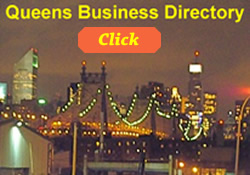 ---
Site Search Tips. 1) For best results, when typing in more than one word, use quotation marks - eg "Astoria Park". 2) Also try either singular or plural words when searching for a specific item such as "gym" or "gyms".
$element(bwcore,insert_search,N)$
Click this link for promotions by advertisers in Queens.
Click this link to search for something in our Queens Business Directory containing over 1,000 listings.
---
Click the log in link below to create an ID and post an opinion. Or send this story to a friend by filling in the appropriate box below.
---
$element(adman,groupads,Sectional2 Ad)$