Quaint - Restaurants In Sunnyside
Quaint Casual Dining In Sunnyside
Sunnyside Neighborhood / Sunnyside Restaurants / Queens Restaurants / Queens Buzz. Quaint is well named. In the dictionary quaint is defined as 'having an old fashioned attractiveness or charm'. The restaurant provides an comfortable atmosphere ideal for conversations with good friends. The restaurant probably seats no more than 30 to 40 people, including the outdoor seating space in the back. The bar area and the outdoor patio provide dimension to the friendly, neighborly atmosphere. The open grill imparts a certain sense of theater and provides the diner with a hint of expectation.
Quaint Menu - Restaurants In Sunnyside
One Friday night I went down there with an old friend for a late dinner. My friend was recovering from his journey via the airlines. Quaint's menu appears to be chosen with consideration for both one's taste buds and one's health. Many of the appetizers are salads, but calamari is included as well as mussels. I had the roasted beet salad with walnuts, while my friend had the calamari. I tried some and it was cooked just right: it still had a bit of chewy texture and the fried coating wasn't greasy. As for the beet salad, the beets were flavorful and light, complemented by the mix of blue cheese and walnuts.
The Quaint courtyard, shown in the photo to your left, is open during the warm weather.
Quaint Service & Wine - Sunnyside Restaurants
It was quiet that night so the service was spot on. We could see where the cooks were in preparation of our entrees, so we could actually manage our wine consumption in tandem with the cadence of the meal. We had the house wine, which was a flavorful California cabernet.
Main Courses - Salmon Ratatouille & Hanger Steak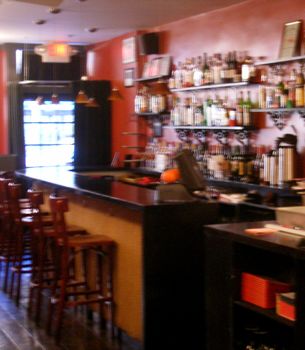 My friend had the salmon ratatouille and I had the hanger steak and mashed potatoes. We exchanged samples of each. The hanger steak was cooked to a pink perfection and had a soft juicy taste to it. The mashed potatoes slid down nicely too. The salmon was nicely done, and left mostly to stand on its own, but complemented by the ratatouille. All so very healthy, I didn't mind having an extra drink. We passed on dessert, given the late hour, but Quaint offers a 'healthy' selection of after dinner drinks, of which we took advantage. We each had a sambuca which topped off our repas. The name really works as the restaurant appears to be run in a very thoughtful and comfortable way.
Quaint - Restaurants In Sunnyside Queens
Click this link to view a map of Quaint - one of the restaurants in Sunnyside Queens. Click this link to obtain the contact info and website url for Quaint Restaurant & Bar in Sunnyside Queens. Click this link to view other restaurants in Sunnyside & Woodside.
---
Sunnyside Neighborhood / Woodside Neighborhood Links
$element(adman,groupad,NHoodSSWS)$
Click on these advertisements for promotions, discounts and coupons by retailers and restaurateurs in Woodside, Sunnyside and nearby Queens.
Click this link to go to the:
Sunnyside & Woodside Neighborhood
Sunnyside Business Directory or Woodside Business Directory
Sunnyside & Woodside Real Estate or Events & Things To Do In Sunnyside & Woodside
Restaurants In Sunnyside & Woodside or Sunnyside & Woodside Shops & Shopping
---
$element(adman,groupad,Catgry Foodwine)$
Site Search Tips. 1) For best results, when typing in more than one word, use quotation marks - eg "Astoria Park". 2) Also try either singular or plural words when searching for a specific item such as "gym" or "gyms".
$element(bwcore,insert_search,N)$
Click this link to search for something in our Queens Business Directory. Also check out Taste of Sunnyside.
---
Click the log in link below to create an ID and post an opinion.
Or send this story to a friend by filling in the appropriate box below.
$element(adman,groupads,Sectional2 Ad)$
---