9th Anniversary Of 9/11 @ McManus
Commemoration Ceremony Held In McManus Park
Out Of The Ashes, Rises The Phoenix ...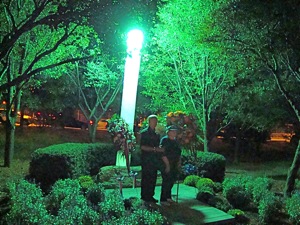 Jackson Heights & Astoria / September 7, 2010 / Queens Buzz. Over the past nine years, much has been said about 911. It was, afterall, a seminal event in our nation's recent history and pundits far and wide have spent years grieving about it, venting anger over it, trying to stolidly capture the sequence of events, laboring to put the event in perspective or attempting to understand its influence on our nation's psyche.
But in spite of all that has been written, it seems that every year stories are re-told and new perspectives emerge, like the branches of a plant rising into the sunlight. Each new perspective adds a freshness into the remembrance of the people who lost their lives on that fateful day ... one clear morning in September, some nine years ago ...
This year I attended the 9/11 ceremony at McManus Park in Astoria Heights. It was organized by the United Community Civic Association in a joint effort with their LaGuardia Airport neighbor - the Port Authority Of NY & NJ. The featured guest speakers included: 1) Arlene Howard, the mother of George Howard, a Port Authority police officer; 2) John Cartier, the brother of James Cartier and friend of Lester Marino, both Local 3 Electrical workers; and 3) Mr & Mrs. Santora, the parents of fireman Christopher Santora, the youngest fireman who died in 911. There were also many local officials who attended and participated in this commemoration.
Click here to view our report about the 9/11 Memorial Candlelight Ceremony at McManus Memorial Park in Astoria Heights. And you can click this link to view the report we posted last year on the 911 Ceremony held at St. Michael's Cemetary in East Elmhurst.
---
9/11 Memorial Candlelight Ceremony

I. Background
9th Annual Memorial Candlelight Ceremony 2010
September 7, 2010 / Jackson Heights & Astoria / Queens Buzz. The United Community Civic Association and the Port Authority of New York and New Jersey held their ninth annual 9/11 Memorial Candlelight Ceremony in McManus Park in the Astoria Heights neighborhood of Queens.
WTC Memorial - McManus Park
It was a warm windy night as hundreds gathered at the park to listen to three guest speakers and a number of government officials memorialize the people who lost their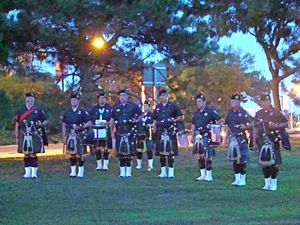 lives on September 11th, 2001. The Mount Carmel choral group had assembled along the left side of the podium while bagpipers from the Department of Corrections, the Port Authority and the NYPD had assembled along the right side of the podium [see photos above left and to your right].
To the far right of the podium there was a memorial of trees surrounding a vertical light. The light memorial bore resemblance to the light sculpture that had been installed at the World Trade Center site, which beamed up into the sky in place of the towers, following its demise. Seating for the audience was placed along the sidewalk and into the street in front of the podium.
Local 3 Electrical Workers - American Brotherhood
As I came into the park I noticed about twenty motorcycles parked in a sort of stately manner along the street. The bikers all wore the same emblematic jacket, bearing the inscription 'American Brotherhood New York MC'. I interviewed a couple of guys from the group, Rick Goldberg and Wes Bentley, who informed me that the group had been "born out of the ashes of 9/11" to memorialize two Local 3 Union Electrical workers who had died at the World Trade Center. They informed me that one of the motorcycle group would be addressing the crowd later in the evening.
United Community Civic Association – Astoria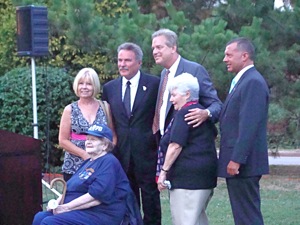 It wasn't long before I met Rose Marie Poveromo, president of the United Community Civic Association [UCCA], one of the co-sponsors of the event [shown in photo - right foreground along with Mrs. Howard seated and Michael DenDekker Assemblyman]. She informed me that the first memorial had been held shortly after the destruction of the WTC in 2001. The UCCA sponsors other community events such as the annual community health fair in Astoria which last year was attended by 1,300 people at Mount Carmel parish.
II. Speakers
A. Opening Remarks, Prayer & Guest Speakers
Ms. Poveromo opened the ceremony by talking a bit about the ceremony history and the the event co-sponsors. She introduced us to the guest speakers, the government officials and spoke about the importance of remembrance of all those who lost their lives on September 11, 2001. The memorial at McManus Park is shown in the photo to your left below.
Monsignor Federici from the Immaculate Conception Church in Astoria asked for blessings on all of the people who lost their lives at the World Trade Center, and for blessings on all who work toward peace. This was followed by a hymn from the Mount Carmel choral group. All of the three featured speakers this evening had lost someone close to them in 9/11.
B. Port Authority / Department Of Corrections
Commissioner Schriro from the Department of Corrections noted that today officers of the Department Of Corrections wear three black bars above their badge which are inscribed with three letters: WTC. Warren Kroepel from the Port Authority gave a short speech, remembering that 84 Port Authority personnel, of which 37 were police officers, had died on 9/11.
C. The Parents Of Christopher Santora - Fireman
The Santoras are the parents of Christopher Santora, who was the youngest fireman to lose his life on 9/11. Mrs. Santora reminded us that 2,976 people died in 9/11. She said that those who lost their lives in 9/11 were "smiling down upon us" during this event. She said that "hatred is a terrible thing" and that peace and love must show in our "actions and deeds". She closed by saying that "Astoria has never forgotten" and that she was thankful for that.
Mr. Santora said that the memory of 9/11 "was still vivid". He mused that it seemed that many people were already forgetting, and he noted that many "kids today don't even know about Pearl Harbor", which was another tragic event in our nation's past.
Mr. Santora ended by saying that "we must never forget". The Santoras are shown in the photo above during the wreath ceremony, which is discussed below.
As I stood there listening, I found Mr. Santora's words sending me into our historical past. Mr. Santora had drawn an analogy from WWII, which prompted me to recall that in the aftermath of WWII, America held accountable those who were responsible for the war. And Mrs. Santora's words of love and peace reminded me that America was also judicious in its use of power following WWII, because it distinguished between those who were responsible for the conflict [the leaders], versus those who were swept into it by virtue of association [the average citizenry of the nations]. In fact, in an unpredented move, following WWII, America rebuilt the nations of its enemies [Germany & Japan], who today count among America's closest allies.
D. Arlene Howard – Mother of George Howard
Arlene Howard is the mother of George Howard, who was a Port Authority Police Officer who responded to the call for help on his day off. He voluntarily went down into the burning World Trade Center to help. His heroic actions cost him his life.
It was a windy night in the park. People around me were trying to light their candles which oftentimes blew out shortly after they were lit.
But one by one, the candles were lit and stayed lit. Mrs. Howard, who had remained seated most of the evening in a chair near the podium, saw this going on as others spoke. When it was her turn, she thanked "all of the people who had come out tonight". And she observed that the "lighted candles on this windy day show that we still remember".
It seemed like the spirit of remembrance had caught fire, like the candles in the wind.
Mrs. Howard is pictured in the fourth photo at the top of this page, seated wearing a cap.
E. Brothers & Friends: James Cartier & Lester Merino
John Cartier was the brother of James Cartier and a friend of Lester Merino. Both James and Lester were members of the Local 3 Electrical Union in Astoria. And both of them were working in the WTC on September 11, 2001 when the towers came down. Like many 9/11 victims, neither of them would ever be seen again. John Cartier is pictured in the middle of the photo to your right with the American Brotherhood New York MC.
John shared a remembrance, that his sister was on the telephone with James only twenty minutes before the south tower collapsed. Nine years later, John talked lovingly about his younger brother. He remembered that James had worked in a Jackson Heights pizzeria. That he was a "respectful young man, the kind parents would want to see date their daughter". He vividly recalled conversations with his younger brother only a couple of days prior to the disaster. And he told us that following the collapse, he went down to the WTC to help. First he went to help find his brother, and then he went to help find anyone who might still be missing.
F. Thesis - Out Of WTC Ashes, Rises The Phoenix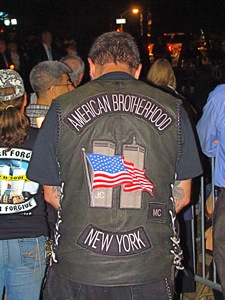 John talked about "where the journey had taken him". The journey included the founding of the American Brotherhood New York MC. The American Brotherhood is a group of bikers, comprised of friends of Lester Merino and James Cartier [see the MC on the emblem on the jacket] and perhaps more. The motorcycle group congregates for Memorial masses and other memorial events such as this. They have also become involved in sending care packages to American GI's and helping stock the local food pantry to provide food for those who don't have enough to eat.
John talked about doing good things and how love can conquer all. He ended by saying that, "as long as I live, my brother James, Lester Merino and all of those who died in 9/11, will not be forgotten".
Again I was struck by the significance of not only what had been said, but by the actions that have been taken in the name of those who had fallen in 9/11. The American Brotherhood MC has a website showing some of its good deeds helping others.
I remember last year hearing relatives of 9/11 deceased at the St Michael's Cemetary Memorial Service tell me how they had become more communally active in the wake of 911. And earlier this year I witnessed good works being done in the name of the 9/11 fallen, while doing a story on St Sebastian's grade school in Woodside. Tommy Ashton, also an electrician, died in the towering infernos. His family responded to their loss, by starting a foundation in his name [they hold a fund raiser every Spring - click story link above]. To date the foundation has contributed to a new science lab, a new computer room and a new media room at St Sebastian's [Tommy was a St Sebastian's alumnus].
There's no doubt in my mind, that these good deeds will preserve the memory of those who have fallen. These good works won't just accomplish the mission of helping remind people of the evil of 9/11 and of those who died on that fateful day. But these deeds will also help tens of thousands of the living in the process. Ironically, some of the American response to the WTC evil, is that the relatives and friends of those who have fallen are channeling their energies into constructive works being done with love.
Love overcoming evil. I never thought I would see the day. And as I think about this, I find it kind of mind-boggling ... impressive .. overwhelming in its power and significance. Surprising in its congruence with an ideal of the universe, like Ghandi defeating the all-powerful British Empire without ever touching a gun. Ghandi said, "Live the change you want to see." And so out of the ashes, rises the phoenix ....
G. 9/11 Candlelight Memorial
At this juncture, a color guard escorted the speakers to wreaths near the McManus Park Memorial. They then took the wreaths and placed them on the cement platform of the monument. All of the crowd watched silently, candles flickering in the wind during this solemn moment.
H. Congressman Joseph Crowley - WTC Healthcare
I stayed a bit longer to hear Congressman Crowley talk about efforts to pass legislation to help provide healthcare benefits for those who have illnesses incurred while helping at the WTC during 9/11. Congressman Crowley (D) noted that certain members of the opposition in the congress and senate had recently blocked the legislation. He pledged to continue his efforts to win passage of the bill.
III. Conclusion
Government Officials In Attendance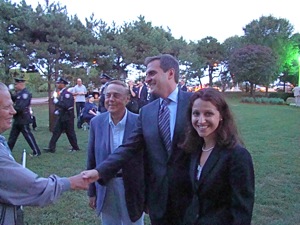 There were a number of government officials who I saw in attendance [this is by no means a complete list]. Those I saw and recognized included city councilman Peter Vallone, state assemblyman Michael Gianaris, retiring state senator George Oronato, congressman Joseph Crowley, assemblyman Michael DenDekker and Claudia Filomena from the Mayor's Office. Aravella Simotas, candidate for state assembly, was also in attendance. George Oronato, Michael Gianaris and Arvella Simotas are shown in the photo to your right.
Special thanks to Rose Marie Poveromo, president of the United Community Civic Association, and Warren Kroepel and Thomas Bosco, General Manager and Deputy General Manager of LaGuardia Airport, respectively - for organizing / sponsoring the event.
Photos & Slide Show Of 9/11 Memorial Service
Click this link to view a photo album and slide show of the McManus Park 9/11 Memorial Candlelight Ceremony of 2010.
$element(ophoto,photo_slideshow,88,660,,5.00,fade)$
---
$element(adman,groupad,NHoodAstoria)$
Astoria Neighborhood Links
Click on these advertisements for promotions, discounts and coupons by retailers and restaurateurs in Astoria and nearby Queens.
Click this link to go to the:
Astoria Neighborhood or Astoria Business Directory
Astoria Real Estate or Events & Things To Do In Astoria
Restaurants In Astoria or Astoria Shops & Shopping
---
$element(adman,groupad,Catgry Medical)$
Site Search Tips. 1) For best results, when typing in more than one word, use quotation marks - eg "Astoria Park". 2) Also try either singular or plural words when searching for a specific item such as "gym" or "gyms".
$element(bwcore,insert_search,N)$
Click this link to search for something in our Queens Business Directory.
---
$element(adman,groupad,Sectional2 Ad)$
Click the log in link below to create an ID and post an opinion.
Or send this story to a friend by filling in the appropriate box below.
---