Queens Fashion Week
Kicks Up Its Heels In Long Island City
Continued / September 21, 2010 / Queens Buzz. I had the opportunity to cover Queens Fashion Week as they presented the Spring Collections of both local designers and designers with some a Queens affiliation. This was the second show put on by Delali Haligah, founder of Queens Fashion Week. And while I enjoyed the first show, I became fully engaged watching the second show. During the intervening six months between the first and second runway shows, Delali had fine-tuned many aspects of Queens Fashion Week and it showed. To the right is a shot of the runway, with models walking to and fro, while emcee Mary Kerrigan [in the background] looks on.
Fashion Designers & Fashion Models In Queens
There were six designers, 30 female models and 12 male models involved in the event. Three of the designers opened the event Friday evening and the other three closed the event. There was an intermission in between.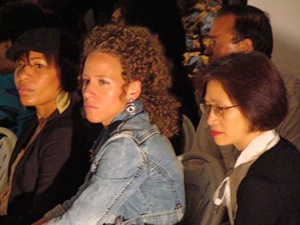 The designers shown in the first segment of the show were: 1) Sarah Bacchus who founded the 34-24-36 house of fashion in Queens, 2) Candy Plum is a fashion retail store focused on presenting and retailing local designers and it is owned and managed by Marija Pavic in Astoria, and 3) SK Wilbur of NYC who presented his 'Superwoman' collection.
Queens Fashion Week Photos & Slide Show
The fashions of each of these designers is shown in the slide show at the bottom of this page and are presented in sequential order. You may also click this link to view the photos of Queens Fashion Week September 2010. Note that the slide show first takes you into the dressing room where make up and hair styling is in progress. Everything was under control at the time and many of the people who work behind the scenes appeared to be quite photogenic as well.
Sarah Bacchus – Founder of 34-24-36 of Queens
The show was accompanied by music selected by each designer. It complemented the theme each had chosen for the evening. Sarah Bacchus displayed a collection of evening wear that had a high style, Hollywood appearance. Her clothing line, like modern art, had a level of asymmetry to it, which in one design showed a single bare shoulder, while in another revealing another model's beautiful back.
Sarah's designs came in many varieties, some were tight and short, while others contained elements designed to distract the eye, while highlighting the alluring curves of the model's form. Sarah also used color sparingly, grounding her designs in a mix of black, white and a striking yellow. All in all watching the models wear Sarah's creations was a fun opener. A Sarah Bacchus design is shown being modeled to your left.
Candy Plum – Astoria Fashion Store / Casual Outfits
I met Marija Pavic, the owner of Candy Plum, a fashion store in Astoria. Marija took an eclectic approach to the show by selecting a number of pieces from her store to complement each of the models she worked with. Many of these articles shown were made by a local designer carried by Candy Plum. Most of the fashions shown by Candy Plum had a casual look to them, including a cute short denim colored skirt and top. There were also Juicy Couture styled pants and several simply styled Bermuda shorts.
It seemed some of the Candy Plum selections could be worn to either draw attention to one's form or to obfuscate it. Above a model displays some of the clothes selected by Marija Pavic.
SK Wilbur Designs Of NYC - Dresses, Hats & Handbags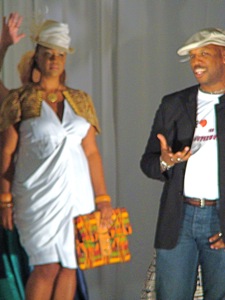 SK came out onto the stage in a bold manner. He brought out several of the models wearing his designs, prior to their walk down the runway to introduce his Superwoman Collection [the first two designers came out after their designs had been shown]. He explained that the SuperWoman Collection was about female empowerment. It was about the modern woman in today's world, and hence many of its elements incorporated fashions, colors and designs from all over the world.
His designs showed a unique flair. His leading superwoman wore a styled hat from the 1940's Hollywood, with a plume in it. She carried a beautiful, vibrantly-colored hand bag that had been influenced by African art. She wore large earrings, a necklace and epaulets which were toned down but nonetheless matched her handbag. And underneath, in the background, a flowing white knee length dress. See photo to your left of SK Wilbur and a model wearing pieces from his SuperWoman collection.
Queens Fashion Week Intermission - Talk Of Hand Bags, Accessories & ...
During intermission the crowd chattered away, discussing what they'd seen. I sat back observing the smiles, the animated conversations, and kind of reveled in the beauty of what I'd just seen and heard too. It seemed to be a fun crowd and the show seemed to please them. It all had a good vibe. I went backstage again to see what was happening.
Everything was moving along as the show had hit its rhythm. Delali was orchestrating things behind the scenes, including prepping one of the younger designers, Kimaathi Haligah, who was premiering a line of men's wear this evening. Back out into the front I went to join the rest of the audience.
Kimaathi Haligah – Designer Of Men's Wear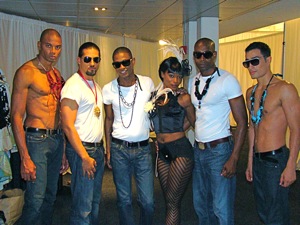 Kimaathi's line came out first and appeared to be comprised of tight white T-shirts as well as hunky ribbed abs men who wore African inspired necklaces. They also wore designer jeans and belts, but it was the neck wear that was the highlight, and the bare shirted men did a nice job of strutting their stuff.
In the photo to your right are the male models who wore Kimaathi's creations. They are: Nathan Heyward, Adonis Pelensky, Devon Henry, China White, George Robert and Alex Cortez.
Denise Mahmud of MOIXA - Women's Wear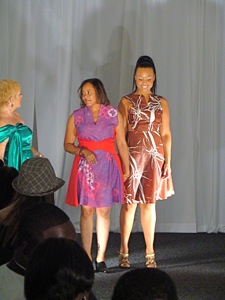 Denise Mahmud's clothing is made with the wearer in mind. They are designed in a flowing style so as to provide comfort to the wearer. She uses a mix of unusual color blends, various fabric cuts lines and designs reflective of modern abstract art. The effect is a mix of comfort and aesthetics that enhance the beauty and stature of the woman wearing them.
Denise designs for women who might be challenged to find something they really like in more traditional clothing stores. And she has creatively enhanced outfits to complement the the figures of the women she serves. To your right is a photo of Denise and a model, both of whom are wearing Denise's designs.
Sabastian – Yardrock
Last, but not least, came the designs of Sabastian. Sabastian premiered her 'Yardrock' line of urban fashions, which clearly grabbed the audience's attention.
As I sat there watching, I thought that this sort of cutting edge fashion was relatively new to Queens. Seeing this in Manhattan is one thing, but seeing this in Queens was kind of exhilarating. Many of the designs included unique hats, reminiscent of a more fashion friendly time. There were elaborate laced ribbons, stylized buttons, and cuts in unusual places. She grounded the audacity of her designs in black and white.
Fashion Designers, Fashion Models, Women's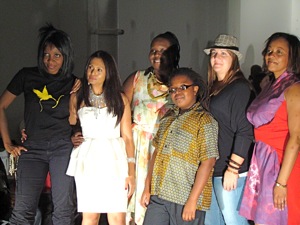 At the end of the show the models and designers walked the runway and posed for photos. The show had a comfort and coziness to it such that it seemed easy enough to strike up a conversation with anyone there. And in closing Delali invited her staff and the volunteers who helped make the event happen out for photos too and they are shown at the end of the slide show / photo album. Delali is shown in the center of the photo to your right along with [L to R] Sabastian, Sarah Bacchus, Kimaathi Haligah, Marija Pavic and Denise Mahmud [SK Wilbur not present at the time of the photo].
Delali Haligah - Designer & Founder
Many thanks to Delali Haligah for making Queens Fashion Week possible. She is shown in the photo to your left as she thanks and introduces her staff. And thanks to all of the models, designers, hair dressers and make up folks for accommodating me while putting together this story. I look forward to seeing y'all again sometime soon.
Photos Of Queens Fashion Week - September

The following is a slide show / photo album of Queens Fashion Week September 2010. The album / slide show contains photos of the models and designers, but begins with a behind the curtain look of the hairdressers and make up folks and includes photos of the audience.
$element(ophoto,photo_slideshow,89,550,,5.00,fade)$
---
LIC Neighborhood - Long Island City Links
$element(adman,groupad,NHoodLIC)$
Click on these advertisements for promotions, discounts and coupons by retailers and restaurateurs in Long Island City LIC and nearby Queens.
Click this link to go to the:
Long Island City Neighborhood or LIC Business Directory
Long Island City Real Estate or Events & Things To Do In LIC
Restaurants In Long Island City or LIC Shops & Shopping
---
$element(adman,groupad,Catgry Womens)$
Site Search Tips. 1) For best results, when typing in more than one word, use quotation marks - eg "Astoria Park". 2) Also try either singular or plural words when searching for a specific item such as "gym" or "gyms".
$element(bwcore,insert_search,N)$
Click this link to search for something in our Queens Business Directory.
---
$element(adman,groupad,Sectional2 Ad)$
Click the log in link below to create an ID and post an opinion.
Or send this story to a friend by filling in the appropriate box below.
---