Experimental Theater In LIC
ACT I - Engages Audience By Placing Them Into Roles
Continued / LIC / October 9, 2010 / Queens Buzz. The Maids 4:39N production started quickly. We were greeted by one set of ' maids' who escorted us to one of three scenes in the opening segment of the production.
The first scene I entered was in the privacy of a room where two young women, maids in the production, were bathing each other in a sort of soft sensual manner. While they were bathing, I was privy to their personal conversation. They complained about 'madame', the woman for whom they worked, in a frustrated, jealous and angry manner. In this scene, my role was entirely passive, like the audience in a play. In the photo above to your left are the two sisters / maids bathing.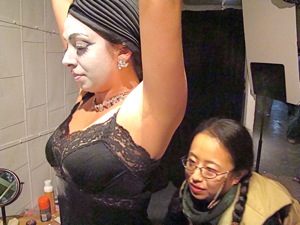 The second scene I came into was where I was applying for a job to work for madame. One of madame's other maids, asked me to pick one of three outfits or roles: an apron, a maid's hat or a pink duster. She then shot a photo of me and escorted me into madame's dressing room.
Madame interviewed me for one of her handmaiden jobs. She inquired as to what other similar jobs I had held, while asking me to assist her with her robes. I guess I didn't show enough interest in being her handservant, as I didn't win the position. In the photo to your right one of the audience members assists madame during her interview [she didn't get the job either].
The third scene into which I entered, I was to assume madame's role as head of the stately house. I was coaxed into wearing mylady's regal garbs, sit at her regal desk and be attened to by her manservant. The manservant was rather helpful, as I really wasn't quite sure what I was supposed to be doing. In the photo to your left, an audience member tries her hand at 'being madame'.
ACT II - Audience Members Return To Passive Roles
We [audience and cast], then segued into the next scene where two maids, the sisters we'd seen bathing in Act I, are imitating 'madame' in the
privacy of their quarters. They're taking turns pretending to be her, by putting on her make up and regal dresses and gloves. They seem to admire, envy and despise her all at once. Off to the side of the main action, we see 'madame' at her vanity narcissistically looking after herself. In the photo to your right, the maid Claire extends her gloved hand to her sister [not shown] while madame is seated at her vanity in the background [partially showing].
ACT III - Audience Helps Madame
In the next scene, we form a circle surrounding madame. We are asked to choose a robe or piece of jewelry to help madame put on. Madame enters the circle and in an improv manner, begins interacting with each of us as her servants. She summons one and then another to help her put on our choice of garment or jewelry. Madame is shown in being dressed in the photo to your left.
Lucky for madame there were only 20 of us, as I'm not sure how much more she could put on. By this time we're all quite amused with the improv and interactive theatrical process.
ACT IV - Audience Helps The Maids?
We cut to the last scene. This time it is again of the two maids, performing their ritual of imitating madame. They reach a crossroads where they can't go on any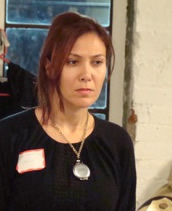 longer, in their life of subservience. They decide they must either do away with madame, or do away with themselves.
We the audience are then asked to help the maids poison madame's tea.
Hey, What's Going On Here?
At the end of the play we all stood around talking about the play and the process with the Director and cast. Some of the questions we had, have been answered in the narrative above. The question I had been carrying throughout the production was, "Why are we doing this?", which I posed to Director Handan Ozbilgin Bromley who is shown in the photo to your left.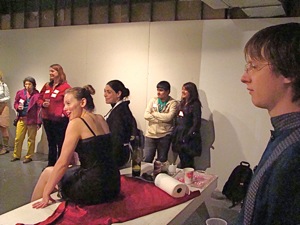 She explained that we all play many different roles in our everyday lives. In some we are subservient, while in others we have the power, and yet in still others we are uninvolved spectators like a passive audience. By involving members of the audience in each of these roles in Act I, the audience then has the opportunity to become more aware of them. In the photo to your right are some of the cast members [foreground] as well as members of the audience [background]. In the photo below left are pictured more members of the audience.
Theatrical Distillation & Development
Handan explained that the entire production was distilled from about 25 lines in the play upon which the production was based. I probed a bit into this process. Handan explained that one of the things she likes to do is take a great work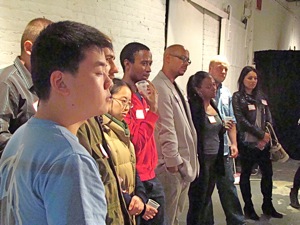 and distill it down to one scene, one line, one moment or one thought.
The idea is to distill some sort of essence from original play or production and then use the distilled elements of it, to build an entirely new production. In essence Handan reconstructs the play based upon the key elements that resonated with her in the original play. She explained that this was what she'd done with Three Sisters Vanishing, the Chekhov play she had presented earlier this year.
Actress & Audience Commentary
I asked one of the audience members what she got out of the experience. She told me that she liked the production because it was so disorienting. She went on to explain that this is in contrast to her daily life, which is scheduled and organized.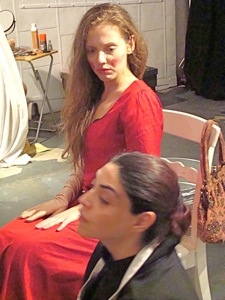 I had an opportunity to converse with two of the three leading actresses in the play. I asked April Evans [Claire] what is was she was trying to do in the play. She explained that as a maid, she assumed the subservient role. So one of the things she tried to portray was the feelings and frustrations of the underclass in our society. She maintained this thread constantly throughout the production.
She was also one of the maids bathing in the first scene. In this scene, we the audience, maintained our role as the audience. April and her maid sister [played by Eleni Avgousti] did not acknowledge our presence as they bathed and talked about madame. April explained that in this scene she wanted those who entered into room, to feel a bit voyeuristic. In the photo to your right are April Evans [seated] and Eleni Avgousti [foreground].
I asked madame [played by J.J. El-Far] what it was like to handle all of those interactions with an audience of twenty strangers. Madame not only interviewed all of us to be her servants in Act II, also but had us dress her in Act IV.
J.J. explained that her role encompassed a combination of acting and improv. She told me that she would read each audience member's body language and interact with them accordingly. In the photo to your left is J.J. El-Far, aka madame.
Our Roles Involve Props
Handan told me that the costumes play an important part in supporting people in their various roles. Hence we were asked to choose and wear the apron, maids hat or pick up the duster. Likewise, we put on madam's robe and crown when we briefly assumed her role in Act I. And we were asked to choose a robe or jewelry for madame in Act III.
A Production Of This Sort Requires Open Space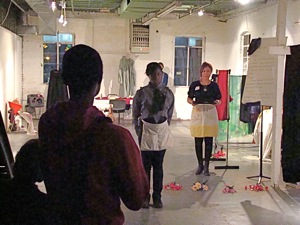 I asked Handan why she hosted this production at the Flux Factory instead of at LaGuardia College in one of their two theaters. She explained that to do this sort of interactive effort with the audience, one needed unstructured space.
Maids 4:39N was performed in one very large room with a small room off to the side at the Flux Factory. The scenes were spread around the large room, as the space enabled easy segues into each new Act. Props and people were quickly and easily moved from scene to scene, and it provided sufficient space for unconstrained movements by audience members as well. The photo to your right shows the performance space at the Flux Factory in LIC.
Handan is planning three more productions of this sort [audience interactive theater] over the course of the coming year.
The next production will likely be in January 2011, and secret sources have indicated the scene will take place in an 'elevator'. The third production will occur sometime in the Spring and the final production during the Summer.
I found myself absorbed in the theatrical experience and the next time I will enter it more aware, and perhaps better prepared, to put more into more of my role ... as I panic from claustrophobia in the elevator.
---
LaGuardia Performing Arts Center & LIC / Long Island City - Links
Click this link to go to the LIC - Long Island City Section / LIC - Long Island City Restaurants / LIC - Long Island City Shopping Center & Map.
Site Search Tips. 1) For best results, when typing in more than one word, use quotation marks - eg "Astoria Park". 2) Also try either singular or plural words when searching for a specific item such as "gym" or "gyms".
$element(bwcore,insert_search,N)$
Click this link to search for something in our Queens Business Directory containing over 1,000 listings.
Send this story to a friend by filling in the appropriate box below.
---